Aug 11, 2020 | 4 min read
Momenta Ventures Invests in Smartex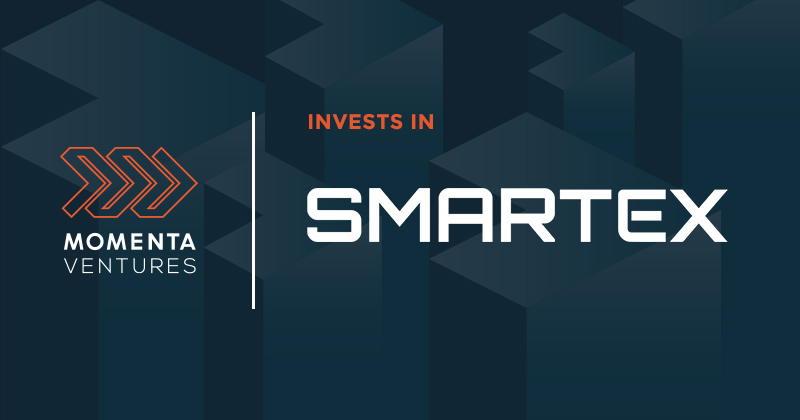 Momenta Ventures is pleased to announce its investment in Smartex, a game changer in quality control for textile manufacturing.
Smartex, founded in 2018 by CEO Gilberto Loureiro, CTO António Rocha, and CIO Paulo Ribeiro has developed a solution that combines computer vision and AI to revolutionize quality control in textile manufacturing.
The current industry standard for quality inspection in the textile industry is roll-by-roll, with up to thousands of meters of fabric often manufactured before they are manually inspected. Manufacturing defects are often repetitive so a single problem on a machine can lead to an entire roll of unusable fabric. This is a key contributor to a massive waste problem in the textile industry with 5% of global production lost every year due to irreversible faults in fabric, representing a $33bn dollar annual loss from raw materials only.
Smartex addresses this challenge with AI, installing a unique device inside the textile machine that monitors fabric quality within 10cm of where it is made. A special set of cameras film the fabric and the proprietary AI algorithm analyzes these images in real-time. When a defect is found, Smartex sends a signal to the machine, stops it and allows technicians to adjust the machine. Smartex not only finds the typical defects that can be detected during manual inspection, but also sees problems invisible to the human eye, thereby reducing waste from defective production to close to 0%.
Addressing a $33bn sustainability problem, the team has been named to the Forbes 30 under 30 list in 2020.
"I am very excited about backing the Smartex Team. They have a great vision and the experience to understand the challenge as the founders operated the same types of machines where Smartex is installed now. This extremely innovative solution is solving one of the biggest financial and sustainability problems in a massive target market." says Momenta's Ben Steven.
Gilberto Loureiro, CEO of Smartex: "I'm personally happy about having Momenta Partners as an investor. There couldn't be a better fit for digital industry, and integration of technology across manufacturing lines to improve processes, digitize production and increase bottom lines which is exactly what we do in textiles. Having a practitioner like Ben, with his deep textile manufacturing experience, supporting us is extremely valuable."
Momenta participated in Smartex' recent $2.6M funding round, alongside investors including DCVC, Spider Capital, and SOSV. In addition to their successful funding round, the company also won $2.2m in grant money from the European Union.
About Smartex
Smartex is focused on solving some of the main problems in the global Textile Industry: the lack of quality control, and the production of defects in textiles. Defective production affects not only the company's gross margins and the retail prices in clothing stores, but also the environment. Smartex reduces defective output to close to 0%, while at the same time providing quality control software, bringing Industry 4.0 to the Textile Industry and providing cutting-edge technology to this US $3 trillion sector. To learn more about Smartex visit https://www.smartex.ai/.
About Momenta Ventures
Momenta Ventures is the investment arm of Momenta Partners, the leading Digital Industry Growth Partner firm. Led by deep industry practitioners with strong entrepreneurial and corporate pedigree, Momenta Ventures has made over 40 investments with six exits. Momenta Ventures operates two Digital Industry funds, focused on Seed and Series A investments in Digital Energy, Manufacturing, Smart Spaces,  and Supply Chain. For more information, please visit ​https://momenta.vc​.
_____________
Momenta Partners encompasses leading Strategic Advisory, Talent, and Venture practices. We're the guiding hand behind leading industrials' IoT strategies, over 200 IoT leadership placements, and 40+ young IoT disruptors with 6 exits.  Schedule  a free consultation to learn more about our Digital Industry practices.