Feb 1, 2022 | 6 min read
Digital Insights #69
Industry 5.0: Part 4 of 4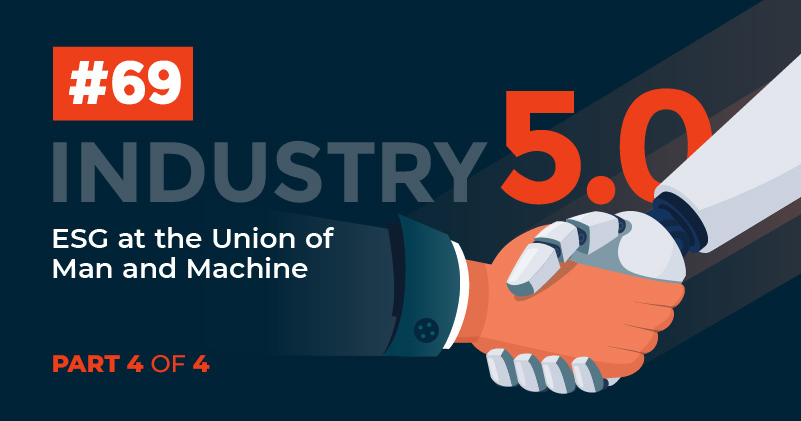 How to Prepare for Industry 5.0
As we have discussed previously, the vision for Industry 5.0 builds upon the technological and business principles of Industry 4.0 with a focus on three ESG-like tenets: Human Centricity, Resilience, and Sustainability. With many businesses completely committed to adopting technology-enhanced processes and systems, it's an ideal time to look ahead to the next generation of innovation.
Industry 5.0 can be rightly seen as an evolution, incorporating foundational elements of Industry 4.0 into a more broadly encompassing vision that delivers a wider range of benefits to a broader set of stakeholders. In this final section of our Industry 5.0 series, we examine the future of Industry 5.0 and how organizations should prepare.
Multiple Forces Are Driving Change
It's become axiomatic that change is a constant for firms across industries, and businesses need to plan how to ensure their value chains can weather disruptions and ensure that there is an ample, appropriately trained workforce sufficient to meet production, sales, and support demands. The "great resignation" wave, in which employees are leaving their jobs at record rates, along with difficulties in filling open roles underscores the value of talent management and particularly the need to attract and retain highly skilled workers. Increased trade protectionism, overwhelmed cargo chains along with shortages of key components and materials highlight the role of resilience. Greater focus on Environmental, Social, and Governance (ESG) factors from the investment community, regulatory emphasis on clean energy, and rising societal prioritization, are compelling organizations to articulate sustainable strategies. In short, multiple drivers are forcing forward-thinking firms to incorporate Industry 5.0 principles into their planning.
Positioning for the Future of Manufacturing
The World Manufacturing Forum has identified 10 critical skills that will be needed in future manufacturing, and what's important is that the mix of skills includes both digital and technology as well as cross-functional skills that relate to creativity, flexibility, and open-minded thinking.
10 Critical Skills for Future Manufacturing
Leaders, managers, and line workers will all need to adapt and upgrade their own skills and capabilities to meet Industry 5.0 demands.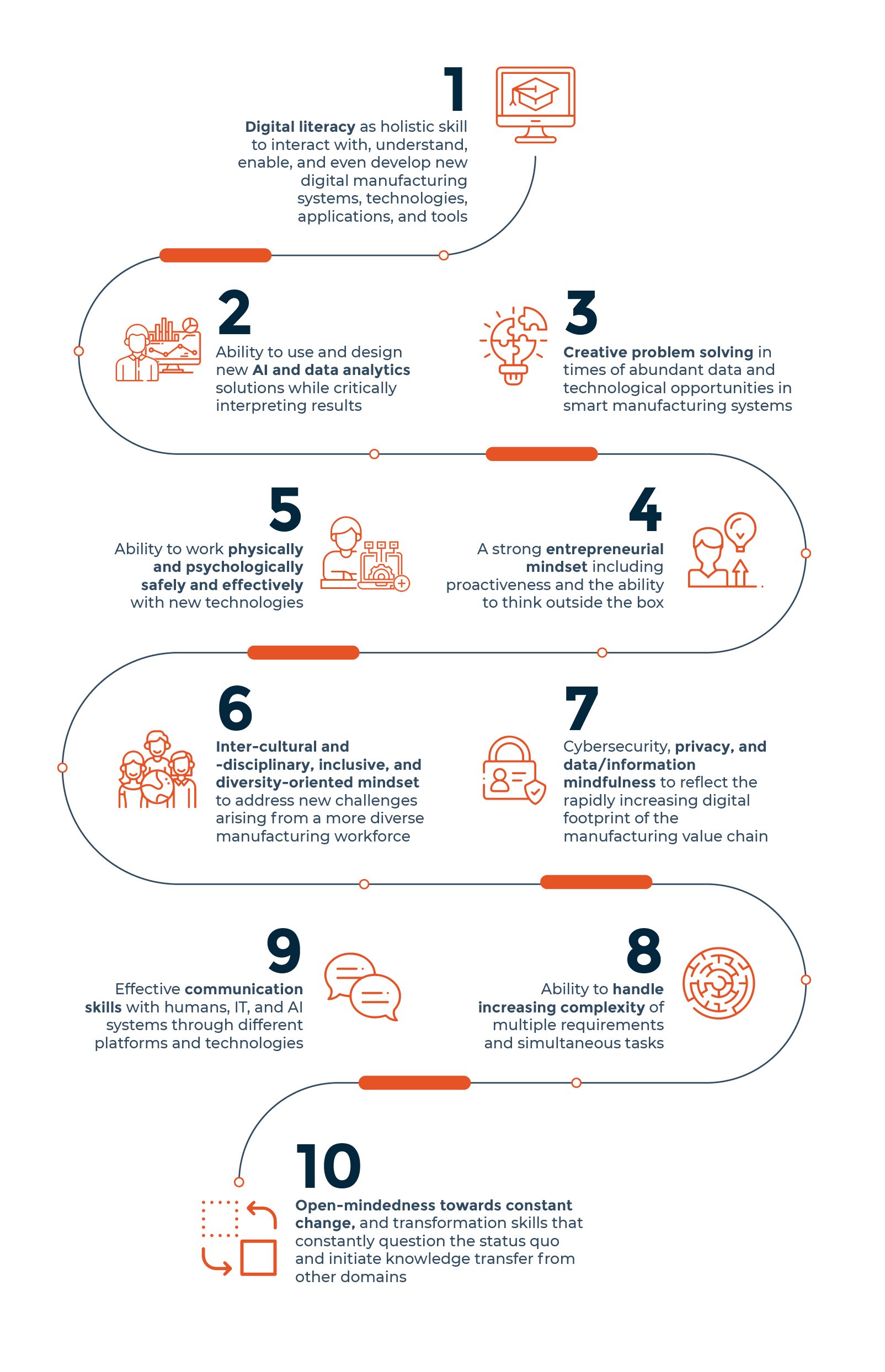 Source: The World Manufacturing Forum - Adapted by Momenta
Aligning Priorities for Industry 5.0
The concepts and principles of Digital Transformation have been explored at length in recent years. Most executives have gained fluency in the capabilities of technology and Digital Business. Building upon these foundational ideas, it's prudent to focus on incorporating the principles of Human Centricity, Resilience, and Sustainability.
Following are a Few Key Concepts to Focus on:
Re-Orienting for Human Centricity
There are several dimensions to advancing human-centric business. The first, and top priority, should be attracting and retaining talent. Particularly to technology-centered organizations, human capital is the most strategic asset and businesses will need to accommodate the growing cohort of Gen-Z and Millennials' changing needs. For younger generations of workers, the commitment to environmental and social factors becomes increasingly important in their choice of employer, and this may include a commitment to community initiatives, flex working arrangements, and the cultivation of historically underrepresented minorities in leadership roles.
The human-centric vision also critically involves re-thinking how workers and machines collaborate. Traditionally static manufacturing processes can be updated with new collaborative robotics (co-bots) with line workers empowered to exercise greater flexibility in production. Worker safety and health can also be improved with advanced monitoring capabilities and ergonomic design. A healthy and happy workforce with opportunities for creative personal and professional advancement is likely to create lasting value for the business.
Recently, businesses have been forced to cope with increased uncertainties and adapt to cope with change. It's important for organizations to engage in planning exercises that account for potential disruptions across the value chain, from the factory floor to the supplier network, to transportation channels, to regulatory and geopolitical change. Digital technologies and methodologies (simulations and AI-enhanced modeling) can help identify optimal alternative paths in the event of disruption, weighing different factors such as cost, substitution, quality, and logistical concerns into the mix. Start with identifying the greatest points of vulnerability (whether in process or supply chain), isolate the key inputs, and then formulate contingency planning for any disruptions. It's better to have a plan and not need it than be caught unprepared.
The Importance of Sustainability
With the growing regulatory and investor emphasis on reducing carbon emissions and environmental impact, businesses need to evaluate their resource footprint. This may involve analyzing the source of raw materials, the proportion of waste generated, along with an evaluation of the environmental impact, the energy efficiency of processes, as well as the sources of energy. Many firms have committed to specific reductions of fossil fuels and clean energy generation sources. Additionally, the adoption of new materials and composites (away from petroleum-based for instance) can reduce environmental impact while increasing the practices of recycling and repurposing materials can also help to achieve objectives.
Beyond Better, Cheaper & Faster:
Preparing for Industry 5.0 is not inconsequential, but there are multiple forces arraying to compel businesses to adopt the core principles of human-centricity, resilience, and sustainability. It's far better to take the opportunity to prepare ahead of time, rather than react to an unanticipated shock to the system. Beyond better, cheaper, and faster, the technology-enhanced mantra Industry 5.0 promises to lead the next generation into a balance of decisions that support smarter, cleaner, and more resilient industries.
Would you like to discuss this topic further? Reach out via LinkedIn!
Momenta is the leading Digital Industry venture capital + growth firm accelerating deep-tech innovators across energy, manufacturing, smart spaces, and supply chain. Our team of deep industry operators has helped scale industry leaders and innovators via our award-winning executive search and strategic advisory teams for nearly a decade.
Schedule a free consultation to learn more about our Digital Industry practice.