Aug 7, 2020 | 3 min read
Momenta Ventures Portfolio Company Geli Acquisition by Q CELLS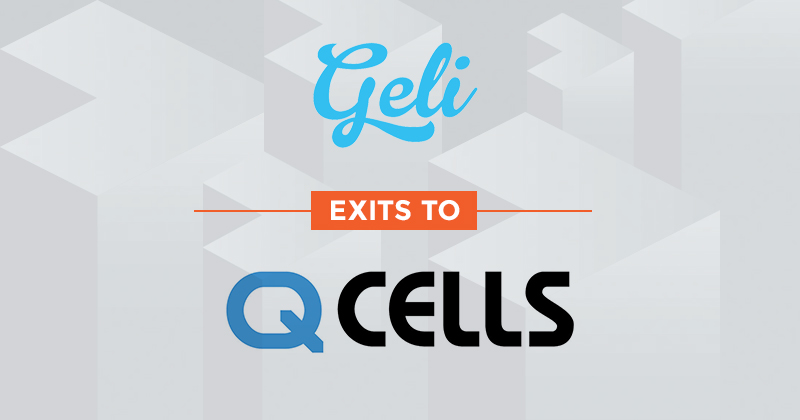 Momenta Ventures portfolio company Growing Energy Labs, Inc. (Geli) announced this week that they have signed an agreement to be acquired by solar module giant Q CELLS.
Geli, a pioneer in energy storage solutions was founded in 2010 and over the past decade has been a leading innovator in the evolution of Battery Energy Storage Solutions (BESS). The company has developed a software platform for managing energy storage systems including microgrid systems, virtual power plants and automated energy networks. The platform provides two key functionalities: The integration of various energy assets and the operation and automation of BESS systems by applying AI technology to demand charge management, demand response, frequency regulation, and other energy applications.
Over the years, the energy generation mix has become more complex with continuously increasing capacity of solar, and other energy sources connected to the grid. The Geli platform is perfectly aligned with this trend and provides a solution to integrate these new power generation assets, address grid challenges as well as provide additional value added to commercial and residential operators of solar and other power plants.
Unlike typical energy storage providers, Geli decided not to include hardware in their solution but focus on developing a fully flexible software as a service. Geli's end-to-end platform helps customers design, install, and run grid-connected and behind-the-meter battery installations and powers megawatts of capacity today.
Q CELLS is a major provider of solar modules to commercial and residential markets. The company has started offering integrated solar+storage solutions in the Australian market recently but not in the US yet. As a pure software provider, Geli is a great strategic fit for Q CELLS. With the acquisition, Q CELLS strengthens its in-house capabilities for developing integrated energy solutions through packaged hardware and software systems (solar+storage).
Momenta has been an investor and advisor in Geli since 2014 and we want to congratulate the founders and the team for their achievements and the successful sale.
About Geli
Geli, which stands for Growing Energy Labs, Inc., provides software and business solutions for designing, automating, and managing energy storage systems. Geli's suite of products creates an ecosystem where project developers, OEMs, financiers, and project operators can deploy advanced energy projects using a seamless hardware-agnostic software platform. Geli's solutions are powered by sophisticated artificial intelligence algorithms and years of industry experience.
Founded in 2010 by Ryan Wartena and Crispell Wagner, Geli's software actively manages megawatts of projects deployed around the world. Geli is headquartered in San Francisco, CA and has an office in Melbourne, Australia.
About Momenta Ventures
Momenta Ventures is the investment arm of Momenta Partners, the leading Digital Industry Growth Partner firm. Led by deep  industry  practitioners with strong entrepreneurial and corporate pedigree, Momenta Ventures has made over 40 investments,  with notable exits to SAP, PTC, and Husqvarna Group. Momenta Ventures operates two Digital Industry funds, focused on Seed and Series A investments in Digital Energy, Manufacturing, Smart Spaces,  and Supply Chain.  Momenta's newest fund focuses on  Industrial Edge including LPWAN-powered  Digital Industry innovation. For more information, please visit ​https://momenta.vc​.
_____________
Momenta Partners encompasses leading Strategic Advisory, Talent, and Venture practices. We're the guiding hand behind leading industrials' IoT strategies, over 200 IoT leadership placements, and 40+ young IoT disruptors.  Schedule  a free consultation to learn more about our Digital Industry practices.