Nov 10, 2021 | 6 min read
Announcement
Momenta Invests in Axiom Cloud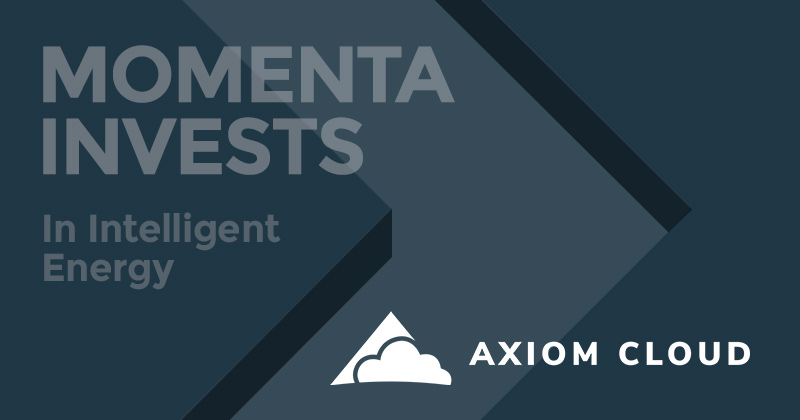 Momenta invests in Axiom Cloud, the Digital Twin solution for refrigeration
Momenta joins leading investors to scale Axiom Cloud, a company revolutionizing how the world's cooling systems are powered, operated and maintained.
Axiom Cloud, a cloud analytics solution that digitally transforms how cooling systems are powered, operated, and maintained, announced the closing of its latest funding round. Joining Momenta are co-investors Vela Partners, Lorimer Ventures, and Leadout Capital. The financing will enable Axiom to scale its already strong presence across grocery chains, including current customers Grocery Outlet and Whole Foods.
The energy grid is undergoing rapid transformation, with digital technologies connecting distributed power generation, storage, and transmission assets in intelligent networks. Building owners can now link their assets to the power grid and save costs while contributing to a more reliable, sustainable, and cost-effective energy ecosystem. Ryan Wartena, the founder of Momenta portfolio company Geli (acquired by Hanwha Q-Cells), dubbed this movement the "Internet of Energy".
"While solar panels, wind turbines, and batteries were the first wave of intelligent assets to be connected to the power grid, the next wave will be large energy consumers like refrigeration and HVAC equipment," said Lee Carter, Principal Partner of Momenta. "Digitizing existing refrigeration systems, which may account for up to 70% of a supermarket's total energy consumption, will provide a significant opportunity for building owners to lower energy costs and optimize their maintenance workflows."
Amrit Robbins, CEO of Axiom Cloud, states, "This funding will enable us to address critical scaling constraints and expand our apps' interoperability with new types of facilities, all while meeting our customers' demand for Axiom Cloud's apps in an increasing number of locations. We are thrilled to be collaborating with a Digital Industry veteran like Momenta to assist us in flourishing on our path".
MC Chiang, Vice President of Service-IoT of Advantech, states, "Advantech focuses on intelligent retail, warehouse, and logistics of the city service industry, this partnership with Axiom Cloud through AIoT Ecosystem Fund will enrich our city service AIoT solution portfolio, bringing values to our customers and partners with Axiom Cloud's powerful applications to address the demand of refrigerators facility management."
Grocery stores stock a large amount of cold and frozen food. Maintaining a smooth cold chain is crucial for food safety and consumer satisfaction. Refrigeration service calls account for up to 90% of all grocery service calls. According to the Service Channel's Grocery Facilities Benchmark Report, nearly half of all repairs are emergencies with response times of up to 8 hours.
Refrigerators are under-digitized. Combining data analytics and machine learning with sensors already installed in most refrigeration systems makes it possible to forecast failures such as power outages, refrigerant leaks, and equipment breakdowns, the majority of which go undiscovered until it is too late. A typical grocery store has over 1,000 refrigeration data streams, but stores don't use them to generate new insights.
Enter Axiom Cloud, a company that uses cloud analytics to solve both painful energy & maintenance problems for refrigeration with three powerful applications:
Facilities Analyzer – A refrigeration solution that provides store owners with a single dashboard for real-time data from all their cooling assets. Predictive analytics allows operators to handle issues before they become inundated with high-priority alarms.


Virtual Technician – Axiom's software automatically addresses refrigeration and maintenance issues, eliminating the need to dispatch a service van each time a problem arises.


Virtual Battery – Turns frozen merchandise into an "intelligent battery" to save energy. Axiom uses AI to predict the most cost-efficient times to precool frozen inventory; by intelligently overcooling frozen foods during off-peak hours, store owners can save up to 15% on energy bills. But that's not all; store owners can also enroll in a demand response energy program to generate additional revenue.
Tune into this week's podcast episode "The Digital Thread," as Ken Forster, Executive Director of Momenta, speaks with Axiom's CEO, Amrit Robbins, about his mission to make the world's cooling systems more sustainable through AI software and automation.
About Axiom Cloud
Axiom Cloud's mission is to use software and automation to transform how the world's cooling systems are powered, operated, and maintained to generate significant climate and financial impact. Axiom's team of refrigeration experts, data scientists, energy experts, and software developers solves retail grocery's biggest energy and maintenance challenges by layering intelligence onto their existing refrigeration systems. For more information, please visit www.axiomcloud.ai.
About Advantech
Advantech has the corporate vision to "Enable an Intelligent Planet." The company is a global leader in the fields of IoT intelligent systems and embedded platforms. To embrace the trends of IoT, big data, and artificial intelligence, Advantech promotes IoT hardware and software solutions with the industrial IoT platform - WISE-PaaS core to assist business partners and clients in connecting their industrial chains. Advantech is also working with business partners to co-create business ecosystems that accelerate the goal of industrial intelligence. For more information, please visit www.advantech.com.
__________
Momenta is the leading Digital Industry venture capital firm accelerating deep tech and digital innovators across energy, manufacturing, smart spaces, and supply chain. Led by deep industry operators across its venture capital, strategic advisory, and executive search practices, Momenta has made over 50 investments with notable exits to SAP and PTC.
Schedule a call to learn more about our Digital Industry Venture practice.