Oct 12, 2021 | 10 min read
Digital Insights #63
Reshoring: ESG Implications Part 2 of 3
Posted by
Harinderpal Hanspal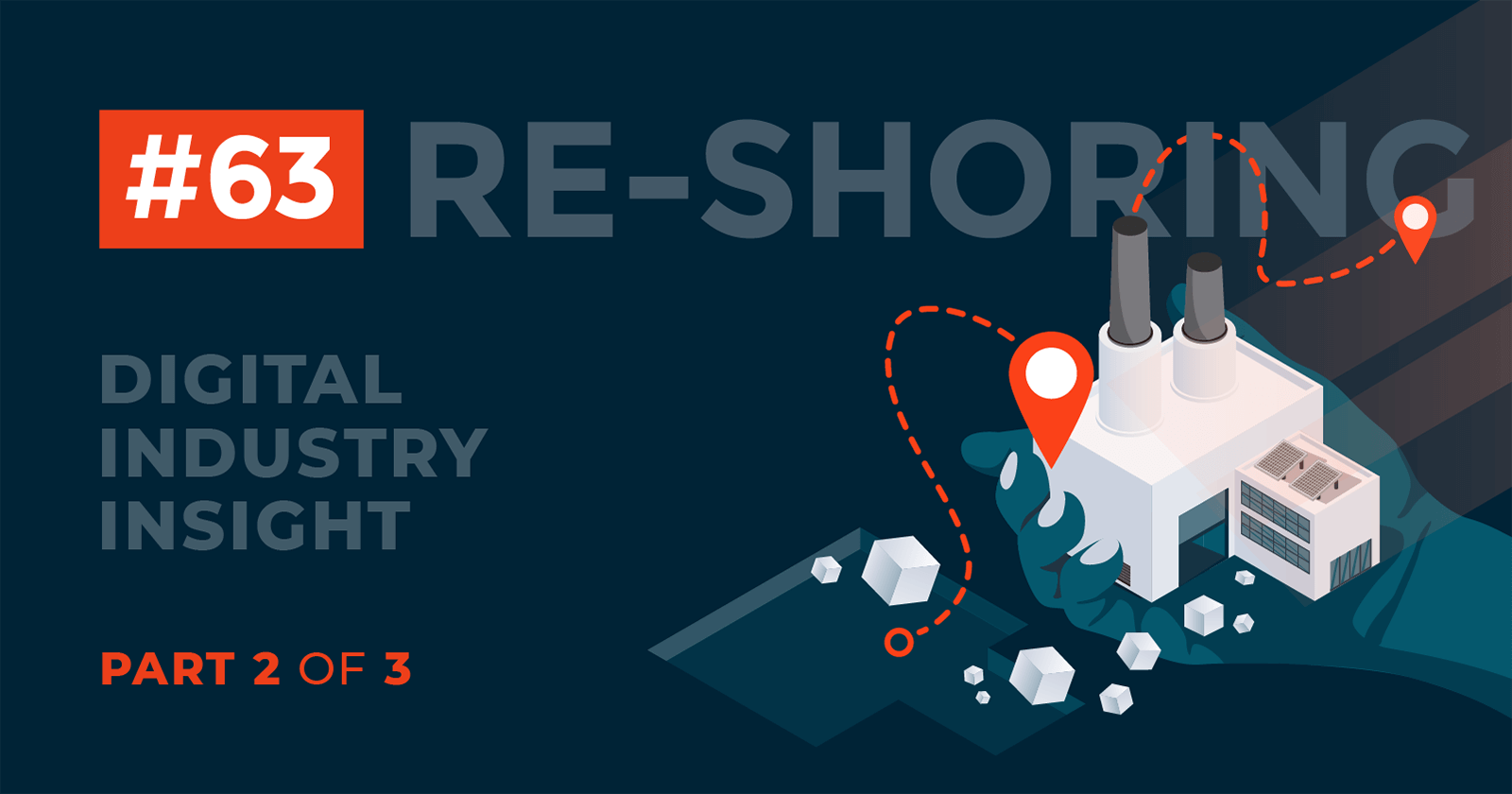 The Impact of ESG
Environmental, Social, and Governance issues are changing how manufacturing stakeholders view supply chains. Customers, employees, boards, shareholders, and communities are all rethinking this vital part of their businesses. In part two of our Re-shoring series, we examine offshoring impacts on environmental, social, and corporate governance (ESG) issues.

GOOD TO KNOW:
Reshoring is the process of migrating the production of goods back to the country of origin.
In this three-part series, we are examining:
The current state of manufacturing in the U.S. and E.U.

,

including

benefits experienced

by companies that have already re-shored

The impact of offshoring on

Environmental, Social, and Governance (ESG) issues

How adopting Industry 4.0 technologies can help manufactures to re-shore

The Impact of offshore manufacturing on ESG
Some companies are trying to reduce their environmental footprint, while others are rethinking their supply chains. Still, others are trying to increase their social responsibility and find new ways to build shareholder value. Re-shoring can help all of them address these issues.
Imports to U.S. and E.U.
The United States imported $2.5 trillion of goods in 2019. Transportation Equipment, Computer & Electronics Products, Chemicals, Machinery, and Oil & Gas represent the top five imported goods' value sectors.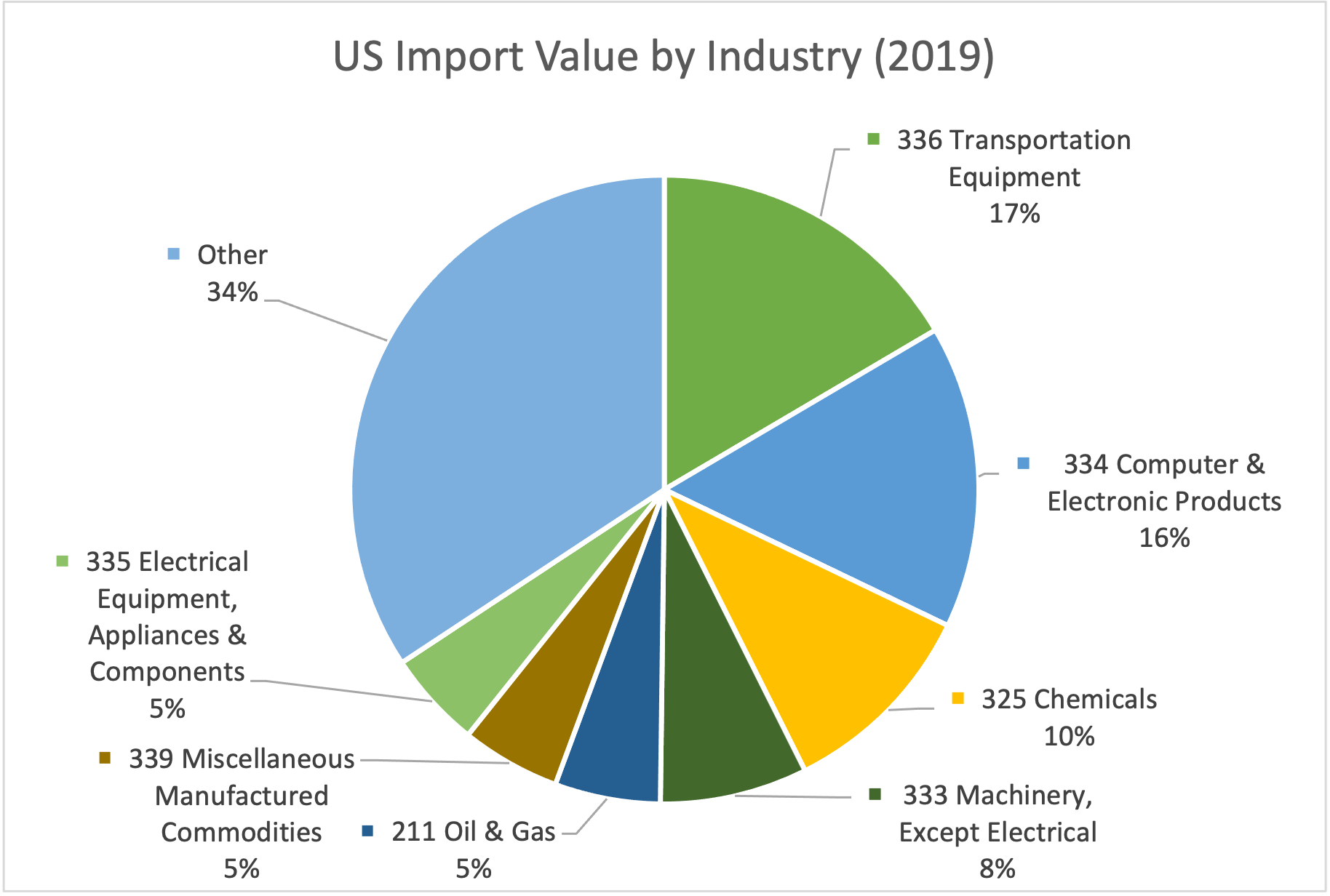 The European Union imported €1.9 trillion worth of goods, led by Transportation Equipment, Computer, Electronics, Optical Equipment, and other durable and semi-durable products.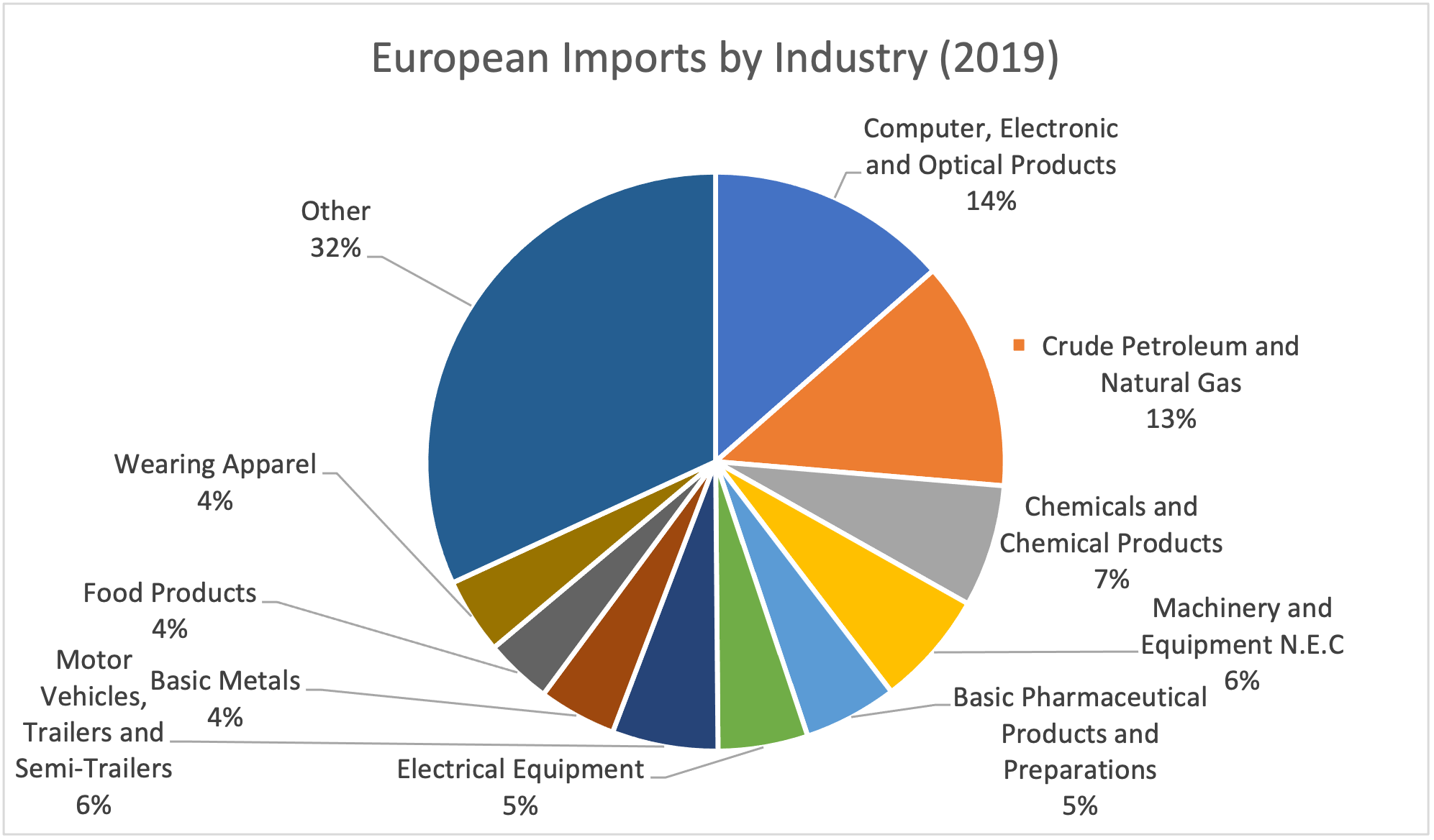 Environmental
It can take several weeks to months for goods to be shipped from offshore manufacturers to distribution centers. Manufacturing a great distance from customers requires manufacturers to purchase raw materials and components well before producing the final goods. It also requires manufacturers to maintain additional inventory to meet customer demand while finished goods are in transit. As a result, manufacturing in low-cost countries often requires inventories packed with weeks and months' worth of raw materials, components, and finished goods, frequently leading to overproduction. Overproduction and long-distance shipping have a devastating impact on the environment:
Electronic and Electrical Waste (E-Waste)

.

Almost half of the goods imported to the U.S. and E.U. are physical products with embedded electronics. As a result,

E-Waste is a significant contributor to the world's

waste problem. Only 20% of the 50 million tons of e-waste produced each year is recycled. The numbers are staggering, and the problem is only going to get worse. E-waste is growing at a rate of 6-7% year on year. The EPA estimates about 100 million computers and other electronic devices in use in the U.S. That means at least 100 million computers and other electronic devices will be disposed of in the next few years.


Waste Discharge & Emissions:

Marine

transportation moves over ten billion tons of containers and cargo annually. It represents the most significant mode of transportation for imported goods in both the U.S. and E.U. Unfortunately, marine transportation harms the environment due to air pollution, greenhouse gas emissions, ballast water releasing invasive species, oil and chemical spills, garbage, and underwater noise pollution.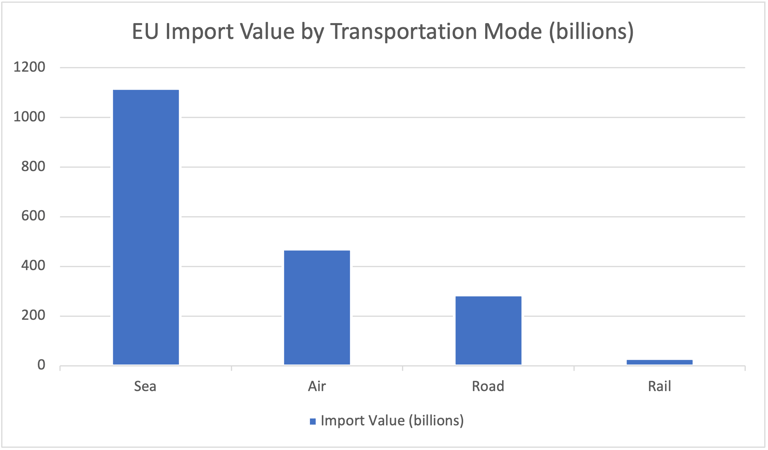 Social
Companies started shifting their manufacturing processes to low-cost countries in the 1970s. The 2001 recession and the Great Recession of 2008-2009, combined with China's membership to the World Trade Organization in 2001, impacted manufacturing jobs, workers, and communities in the U.S. and E.U. in many significant ways:
Labor Relations and Jobs

–U.S. Manufacturing

jobs peaked in the late 1970s as large public manufacturers began offshore manufacturing. Since then, over 8 million jobs have disappeared in manufacturing, with nearly 6 million of those jobs lost after the 2001 recession. Similarly,

estimates show

that the U.K. lost 600K jobs from 2007 to

2016. Every other E.U. country also recorded manufacturing jobs losses between 2001 and 2014.


Communities. Manufacturing jobs provide economic stability for many communities. The loss of jobs due to offshoring devastates communities across the U.S. and E.U. lower household income reduces spending in other areas, such as retail purchases, home buying, and other consumer services. The impact is broad, affecting individuals and families to entire communities.
Corporate Governance
Green consumerism and shareholder pressure drive companies to reconsider sourcing, manufacturing, and distributing manufactured goods, directly impacting the environment, workers, communities, and companies. According to a survey conducted by Bank of America, 75% of North American companies and more than two-thirds of European companies expect additional scrutiny about their green policies.
Offshoring continues to impact several aspects of manufacturers' corporate governance, including:
Codes of Business Conduct - Corruption and bribery are significant risks for manufacturers when they offshore production. Many low-cost countries that manufacture offshore goods score poorly on Transparency International's Corruption Perceptions Index. In the past, manufacturers offshoring to low-cost countries could insulate themselves from corruption by hiring local companies to perform at a low cost. Fortunately, the 2008 Sarbanes-Oxley Act requires companies to prove that their overseas suppliers are not corrupt.

Investors are also becoming increasingly wary of unethical companies. Dishonest companies face extra costs as the result of legal challenges and lawsuits. In addition, companies that do business in corrupt countries face the risk of U.S. government sanctions.
Source: U.S. Bureau of Labor Statistics
fred.stlouisfed.org
Risks and Crisis Management

- Managing Risks and Crises - Extreme weather, epidemics, and trade wars are all emerging threats that can cause business disruptions. The unpredictability of such incidents has a ripple effect across the supply chain. With the rising frequency and unpredictability of such catastrophes, it is evident that businesses must address supply chain concerns to minimize business impact. Fortunately, the growing relevance of environmental, social, and governance ESG factors will encourage businesses to go green.



In short, avoiding the costs and risks associated with offshore production




will result in higher earnings, better environmental protection,




and a healthier and more prosperous workforce.




As always, stay tuned. In the third installment of this re-shoring series, we'll look at the new technology and business models that incentivize and enable companies to move their manufacturing closer to their customers.
If you haven't had a chance to read the first part of this series, you can do so now

Do you want to learn more about ESG?
Then check out our ESG Series!
1. ESG: The New North Star for Investing
ESG funds are attracting record-breaking inflows, becoming a pivotal catalyst to encourage companies to focus on their ESG strategies - find out what is driving this growth in responsible investing.
2. ESG: The Energy Industry
In no sector is ESG considered more impactful than energy - find out why and how.
3. ESG: Manufacturing Sector
In this sector, ESG focuses on the type of waste generated by manufacturers, how they dispose of it and how it impacts the air, water, and soil.
4. ESG: Smart Spaces
There are already 33 megacities worldwide with over 10 million inhabitants, which is expected to increase -
5. ESG: Supply Chain
An estimated 95% of the environmental impact of a company comes through its supply chain.
Momenta is the leading Digital Industry venture capital firm accelerating deep-tech innovators across energy, manufacturing, smart spaces, and supply chain. Our team of deep industry operators has helped scale industry leaders and innovators via our award-winning executive search and strategic advisory teams for nearly a decade.
Schedule a free consultation to learn more about our Digital Industry practice.