Sep 2, 2021 | 6 min read
Digital Insights #61
ESG And Supply Chain & Transportation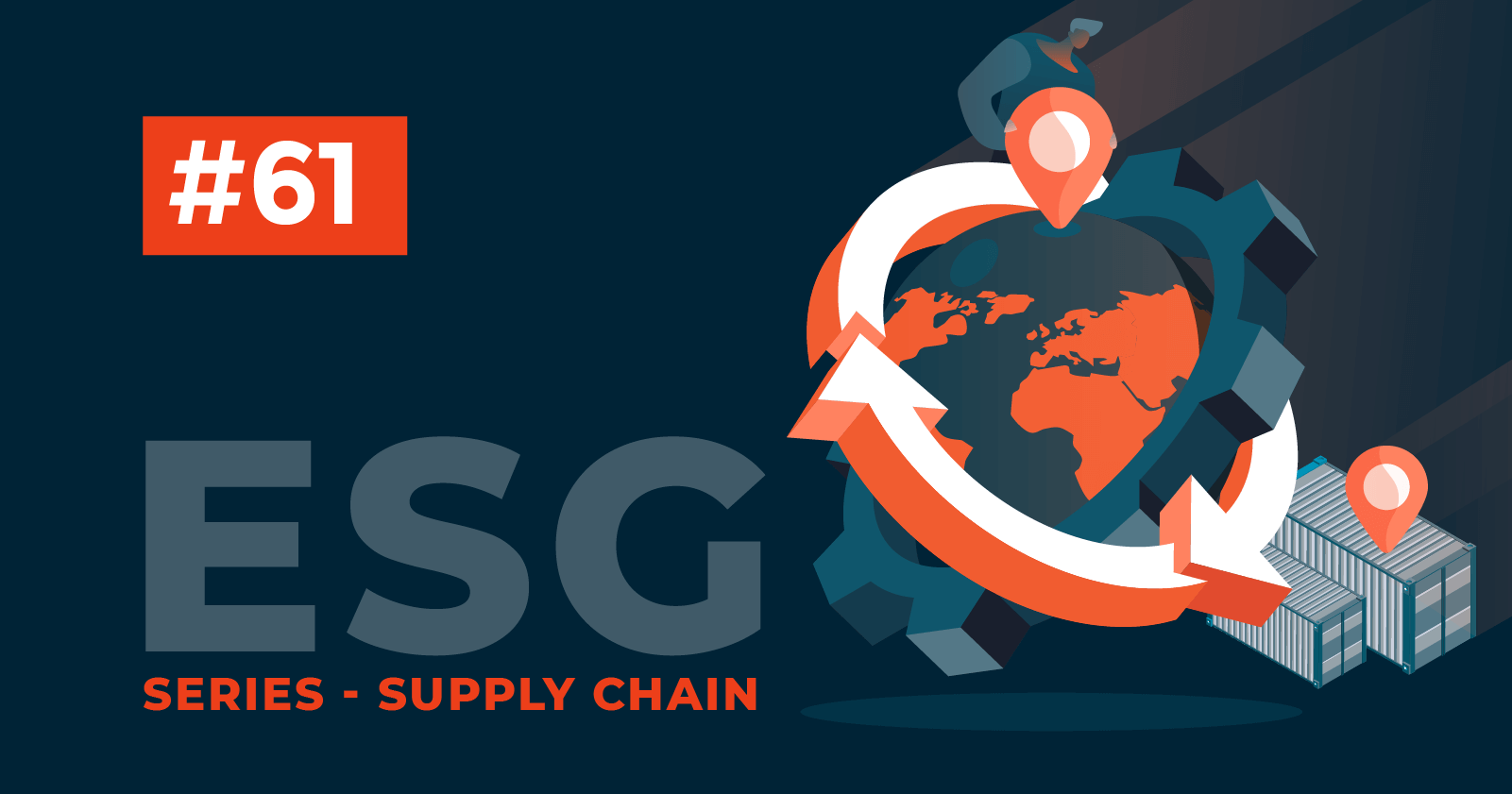 Making ESG A Priority In Moving People and Goods
As we have previously explored, ESG criteria drive an increasing focus among investors in their investment decisions. This is reflected in the growing proportion of new funds that have an ESG element. As of mid-August 2021, roughly 100 new filings were made for ETFs or ETF families since the end of May, and at least 25 of those have an ESG element. These include several funds focused on Climate Change, Ocean Pollution, "Green" Bonds, even green metals, and emerging markets funds.
The Role of Supply Chains is Essential to Global Commerce
Some of the most critical areas of focus include global supply chains, which touch on multiple aspects of ESG (particularly environmental but also social in emerging markets). The role of the Supply Chain is essential to global commerce. An estimated 95% of the environmental impact of a company comes through its supply chain in critical industries. Investors have been focusing increasingly on the potential ESG risk in the supply chain, such as natural resource depletion, human rights abuses, and corruption, which could harm reputations, operations, and financial performance of businesses or assets owned by investors, as well as investors' reputations and investment performance.

Source: ESG8 (2020) | Supply Chain design is at the heart of an enterprise's ESG Mandate
Additionally, transportation, which is deeply entwined with fossil fuel consumption, is undergoing a massive secular transformation toward electric power, advancing economic and sustainability goals.
Regulatory Actions Add to Pressures to Adopt ESG Principles
Certain investors are instrumental in the push to ensure greater adherence to ESG principles, but there's growing pressure from regulations, and participants in the supply chain are taking note. According to Gartner's latest Emerging Risks Monitor Report, their survey data partly reflect a global inflection point as ESG disclosures move from voluntary to required. ESG regulatory requirements landed in the second position in 2Q21 after not previously registering in the top five risks in 1Q21. A recent study from KPMG showed that 63% of CEOs interviewed said that their response to the pandemic has caused their focus to shift to the social component of their ESG program.
Recently the European Commission submitted a final proposal for a regulation establishing a European Union Carbon Border Adjustment Mechanism (CBAM) Deal. This proposal is intended to regulate greenhouse gas emissions embedded in products including cement, certain iron, steel, and aluminum products imported into the EU. In the United States, the U.S. Customs and Border Protection (CBP) has increasingly issued "withhold release orders" to exclude merchandise under Section 307 of the Tariff Act of 1930. These release orders prohibit the import of merchandise mined, produced, or manufactured by forced or indentured labor.
Supply Chains Link Everything Together
There are multiple dimensions of ESG's impact on the supply chain. Some of the environmental impact factors include Climate Change (carbon emissions), Natural Resources (such as water supplies, degradation of land, and conservation of resources), Pollution and Waste, and the adoption of clean technologies. There are also Social and Governance factors at play as well.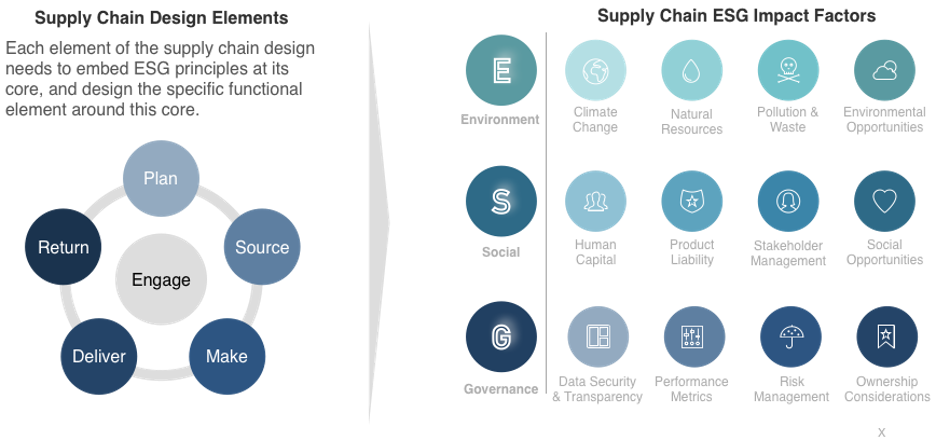 Source: Graphic — ESG8 | All the supply chain design elements are tightly integrated with
ESG impact factors. Source: Impact Factors — MSCI ESG Index
There are simple principles that businesses can follow to improve ESG compliance. The goal of reducing waste can be directly tied to suppliers' sustainable land and water usage practices or reducing excessive packaging, or packaging too heavily reliant on environmentally unfriendly materials such as plastics. Material choices in product design, for instance, can have a significant impact on carbon footprint – moving from virgin poly to recycled or to a bio-based material can reduce substantial amounts of carbon from a single choice. Increasing supplier transparency is also critical when it comes to improving ESG scores. Businesses like consumer electronics need to be mindful of rare earth essential materials in smartphones and other devices. Cobalt mining has a history of human rights abuses as an essential element in technology products, with geopolitical rivalries between China and the West increasingly at issue.
Electrification of Transportation Accelerates ESG Adherence
Transportation has been the most significant contributor to carbon emissions across the global supply chain and economy. The growing electrification of autos, trucks and other modes of transport is accelerating. According to Canalys, global sales of electric vehicles increased by 160% over the prior year to 2.6 million units in the first half of 2021. EV sales growth outpaced the 26% growth of the total global car market as auto demand rebounded following the pandemic. While there remain concerns over the availability of sourcing rare metals required for EVs along with the challenges in scaling infrastructure for charging, the declining cost of batteries (down 89% from 2010 to 2020) continues to pave the way for cleaner vehicles across the global economy – and representing the most significant secular shift embracing ESG principles.
Momenta is the leading Digital Industry venture capital firm accelerating digital innovators across energy, manufacturing, smart spaces, and supply chain. Led by deep industry operators across its venture capital, strategic advisory, and executive search practices, Momenta has made over 50 investments, with notable exits to SAP, PTC, and Husqvarna Group. Schedule  a free consultation to learn more about our Digital Industry practice.