Sep 23, 2021 | 20 min read
Digital Insights #62
Reshoring: Looking Beyond The Headlines Part 1 of 3
Posted by
Harinderpal Hanspal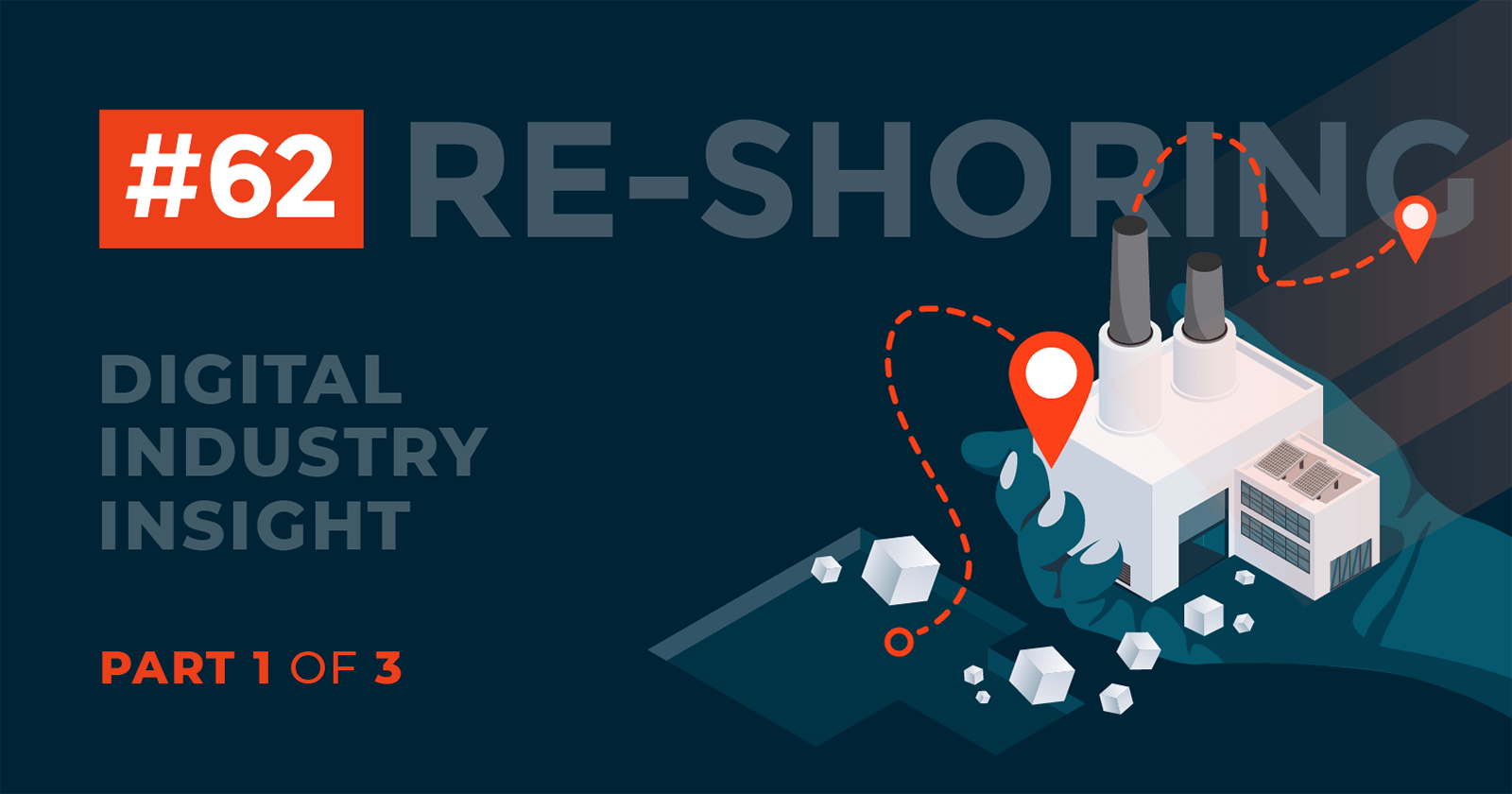 Reshoring: Looking Beyond The Headlines
It's clear that the manufacturing sector contributes significantly to the economy of developed countries. Analyst estimates indicate that for every $10 billion of reshored manufacturing revenue, another $3.8 billion is added in capital expenditure spending. Further, for every manufacturing job created, another 7.4 new jobs are created in other industries as a direct result.
As we experience more Covid-related disruption of manufacturing supply chains, headlines are packed with companies relocating offshore manufacturing to their home countries.
More than ever, companies are interested in shortening their supply chains. Recent data reveals that up to 47% of small and medium-sized manufacturers (SMMs), are re-evaluating their supply chains, realigning priorities to keep a competitive edge.
Reshoring is the process of migrating the production of goods
back to the country of origin.
Can We Shift Offshore Production and Supply Chains?
What is the Reality of Manufacturing?
In this three-part series, we will examine:
The current state of manufacturing in the US and EU, including benefits experienced by companies that have already reshored.
The impact of offshoring on Environmental, Social, and Governance (ESG) issues.
How adopting Industry 4.0 technologies can help manufactures to reshore.

State of Manufacturing
Manufacturing value chains for the development and production of finished goods are complicated.
The manufacturing sector contributes significantly
to the GDP and employment rates of the United States and the European Union.
2019
GDP Contribution

(Billion US$)

GDP Contribution

(percent)

Employment

(millions)

United States
$2342
11%
15.74
European Union
$2317
14%
32.55
Germany
$738
19%
8.01
Poland
$99
17%
3.39
Italy
$298
15%
4.34
United Kingdom
$246
9%
2.99
France
$267
10%
3.19
Source: OECD, WorldBank, US Bureau of Labor Statistics
Manufacturing companies in the US and European Union range from small regional fabricators to global industrial manufacturers with multiple business units and tens of thousands of employees.
Large manufacturers frequently sit atop multi-tiered supply chains consisting of several small and mid-size manufacturers distributed locally and across the globe, each providing components and parts for complex products like cars and aircraft.
The Vast Majority of Manufacturing Firms in the US are Small
There were 230,134 manufacturing firms in the US in 2018. 58% had fewer than ten employees, and only 1 had more than 1000 employees.
US Manufacturing Firms by Number of Employees (2018)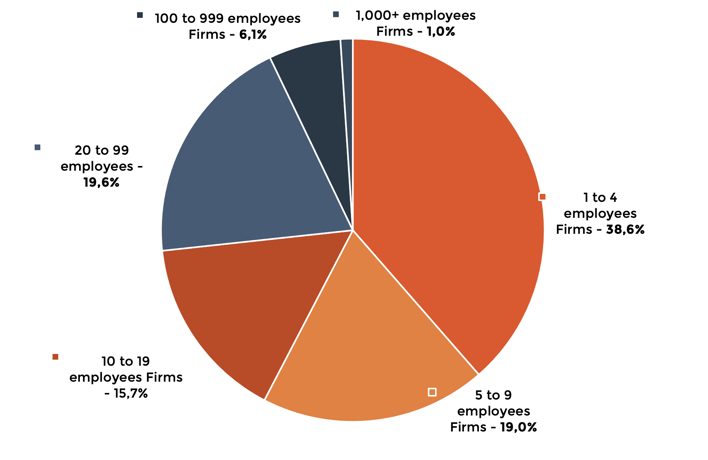 Source: US Census
Food & Beverage and Chemicals manufacturing combined contribute as much to Industrial production in the US compared to the following four subsectors (Fabricated Metals, Machinery, Computer and Electronics, and Motor Vehicles) combined.
The Most Significant Manufacturing Segments in the US are:
Manufacturing Segment
Total Production

(percent)

Food, Beverage, and Tobacco Products

12.4 %
Chemicals
11.9 %
Fabricated Metal Products
6%
Machinery
5.4%
Computer and Electronics Products
5%
Motor Vehicles and Parts
4.9%
Aerospace and Misc Transportation
4.8%
Source: US Federal Reserve
According to the most recent data available in the European Union, there were 2,025,318 EU manufacturing companies in 2018. Although these numbers vary from country to country, most firms are small across the EU - 83% of the firms across the EU had fewer than ten employees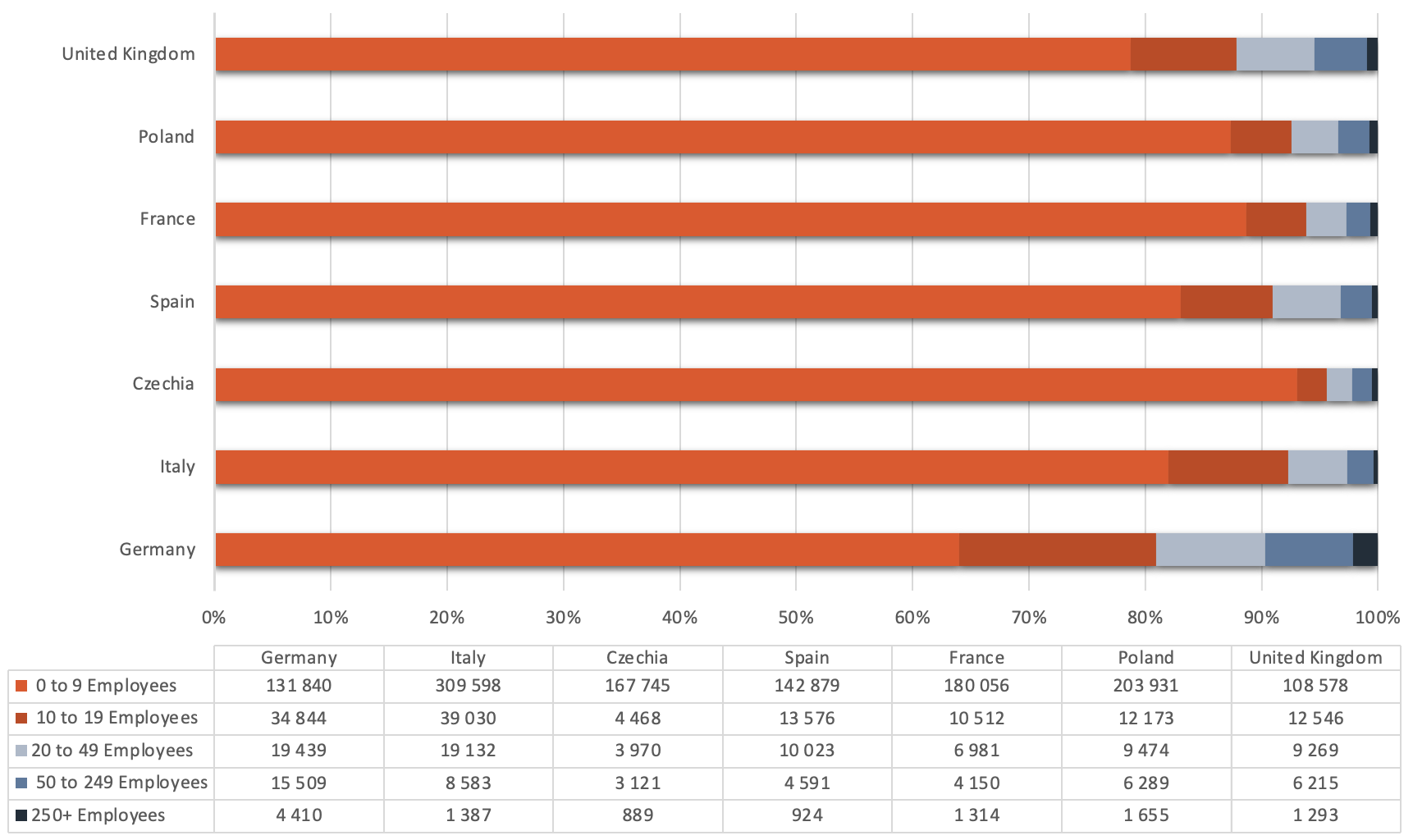 Source: Eurostat
Like the US, Food & Beverage contributes the most to industrial production in the EU. However, Motor Vehicles and Parts manufacturing contribute three times as much to the EU's industrial production as in the US.
In 2020, the Five Largest Manufacturing Segments in the EU were:
Manufacturing Segment
Total Production

(percent)

Food & Beverage
17%
Motor Vehicles and Parts
15%
Fabricated Metal Products
13%
Fabrication of Non-Metals
8%
Computer and Electronics ProductsChemicals
8%
Source: Eurostat
The Push to Reshore
The number and frequency of supply chain disruptions have increased due to trade wars, epidemics, and material shortages, all of which is expected to continue in the future:
In

March

2011, a massive earthquake and tsunami in Fukushima, Japan, disrupted critical semiconductor industry supply chains. Although many impacted companies could assess their direct suppliers, they had no visibility into second and third-tier suppliers, who were the most impacted.

Nine years later, Covid-19 brought every manufacturing supply chain to a complete standstill as businesses globally were forced to close. Social distancing guidelines, shelter-in-place orders, and international travel bans shut down many manufacturing operations.
These disruptions frequently result in shortages of raw materials, components, parts, and finished products across every category, from consumer products and industrial machinery to personal protective equipment and pharmaceutical drugs.
Another key factor driving companies to reconsider reshoring has been rising labor costs in countries that have historically benefited from offshoring. In China, for example, wages have risen as much as 15% a year for the past two decades, driving labor costs five times higher than twenty years ago. Industry 4.0's digital technologies enable innovative production methods and automation, thus erasing or dampening the cost advantages of low-cost countries.
The Prospect of These Disruptions is Driving Manufacturers to Reshore
Reshoring Before Covid-19
After several years of shifting production to offshore suppliers, in 2012, GE invested $600 million to move its appliance manufacturing operations back to its Louisville, Kentucky facilities. By relocating the production facilities closer to product designers and their customers, GE saw several benefits.

The first appliance reshored was the Geospring Water Heater.
Given the local proximity of design, tooling, and production operations, teams redesigned the product with upfront input from all groups. In the past, the tooling and production operations teams were only involved after the design was completed.

Assembly was simplified, resulting in a 20% reduction of the parts needed. At the same time, reducing materials cost by 25%.

Factory-to-warehouse times for appliances were reduced from 5 weeks to 30 minutes - reducing inventory waits from several months to six days.
Due to these production improvements, GE was able to price their "Made in the USA" water heater at $ 1,299 versus $1,599 for the same product manufactured offshore – a 23.5% price reduction they could pass to their customers.
GE is Not Alone in Reshoring Jobs. Several Other Manufacturers have Reshored their Production in Recent Years:
Indeed, between 2010 and 2020, companies in the US have announced reshoring plans that have created over one million jobs.
Looking Ahead
Outsourced and off-shored production of goods, global supply chains, and increasing product complexity have contributed to the emergence of global manufacturing value chains. As most manufacturing involves manual tasks, low-cost countries have often benefitted from outsourced and offshore production.
While offshoring has played an essential role in the globalization of manufacturing, there are several examples of US and EU companies significantly benefiting from reshoring manufacturing operations to their home countries.
However, reshoring is not cheap; analysts estimate that $1 trillion CAPEX will be required to shift out of China. The automation and new production methods needed for reshoring will also require manufacturers to hire workers skilled in Industry 4.0 technologies, which has been challenging and is expected to become more difficult in the future. It remains to be seen if manufacturing will truly shift en-masse from offshore to local production.
NOW is a good time for companies to reevaluate their choices between
domestic vs. offshore production.
In Part 2 of this series, we will examine the impact of offshoring on Environmental, Social, and Governance (ESG) issues in the US and Europe. We will assess how localized goods production can positively impact the environment as well as customers, employees, shareholders, and communities.
Momenta is the leading Digital Industry venture capital firm accelerating digital innovators across energy, manufacturing, smart spaces, and supply chain. Led by deep industry operators across its venture capital, strategic advisory, and executive search practices, Momenta has made over 50 investments with notable exits to SAP, PTC, and Husqvarna Group.
Schedule a free consultation to learn more about our Digital Industry practice.