Jan 12, 2023 | 8 min read
Digital Industry Insight #73
How Telematics adds value to the construction industry (3 of 3)
Telematics is adding value to construction
Telematics has evolved from simply a "dots on a map" to a mandatory capability that enables real-time visibility of vehicles, optimization of vehicle-centric operations, and refinement of driver behavior across the telematics value chain. The value chain to provide this capability is shifting due to the operational-centric use cases, vehicle connectivity, and edge computing capabilities, providing new routes to access and analyze vehicle data.
The previous two installments covered the verticalization of telematics as it integrates tightly into business operations and the overall market forces, marketecture, and generic telematics ecosystem.
In this third and final installment, which has been produced by Alan Berger and Carl Gustaf Göransson of abcg™ , they talk about the evolution of the construction equipment industry and the role of telematics as a concrete example of these dynamics in action.

The impact of Telematics on construction
Construction is a significant part of the world's GDP at 11% and growing, and the tools and equipment used in that industry are an important part of the productive growth, safety, and efficiency of the industry. Telematics can impact all these areas and can also drive new business models. This is just one of three simultaneous and inter-related technology changes that are in turn impacting the business models of OEMs, dealers, and contractors. While the other technologies – automation and alternative fuels – are relatively new, telematics has been available for 20 years, and several major OEMs have even offered several 'free' years of service on larger machines for the past decade. So, why are we just now discussing the impact on business models and efficiency? We believe that this is the convergence of several factors:

Rental

– Contractor needs require business models that are based on technology
Rental is rapidly expanding while also undergoing transformation. Revenues of the 100 largest rental companies in the world have grown at a compound annual growth rate (CAGR) of almost 9%, more than doubling in size in the last decade. Over the same period, global construction equipment sales have grown at a CAGR of just 4 percent. The North American addressable market – the world's largest – is estimated to have reached app $ 60B USD in 2022 and is expected to continue at high growth rates in the coming years. So, what is happening to drive this rapidly evolving customer segment?
It is no longer only about the machine, and its performance, i.e., lifting capacity or bucket size. It is ultimately how the contractor gets a complete solution in terms of the right equipment, the right configuration, the right data platform, and the tools to be able to manage the day-to-day work better than if it is their own equipment. As part of this, contractors want the cost of the machinery to better match their usage, driving a shift from a capital-intensive to a more variable operating expense mode. While traditional rental already helps with this asset-light approach, the drive to better and better align contractor expenses with revenue drives a desire for new rental models such as "pay per use" and "pay per availability." Such offerings require near real-time visibility into the usage of machines, and this is where telematics comes in. Telematics combined with clearly defined processes in an open data platform environment and able to handle multiple brands and products is becoming the industry standard. These connected machines, supported by the right applications, can provide the contractor and rental operator with the data to not only make these new business models possible but also to drive further efficiency in the combined operations. This can include capabilities such as digitized administration processes and keyless rental.
Maintenance - The quantum leap in operations must be captured
So how will Telematics take Maintenance of Construction Equipment to the next level?
The major change and improvement we see are how the principle within service and maintenance moves from a "break it – fix it approach" to a proactive approach using real-time data. We are not telling you any news; what we do see is several benefits that are still untapped due to slow adaption to implementing new business models and the huge potential with data transparency this will give the complete CE ecosystem. Typical use cases discussed in the industry include: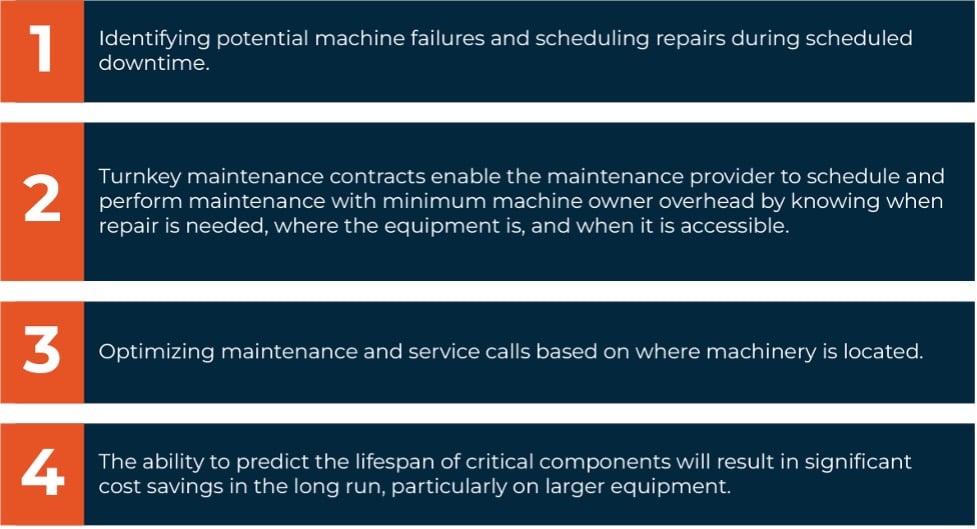 All of these use cases rely on access to a data stream from machines of operating hours, location, and fault codes which are and have been readily available from connected machines. But technical solutions and clear business drivers alone are insufficient to make these use cases a reality. These are business process modifications, and technology-enabled business process modification is challenging. To make this happen, multiple things must converge on the up-front selling and back-end operational parts of the business. Having these offerings available is not valuable unless customers know about them and see the value it provides to them. If the salesperson is not motivated and capable of explaining this, nothing will happen. Similarly, to make this work, people need to be dedicated to the take the information from the technology and turning it into real actions. OEMs often stop at creating technical opportunities. Dealers often struggle to understand the benefits and how to obtain those benefits. Therefore, customers frequently don't even know these options are available. Linking the technology to the business through a proper change program is key to ultimate success for all!
Please contact one of our advisors to discuss how Telematics can provide value-added services, drive engagement in new ways, and create new business opportunities for your organization.

The Next Wave of Telematics
Stay current on

the latest telematics solutions driving transformation in

commercial operations

.
DATE: Thursday, January 26th, 2023 @ 9 am PT I 12 pm ET I 6 pm CET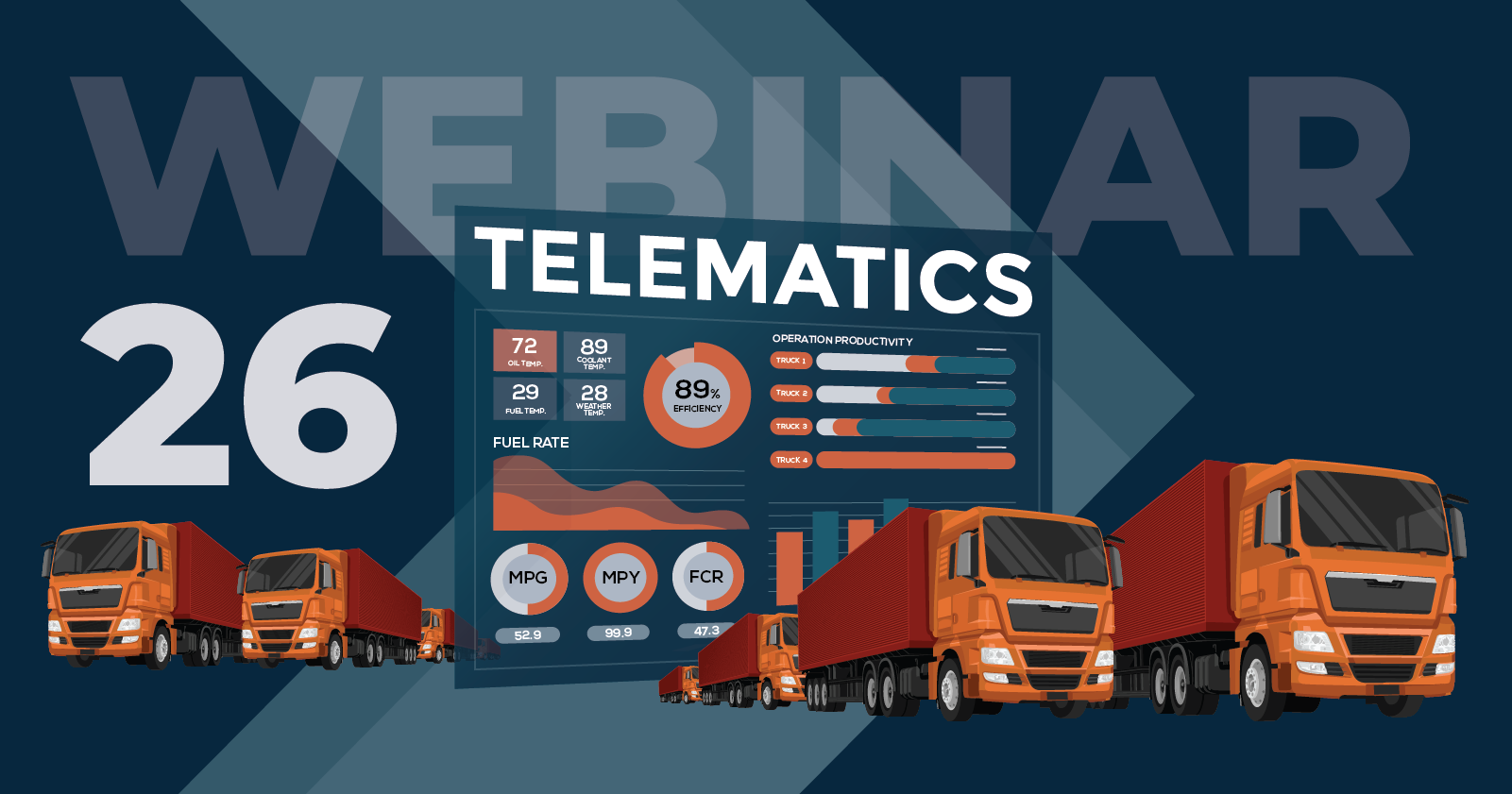 During this telematics webinar, a panel of industry experts will be discussing the following:
The evolution of telematics

Telematics trends and specific use cases

Market forces driving disruptions and impacting market dynamics

Resulting in new architectures and evolving ecosystems

Deep dive into how telematics is revamping on/off-road and construction operations
If you cannot attend, registering ensures you receive a link to the recorded webinar once available.

Momenta is the leading Digital Industry Advisory firm accelerating growth for our clients across energy, manufacturing, smart spaces, and supply chain, both organically and inorganically. To learn more about our Value Acceleration Programs, click here.