Nov 12, 2021 | 11 min read
Digital Insights #64
Reshoring: Allows for New Business Models Part 3 of 3
Posted by
Harinderpal Hanspal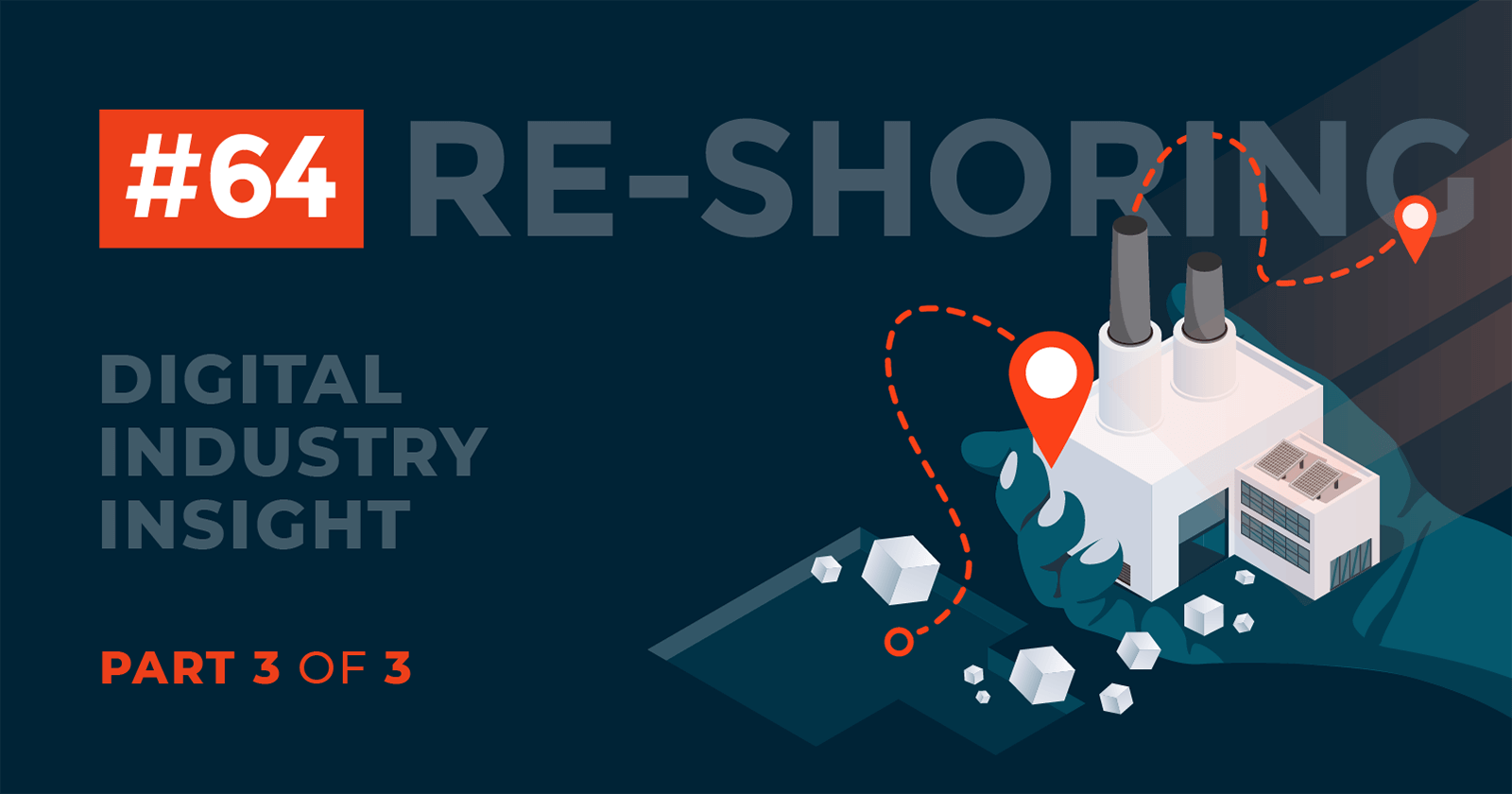 Reshoring is enabled by Technology, Business Models, and Ecosystems
In the first two installments in this series on reshoring, we saw that many manufacturing businesses have significantly benefited from moving production closer to their customers. Reshoring manufacturing closer to end markets also positively impacts environmental, social, and corporate governance. In this concluding part, we will discuss the hurdles that could slow down reshoring and examine the solutions to some of these challenges.

GOOD TO KNOW:
Reshoring is the process of migrating the production of goods back to the country of origin.
In this three-part series, we are examining:
The current state of manufacturing in the U.S. and E.U., including

benefits experienced

by companies that have already re-shored.
How adopting Industry 4.0 technologies can help manufactures to re-shore.

Reshoring hurdles
Although there are documented benefits to reshoring, it won't happen overnight for several reasons:
Talent and skills gap

-

According to a recent study by Deloitte, finding the right manufacturing talent is challenging. These challenges will continue in the future, with an anticipated 2.1 million unfilled manufacturing jobs by 2030 at a potential cost of $1 trillion to the U.S. economy. Additionally, an aging workforce, dropping birth rates, a lack of vocational education programs, fewer apprenticeships, and an image of manufacturing as a "dirty and dangerous" career path have.


Upgrading Manufacturing Capacity

- Reshoring requires local supply chains to add and update production capacity, including labs, maker spaces, workshops, and factories. Unfortunately, a single factory can cost billions of dollars to build out, which deters companies from making this vital move.




Digital Technology Access

- Technology and automation have been critical enablers for companies that have reshored production. It has also helped them reduce waste. However, the manufacturing industry lags in technology adoption. The use of automation tools, such as robots, is highly concentrated within a select few industries. Technology adoption can be prohibitively expensive for small manufacturers.
During Covid, Technology, employee skills and know-how, and rapid decision-making enabled many manufacturers to pivot to new products quickly. Closing these gaps can also help companies become more resilient from disruptions.
Transforming reshoring with technology
The digital economy contributes significantly to the US GDP and total employment when compared to other industries. According to the World Economic Forum, one dollar invested in digital Technology increased G.D.P. by twenty dollars over the past thirty years. Digital technology directly impacts labor, capital, and asset productivity and is a key enabler in allowing companies to reshore the production of goods.
Key technologies that address the hurdles outlined above include:
Robots, Drones, and Unmanned Vehicles -

Specialized vehicles and machines are built to automate jobs considered dirty, dangerous, or dull on the factory floor. They can be stationary or mobile and can operate autonomously inside factories without human involvement. Tasks performed can range from managing, moving, and tracking inventory to assembly. Enabled by sensors, the Internet of Things, and Artificial Intelligence, these vehicles and machines perform tasks without the need for human intervention.




3D Printing & Computer Numerical Controlled (C.N.C.) Machining -

3D printing, also known as Additive Manufacturing, produces physical products by building successive layers of materials. C.N.C. Machining is a subtractive process during which the machines remove material from the base piece by lathing, milling, or drilling to create the final product. C.N.C. Machining and 3D printing are computer-controlled processes that start with a digital file that contains a 3D image of the product. C.N.C. and 3D Printers can be placed anywhere globally to enable local production of goods.




Digital B2B Marketplaces -

Digital marketplaces are online marketplaces that facilitate trade for digital and physical products and services between buyers and sellers. Similarly, B2B Marketplaces connect manufacturers with workers, equipment, and factories.


Augmented Reality, Virtual Reality, and Mixed Reality

- Users can move around in a 360-degree immersive virtual world (V/R), view digital elements in a live, real-world view (A/R), or combine both so that real-world and digital objects interact. When combined with work instruction and learning management systems, AR/VR enables "low-skilled" workers to work on tasks that generally require skilled workers.




Artificial Intelligence (A.I.), Machine Learning (ML), and Deep Learning

-. I.A.I. is the machine's ability to perform tasks commonly associated with humans – perception, learning, problem-solving, and decision-making. ML is a subset of an. I.A.I. application that reprograms itself over time to perform tasks with more accuracy. Deep learning is a subset ML application that performs a specific task with greater accuracy and no human intervention. For example, engineers can use generative design tools, enabled by A.I., to automatically create thousands of design options by defining their problem and providing parameters like materials, strength, height, and weight.




Low-Code and No-Code Platforms.

Allow skilled and unskilled workers, such as process engineers and plant floor managers, to build, deploy, run, scale, and manage software applications on the factory floor with limited to no programming knowledge.




Computer Vision.

A camera with artificial intelligence allows computers to "see" and interpret still images and video. In manufacturing, this means using Technology to inspect parts on a production line to monitor product quality and reduce scrap. Adding computer vision to a factory floor also enables manufacturers to monitor inventory and workers on the factory floor for continuous process improvement and lean manufacturing.
Business models that enable reshoring
Much of the technology innovations outlined above create efficiencies that make manufacturing supply chains efficient from design to distribution. But, while they create new types of "digital" jobs, they don't create more jobs. Creating more jobs requires transformative and disruptive innovations, enabled by new business models, that will allow more access to tools and talent:
Gig Economy

-

Freelance marketplaces give software companies on-demand access to a global talent pool of skilled workers, from user interface designers and full-stack developers to product managers and documentation writers. Gig workers are paid by the hour, day, task (or micro-task), or project on a short-term or long-term basis. In addition, the gig economy makes it possible for manufacturers to tap into a global talent pool, on-demand, for partial or whole projects - from CAD experts and fabrication specialists to sales development and service representatives.




Sharing Model

- Cloud services provide software companies access to expensive computing, storage, and network resources. Idle capacity on the assets owned by individuals or businesses can be "shared" on-demand with others for a short or long period. Payment can be arranged by subscription, per-usage, or per outcome. For manufacturers, the sharing economy provides access to expensive resources on-demand. Upgrading, maintaining, and operating the shared assets is the asset owner's responsibility, freeing the manufacturer to focus on their customers, products, and business.

Open sourc

e

- Industry 4.0 technologies include the Internet of Things, artificial intelligence, cloud computing, robotics, and 3D printing. They enable significant improvements in productivity, efficiency, production techniques, and business processes. Although many of these technologies use open-source components, some of the most critical, like robotics, use proprietary hardware and software even when open-source alternatives are available. The adoption of open source technologies has three times more impact on innovation than companies using proprietary technologies, potentially translating into a €95 billion impact per year to the E.U.'s. G.D.P. alone.


Reshoring enabled by governments
A recent report estimated it would cost one trillion dollars for foreign firms to move their manufacturing processes out of China. Most manufacturers in the U.S. and E.U. have fewer than twenty employees, making it cost-prohibitive for many to shift production back to their home countries. Recognizing this, the U.S. government passed the 2014 Revitalize American Manufacturing and Innovation Act to establish several public-private institutes under one umbrella, supported and sponsored by the Departments of Commerce, Defense, Education, and Energy. The sixteen institutes bring together manufacturers, academia, and government for research and development projects and train advanced manufacturing skills workers.

Notable institutes and U.S. federal government initiatives include:
CESMII – The Clean Energy Smart Manufacturing Innovation Institute

. Created in 2016 and funded by the Department of Energy, it is the primary source for smart manufacturing research, workforce education and development, and platform.




A.R.M. – Advanced Robotics Manufacturing

. It brings together manufacturing, government, robotics, research, workforce development, and academic experts to accelerate the adoption of industrial robotics in U.S. manufacturing.




America Makes

. A national accelerator for creating a robust domestic supply chain, skilled workforce, and technology and materials research based on additive manufacturing and 3D printing capabilities.




MxD

- Manufacturing Times Digital. Enables U.S. manufacturers to compete with overseas manufacturers by developing and providing factories with digital tools and expertise to help them manufacture products efficiently, quickly, and at a reduced cost.


M.E.P. - Manufacturing Extension Partnership.

Based at the National Institute of Science and Technology (NIST), M.E.P. is a public-private partnership that serves small and medium-sized manufacturers across all 50 states by providing various services that help them accelerate growth and increase their competitiveness globally. Services offered include product design and development, lean and process improvement, and cybersecurity service.
As we've seen in this series of articles on reshoring, companies that reshore benefit from localizing production in many ways – faster time-to-market, reduced inventory levels, and even cheaper products. Reshoring creates higher-paying jobs, higher quality products and minimizes scrap, rework, and returns. Overcoming the many hurdles will require new business models, the adoption of affordable digital technologies, and the training and upskilling of workers. While it will require manufacturers, government, and workers to come together to charter a multi-decade course, the rewards are too big to ignore. We must not miss out on this valuable opportunity for the future of workers, communities, businesses, and our planet.
We hope that you enjoyed the third installment of our reshoring series.
If you haven't had a chance to read the beginning of this series,
you can do so by clicking here.
Reach out to me via LinkedIn if you would like to discuss this topic further.
Momenta is the leading Digital Industry venture capital firm accelerating deep-tech innovators across energy, manufacturing, smart spaces, and supply chain. Our team of deep industry operators has helped scale industry leaders and innovators via our award-winning executive search and strategic advisory teams for nearly a decade.
Schedule a free consultation to learn more about our Digital Industry practice.