Nov 3, 2022 | 8 min read
Momenta Invests in Smartex's Series A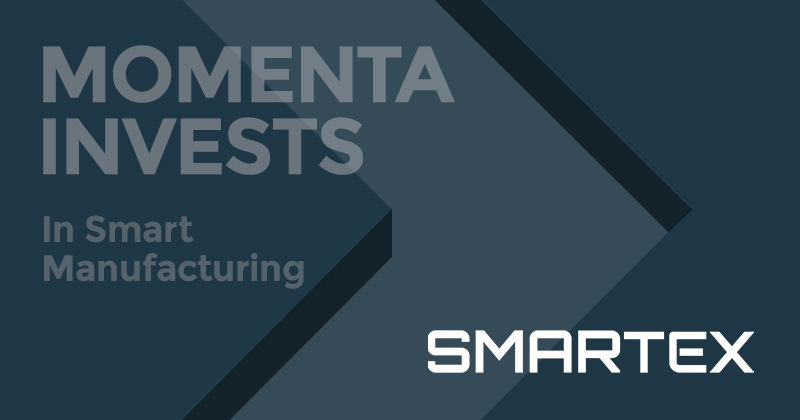 Momenta expands its investment in Smartex, the leading provider of digitization solutions for the global textile industry.
Smartex,
is
the leading provider of digitization solutions for the global textile industry. F
ounded in 2018 by CEO
Gilberto Loureiro
, CTO
António Rocha
, and CIO
Paulo Ribeiro
, the company has
developed hardware-enabled, machine-vision-driven software to detect textile defects in real-time. This automated identification process reduces textile waste, CO2 emissions, energy, water, and capital expenditure.
Historically, most fabric manufacturing quality control was done manually at the end of production runs, sometimes resulting in hundreds or thousands of yards of defective fabric. With the introduction of machine vision, the textile and fashion industries now have an enormous opportunity to reduce waste via automated inspection.
Smartex's vision solution enables manufacturers to conduct quality control in real-time. The inspection occurs inside circular knitting machines enabling defect detection during production and allowing manufacturers to spot problems immediately.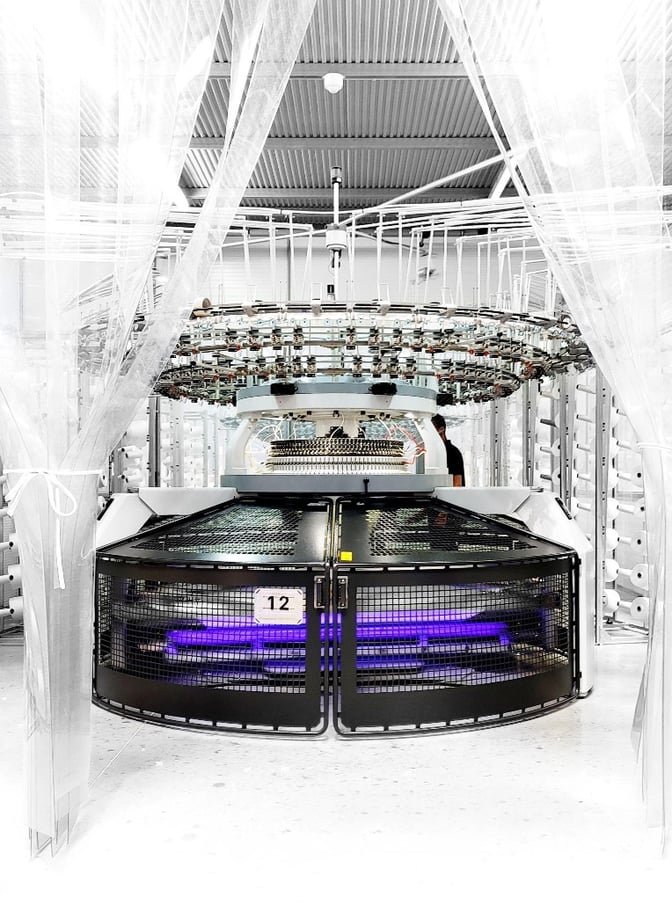 Circular Knitting Machine at Familitex, with Smartex system installed
As the global sustainability movement continues gaining momentum, consumers and regulators are intensifying pressure on the fashion and textile industry to keep up with emerging technologies while reinforcing the need for modernization and digitization toward cleaner, more accountable production.
Since Momenta's Seed investment in 2019, Smartex has expanded significantly, providing services to leading knitted fabric innovators Tintex Textiles, Familitex, Toraman Tekstil, and Ekoten (Tommy Hilfiger, Calvin Klein, etc.) while also collaborating with renowned fashion brands like Kering Group (Gucci, Balenciaga, etc.), PVH (Tommy Hilfiger, Calvin Klein, etc.), and Pangaia.
Smartex is expanding its product line beyond machine vision and automated inspections to include traceability and other solutions to ensure more sustainable and transparent manufacturing within the fashion industry. Smartex is rapidly expanding in European markets, as well as North and South America and North Africa, and is beginning to expand into Southeast Asia.
Gilberto Loureiro, co-founder, and CEO of Smartex, says: "We are pleased to expand our collaboration with Momenta further. Since our Series Seed, Ben Steven, Ken Forster, Michael Dolbec, and the Momenta team have been valuable collaborators due to their extensive knowledge of the textiles industry and digital technologies. It's great to have them support us in achieving success in an underserved but genuinely intriguing sector."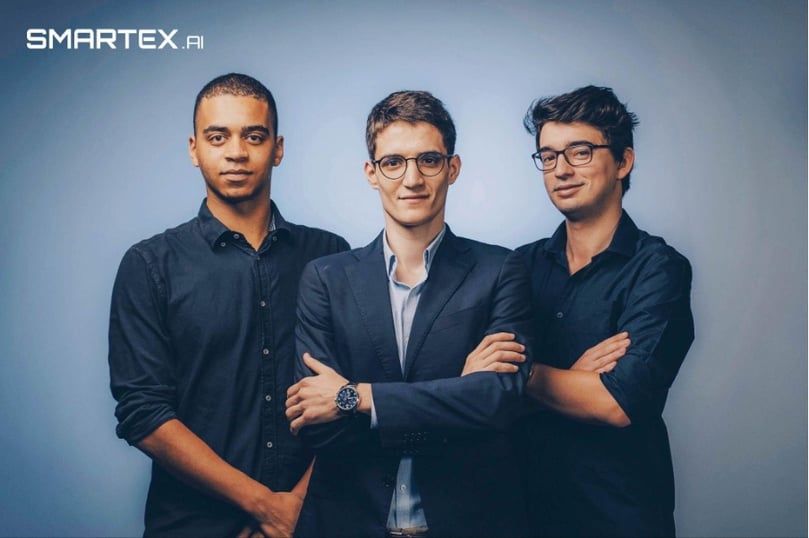 Smartex Founders: Antonio Rocha, Co-founder & CTO; Gilberto Loureiro, Co-founder & CEO; Paulo Ribeiro, Co-founder & VP of Engineering
The $24.7M raised in Series A will help Smartex expand its team, enter new geographies, and enhance its solution's traceability and factory automation capabilities. The company is hiring globally to support robust revenue growth and achieve its goal of transforming the textile industry, improving quality, and reducing waste.
Momenta's Ben Steven: "We are very pleased with our investment in Smartex. The team has developed a unique solution for an industry underserved by cutting-edge technology. During the past three years, the founders Gilberto Loureiro, Antonio Rocha, and Paulo Ribeiro have created a fantastic product and a highly professional organization. The team has grown their vision from automated quality control to traceability and other automation solutions unique in the market and eagerly anticipated by their current and future customers and partners."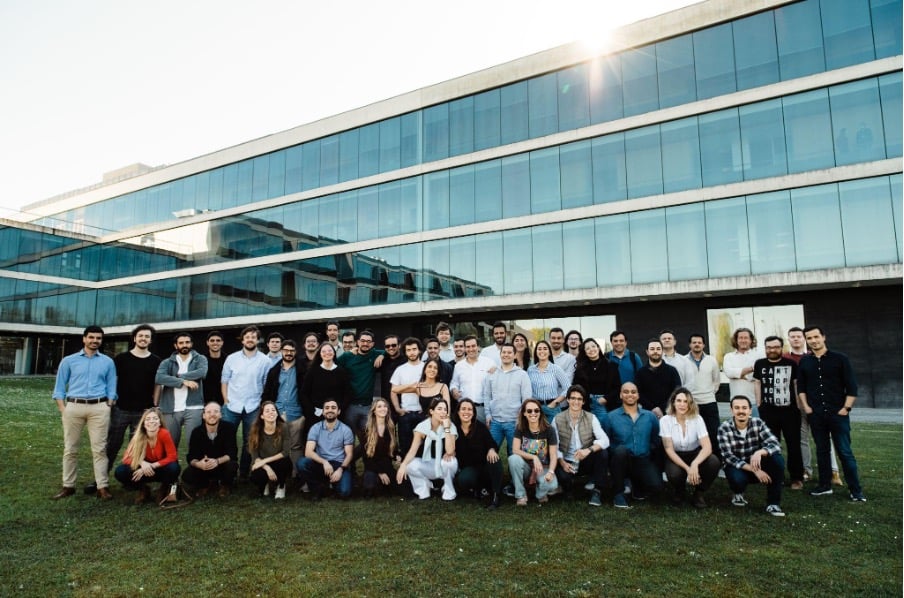 Smartex's growing team in the Porto office
About Smartex
Smartex is focused on solving some of the main problems in the global Textile Industry: the lack of quality control and the production of defects in textiles. Defective production affects not only the company's gross margins and the retail prices in clothing stores but also the environment. Smartex reduces defective output to close to 0% while at the same time providing quality control software, bringing Industry 4.0 to the Textile Industry and providing cutting-edge technology to this US $3 trillion sector. To learn more about Smartex, visit https://www.smartex.ai/.
_____________
Momenta is the leading Digital Industry venture capital + growth firm accelerating deep tech innovators across energy, manufacturing, smart spaces, and supply chain. For over a decade, our team of deep industry operators has helped scale industry leaders and innovators via our award-winning executive search and strategic advisory teams.
Schedule a call
to learn more about our Digital Industry Venture practice.