Dec 29, 2020 | 6 min read
Digital Industry Insight #46
Looking Back at 2020: How To Create Value in a Crisis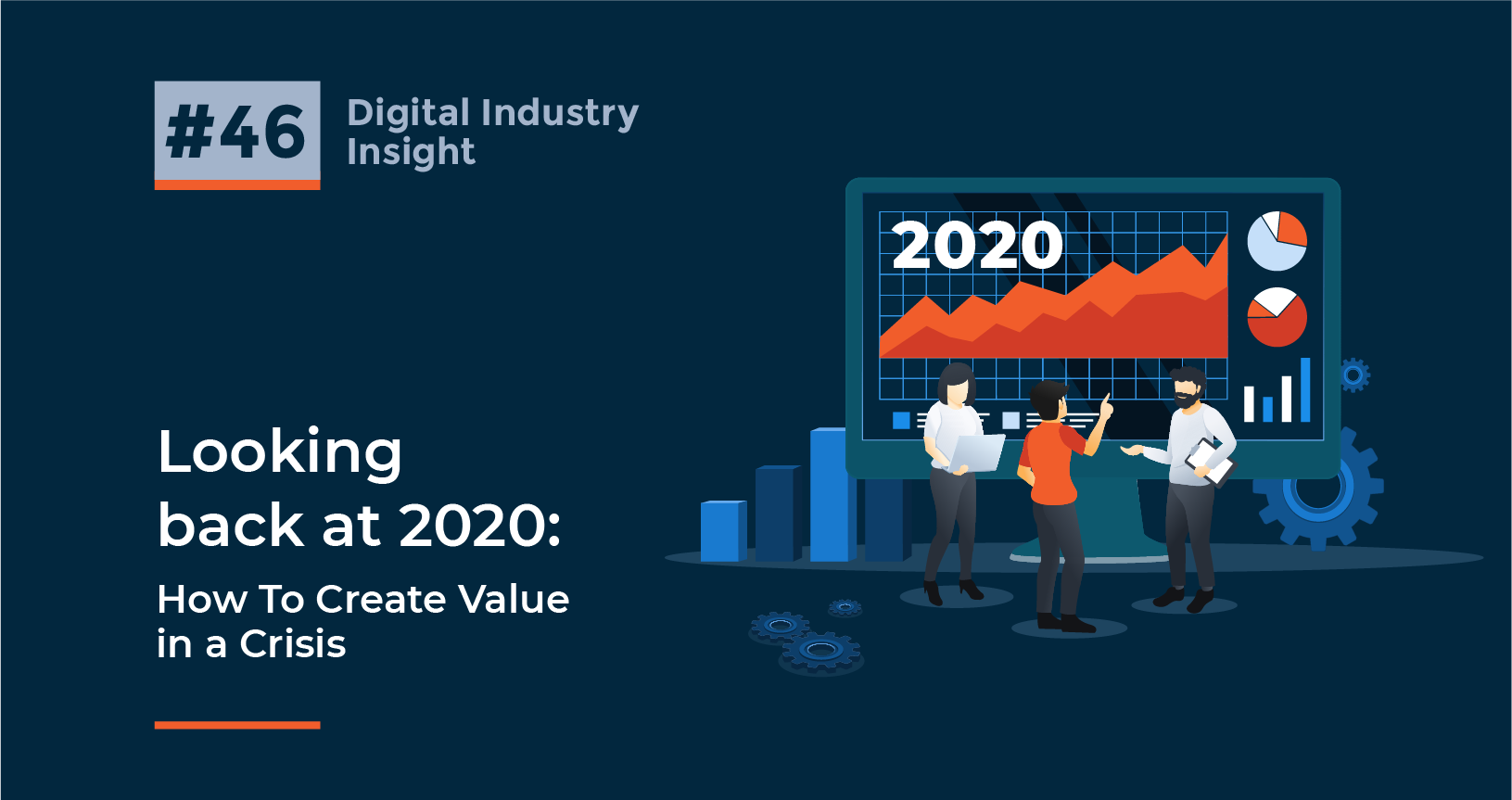 Looking Back at 2020: How to Create Value in a Crisis

The last eight months have been a trying experience for many startup founders and CEOs. By April, most plans for 2020 had been abruptly thrown out the window.
Not all business concepts were negatively affected – Covid-19 has actually turned into an accelerator for some – especially those with solutions related to supply chain optimization or those focused on reducing manual processes.
2020 is already a year for the record books, with the unprecedented economic Impact and societal disruption caused by the coronavirus. Parsing the kanji origins of the term crisis = Danger + Opportunity – it's the opportunities that arose from the dislocations at hand as businesses rushed to overcome new obstacles and position themselves to address unmet needs. As we look back at Momenta's Insights in 2020 we wanted to revisit some of the more impactful themes. This week we look at Opportunities that arose from the crisis, the role that the pandemic played as an "Innovation Accelerator," and the critical traits that transformative leadership bring to bear when navigating their organizations through uncertain times.

Opportunities Ahead as the Storm Passes

In the midst of the lockdowns and travel restrictions, it became clear that the global pandemic of 2020 changed everything, even the rate of change. Prior to Covid-19, there was robust interest in digital transformation among businesses of all sizes and across industries but lacking a sense of urgency. When severe lockdowns hit the developed world in late March and April, this forced the hands of companies waiting on the sidelines to embrace remote work, remote collaboration, software automation and e-commerce. Digital tools have enabled organizations to continue to communicate and serve their stakeholders without direct physical presence, for retailers and restauranteurs to continue to serve their customers, and for government agencies particularly in Asia to implement aggressive contact tracing to contain the virus.

There's growing evidence that the pandemic is the "digital accelerant of the decade". The risks of supply disruptions helped economies become more reliant on local or nearby production; cities are becoming dispersed as commuters and workers increasingly decamp to suburbs and work from anywhere while entertainment, sports and other diversions are adapting to hybrid in-person and streaming events. There's a refactoring of education as schools adopt a mix of online only, in-person instruction or innovative hybrid models.

Crisis as Innovation Catalyst

It's not a surprise that some of the most successful global firms were started in recessions or during other crises. Necessity, as they say, is the mother of invention. Today, people and businesses are adapting to re-think better ways to solve problems. The global supply chain's weaknesses have been exposed starkly (think of the great toilet paper shortage of Spring 2020!), and this is giving rise to a new wave of startups and innovative digital approaches to enhance resiliency and flexibility. With a number of potential treatments in the pipeline and vaccines already on the way, there is hope on the horizon. The financial markets are anticipating a robust recovery ahead, and with fiscal stimulus flow.

With less travel and entertainment expenses and more customers willing to interact via digital media, businesses are operating with new levels of efficiency, leaner cost structures and greater agility. The foundations for a new generation of trailblazers are being put in place, and all organizations must move rapidly and decisively to adapt to the "newest normal".
Critical Traits of Catalytic Leadership

The heart of any organization is people, and effective leaders guide companies through important stages of growth, fundraising and expansion. This is demanding when a business is on an upward trajectory. When in difficult economic times, or when an industry is in secular decline, or when a business has matured into a state of stasis, or a crisis hits, good leadership will make the difference between recovery, stability and success and failure. The best leaders provide the catalyst for change and can recast the entire direction of a business's fortunes. Finding the right leader in times of need or crisis is an art that can benefit all of the stakeholders of a firm – clients, employees, investors, even competitors that benefit from market validation.

In our increasingly services-led economy, the most valuable asset is human capital, both for companies and for the economy at large. When seeking the right fit for a transformative situation, the combination of experience, network, and mastery of the arts of communication are essential to match the catalytic leader with the right company. In normal times, catalytic leaders help make good companies great; in times of crisis, catalytic leaders mean the difference not just between good and great, but between survival and failure.

Momenta is the leading Digital Industry Venture Capital, Advisory and Executive Search firm accelerating growth for our clients across energy, manufacturing, smart spaces and supply chain, both organically and inorganically.
We love to hear from you! Connect with our Strategic Advisory team to learn more!