Sep 1, 2020 | 4 min read
Digital Industry Insight #29
Crisis as Innovation Catalyst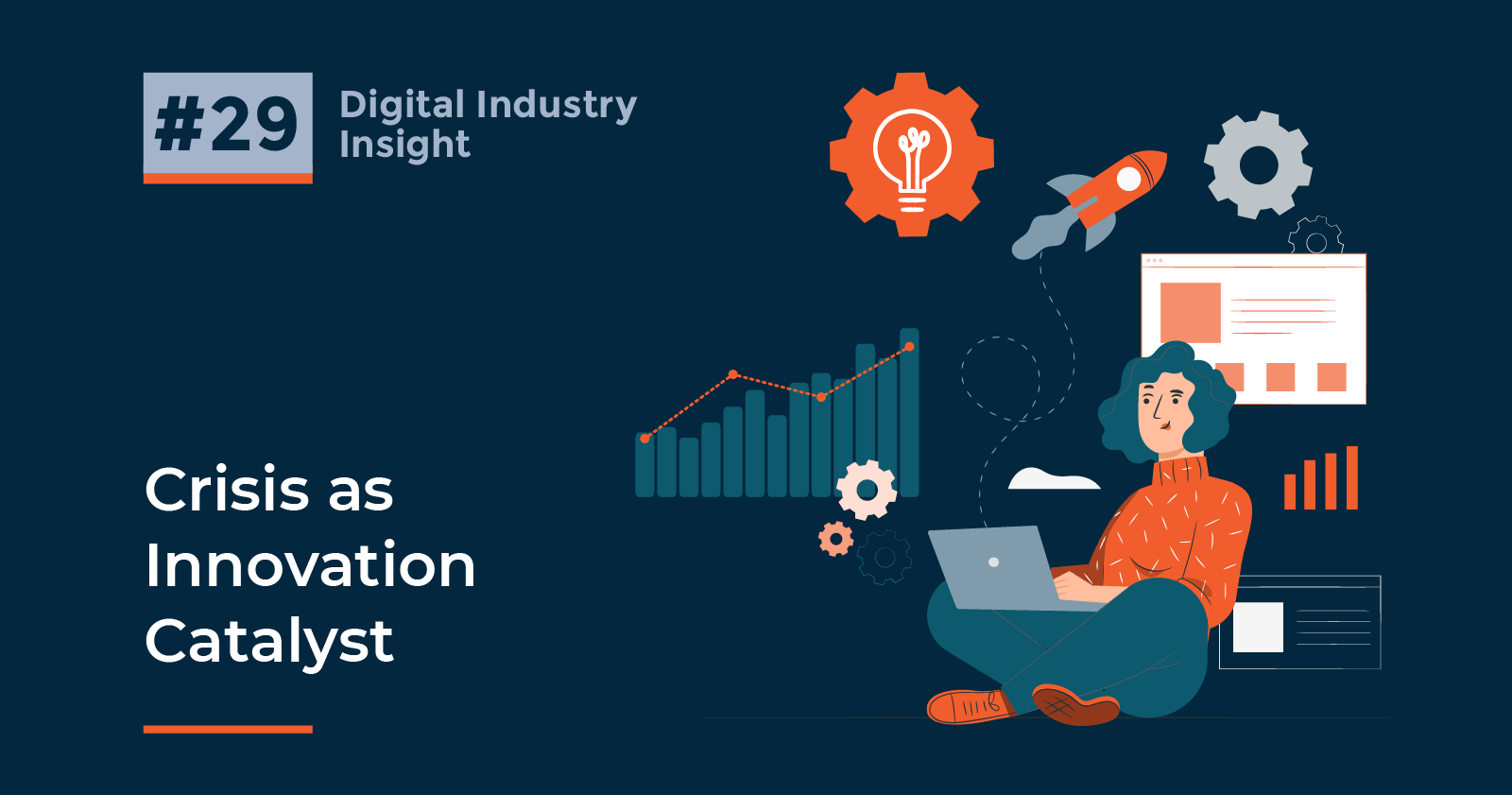 At the end of August 2020, the global COVID-19 pandemic continues to dominate the news. It appears, heading into the Fall, that restrictions are likely to remain in place for the foreseeable future, and the "New New Normal" becomes reality. As we get used to current contingencies, and plan for the future, there's going to be an even greater role that technologies will play in the future of Industry. In our webinar COVID-19: The Great Digital Accelerator, we discuss the global implications of the Coronavirus and explore how to lead your organization's efforts to win with Digital Transformation, Digital Innovation and Catalytic Leadership.
If you want to deepen your webinar experience, before tuning in take a look at these additional insights on this topic:
Opportunities Ahead as the Storm Passes
2020 is becoming the Great Digital Accelerator everywhere you look (for better or worse) and the Impact of the pandemic transcends national borders and has become a global challenge.
Despite the obstacles at hand and longer term, people and businesses are adapting to seize new opportunities to re-think better ways to solve problems. The global supply chain's weaknesses have been exposed, giving rise to a new wave of startups and innovative approaches to enhance resiliency and flexibility. The financial markets are anticipating a robust recovery ahead, and with fiscal stimulus flowing through the system conditions are primed for significant business investment. Keep an eye out for emerging opportunities to catalyze positive changes ahead and remember that today's unique challenges shall pass.
The Newest Normal – The Great Accelerator
Nearly six months along, there remain tragic aftereffects impacting public health and vulnerable industries. On the other hand, we are seeing innovation and successes as people and organizations adapt to the challenges at hand, with some unexpectedly positive second and third order benefits emerging.
The pandemic of 2020 is acting as a Great Accelerator of Digital Business, forcing a reckoning for companies to recalibrate and supercharge the velocity of their digital initiatives. The work from home trend initially benefited tech vendors that enable remote workforces, but now benefits are being felt by businesses operating with new levels of efficiency, leaner cost structures and greater agility. The foundations for a new generation of trailblazers are being put in place, and all organizations must move rapidly and decisively to adapt to the "newest normal".
Accelerating Through the Curves
The sudden restrictions on commerce, community and connectivity upended the best conceived plans and strategies, forcing a new reckoning of priorities for businesses in nearly every industry. Digital Business is no longer a remote objective to be approached stepwise over years; it's an immediate imperative in order to survive and thrive in the "newest normal".
The booming economy at the outset of 2020 started out as a straightaway and has twisted into a set of curves that need to be navigated with courage and care. Despite multi-faceted disruptions, businesses need to keep the foot on the gas pedal, break off the rear-view mirror and accelerate into the curves. Powering the engines of growth are Digital Transformation, Digital Innovation and Catalytic Leadership. The successful Digital Business needs command of all of these vectors for success.
Want to hear more about this very topic?
In this webinar we will assess the changes wrought by the global pandemic. What has changed so far and what's coming? What steps are needed to manage external changes, outperform competition, build teams of top performers and inspire with clear vision? You can now access the slides or watch the webinar on-demand!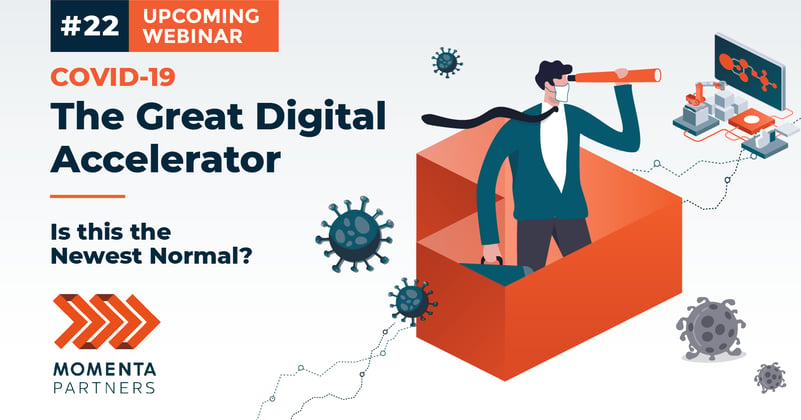 Momenta Partners helps industrial players digitize their business. We're the guiding hand behind leading industrials' IoT strategies, over 200+ IoT leadership placements, and 40+ young IoT disruptors. Schedule a free consultation to discuss how we can help you take your business to the next level.