Jul 28, 2020 | 5 min read
Digital Industry Insight #25:
Critical Traits of Catalytic Leadership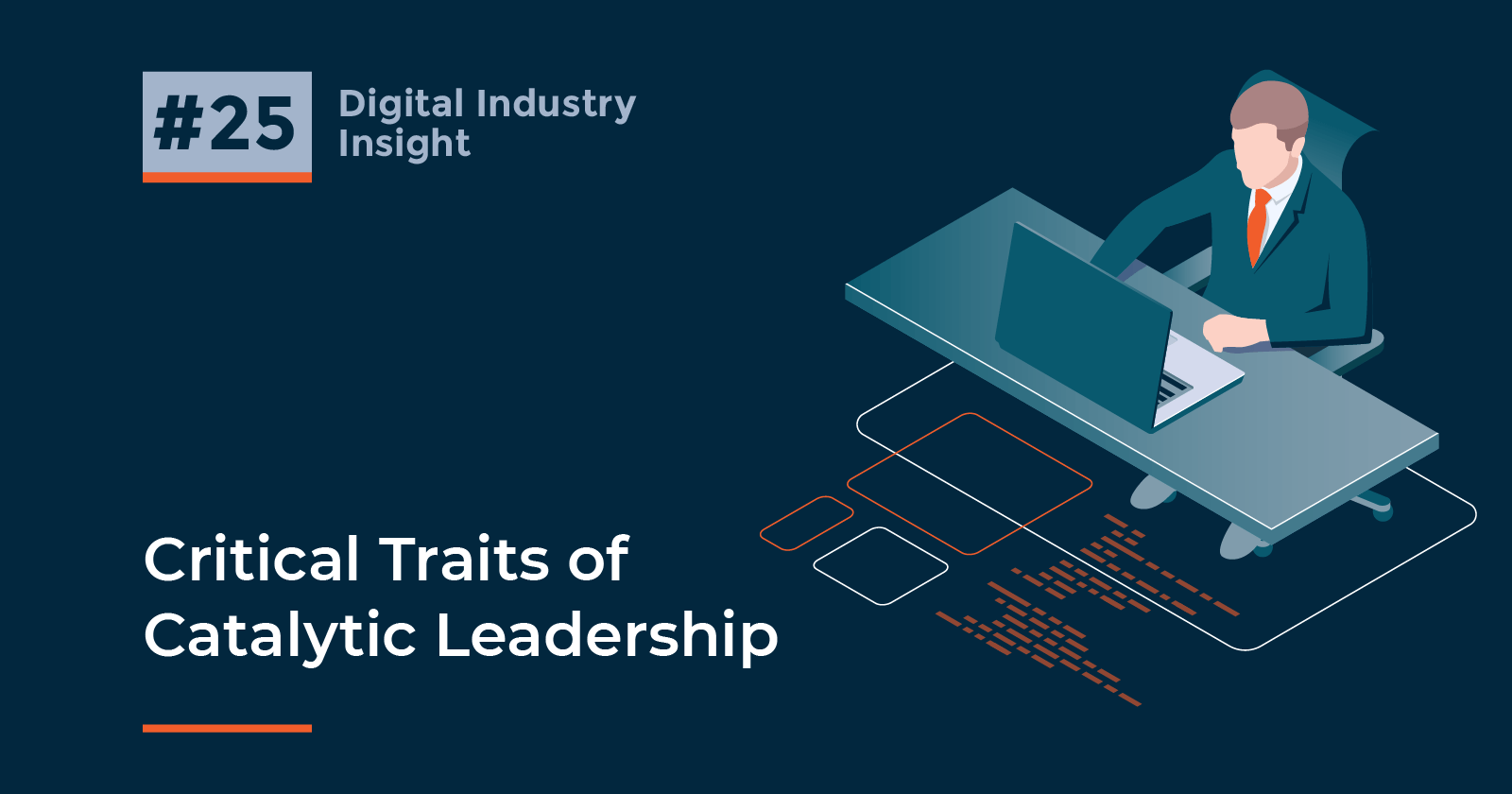 What defines an catalytic leader? There is no single formula that defines effective business leadership in all cases, but there are key characteristics that define those that lead their teams to success. Effective leaders can have a wide range of different styles – understated and competent (there are great examples in Jim Collins' book Good to Great), mercurial (think tech titans like Steve Jobs, Bill Gates and Larry Ellison), dynamic (Jack Welch, for example), or highly empathetic (such as Microsoft's Satya Nadella). Visionaries like Marc Benioff of Salesforce and Aneel Bhusri of Workday are part of a new generation of leaders that combine relentlessly competitive focus with inspiring messages and socially responsible corporate messaging.
Here are 10 key characteristics that characterize catalytic leaders:
Situational Awareness: An effective leader needs to be aware of the state of the organization, the dynamics of the business, the economic backdrop, the political/regulatory environment, the state of competition and most of all the talents, capabilities, concerns and mood of their team.

The greatest risk to any leader comes from blind spots – from team dynamics to operational updates to broader changes in and around the business.

Effective leaders do not shy away from bad news.

The key is to understand the reality of the current situation as a foundation to affect positive change.

Effective Persuasion: Convincing anyone to do something, to perform a task, to purchase a product, to work toward a common goal – will commonly require persuasion. An effective leader will be able to convey the what, how, why and when, and the win-win advantages involved.

Persuasion is the fundamental objective of any sales-oriented business, and there are very few business models that do not involve sales.
Being Decisive in Uncertain Times:

Crises will hit without warning, and sudden changes should always be anticipated.

In the proverbial "fog of war" no one has all of the information, but "analysis paralysis" can be fatal.

Catalytic leaders need to be decisive without having all the information, and to have the flexibility to adjust when new information becomes available.



The Ability to Communicate Clearly: Nothing is more important than clear and concise communication.

Great leaders convey information with clarity, and with as little ambiguity as possible.

It is not easy, but it is the most powerful skill any leader can develop.



The Ability to Motivate:

Motivation is the objective of persuasion.

Effective leaders help their teams engage with the tasks at hand with persistence and commitment.

Motivation involves clearly defined tasks, specific outcomes, and appropriately aligned incentives.
The Ability to Inspire: Inspiration transcends roles, companies, and businesses seeking to achieve stated goals.

It is critical for effective leaders to inspire those they lead through a clear sense of purpose and mission shared across the organization.



The Ability to Delegate:

A common leadership pitfall is micro-management.

No single person can bear responsibility for everything.

Leadership's ability to trust their teams and top lieutenants to execute upon stated goals is essential to any company's growth and prosperity.



Commitment to Talent Acquisition & Development: Every business wants to employ the best and the brightest in their respective industry.

Placing adequate emphasis on personal and professional development and career advancement opportunities is essential to recruit, cultivate and retain top talent.



Credible Optimism:

Optimism fuels inspiration, but the best leaders are able to convey a realistic understanding of present-day challenges as well as opportunities ahead.

Wall Street and investors view credibility among the most important characteristics of executive leadership.

When engaging stakeholders, clients and employees, executive leaders need to be able to describe today and tomorrow with an optimism grounded in recognition of the challenges and risks at hand.
Trustworthy: Perhaps the most important quality of all, effective leaders create an atmosphere of trust between those around them.

Without trust, none of the other characteristics of great leaders will be effective.

Trust needs to be built over time and cultivated carefully through words and deeds.
These traits are not exhaustive by any means, but they do provide a look at baseline characteristics and capabilities needed to be an catalytic leader. Certainly, additional characteristics will be needed to lead a successful business depending on different organizational and contextual challenges. Superior leadership starts with trust - and is complimented by many other qualities that allow employees, clients, stakeholders, and ultimately the business, to flourish.

Momenta is the leading Digital Industry retained executive search firm delivering impactful leadership across energy, manufacturing, smart spaces and supply chain. We have placed more than 200 leaders globally in Fortune 100's and venture-backed startups, including digital leadership roles at Hitachi, United Technologies and C3.ai. Let's connect and discuss how Momenta can help you take your business to the next level.