Nov 16, 2021 | 5 min read
Digital Insights #65
Industry 5.0: Man and Machine Part 1 of 4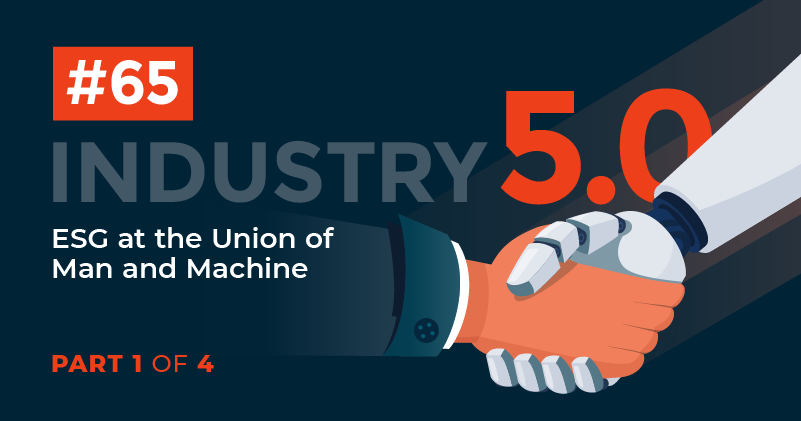 Industry 5.0 - The ESG Union of Man and Machine
Technology has driven progress in industry, business, and society in ways that once seemed unimaginable. Automation, analytics, and connectivity together enable Digital Transformation reshaping how we work, how goods are manufactured, and how supply chains are linked together.

Rapid advances in the power of technology easily outpace the ability of organizations to align priorities to take effective advantage of new capabilities, leading to the need for vision – and guidance to help put things into perspective.
With so many changes afoot across the technology landscape, with evolving workforce demands, and an evolving backdrop of shifting societal and regulatory priorities, there's a need for a set of guiding principles to help set the course for the future of Digital Industry. This is where Industry 5.0 comes into play. Industry 5.0 is a framework for re-imagining the future of energy, manufacturing, mobility, and supply chains that build upon and complement the meaningful groundwork paved by the vision of Industry 4.0.

Industrial Revolution Revised
The vision of Industry 4.0, initially meant for the German manufacturing industry, was officially presented in 2011 at the Hannover Messe fair. The vision was about transforming the value chain through "smart" technologies like connected physical systems, cloud computing, artificial intelligence, and the Internet of Things. Just three years later, Japan published a complementary vision, termed Society 5.0, at the CeBIT fair – focused on the human impact of automation.
The European Union has merged these perspectives to create a manifesto for 'purpose-driven technology adoption: Industry 5.0. This vision emphasizes a triple-bottom-line of economic, environmental, and societal impact, bringing ESG (Environment, Social and Governance) perspective and balance to what have often been technology-led and economic-driven choices. The core principles of Industry 5.0 are that the industry is Human-centric, Sustainable, and Resilient.
In the EU's words, "Industry 5.0 is characterized by going beyond producing goods and services for profit. It shifts the focus from the shareholder value to stakeholder value and reinforces the role and the contribution of industry to society. It places the well-being of the worker at the center of the production process and uses new technologies to provide prosperity beyond jobs and growth while respecting the production limits of the planet."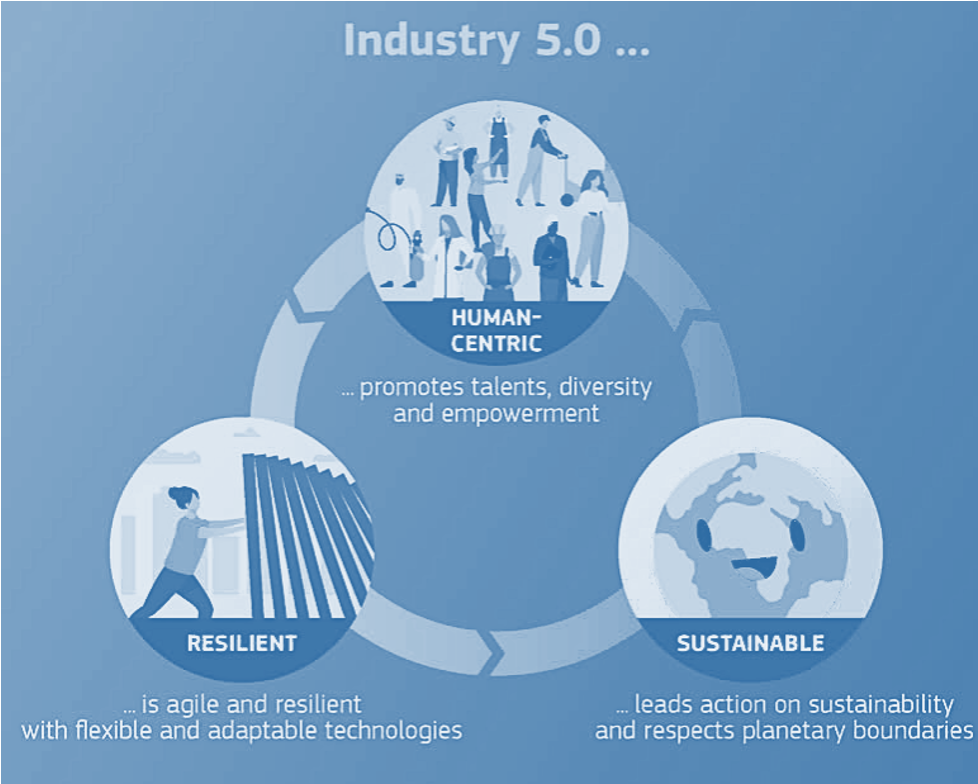 Source: European Union.
ESG-Driven, Post-Pandemic, People-Centric
The guiding tenets of Industry 5.0 draw upon the growing interest in the factors that are also driving increased interest in ESG investing, which we have previously explored. Some of the key related themes include sustainability and the environment, purpose, and values, corporate ethics, diversity, as well as circular economies. In the wake of the disruption and dislocations caused by the global pandemic, along with increasing reliance on digital infrastructure, there is also a focus on organizational, economic, and cyber resilience. Lastly, the integration of human factors into complex technology value chains is paramount with priority on the role of people in the future of work with increased human-machine collaboration and human-centric solution design.
The Foundation of Industry 4.0
The vision for Industry 4.0 emerged with the emergence of the Internet of Things (IoT) technologies, including the proliferation of smaller, cheaper, and better-performing sensors. When deployed across factory floors and advanced equipment, sensors have generated a proliferation of data that allows activities and processes to be measured, monitored, and analyzed as never before. With advances in wireless technology including 5G and wide-area, low power communications standards such as LoRaWAN, data can be uploaded to the cloud for high-performance analytics processing. Advances in artificial intelligence and machine learning technologies have helped accelerate the development of powerful algorithms that can drive real-time actionable insights. A recursive loop evolves – collect data, analyze, measure, refine, predict – that enables self-improving (and correcting) automation. The business benefits from decreased downtime improved operational efficiency and better quality is a central guiding tenet of Industry 4.0.
Beyond the Machines
Highly automated processes work well – but there are limitations. Automated, repetitive functions benefit from consistent improvements, and for scenarios that involve producing identical products manufactured through pre-defined processes, the combination of powerful technologies generates compelling benefits. This works well when products need to look the same.
However, in a world where consumer expectations are becoming more sophisticated and there is demand for more personalization or embellishment in manufactured products, technology has its limitations. Incorporating the role of humans into automated manufacturing processes, building upon the powerful capabilities of Industry 4.0 while complementing and augmenting processes with true human-machine collaboration? That is where Industry 5.0 comes in.
In this four-part series, we will further explore the core Industry 5.0 principles of Human-centric, Sustainable and Resilient, merging the lessons learned in Industry 4.0 with the remarkable promise, potential, and purpose-driven focus of Industry 5.0. Stay tuned.
Reach out to me via LinkedIn if you like to discuss this topic further.
Momenta is the leading Digital Industry venture capital firm accelerating deep-tech innovators across energy, manufacturing, smart spaces, and supply chain. Our team of deep industry operators has helped scale industry leaders and innovators via our award-winning executive search and strategic advisory teams for nearly a decade.
Schedule a free consultation to learn more about our Digital Industry practice.