Jun 28, 2023 | 8 min read
Newsletter: Q2 - 2023
Not Too Cold, Not Too Hot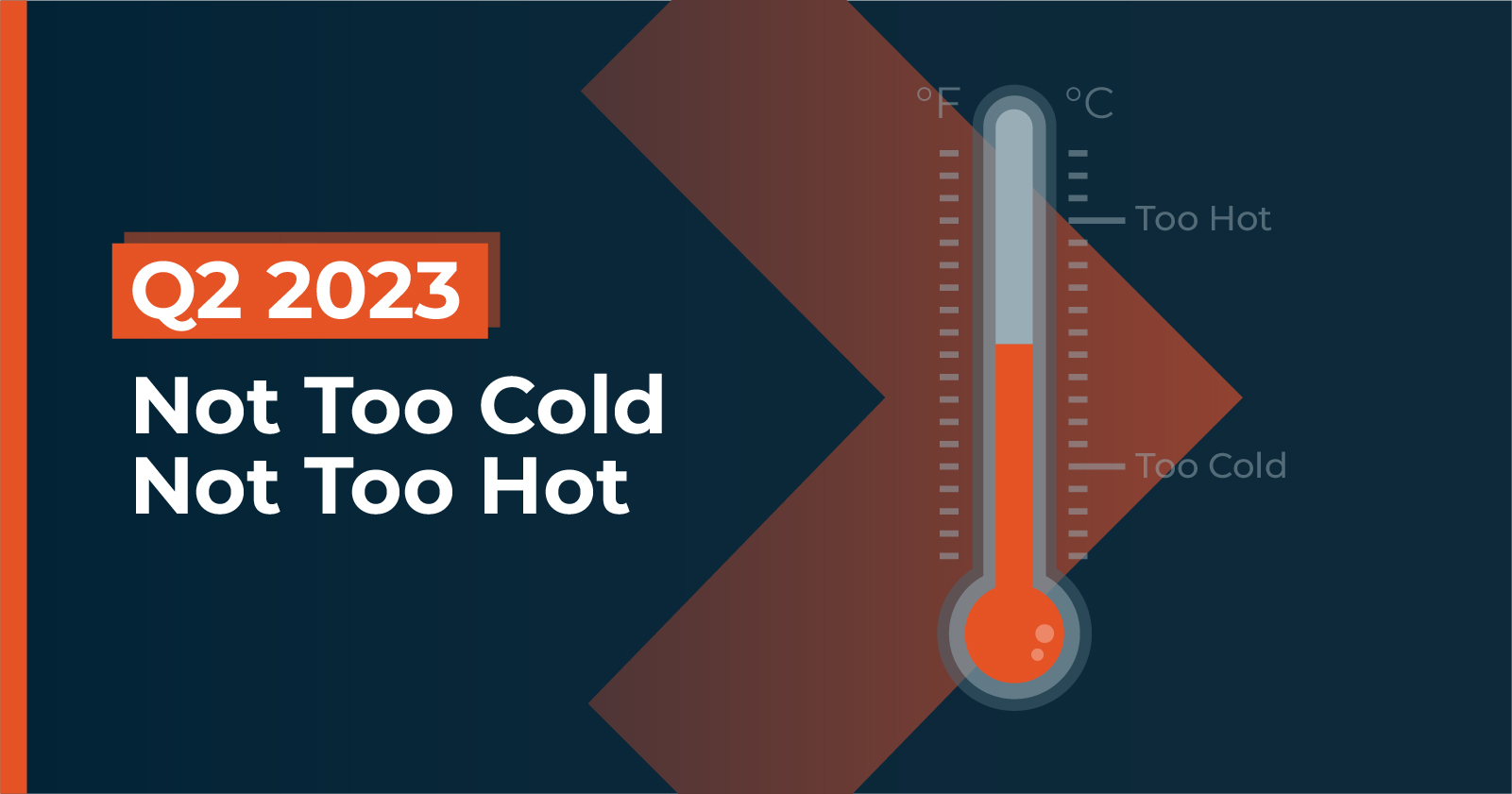 Not too Cold, not too Hot -
Economy flat, investments down, Digital Industry growing
As the first half of 2023 comes to a close, the economy continues to avoid a recession, thanks to a drop in energy prices and Europe's successful acquisition of alternative sources of gas, surpassing initial expectations. Inflation and rising interest rates have had a lesser impact on the job market than anticipated, as consumer spending remains stable and financial markets have experienced a modest rebound.
However, the funding landscape for startups has become considerably more challenging since 2021. In the first quarter of 2023, global venture funding declined by 13% quarter-over-quarter to $58.6 billion, with reductions observed across all major regions.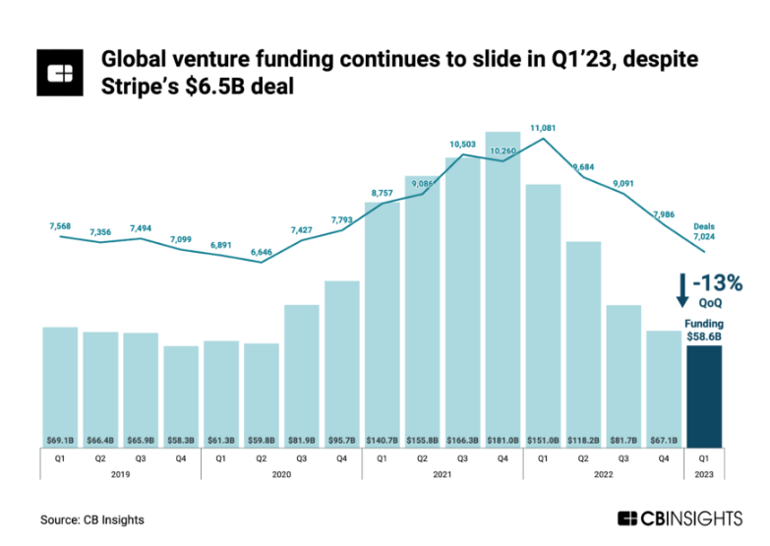 Investments Retreat
Following a 2-Year Stretch of Record Activity Liquidity has been impacted by a steep decline in IPOs, with a total of 86 IPOs in 1Q23 representing a 47% decline from 4Q22 and the lowest figure since 4Q13. Additionally, M&A volume experienced a significant drop-off at the beginning of the year. According to KPMG, industrial manufacturing M&A volume dropped by 25%, while value declined by 62% in 1Q23. The largest corporate deal was EmerElectric's $7.6bn acquisition of National Instruments. The wave of SPACs (Special Purpose Acquisition Companies) reached its peak in 2021 with the creation of over 700 SPACs. However, only 467 deals were completed that year, and new SPAC IPOs slowed down in 2023 due to a scarcity of potential sellers. Consequently, 2023 will witness a reckoning for many of these acquisition vehicles, which typically have a 2-year window to complete acquisitions or return cash to shareholders
Digital Industry Expected to Show Resilient Growth
The forecast for the Digital Industry, however, continues to be promising, despite a decline in VC funding for IoT startups in 2022. IDC recently published an updated forecast indicating that global IoT spending will grow by 10.6% to reach $805.7 billion, maintaining a compound annual growth rate (CAGR) of 10.4% and surpassing $1 trillion by 2026. The discrete and process manufacturing sectors are expected to witness the largest investments, followed by professional services, utilities, and retail. The top IoT use cases expected to receive the most investment in 2023 are manufacturing operations and production asset management, followed by inventory intelligence, smart grid, and supply chain resilience. Among the use cases, electric vehicle charging is projected to experience the fastest growth at a CAGR of +30.9%, followed by next-generation loss prevention (+14.5% CAGR), agriculture field monitoring (+13.9% CAGR), and connected vending and lockers (+13.8% CAGR).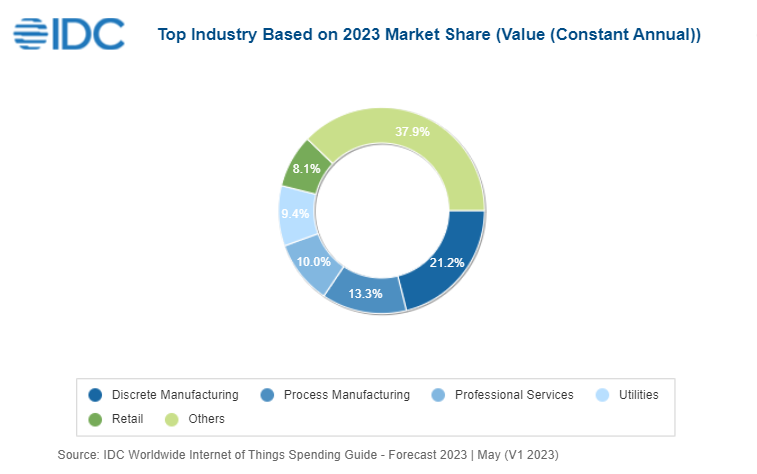 Recent IIOT Growth Short of Prior Forecasts, but Steady Adoption Continues
Another recent analysis of the Enterprise IoT Market comes from IOT Analytics, who have observed steady adoption over the past several years, although at growth rates that fall short of earlier estimates. According to their findings, IoT Enterprise spending reached $201 billion in 2022, up from $100 billion in 2018, but still considerably lower than previous projections. On the bright side, connectivity continues to advance, with the total number of global connections increasing by 18% in 2022, reaching 14.4 billion active IoT endpoints. Furthermore, more businesses are making significant investments in IoT. A survey conducted by Omdia revealed that 75% of respondents invested over $500,000 in IoT in 2022, up from 65% the previous year. Additionally, 16% invested over $5 million, compared to 11% in 2021. Notably, there seems to be substantial progress in the success of IoT projects. A survey of 300 decision-makers in 2023 found that 87% of all IoT projects either met or exceeded expectations, a significant improvement compared to Cisco's previous view in 2017, which suggested that three-quarters of all IoT projects failed.
Supply Chains "Getting "Back "In Sync" but Costs Increase
Global supply chain resilience has significantly improved over the past two years, but logistics costs have increased and are likely to remain elevated. According to the CSCMP/Kearney 34th Annual State of Logistics Report, supply chains have made significant progress in "getting back in sync". However, U.S. business logistics costs have risen to $2.3 trillion from $1.85 trillion last year, now accounting for 9.1% of GDP—a 46% increase compared to 2020. Additionally, while consumers are returning to stores, the U.S. e-commerce market has grown by 8%, reaching $1.03 trillion in 2022, representing 14.5% of the entire U.S. retail market.
Robotics Investment Shows Macro Sensitivity, but Labor Costs Drive Adoption
The unabated pace of investment in Digital Transformation continues despite economic headwinds. Advancements in automation, AI, and the increasing power of hardware and software are helping address the challenges posed by costly and scarce labor. In 2022, shipments of industrial robotics increased by just 8% in a difficult environment, but more advanced collaborative robots experienced a growth of 20% and are expected to sustain mid-teens growth. Although robotics shipments in the US softened in early 2023, this reflects ongoing economic concerns as reshoring and labor shortages continue to drive investment.
Generative AI – Promise of Productivity and Disruption
The rise of Generative AI technologies, such as ChatGPT 4.0, reflects a remarkable breakthrough in the power and capabilities of Artificial Intelligence, with potentially transformative ramifications, as stated by McKinsey. McKinsey's recent report, "The Economic Potential of Generative AI," estimates that generative AI could add the equivalent of $2.6 trillion to $4.4 trillion annually across 63 use cases. The magnitude of this impact is significant. McKinsey also estimates that generative AI and other technologies have the potential to automate up to 70% of employees' time, surpassing prior estimates of 50%. While near-term use cases will likely focus on sales, marketing, customer support, and software coding, industrial use cases are expected to see steady adoption as well. According to IOT Analytics, the proportion of IIOT Applications with an AI component is projected to increase from 17% in 2022 to 47% by 2027.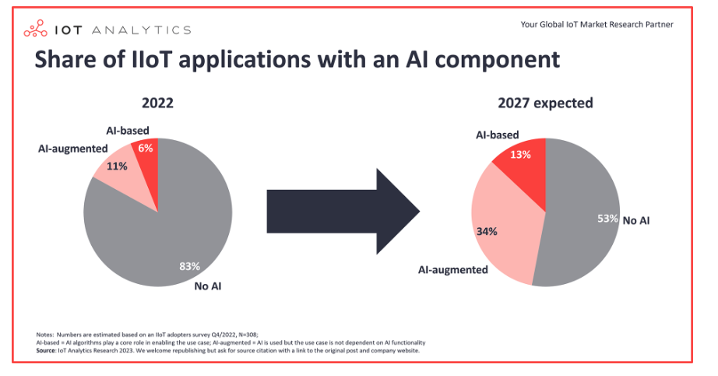 Where Does AI Go From Here?
The combination of powerful connectivity, sensors, robotics, advanced analytics, and AI heralds a new era of remarkable advances in productivity and innovation. While there are significant risks associated with job displacement and the reshaping of industries, there are also positive changes on the horizon. Existential concerns regarding advanced AI gain traction when we witness AI pioneers like Geoffrey Hinton resign from Google due to safety concerns surrounding the technology. Forecasts predicting the loss of hundreds of millions of jobs due to AI further fuel dystopian worries.
Addressing these concerns with a more optimistic perspective is venture capitalist Mark Andreessen, whose recent essay, "Why AI Will Save The World," directly confronts the skeptics. As we recall Yogi Berra's quote, "It's tough to make predictions, especially about the future," the reality that lies ahead is likely to manifest comfortably and productively somewhere between these two extremes.
---
Momenta is the leading Digital Industry venture capital firm accelerating digital innovators across energy, manufacturing, smart spaces, and supply chain. Led by deep industry operators across its venture capital, strategic advisory, and executive search practices, Momenta has made over 50 investments with notable exits to SAP, PTC, and Husqvarna.
Feel free to schedule a call to explore your company's digital potential.