Jun 18, 2020 | 5 min read
Digital Industry Insight #21:
Digital Industry: Connecting Today with the Future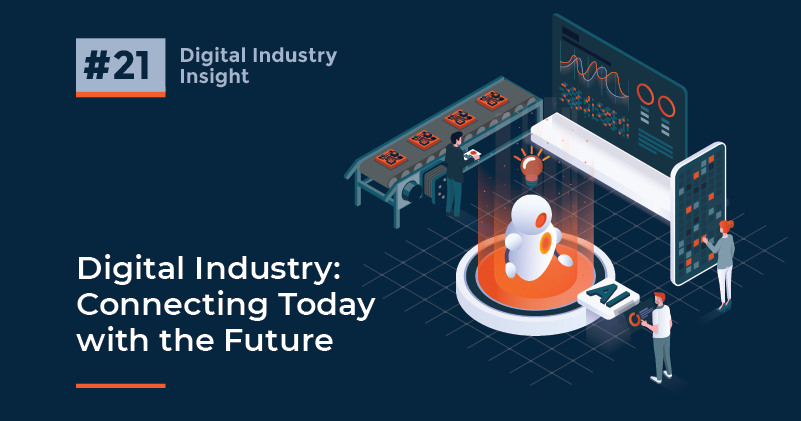 The most profound changes often occur so gradually that we don't appreciate them for years, even decades after they are underway. The digitalization of business has been underway for over 30 years, but the extraordinary progress in traditional industries such as manufacturing, agriculture, transportation, health care, and energy have been overshadowed by e-commerce and Internet-native businesses. By nearly any measure, there is a quiet revolution underway around IoT adoption.
For sure, the rise of the giants like Amazon and Google have been propelled by innovations at the vanguard of technology, but the broader adoption of core principles of instrumentation of physical assets, gathering of data from multiple sources, application of advanced analytics, and iterative feedback loops for optimization and continual improvement are being subsumed into mainstream industries as well. The tech giants are leading by example, paving the way for traditional firms to transform themselves, for competitors to raise the stakes with their own innovations, and for startups to leverage new opportunities to reinvent digital industry.
Tracking Assets for Fun and Profit
The foundational key to digital industry success lies in tracking assets – which can encompass everything from packages and shipments, to crops growing in fields, to complex machinery in a manufacturing plant, to a fleet of motor vehicles, to office buildings and warehouses, and more. With the declining cost of sensors, connectivity and bandwidth, data storage, and processing, it's becoming easier and cheaper for any business to implement digital industrial strategies. Manufacturers are using asset tracking for parts, people, or equipment, with lightweight tags that can be automatically tracked throughout a factory or yard, combining Bluetooth Low-Energy (BLE) devices with passive RFID to perform asset management functions. We highlight a few ways that leading firms like Sight Machine and RevTwo are leveraging asset tracking to help their clients.
Creating a Digital Twin for a Packaging Manufacturer
Sight Machine provides a platform for manufacturers to provide tracking across their operations, from process control to create an entire digital twin for their plants. The company is working with leaders in several industries, including packaging. One customer, a leading packaging manufacturer, was struggling with data analytics despite being well versed in data and technology – what they needed was a way to put in context the data they collected and direct the analytics to solving problems. Sight Machine automated the process of integrating machine, downtime, and quality data to create a system-wide model of the entire production line. This transformed their operations by providing real-time visibility into KPIs and enabling rapid process improvement analysis. The firm was able to improve throughput, generate more revenue, and reduce cost per unit of output.
Reducing Failure Rates for Aluminum Engine Blocks
Another industry benefiting from digital industry innovations is automotive, where Sight Machine is also active. One of their clients is a major global automotive manufacturer that was looking for a way to address unusually high failure rates of highly engineered, aluminum engine blocks that resulted in increased scrap costs. Sight Machine developed a digital representation of engine block process leveraging its proprietary manufacturing data models and applied Root Cause Analysis (RCA) functions to identify the real sources of the quality issues. It turns out that data cleanliness was a persistent problem. For example, Sight Machine's software helped their client detect that a die-cast machine was generating inaccurate data – this created errors later in the manufacturing process that resulted in significant inaccuracies in performance. By updating the controls code, the client was able to monitor the manufacturing process with clean, accurate data and ultimately identify and rectify the issues that led to the high failure rates.
Accelerating Diagnosis of Issues Leads to Swifter Resolution
RevTwo has developed unique software that combines sophisticated data collection capabilities with AI-enhanced diagnostics and problem resolution, enabling businesses to more rapidly identify the source of problems in complex equipment while providing service technicians a running head start on fixes. One of the key areas of focus is Plant Maintenance. For most downtime events, over 90% of the time is spent diagnosing the issue before it can be resolved. The RevTwo software can reduce the time to diagnose issues by over 50%, while providing insights to guide technicians to effectively resolve issues. Another critical area addressed by RevTwo is Field Service, where the tacit knowledge of experts often with over 20 years on the job is not available to younger technicians – and by capturing key insights from machine data and guiding steps toward the best fix, companies can scale to serve their expanding customer bases and drive incremental revenues and cost savings from efficiency.
Hear more from panelists from Sight Machine, RevTwo, and SmartEx during our webinar next week as we discuss the impact of smarter assets on Digital Industry. Save your seat!

Digital Industry Impact
Smarter Assets

Momenta Partners encompasses leading Strategic Advisory, Talent, and Venture practices. We're the guiding hand behind leading industrials' IoT strategies, over 200 IoT leadership placements, and 40+ young IoT disruptors.  Schedule  a free consultation to learn more about our Connected Industry practice.