Jun 17, 2020 | 2 min read
Conversation with Richard White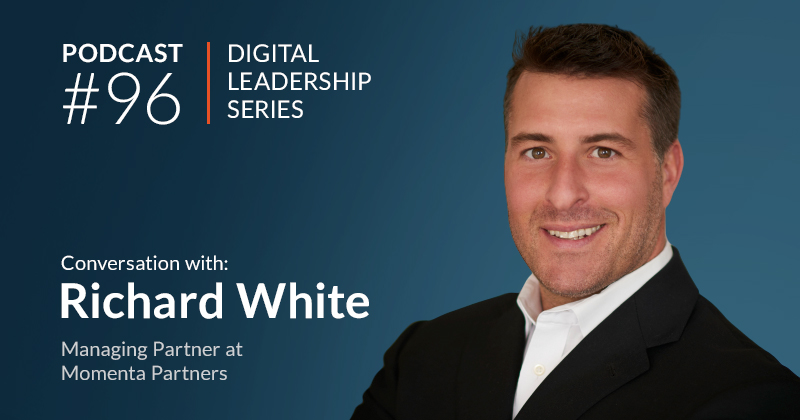 Good day, this is Ken Forster with edition 96 of our Digital Leadership Podcast Series. Today I'm pleased to feature Richard White, who joined us this week as Managing Partner of our Executive Search practice. Richard began his career with various public relations and digital marketing agencies in Boston and New York City, before serving as Director of Media & Talent Relations at Fox News Channel for nearly three years. In 2009 he was recruited to join Patriarch Partners, a $6-billion distressed investing private equity firm. For more than 10 years he has serves at the firms Head of Talent acquisition, responsible for all C-suite hires at more than 50 portfolio companies across 14 diverse industry sectors.
Patriarch Partners is shifting its focus from acquiring additional assets to monetize in the companies they have successfully turned around, prompting Richard to bring his experience in C-suite talent acquisition to Momenta.
Richard, it's great to have you with us today, and welcome to Momenta.
Thank you very much Ken, I really appreciate it. I'm excited to dig in.
So, today if we can sub-title this, it's really catalytic leadership, and how do you find leaders who can really make a difference, and probably don't have to look much further than somebody who has managed effectively turnaround leaders for turnaround companies. And so that's why we're very excited to have this conversation.
As am I.
So, tell me, how has your professional journey informed your views of digital industry?
Well, it's interesting, and again thank you, I appreciate being on. My career has oddly been a tale of two professions to some extent. Shortly after graduating from Hamilton College in upstate New York, I worked for a political consulting firm in Princeton New Jersey during the 2000 election. I then moved in with several college friends to an apartment in Boston and began work for Porter Novelli Convergence Group, which is a global PR and digital marketing firm focused exclusively on tech clients. It's been a while, but if my memory serves, for example my clients at the time were BMC Software, Cisco Systems, and a Boston-based investment firm by the name of Battery Ventures.
A few good years of living with four college buddies, and admittingly burning the candle at both ends, in Boston, I moved to New York City and into a modest 500 sq. ft. apartment with my now wife, whom I met originally in 6th grade at Princeton Day School. I started work in New York at Fitzgerald Communications, which is another tech-focused PR and digital marketing firm. A few years later I made the move to a boutique PR firm by the name of Linden Alschuler & Kaplan, where I spent the bulk of my time as an on the record spokesman for the New Orleans Public School District, during their post-Hurricane Catrina recovery. That assignment required at least two trips per month for more than a year, to the still very much upside-down city. I remember guiding press tours through a devastated 9th ward, and that's something I'll certainly never forget.
Shortly thereafter I received interest from the Fox News Channel to join them in-house as Director of Media & Talent Relations, which at the time was an extremely exciting opportunity for me. While it only lasted about three years it served as a true master's degree in media relations hand-to-hand combat if you will. Keep in mind this is Fox News Channel during the height of the 2008 Presidential primary and election, this was Hillary Clinton versus Obama in the primary, and eventually Obama-McCain in the general election. Some amazing experiences came out of that time. I attended the Iowa caucuses, I went to both the Republican and Democratic national conventions, sat third row center for the first Obama-McCain debate at OMIS University in Oxford, Mississippi, and even went to a Fox afterparty at Shepherd Smith's condo he keeps in Oxford to attend Ole Miss football games. But a hell of a ride there, a real learning experience, I enjoyed it tremendously.
But in late 2009 I was contacted out of the blue by someone in the HR department at Patriarch Partners, a private equity turnaround firm I had absolutely never heard of. After a few interviews I was hooked and decided to make the jump.
And quite a jump it was into Patriarch coming in at the time. Tell me a bit about Patriarch as you joined it and as you're leaving it now.
Sure. Patriarch Partners is a distressed investing private equity firm, as you explained in the bio upfront. Founded in the year 2000 by an ex-Wall Streeter by the name of Lynn Tilton. Essentially the firm acts as the acquirer or investor of last resort for companies that are already in bankruptcy proceedings, or otherwise on the verge of liquidation. Lynn has an absolutely amazing talent to see value where others do not, and the courage to run toward the burning building, and salvage and rebuild, whilst other investors are running in the other direction in search of an easier payday.
I was brought on to tell Patriarch's story, and tell Lynn's story to the media, and her story is certainly a remarkable one. Born in the Bronx to middleclass Russian immigrants, to establishing herself as one of a very small handful of female self-made billionaires. She has saved hundreds of thousands of American jobs by rescuing distressed companies that otherwise would have been left for dead.
So, I joined, I told that story effectively I like to think, for my first 9 months or so with the firm. Then one day as she does, Lynn summoned me to her office and told me she could no longer give me enough of her time for me to be successful in that role, the portfolio companies required more of her and they were her priority. She was right, I needed her to be successful, CNBC doesn't want to interview me or another spokesman about Patriarch Partners, they want Lynn Tilton and everything she is, with the long hair, the five inch heels, dripping in diamonds, razor-sharp wit and certainly no fear of speaking her mind in any situation. So, that certainly makes the much more compelling interview for any media outlet.
In that meeting she also said that she enjoyed working with me and didn't want to lose me. She said, 'You've been telling my story, and our story, effectively to the media. How would you feel about telling Patriarch's story to prospective C-suite leadership at our portfolio companies, and help to build and scale an internal talent acquisition function?' Well, sort of shocked, and my choices at the time were to immediately and enthusiastically say yes, and remain employed so I could continue to support my family, or I could politely decline and ride New Jersey Transit home that afternoon with a cardboard box filled with my belongings on my lap.
Needless to say, I accepted her offer and embarked on what essentially was an entirely new career with little more than 2.5 seconds of consideration. So, interesting circumstances on this career pivot here. Over the next 10 years the talent acquisition group at Patriarch Partners was responsible for all C-suite hires, at the time 70+ portfolio companies across 14 extremely diverse sectors. Everything from software and hardware development, software as a service, gaming peripherals, MD Helicopters, Dura Automotive which is our largest company in the portfolio, women's apparel, Stila cosmetics, healthcare companies and many others. At its peak my groups included about 10 members, and we were executing roughly 70-75 executive searches per year across the portfolio. That was at its peak for about three or four years, roughly three years ago.
So, that's the somewhat odd career transition that took place early-on in my time at Patriarch.
Its interesting because we comment often being in the Exec. Search space, there is no formal training, there's no MBA in executive search, or masters of recruiting if you will. It is a relatively unregulated industry, it is people who have had the opportunity, they're self-made or joining a firm to learn the ropes, access their own network and build-up experience in that pattern matching that's between the candidate and the opportunity.
Your background is interesting because of the PR jump, finding catalytic leaders really does require great communication sales skills. How did your work in PR and communications prepare you for that 2.5 second decision?
I think effective spoken and written communication skills are obviously imperative. I don't mean to sound like an old man, but I feel like that is somewhat of a lost start these days, when typical communications are so often distilled down to text messages and messaging apps, or 240 characters on Twitter. A PR and communications background also arms me with skills in storytelling, and subtle but effective persuasion, which can certainly come in handy often when you're attracting and winning top executive talent. That was certainly the case with Patriarch because I tend to be very transparent with all the candidates I talk with and offer them the truth of the situation that they might be coming into.
Often these situations are ugly, and these executives are tasked everyday with rubbing two nickels together to make 20 cents. I don't want to paint a false narrative, or false picture of a financial or business situation that they would be coming into, and within 30 days or six months they give me a call back and say, 'Rich, you sold me an incorrect bill of goods here, this place is a disaster', that doesn't help anybody. Continuity at the executive leadership team level is imperative. So, certainly honesty, and being persuasive, but honest and open about the situation I'm considering bringing them into, and they're considering bringing themselves into, is critical.
It must have been fascinating working with Miss Lynn Tilton, she is an industry legend as you said earlier, not only did she found Patriarch, she remains as the CEO of McDonald Douglas Helicopters, Dura Automotive, and Stila Cosmetics, whilst simultaneously sitting on the board of 50 portfolio companies, if you can believe that. What did your time there teach you about catalytic leadership, both in observing Miss Tilton in her role, but of the leaders you placed?
It was an incredible experience that honestly, I'd be hard pressed to duplicate. Lynn is and forever will be somewhat of a force of nature who maintains the belief that any company with the right leadership in place can be reinvented and revitalized, and I could not agree with her more. Patriarch is a turnaround firm which means we or they will not successfully turnaround every single struggling company they acquire, they need to hope your home runs far outweigh your ground outs. Distressed companies much like young technology companies, or legacy companies looking to make that imperative digital transformation for their very survival need to take a very close look at the C-suite players and decisionmakers at the table. If that table is not surrounded by the requisite dreamers, doers, and disruptors, that company's chances of future success are honestly greatly diminished.
So, what are the key traits when you think about bringing in catalytic leaders, what are the key traits you look for?
There's no real formula, so any executive recruiter or talent acquisition professional that claims to have found the magic formula, or equation to deliver the right candidate 100 percent of the time is lying to you. This is an art not a science, we're literally trading in imperfect human beings every day. Some will prove pleasantly surprising, inevitably some will be tragically disappointing, but as executive recruiters and talent acquisition professionals, we need to be constantly refining RI for the traits and commonalities that point to the greatest chance of success. Whilst there are infinite factors that come into play, over the past 10+ years I've identified four things I look for in all perspective executives, regardless of role or industry that I'm looking to fill.
Do I get a sense this person is generally intelligent, do they communicate effectively, are they intellectually engaging?
Domain experience. Has this candidate successfully or effectively performed the function or role I'm considering them for, in the past?
I look for loyalty. Has the candidate truly seen something through fruition in their career, or do they jump to new companies every handful of years for various reasons? Either they're unhappy or they're chasing what in the grand scheme of things is a small handful of comp dollars? As I mentioned before, executive continuity is critical when driving a business, so you don't want to have jumpers or a revolving chair within the executive leadership team.
I look for desire. This one's a little squishier to quantify. But do I get the sense the candidate truly wants the job? Or, they show up early on day one, eager, driven and excited to join the team, and be an active contributor to that company's future growth and prosperity?
Intellect, domain, loyalty, and desire. I love it.
That's right.
Miss Tilton is famous for her belief, as you said earlier, having the right people is absolutely critical to turnaround companies. She's also expanded those beliefs into saying the US's most valuable asset is human capital, and that job creation is the essential element to a true and sustainable economic recovery and prosperity. This is actually quite timely now, given the post-pandemic economy. Should companies be looking for catalytic leaders now, from your perspective?
With everything going on now in this country, and around the world for that matter, companies interested in survival and future growth have no choice but to seek out agile change agents, capable of throwing yesterday's plan in the trash and pivoting to accommodate a new reality. I don't think we've begun to realize the economic and business ramifications of COVID-19, and other social unrests that's going on now in the country.
A lot of companies will not come back, a lot of industries will not be the same. Only businesses with these catalytic leaders and change agents will be able to shift gears, survive, and then hopefully thrive in the future. So, I think it's imperative and timelier than ever before.
Well speaking of catalytic leadership, obviously we're quite pleased to have you join Momenta leading our executive search practice. Why Momenta?
The multi-faceted business model intrigued me; I haven't seen anything like it. The opportunity to truly dig in and integrate with a client through executive search and advisory, as well as a potential investor in that business, is far from a typical professional service, or business consulting vendor relationship, and I really like that. Also, and probably most compelling to me, every Momenta executive I spoke with prior to receiving an offer to join the team, were clearly very smart, driven, and highly optimistic about the firm's future growth. The firm truly seems to be at inflection point, and I'm excited to contribute all that I can to the firm's bright future.
So you mean they demonstrated intellect domain, loyalty, and desire! That's exactly right, that's exactly right! And awesome is the fifth one.
And a little humor to go with it as well, always good. I guess getting onto closing out we always like to ask a general question about what inspires you. Do you have recommendations of books or a resource you could share with our listening audience?
I do as a matter of fact. The name of the book is, 'The Richest Man in Town', author is W. Randall Jones. In it the author interviews the richest man or woman in 50 American cities, and identifies the common characteristics and traits that led to their success. It's a very fast and compelling read, For disclosure, the author Mr. Randy Jones is a former Patriarch Partners colleague, he was and will always be a great mentor to me, and a great friend of mine, but that certainly doesn't mean its independently not a great book aside from that relationship.
So, that was certainly a relationship and a book that has meant a lot to me and continue to be great friends with Mr. Jones. So that's a good read for anyone listening out there.
Excellent recommendation, and just to put another plug in there, Mr. Jones also was the publisher of Esquire magazine, and founder of Worth magazine. So, clearly editorial runs in his blood!
That's right.
Well Richard, it has been a real pleasure, a whirlwind background as it were, and overview. This idea of catalytic leadership I think is very-very timely right now, given the world situation. We did a webinar several months ago called The Newest Normal, and basically looked at some of the COVID predictions, and really laid those over technology acceleration. Innovation often is driven by human behavior, and the willingness or external let's say factors that may drive behavior change, will ultimately drive technology adoption, much like we saw post-9/11 with security as an example at the airports.
So, I could not think of a better time, and/or better DNA or experience space of somebody to join us, really helping to build up this, and helping our clients find and retain catalytic leadership. So, thank you so much Richard for the time, and for sharing your wisdom with us.
Of course. I appreciate the kind words, and very much looking forward to a long and prosperous future working together Ken.
Excellent. So, for the listening audience, join us next week for edition number 97, yes, we're getting near 100 of our Digital Leadership Podcast Series. Take care and have a great day.
[End]