Jul 21, 2020 | 3 min read
Digital Industry Insight #24:
The Art of Engaging Catalytic Leaders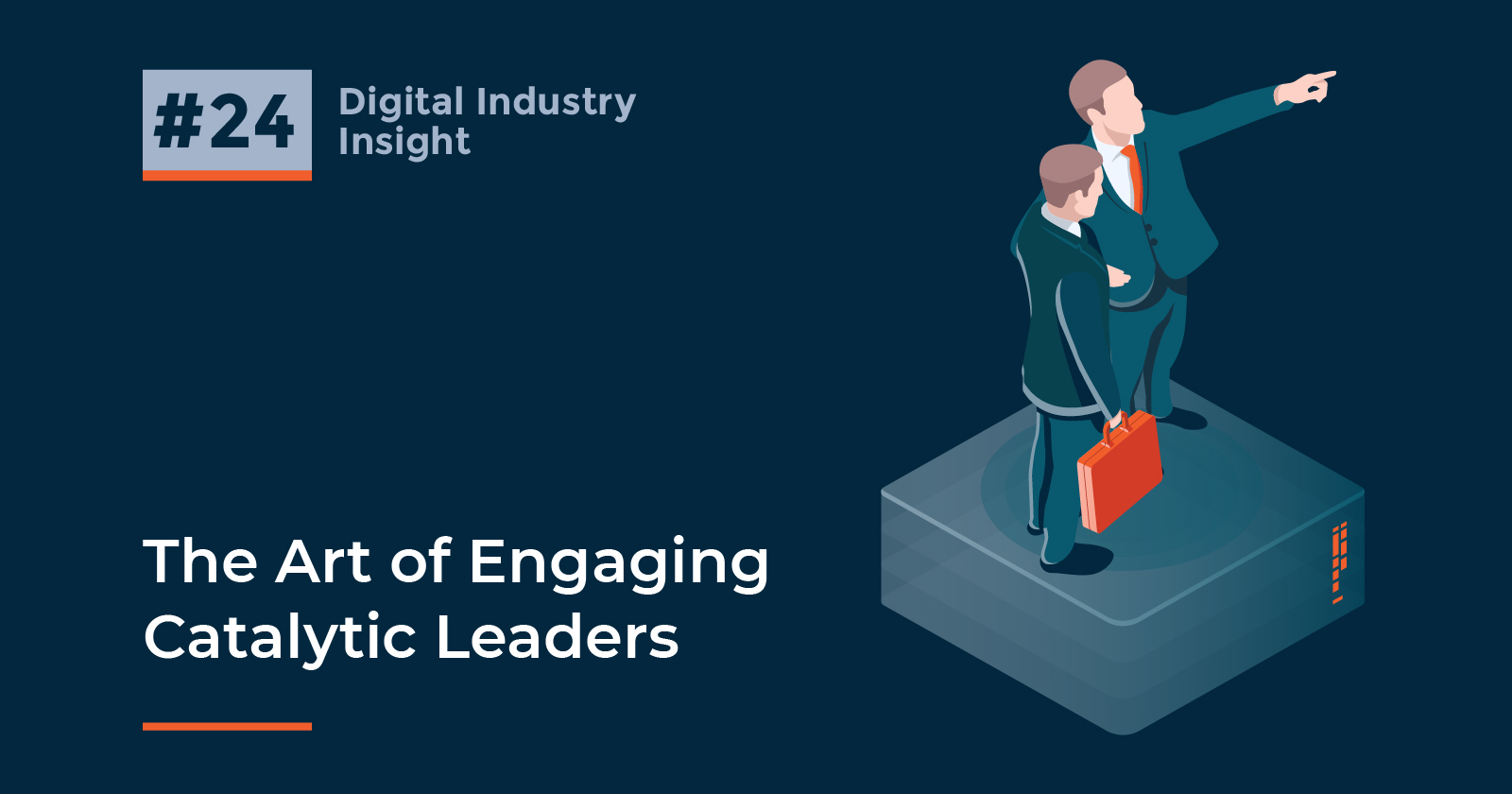 No matter what stage of the business life cycle or industry - the importance of capable leadership cannot be understated. Effective leaders can guide companies through critical stages of growth, fundraising and expansion when a business is on an upward trajectory. In difficult economic times, when an industry is in secular decline, or when a crisis hits, strong leadership will mean the difference between and success and failure. The best leaders are catalysts for change, and can recast the entire direction of a business's fortunes. Finding the right leader in times of need or crisis is an art that can benefit all stakeholders of any given business – clients, employees, investors, even competitors that benefit from market validation.
A prime example of a catalytic leader is Microsoft's CEO Satya Nadella. Under previous CEO Steve Ballmer, Microsoft had made significant strides in building a sprawling portfolio of applications, infrastructure software, consumer gaming and burgeoning online services. However, a lingering hangover from Anti-Trust battles a decade earlier and the (justified) perception that Microsoft had missed the opportunity to be a major player in smartphones and tablet computing was reflected in a stock price that had barely budged in a decade or more. Succeeding Ballmer in 2014, Satya Nadella empowered his team to engage more deeply in strategic decisions, embraced open source development models, doubled down on cloud computing and the Office applications, and revitalized morale at the world's largest software company. The markets approve as well, with the shares up nearly 10X since early 2010. His success is a prime example of the positive impact that a catalytic CEO can deliver.
So how do you identify catalytic leaders? There is no one formula that applies in all cases, but I have identified a handful of traits I look for in any senior executive candidate – regardless of function or industry:
Intellect – Do I perceive them to be generally intelligent?

Do they communicate concisely?

Are they intellectually engaging?
Domain Experience – Have they performed successfully in a similar or related role in the past?
Loyalty – Have they seen something through to fruition - or do they jump around from job to job?

Desire – Do they convey a true sense of engagement and positive energy to affect positive change in role for which I am considering them?
Also essential to engaging successful, catalytic leadership is the importance of effective communication. Written and spoken skills are critical for talent acquisition professionals as well as senior executive leadership. Additionally, it is essential that there be honesty and transparency about the current state of affairs at the company for which you have engaged the executive. Accurately communicating the opportunities and challenges in a frank manner is critical in creating a foundation of trust.
In our increasingly services-led economy, the most valuable asset is human capital - both for companies and for the economy at large. In good times, catalytic leaders can be the driving force in making good companies great. In times of crisis, catalytic leaders will mean the difference between survival and collapse. When seeking the right fit for a transformative situation, the combination of intellectual horsepower, experience and motivation are essential when identifying the catalytic leadership.

Momenta Partners helps industrial players digitize their business. We're the guiding hand behind leading industrials' IoT strategies, over 200+ IoT leadership placements, and 40+ young IoT disruptors. Schedule a free consultation to discuss how we can help you take your business to the next level.