Aug 18, 2021 | 22 min read
Best Podcast on Digital Industry Transformation!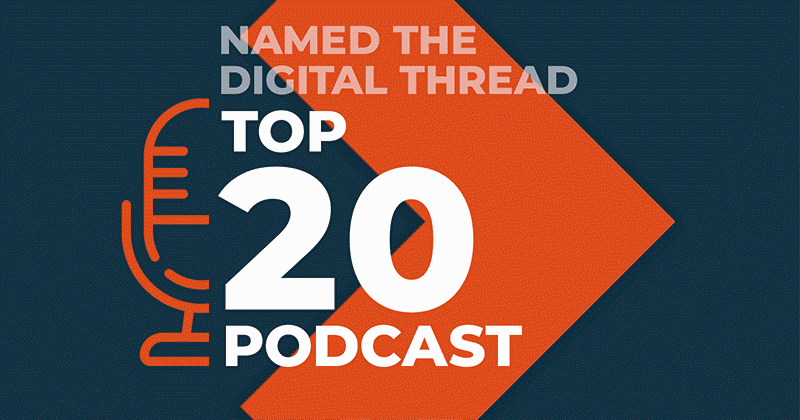 Momenta's "Digital Thread" Podcast has been named one of the top 20 Podcast
With Feedspot rating Momenta as one of the Top 20 Digital Transformation Podcasts You Must Follow, we wanted to revisit our top 20 episodes to date.
Find out which ones they are!
Deep Dives Into the Topics that Shape Digital Business Now and Into the Future.
Momenta's origin is linked to thought leadership in Digital Business, and the desire to make sense of the rapid, disruptive changes around us. With the emergence of multiple powerfully transformative technologies including AI, cloud computing, blockchain, and 5G, it's a challenge to keep up with new developments related to tech innovations and also their application. Since the Momenta Podcast debuted in 2018, we've interviewed over 150 thought leaders, industry influencers, investors, entrepreneurs, practitioners, and authors.
The Momenta ecosystem is rich with first-hand experience of the ups and downs of innovation and digital transformation that will accelerate, grow, and scale industrial organizations. Our podcasts seek to bring hard-earned wisdom directly to you in candid conversations that reveal tips, stories, and lessons that you can directly apply to your own life and business.
Named one of the Top 20 Podcast for Digital Transformation
With Feedspot rating Momenta's Digital Thread as one of the Top 20 Digital Transformation Podcasts You Must Follow in 2021, we wanted to revisit our top 20 episodes to date
A Look Back at Our Top 20 Podcasts
#1 - Ashtad Engineer: Cognitive Operations

Ashtad Engineer is the Head of Technology, Energy and VP, Tech & Digitization at Adani Group, a $12 billion infrastructure conglomerate with interests in ports and logistics, power generation and transmission, renewable energy, gas distribution, and agricultural products. He shares his digital industry journey and his early education and works in control systems. He then looks into the convergence of information technology (IT) and operational technology (OT) and the future of the IT/OT gap.
#2 Tony Seba of RethinkX on Clean Disruption of Energy and Transportation

The virtuous cycle of vehicle electrification, declining cost of solar and batteries, software advances enabling autonomous driving, and the downstream business model ramifications represent perhaps the greatest transition of any industry today. Tony's work has been incredibly influential among entrepreneurs and policymakers, and his data-driven forecasts of the declining costs of solar and EVs have been remarkably spot-on.

#3 Joseph Bradley of NEOM: Green-Field Futures

Joseph Bradley, President of Technology and Digital for NEOM, describes his digital leadership journey and key trends he saw during his early work at Cisco. He then jumps into the exciting work he is doing to create NEOM, the world's first Cognitive City. He shares his goal of creating the first predictive and proactive city, and how he tackles architecting toward this future.

#4 Rick Bullotta: From Genesis to IoT Big Bang

The founder of Lighthammer & ThingWorx spoke about the importance of vision and the challenges of growing a startup in new markets. He explores his personal background in industrial technology, and how the insights gained from his experiences at Wonderware helped shape the vision for the companies he started, exploring why blue-collar tasks benefit from an IT-driven "multiplier effect", how innovation comes from empowered customers, and how simple visibility can kick-start profound changes in industrial businesses.

#5 Bill Ruh: Digital Transformation From Cisco to GE and Beyond

Bill Ruh, CEO of Digital Business at LendLease Group provided a unique view of the experience at GE, which blazed a trail in mindshare around the Industrial IoT but struggled with execution. One of the key insights is that transformation for industrial firms draws from the best practices of technology companies, and the core principle is that technology companies' missions are tied to asset optimization and better outcomes. He also shared how large companies need to think of transformation in two speeds – shorter-term and longer-term, where Speed 1 is the quarter to quarter focus and Speed 2 is the long-term "moon shots".

#6 Guido Jouret: Is the Chief Digital Officer role here to stay?

In this candid conversation, Guido discusses his experience and lessons learned serving as Chief Digital Officer of ABB. He discusses the key role of Chief Digital Officer, especially in a traditional industrial technology company, along with the sectors an industrial firm should look to for best practices or inspiration.

#7 Sam George: Understanding Microsoft and the Internet of Things

Our conversation with Sam George, Director of Azure IoT at Microsoft explored the vision behind the tech giant's efforts to deliver powerful and integrated services to deliver Digital Industry solutions. Because of its size and scale, Microsoft's Digital Industry efforts don't always get as much attention, but our conversation with Sam outlined the depth of commitment to a unified vision.

#8 Guido Jouret: Unleashing the Power of Digital Industry

The conversation covered the dynamics of digitizing traditional operational technologies, the importance of Industrial IoT platforms, particularly ABB's Ability platform, the multi-faceted partnership with Microsoft, and the demands of bridging operational and information technology paradigms. The discussion highlighted several customer success stories in mining, autonomous shipping, and utilities, addressing the massive potential of AI to transform industries and sectors including energy, power grids, transportation, and manufacturing.

#9 Willy Schlacks: Industrial Sharing

Co-Founder and President of EquipmentShare, a company providing industry-disrupting, tech-enabled solutions designed for the modern contractor shares how after starting numerous companies over the previous decades in construction, technology, and services sectors, he and brother Jabbok have scaled the company to 48 full-service facilities across the U.S. and into several global markets. He outlines how they've moved from providing asset vertical level visibility to orchestrating all aspects of a Jobsite.

#10 Dr. Richard Soley: Helping Industrial IoT Become a Reality

Richard Soley is the CEO of Object Management Group and Founder of the IoT Solutions World Congress – he talked about the critical role of standards – from the width of train tracks to shipping containers – to the accelerating adoption of Digital Industry in our conversation.

#11 Jay Allardyce: Powering the Next Generation of IoT with Uptake

Chief Product Officer at Update Software discussed the landscape of IoT platforms and the critical elements for success both in terms of the platform as well as in organizations adopting advanced connected solutions, and dive into some of the aspects of the energy industry that make it a unique, and exciting sector for innovation. He shared his vision for AI-powered transformation and the unique opportunities across different industries today.

#12 Dr. Leemon Baird: Scale, Speed and Trust with Hedera Hashgraph

Founder and Chief Scientist at Hedera Hashgraph, and Founder & CTO of Swirlds Inc explains in detail how Hashgraph works, why it's fast and scalable, and how the design lends itself to distributed trust. In our discussion, he shares a diverse range of use cases for Hashgraph and outlines the unique governance approach for Hedera along with key partnerships.

#13 Rumi Morales: Investing in Convergence: AI, Blockchain and IoT

Rumi Morales is a Partner at Outlier Ventures, an investment firm focused on early-stage companies with an investment horizon of 10-20 years driven by an investment thesis focused on the convergence of AI, Blockchain, and IoT. The discussion also covered promising use cases for blockchain and IoT, the implications of "Crypto Winter" and comparisons of Blockchain and AI, and the value of a long-term thesis when deciding how and where to invest in emerging technologies in new markets.

#14 Rita McGrath: Seeing Around Corners

Rita Gunther McGrath is a world-renowned business strategist, author, and professor at Columbia Business School. Our conversation covered principles of Discovery-Driven planning, which she pioneered in the mid-1990s and was the first major management approach to embrace the idea that change is a constant in business – and which led to the development of the Lean Startup methodology. She shares insights into how the nature of competitive advantage has changed, leaving businesses vulnerable and in need of fresh strategies to address the opportunities and risks of digital business.
#15 Bill Schmarzo: From BI to Big Data to IoT Analytics and Beyond

Bill Schmarzo is CTO of IoT and Analytics at Hitachi Vantara and Executive Fellow at the San Francisco School of Management. The discussion covered Bill's origins in data warehousing and business intelligence, how and why he had to "unlearn" traditional approaches to embrace Big Data techniques. The conversation explores some of the differences in approach between business intelligence, big data, and IoT analytics, along with how Hadoop fundamentally changed the economics of data.

#16 Sean Parham: IoT Value Starts With the Customer

Sean Parham is Group VP and Head of Product Management for the ABB Ability Platform. He shared his origins in helping the telecom industry migrate the transition to broadband, and the lessons learned that apply today. The discussion touched on the concept of "Maslows Hierarchy of Value", the parallels of systems management applied to the challenges of managing distributed assets, and the broad implications of how technology impacts multiple industries. The conversation also addresses the disruption coming from two simultaneous revolutions in IT and energy and how this changes the way that energy is generated and delivered, through microgrids, with green energy and storage.

#17 Christian Sønderstrup: Breaking Out of Digital Transformation Gridlock

Christian Sønderstrup has held prominent roles at an array of companies throughout his career including McKinsey, Danske Bank, Vestas, and Siemens Gamesa. He discussed how digital can help establish organizational success while also being a key catalyst for disrupting entire industries, what prevents digital transformation, how organizational inertia and culture can be barriers, and what executives can do to position themselves for inevitable changes.

#18 Frank Mong: Building an Internet for Machines

The COO of Helium discussed his digital leadership journey, the story of Helium, and the technology behind it. Through the use of LoRaWAN networks and blockchain technology, Helium is able to provide wireless coverage for low-power IoT devices allowing owners to earn cryptocurrency. Now covering 795 cities in all 50 states and Puerto Rico, Helium has begun expanding into new territories including Europe.

#19 Max Borders: The Social Singularity

Author Max Borders explained how the concepts of decentralization, enabled by blockchain, paves the way for new value networks in his book The Social Singularity. Borders apply a philosophical lens to understand the roots of decentralization, and how blockchain and related technologies have the potential to reshape power dynamics in organizations, the evolution of hierarchies in society, and the structural dynamics of economies and culture.

#20 Jaap Groot: The Future of LPWAN

Jaap Groot is the CEO of Fractus Antennas, a company providing some of the world's smallest antennas. He shares the inspiration behind the move into (Low Power, Wide Area Networks) LPWAN, and his controversial predictions for the future of LPWAN. He provides an overview of Fractus Antennas and the problem they are trying to solve. Lastly, he shares his opinion on COVID-19's reset on edge computing as well as interesting startups in the space
Our 30-minutes podcast discussion allows for deeper explorations of the key themes and unique insights of our guests. The Momenta ecosystem is rich with first-hand experience of the ups and downs of innovation and digital transformation that will accelerate, grow, and scale industrial organizations. Our podcasts seek to bring hard-earned wisdom directly to you in candid conversations that reveal tips, stories, and lessons that you can directly apply to your own life and business.

We'll notify you weekly about new podcast episodes, upcoming guests, and news. You can subscribe to the podcast and if you'd like to be considered to appear on the podcast, contact us.