Dec 19, 2019 | 4 min read
Digital Industry Insight #2: Organizational Inertia and Data Siloes are Major Road Blocks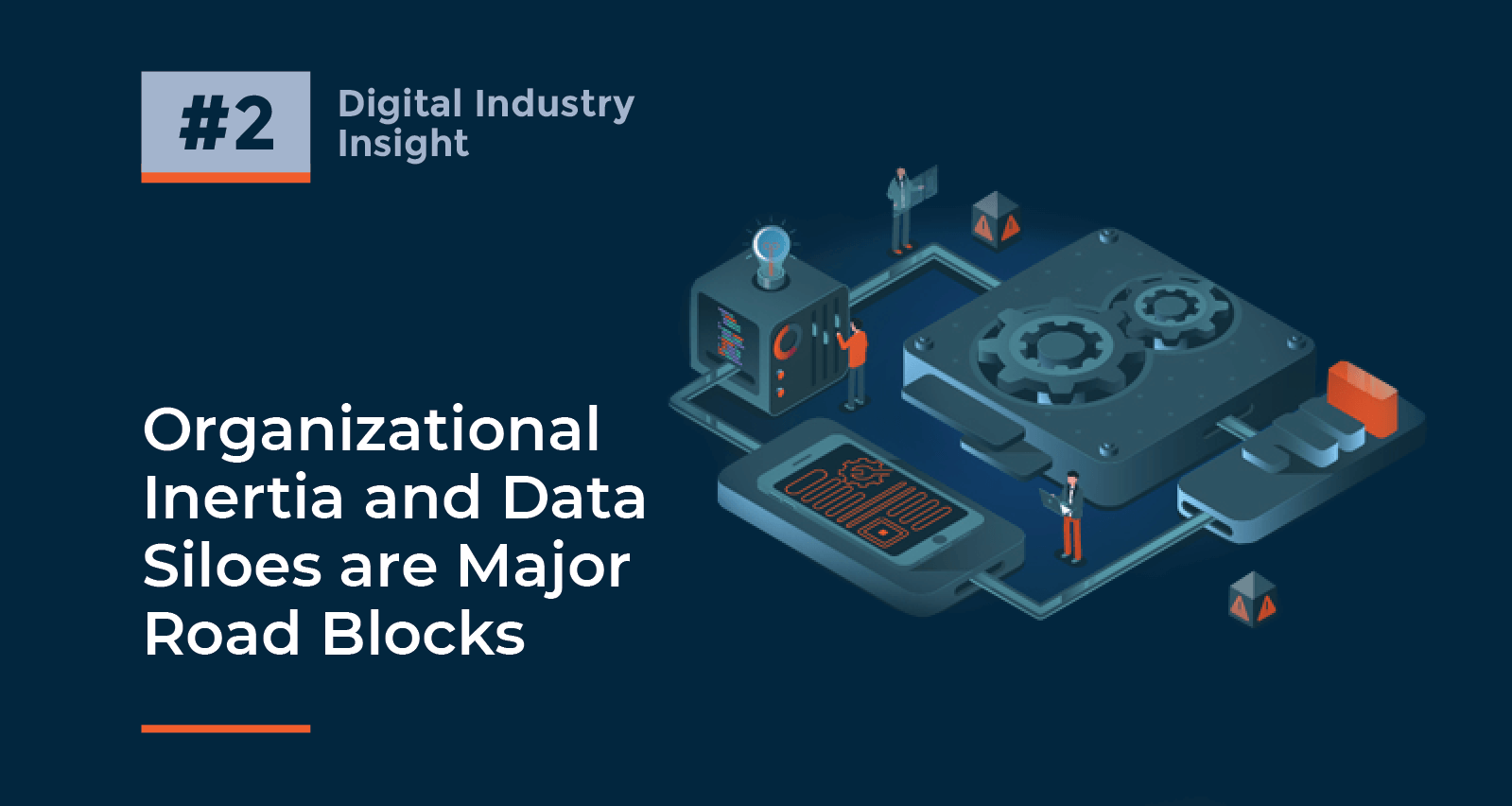 In last week's "Stuck in the Starting Gate", we noted that technology-driven business transformation in industrials and infrastructure is lagging, especially relative to other sectors like media and retail. Slower adoption is largely a result of organizational inertia and the human propensity to avoid change. Furthermore, the cost of unilaterally reinventing a business can create short-term financial and competitive challenges. For example, brick and mortar retailers are scrambling to reinvent themselves not because some of their traditional competitors are surging ahead, but because Amazon (and other online retailers) are drastically changing industry dynamics.
Digital disruption for industrial and infrastructure enterprises will likely come from within – rather that externally – and will result in a fundamental altering of industry dynamics. Organizations with the right vision, agile culture, and strong leadership will emerge by opportunistically implementing digital technology to differentiate and capture business from traditional competitors. For example, a product company that transforms itself into a service company – as opposed to simply a product company that also provides ancillary services – would certainly be disruptive. However, it isn't simply about declaring "we're now a service company".
Services can be provided by any number of entities in an industrial value chain including the asset owner (product buyer), third party service companies, and/or the manufacturer of the product. Who does what and how it's done depends on various factors including cost, regulations, competencies, location, and historical precedent. It's also contingent on availability and access to data and in most organizations, data is siloed. To an organization's detriment, data flows and usage are tightly controlled, limiting who can make data-based decisions. Even when data is shared, it is often in a form only decipherable by designated experts.
This will change as more organizations recognize that making data more accessible, leveraging outside expertise, and taking advantage of distributed, more powerful computing resources generates better decisions and operational performance. The only way to effectively and efficiently do this is by using some form of cloud technology/service. This will be resisted because it removes control from traditional data owners and changes organizational dynamics.
"People have to learn to work in an agile way, and there has to be some consensus on what digitization is, because people view it differently. Decisions have to be made on how it is financed, and changes in the corporate culture have to be accepted." (Jasper Koch, head of digital for energy networks at German electric/utility company E.ON as quoted in a 2019 report from Strategy&)
Digital Industry enterprises can avoid becoming laggards by taking a proactive approach to digital transformation. Ultimately, the key to digital success lies in establishing buy-in across the organization. This isn't easy, but savvy business leaders will recognize that the most successful change management plans are inclusive. It's a balancing act as roles change, new competencies are required, and leadership learns to be more agile. Almost every organization recognizes the need to embark on a digital transformation journey but too many executives struggle to find the right balance (see "Digital Disruption and the C-Suite").
"Data analytics provides us with new methods and insights to improve quality, productivity and delivery. In our very dynamic and competitive business conditions, the resulting speed and agility further enhances our customers' satisfaction. We are applying these methods in both the technical and commercial areas. This demands development of new competencies to maximize benefit. Moreover, the organization and leadership need to evolve in order to support this transformation." (Christophe Chapdelaine, SVP Manufacturing and Quality Management at Bosch Automotive Diesel Systems Wuxi, as quoted in a joint 2019 World Economic Forum and McKinsey study)
Industrial value chain disruption is inevitable because the transformative force of innovations such as the IoT, cloud, and machine learning/AI are simply too powerful to resist. However, it's not a zero-sum game as industrial value chains will become more efficient, reliable, safe, and sustainable. There will, however, be winners and losers with newly formed partnerships built around the mutual value of sharing, using, and collaborating around data. Organizations that survive and thrive will have moved from mainly human-driven decision making to machine/data-driven processes. Digital Industry represents unchartered territory, but buy-in is not optional.
2020 will be a pivotal year for Digital Industry. Join us on January 16th as we explore digital technology's trajectory for the coming year and its impact on your organization.

Momenta Partners encompasses leading Strategic Advisory, Talent, and Venture practices. We're the guiding hand behind leading industrials' IoT strategies, over 200 IoT leadership placements, and 25+ young IoT disruptors.  Schedule  a free consultation to learn more about our Connected Industry practice.