Apr 18, 2023 | 5 min read
Momenta Invests in TVARIT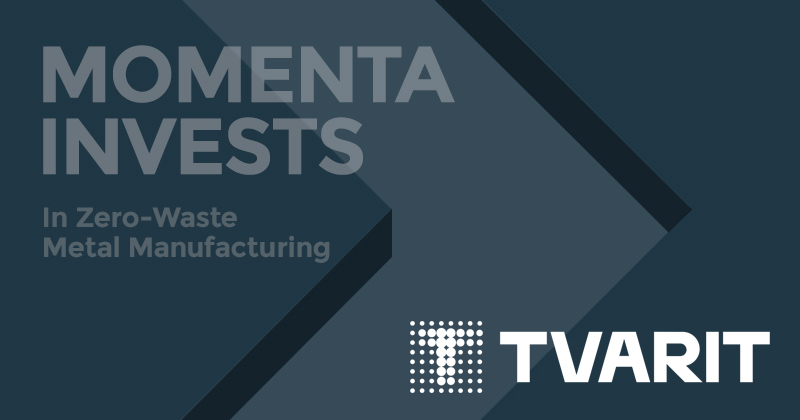 Momenta leads the Series A round for Tvarit, an Industry 5.0 solution driving net-zero metal manufacturing.
Momenta announced today that it has led the Series A funding round in Tvarit, a leading provider of digital solutions that help metal manufacturers achieve net-zero operations. Tvarit's hybrid AI solution combines deep metal processing domain knowledge with data-driven AI to provide continuous, accurate prescriptions and actionable insights to help machine operators achieve higher productivity and lower energy costs.
This is the tenth company receiving investment from Momenta's AIoT Ecosystem Fund, powered by Advantech, the world leader in digital industrial solutions. Tvarit will scale its software solution and global sales organization with this financing.
PROBLEM
The World Economic Forum estimates that industrial waste accounts for half of all waste generated globally. Manufacturing is the largest and fastest-growing contributor to this waste stream, with an estimated 20% of every dollar spent on manufacturing producing waste.
Casting is one of the oldest and most widely used methods for producing complex metal parts. The industry has been slow to transform digitally, so it still largely relies on manual production recipes with little to no optimization. As a result, Tvarit estimates that the industry loses €160 billion annually due to yield loss and the equivalent loss of energy required to produce that waste.
SOLUTION
Tvarit utilizes AI models for prescriptive quality and energy to significantly reduce energy consumption and increase yield in metal casting operations. With over 160 machine learning models to analyze data from machine operator input, machine data, IoT sensors, and 3D design models, the Tvarit solution provides real-time insights into production inefficiencies and losses. The models compare the thermal simulation of a part being produced to a library of parts to find the most appropriate model and settings. Once found, the parameters are initially set and continuously optimized throughout the casting process. This approach has consistently saved Tvarit's customers over 18% in energy while improving the production yield.
"Manufacturers in Europe are dealing with the dual challenges of the energy transition and carbon neutral goals." Tvarit's AI tools enable them to do both, driving precision manufacturing techniques to help maintain their global competitive advantage. Momenta is proud to lead the investment round in a company that is driving such "Industry 5.0" outcomes." said Ken Forster, Momenta's Executive Director.
"Metal manufacturing shop floors are very complex. There are 2.4 trillion possible combinations on state-of-the-art machines to optimize process parameters. AI is the only way to eliminate waste on the shop floor." said Suhas Patel, CEO of Tvarit GmbH. "We are thrilled to have Momenta's support to scale our solution and bring it to more manufacturers."
Jerry O'Gorman, VP at Advantech IIOT division, stated, "We are delighted to participate in this investment in Tvarit. Tvarit's AI-powered solution has the potential to revolutionize the casting industry by significantly reducing energy consumption while increasing yield per cast part. We see great opportunities to collaborate with Tvarit to help scale up their ability to help metal manufacturers achieve net-zero operations."
About Tvarit:
Tvarit is a specialized Deep Tech company based in Frankfurt, Germany, and a provider of cutting-edge TiA (TVARIT industrial AI) Technology with a focus on the manufacturing industry, especially foundries and metalworking companies. Our sole mission is to enable sustainable, zero-waste manufacturing using our technology by almost eliminating energy losses and waste and maximizing machine and equipment availability. For more information, visit https//tvarit.com.
About Advantech:
Advantech has the corporate vision to "Enable an Intelligent Planet." The company is a global leader in IoT, intelligent systems, and embedded platforms. To embrace the trends of IoT, big data, and artificial intelligence, Advantech promotes IoT hardware and software solutions with the industrial IoT platform WISE-PaaS core to assist business partners and clients in connecting their industrial chains. Advantech is also working with business partners to co-create business ecosystems that accelerate the goal of industrial intelligence. For more information, please visit https://www.advantech.com.
_____________
Momenta is the leading Digital Industry venture capital + growth firm accelerating deep tech innovators across energy, manufacturing, smart spaces, and supply chain. For over a decade, our team of deep industry operators have helped scale industry leaders and innovators via our award-winning executive search and strategic advisory teams.
Schedule a call to learn more about our Digital Industry Venture practice.