Nov 8, 2023 | 5 min read
Veena Lakkundi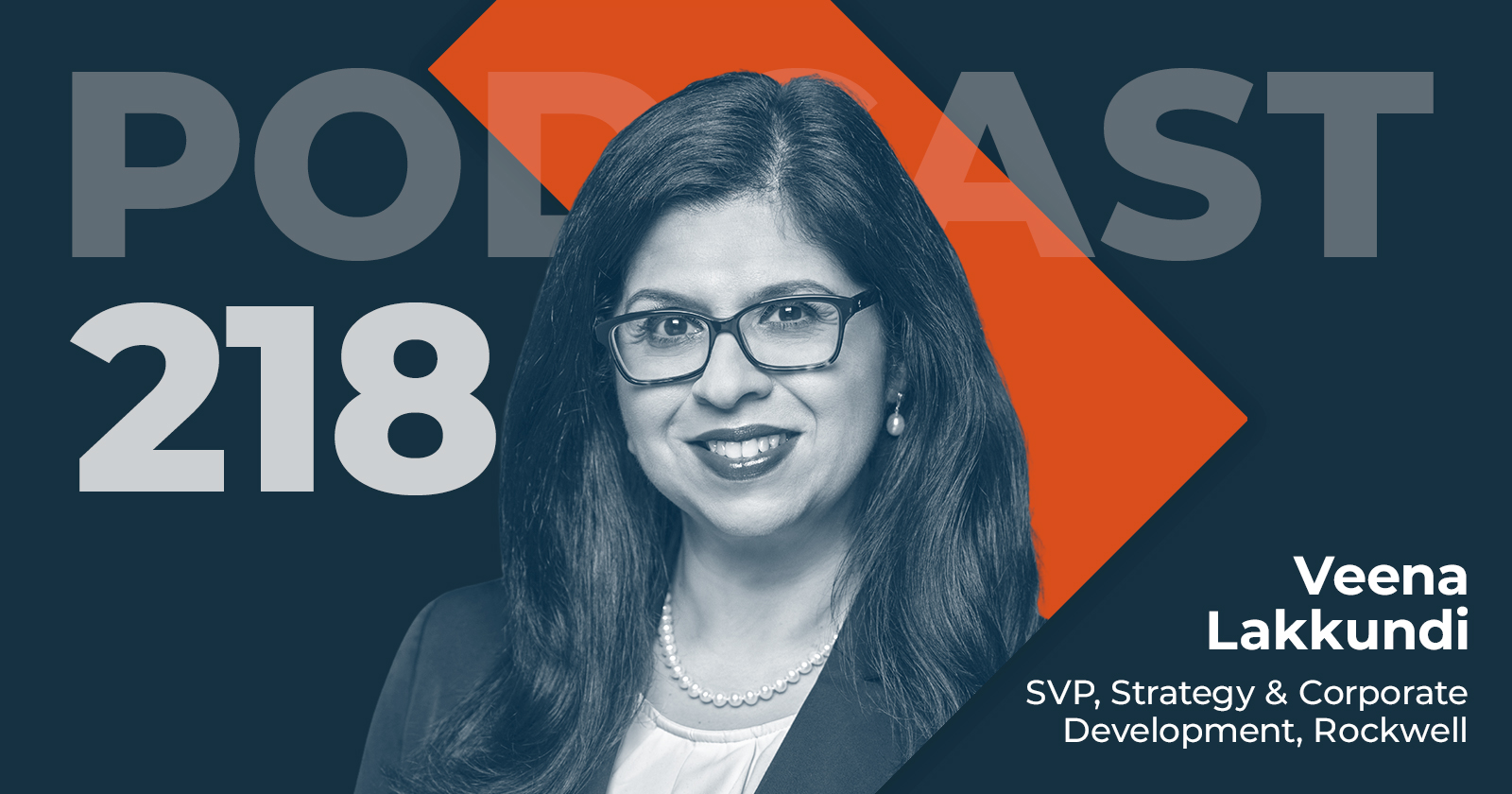 TRANSCRIPT
Ken: Good day, and welcome to episode 218 of our Momenta Digital Thread podcast series. Today, I'm pleased to host Veena Lakkundi, Senior Vice President of Strategy and Corporate Development at Rockwell Automation, a $7.7 billion global leader in industrial automation and digital transformation with over 28,000 people across 100 countries. Rockwell's subsidiary, Rockstar Ventures, is the anchor limited partner for Momenta's fourth digital venture capital fund. Veena was most recently Chief Strategy Officer of 3M Company, a $32 billion global conglomerate operating in the consumer, safety, industrial, transportation, electronics, and healthcare markets. Over 28 years with 3M, she ascended to key leadership positions, including Chief Ethics and Compliance Officer, Managing Director of 3M Indonesia, Global Vice President of the Industrial Adhesives and Tapes Division, and leader of the Technology and Transformation Services Organization, which included information technology, digital strategy, and business transformation. She's a board member of Trinity Industries, Claroty, a leader in OT cybersecurity, and the Rockwell Automation Charitable Contributions Board. A passionate advocate for diversity, equity, and inclusion, Veena serves on the board of an independent nonprofit focused on STEM K–12 programming in Minnesota, and she is the executive sponsor of several company resource groups. Veena has a bachelor's in chemistry and chemical engineering from Western University in Canada. Veena, it's a pleasure to welcome you to our Digital Thread podcast today.
[00:02:21]
Veena: Thank you, Ken. I'm delighted to be here and look forward to the conversation.
[00:02:25]
Ken: As well. This has been a long time coming, and I have been impressed with both your career trajectory and the influence and impact that you've had with Rockwell, so this is a very timely discussion. We call this the Digital Thread podcast, so the first question I always ask is: What would you consider your digital thread? In other words, what thematic threads define your digital industry journey?
[00:02:49]
Veena: Thanks, Ken. Let me start by explaining our perspective at Rockwell, and then I'll delve into my personal journey.
At Rockwell, when we talk about the digital thread, we're referring to a technology platform that seamlessly integrates data, systems, and processes throughout the entire value chain. The goal is to enhance the value chain by incorporating digital capabilities to deliver superior outcomes.
As for my digital industry journey, it's primarily centered around innovation and a customer-centric approach. We focus on understanding customer needs and finding ways to combine our operational and digital technologies to drive innovation and deliver results that make our customers more competitive.
I've had the privilege of serving industrial customers for 30 years, wearing various hats, and approaching challenges from both technical and business perspectives. I've always been driven by the quest to identify and solve the problems that unlock value for our customers. In this journey, active listening and adopting an anthropologist's mindset to observe and understand have proven invaluable in bridging capabilities to assist our customers.
In my previous role, which had a strong focus on material science, we initially concentrated on enhancing quality for customers, whether it involved consumables or critical components like aerospace adhesives that needed to withstand harsh conditions for the entire life of an airplane. However, customer feedback prompted us to rethink our approach to innovation. They said, 'I can't build 100 prototypes of different formulations, so how can you demonstrate the performance of your adhesive under various conditions?' This challenge led us to develop what we call 'finite element analysis,' enabling us to model all variables in different conditions, conduct experiments, and present customers with the top three formulations we believed would work best. This experience and extensive interaction with customers across diverse industries have shaped my perspective on the digital industry journey.
At Rockwell, looking ahead, we've been a successful company for over 120 years, primarily through our programmable logic controllers on the factory floor, which collect vast amounts of data. Our current focus is on leveraging this data and moving up the technology stack to create software and services that prioritize people and enable them to make informed business and manufacturing decisions. This has been a key theme in our current endeavors.
[00:05:51]
Ken: Wow, that's an impressive track record we're already discussing. I like calling you an 'industrial anthropologist' because it aptly captures your role. Of course, I'm drawn to the fact that you began with innovation. Whenever someone mentions the most innovative companies, 3M is likely to be at the top of that list. Your journey has been remarkable, starting with R&D and Technical Services in 1994 and steadily progressing through various roles in sales, marketing, strategic business development, operations, general management, and executive leadership positions we discussed. What do you attribute your success to, and what accomplishments are you most proud of?
[00:06:32]
Veena: Ken, thank you for that. I'll certainly take some time for deep reflection on this. A significant part of my success can be attributed to the environment I was fortunate to be in. It was an environment that encouraged curiosity and fostered a culture of reaching out to others for learning, collaboration, and ideation. We were encouraged to raise our hands for opportunities that might have been outside our traditional career paths. As you mentioned, my journey encompassed various roles. I didn't limit myself to the chemical engineering track but embraced my role as a dedicated problem solver. This approach enabled me to excel in the positions I held and, subsequently, gain the credibility to transition to different roles. If they had confidence in your ability to rise to the challenge, leaders were willing to offer you those opportunities. I consider this principle of recognizing potential and providing opportunities a vital aspect of my leadership philosophy.
During my journey, several sponsors believed in and invested in my potential. When I reflect on my contributions, I think about three key elements: curiosity, courage, and confidence.
Curiosity involves the ability to ask questions and maintain a growth mindset. It's the difference between saying, 'I don't know this yet,' and 'I don't know.' This also entails seeking diverse perspectives and acknowledging that I will have some answers, so it's essential to cast a wide net to gather insights from various sources.
As for courage, it means boldness to challenge the status quo. Just because something has been done a certain way in the past doesn't mean it's the best way. It's about having the courage to speak the truth, even when it may involve confronting a different reality.
Finally, confidence—not in an arrogant sense, but confidence in my ability to assemble the right team, seek appropriate assistance, and deliver authentic outcomes. It's about being true to oneself rather than trying to be someone else.
Reflecting on what I'm most proud of, it's undoubtedly the leaders I've had the privilege to develop. I've made it a mission to 'pay it forward' by identifying potential in individuals and placing them in positions where they can grow, contribute, and evolve into stronger leaders. These individuals often do not fit the traditional mold, but they bring unique qualities and perspectives to their roles.
[00:09:40]
Ken: You indeed possess some remarkable qualities. I admire the curiosity, courage, and confidence you've demonstrated in your leadership role. One could argue that you were in fertile ground at 3M, a company widely recognized as an innovation powerhouse. They've earned the highest innovation honor from the US government, the National Medal of Technology. Many credit 3M's impressive portfolio of 60,000 products, such as Scotch, Command, and Post-it notes, to a robust and vibrant organizational culture and structure that actively promotes, encourages, and facilitates innovation. From your perspective, what were the key drivers that enabled such a culture of innovation?
[00:10:17]
Veena: Yes, that's a fantastic question. Having worked there for an extended period, some aspects are often taken for granted. One remarkable element was the collaborative nature of the scientific community within 3M. As a chemist, I am particularly fond of periodic tables, though my 16-year-old daughter finds it a bit unusual. Within 3M, we had a 'periodic table' of capabilities that served as platforms, encompassing various domains like processes and material science. Each of these areas had a Subject Matter Expert (SME) within 3M. Importantly, any one individual did not own technology; it was accessible to all. The synergy created by combining these elements on the 'periodic table' drove innovation and produced new solutions for our customers. The accessibility to such talent and thought leadership across this 'periodic table,' regardless of where you were in the company, significantly facilitated innovation.
Moreover, there is the famous tradition of dedicating 15% of one's time to thinking about innovations, solutions, or solving problems that extend beyond their daily responsibilities. Equipped with the necessary tools and access to the talent pool, a substantial amount of innovation emerged from this '15% time' initiative.
[00:11:40]
Ken: I wanted to draw out much of the 3M experience because I'm genuinely excited about what you are already bringing to Rockwell Automation. You joined in late 2021 as Chief Strategy and Corporate Development Officer. I'm curious. What attracted you to the company?
[00:11:57]
Veena: Yes, it's a fantastic question, and there are four key aspects I'd like to discuss:
Focus on Industrial Automation

: Rockwell is a pure-play company in industrial automation and digital transformation. While my tenure at a diversified company like 3M, which covered industrial electronics, energy, consumer goods, and healthcare, provided valuable insights, I found the prospect of focusing and creating value more concentratedly exciting. This focus allows me to continue serving industrial manufacturers and address their evolving challenges.
Emphasis on Purpose

: Despite generational differences, having a strong sense of purpose is crucial for everyone. When I learned about Rockwell Automation's purpose to 'expand human possibility,' it resonated with me. The misconception that automation replaces humans is not the intent. Instead, it's about using automation and digital transformation to unlock greater possibilities for people. This alignment with a meaningful purpose was truly exciting.
Runway for Value Creation

: Considering the prevailing mega trends, such as labor shortages, demographic shifts, sustainability, and digital transformation, I saw that the company I joined is well-positioned to navigate the future. It's about making choices to create value, and the company has a strong willingness to disrupt itself to serve customers better. By expanding services and software, the focus remains on staying relevant and assisting customers as they move forward. This aligns with my passion for constructive disruption to create value.
Cultural Alignment

: Rockwell's culture is characterized by four fundamental tenets. Firstly, it's built on a foundation of integrity, emphasizing the importance of strengthening diversity, equity, and inclusion and driving sustainability. The second tenet promotes a continuous influx of fresh ideas from various sources, fostering an environment of inspiration and innovation. The third encourages comparing ourselves to the best possible alternatives rather than merely self-comparison, ensuring we continue to differentiate and progress. Lastly, the fourth tenet focuses on improving the speed of decision-making, advocating for radical simplification, and decentralizing decision-making to the point where the work is being done. These cultural tenets closely align with my values and operational philosophy, making working for this company a natural fit.
[00:15:40]
Ken: Excellent. Let's discuss your role as Chief Strategy and Corporate Development Officer. I'm curious about your responsibilities. What are your primary focus areas? More importantly, how are you integrating your industrial innovation experience into Rockwell? I'd also like to hear about a couple of your early wins.
[00:15:58]
Veena: Certainly, when we consider strategy and corporate development, it revolves around shaping Rockwell's future journey. It's about the choices we make, defining our playing field, and creating distinctive value. This alignment spans from strategy formulation to execution. We have a publicly available long-term profitable growth framework that outlines the levers on a path to $9 billion, and it's not just about the $9 billion; the pace of growth is crucial. Every year, the organization comes together to strategize how we can achieve this through a combination of performance and transformation targets.
We've embarked on a process to plan for the next horizon. This involves strategy formulation, standard work, alignment, measurement, and tracking to operationalize our goals. Year one focuses on a mix of performance and transformation priorities, and we're always prepared to course-correct. I take pride in introducing this strategy-to-execution lifecycle at Rockwell, and this year marks our first iteration. The results of our next phase of the journey will be revealed at Investor Day in Boston this November.
We take strategic choices and translate them into actions on the corporate development front. We consider whether to build, buy, partner, or invest and focus on this equation's buy, partner, and invest aspects. Our group concentrates on acquisitions aligned with our strategic priorities outlined in our current public frameworks, such as 1% revenue growth from inorganic activities in areas like Information Solutions, Connected Services, market expansion in Asia, Europe, the Middle East, and Africa, and advanced material handling. We've successfully delivered on these priorities over the past five to seven years. Just a month ago, we announced the acquisition of Clearpath Robotics in Canada, an autonomous mobile robot company with a research arm in production logistics. This aligns with our portfolio and customer value proposition, making inroads into production logistics a valuable addition for our customers.
Now, let's talk about 'invest' because it's critical. We've historically invested in late-stage companies, particularly as they scale and seek commercial partnerships. It's a win-win situation. I'm particularly proud of our team's expansion into a broader spectrum of startup lifecycles, from pre-seed and seed stages to series A, D, and E. This is an area we hadn't explored before, and I'm excited that we now have a clear strategy. As part of 'Rockstar Ventures,' we're collaborating with you and Momenta on the fund you mentioned. We're aligning on areas where we want to enhance our understanding, whether to challenge our thinking, disrupt ourselves, or identify potential future acquisitions. These activities are critical for our continued success, and we must always be attuned to the evolving landscape through a variety of mechanisms. I'm immensely proud of the progress we've made in this area.
[00:20:05]
Ken: We're honored to have you as an anchor LP in the fund. I often share that my first genuine programming experience was with Allen Bradley PLC many years ago. So, working with Rockwell feels like coming home for me. You've been a longstanding pioneer and influencer in the industrial automation space, particularly in the US. You mentioned mega trends earlier, and it's evident that manufacturing and industrial automation are at a crucial crossroads due to factors like res-horing, the energy transition, and challenges related to manufacturing labor. Could you elaborate on some of the key trends you're closely monitoring, particularly in the context of Rockwell and the future of the industry?
[00:20:47]
Veena: We categorize our focus into four key areas: First, there's the pervasive theme of digital transformation and artificial intelligence. It's hard to avoid hearing about AI in earnings calls or industry discussions. Our perspective centers on how AI can enhance work processes and its broader impacts. Companies and customers are heavily investing in AI to remain competitive, and the pace of adoption has accelerated, particularly since the pandemic.
The second area of focus is the energy transition and sustainability. When we mention energy transition, it's not just about renewables or carbon capture; it's a holistic approach. We work with traditional oil companies as they navigate their transition. Our goal is to support them in a comprehensive manner.
The third area pertains to shifting demographics and the workforce. We are facing labor shortages and the need to re-skill nearly 50% of the global factory workforce in the next five to ten years. The retiring, experienced workforce and the emergence of digital-native entrants bring a new dynamic to workforce engagement and enablement. We aim to address this evolving landscape with our solutions.
Lastly, we consider the shift in manufacturing demographics. Despite short-term concerns and geopolitical factors, manufacturing is increasingly shifting to Asia, and this trend is expected to continue. If we anticipate that 60% of global manufacturing will be in the Asia-Pacific region by 2033, aligning our business strategies to support our customers' transitions is vital.
The fourth and final area is resiliency. The pandemic significantly impacted the global GDP, leading us to reevaluate and strengthen our resilience. The era of relying solely on just-in-time and lengthy global supply chains is evolving. We are witnessing a shift towards regional or even national sources of supply to enhance resilience. This shift is further evident in government stimulus initiatives worldwide. Having robust backup plans and diversified supply sources has become essential in this new normal. These are the four key areas we emphasize.
[00:24:26]
Ken: The fund we recently launched is titled Industry 5.0, aligning with the EU Commission's Industry 5.0 initiative, which they describe as resilient, human-centric, and sustainable. Throughout our conversation, you've touched on these key phrases. While digital transformation has traditionally been associated with boosting productivity in various industries, it's fascinating to observe its broader impact on what we refer to as 'industrial impact,' encompassing not only productivity but also its effects on people and the planet. Where do you believe the greatest potential for impact lies, and how is Rockwell Automation empowering its customers and partners to take leadership positions within their respective industries?
[00:25:07]
Veena: This is a great question. The impact of digitalization and digital transformation revolves around democratizing data, empowering individuals to make high-quality decisions, and freeing up more of their time for critical thinking instead of data collection, manipulation, and crunching. This is our perspective. Well-prepared individuals are at the core of future manufacturing success. So, what does winning look like? It involves a highly trained and engaged workforce collaborating with advanced technology and automation. Our approach places people at the center and aims to make technology an enabler, providing individuals with 'superpowers' they didn't possess before. These superpowers come from the ability to focus on high-quality data to make informed decisions about what comes next. For instance, our Kalypso consulting services seamlessly integrate various systems, such as PLM (Product Lifecycle Management) and MES (Manufacturing Execution Systems). By connecting these systems, one can see how changes in product formulation impact manufacturing, which is far more efficient than traditional trial-and-error experiments that consume time, materials, and human resources. There's immense potential to empower individuals further. Another critical area is cybersecurity. Today, industrial manufacturers must approach cybersecurity differently, especially as they integrate multiple manufacturing sites. The influx of data can be overwhelming, but we've established our global cybersecurity operations center to help customers manage alerts and pinpoint where action is necessary. People remain at the center of our strategy, but we aim to expand their potential and possibilities.
[00:27:51]
Ken: Yes, I had another podcast conversation recently, and the gentleman reminded me of an interesting perspective: mass production can also mean production by the masses. The end result can be the same. We often associate mass production with large, centralized operations like pipe manufacturing. However, as you mentioned earlier, we are witnessing what you aptly call the democratization of data. This shift makes supply chains more interdependent, complex, and diverse. When we talk about security, especially in this context, it becomes an absolute prerequisite. I know you're a passionate advocate for diversity, equity, and inclusion. Could you share some of your activities in this area and how you incorporate these principles into your everyday leadership?
[00:28:34]
Veena: Diversity, equity, and inclusion are imperative for making sound business decisions. If any segment of the population is excluded, we're essentially suboptimizing our potential. Let's consider women, who make up approximately 50% of the population. If we don't have equal representation at the decision-making table, it's a missed opportunity. It's crucial for the best minds to participate in problem-solving and value creation.
In the same spirit, I'm passionate about giving back and supporting underrepresented groups, especially those who feel the need for additional assistance when they are in the minority. I've been the only woman in many rooms, working with various customers in different countries, during my 30-year career in the industrial sector. I want to empower others to have the courage to take the next step and push the boundaries of what they believe they can achieve. Being a role model is essential. If they can see it, they can be it. This is deeply personal for me because I have a 16-year-old daughter. I want her to know that nothing is off-limits for her, regardless of her chosen path.
At Rockwell, I'm actively involved. I serve as the Executive Sponsor for the Asian network and the Cultures Connected resource group at our Cleveland site. This group supports our diverse field employees in North America. Having been a salesperson in my previous role, I understand their unique challenges and work to provide them with the tools and confidence needed to advance.
I've also initiated lean-in circles at Rockwell. These groups consist of 10 to 15 women each year who gather to discuss topics of interest, how to progress in their careers, challenge the status quo, engage in constructive conversations, and overcome feelings of being diminished or marginalized.
In my everyday work, I consistently ask if we have representation from the regions we are serving and if those closest to our customers are part of the decision-making process. I also address biases that may surface during talent reviews. While I'm not perfect, I believe bringing diverse perspectives to the table is crucial.
[00:31:25]
Ken: You've mentioned 'pay it forward' at least twice during our conversation, which is a fantastic theme and embodies your long-term vision and leadership actions. That's truly commendable. To conclude, I'd like to ask: where do you draw your inspiration from?
[00:31:41]
Veena: Such a great question; I need to ponder this one. As I mentioned earlier, I'm a lifelong learner. I'm naturally curious and hungry to discover what's new and exciting and how to strengthen my knowledge and contribute value. I've been working for 30 years and am committed to continually moving forward. Last month, I enrolled in a digital transformation course at Columbia University taught by David Rogers. Coincidentally, he was launching his second book, 'The Digital Transformation Roadmap', during that week. This experience was truly remarkable because it wasn't just academic learning; it was also about connecting with other industry leaders and executives. We discussed how his work applied to the specific challenges and opportunities we were facing in our respective companies, and it was a global experience with participants from around the world.
This course reinforced the idea that digital transformation is an ongoing journey, not just about technology but also about leadership, strategy, and transformation. It emphasized the importance of having a shared and aligned vision from the outset. I thrive on learning from others and engaging in these kinds of discussions. It was inspiring and energizing to hear from leaders at companies like Walmart, with David Glick and Chris LaSala, formerly of Google, and have the opportunity to ask questions and exchange ideas. Then, the exciting part is taking all that learning and applying it to various aspects of life.
[00:33:26]
Ken: Oh, absolutely, I can tell from the passion in this conversation. I have to admit, I always enjoy this closing question as well. As an avid reader, I place top book recommendations and podcasts at the forefront. While I might not be able to commute to a digital transformation session at Columbia, I will look into the key takeaways from your experience. Veena, I truly appreciate your time. This has been a fantastic conversation.
[00:33:54]
Veena: Thank you so much, Ken. I really appreciate you taking the time. If I think about one message to leave you with, you mentioned paying it forward. I'm just excited because I think the best is yet to come in terms of what's possible.
[00:34:08]
Ken: I fully agree, and I think that's for Veena, for Rockwell Automation, and for the industrial automation industry, which is certainly impacted and influenced by your past innovation experience at 3M. I'm genuinely enjoying the journey so far, but I look forward to the future. This has been Veena Lakkundi, Senior Vice President of Strategy and Corporate Development at Rockwell Automation. Thank you for listening, and please join us for the next episode of our Digital Thread podcast series. We wish you a momentous day. You've been listening to the Momenta Digital Thread podcast series. We hope you've enjoyed the discussion, and as always, we welcome your comments and suggestions. Please check our website at momenta.one for archived versions of podcasts as well as resources to help with your digital industry journey. Thank you for listening.
[The End]
Connect with Veena Lakkundi
Veena is inspired by:
Veena draws her inspiration from her lifelong commitment to learning and staying curious. She finds inspiration in exploring what's new and exciting, continually strengthening her knowledge, and making valuable contributions. Her 30-year career has not diminished her drive to move forward and keep learning.
Recently, she embarked on a transformative journey by enrolling in a digital transformation course at Columbia University, a program led by David Rogers. What truly made this experience extraordinary was the opportunity to glean insights from luminaries like David Glick, who played a pivotal role in Walmart's success, and Chris LaSala, formerly of Google. This course provided a global platform for industry leaders and executives to collectively explore how digital transformation could address their unique challenges and opportunities. The experience was nothing short of inspiring and invigorating. Veena's love for learning drives her to apply these newfound insights to various aspects of her life.
About Rockwell Automation Inc.
Rockwell Automation, Inc. (NYSE: ROK), is a global leader in industrial automation and digital transformation. We connect the imaginations of people with the potential of technology to expand what is humanly possible, making the world more productive and more sustainable. Headquartered in Milwaukee, Wisconsin, Rockwell Automation employs approximately 28,000 problem solvers dedicated to our customers in more than 100 countries. To learn more about how we are bringing the Connected Enterprise to life across industrial enterprises, visit www.rockwellautomation.com.