Aug 2, 2023 | 4 min read
Sid Verma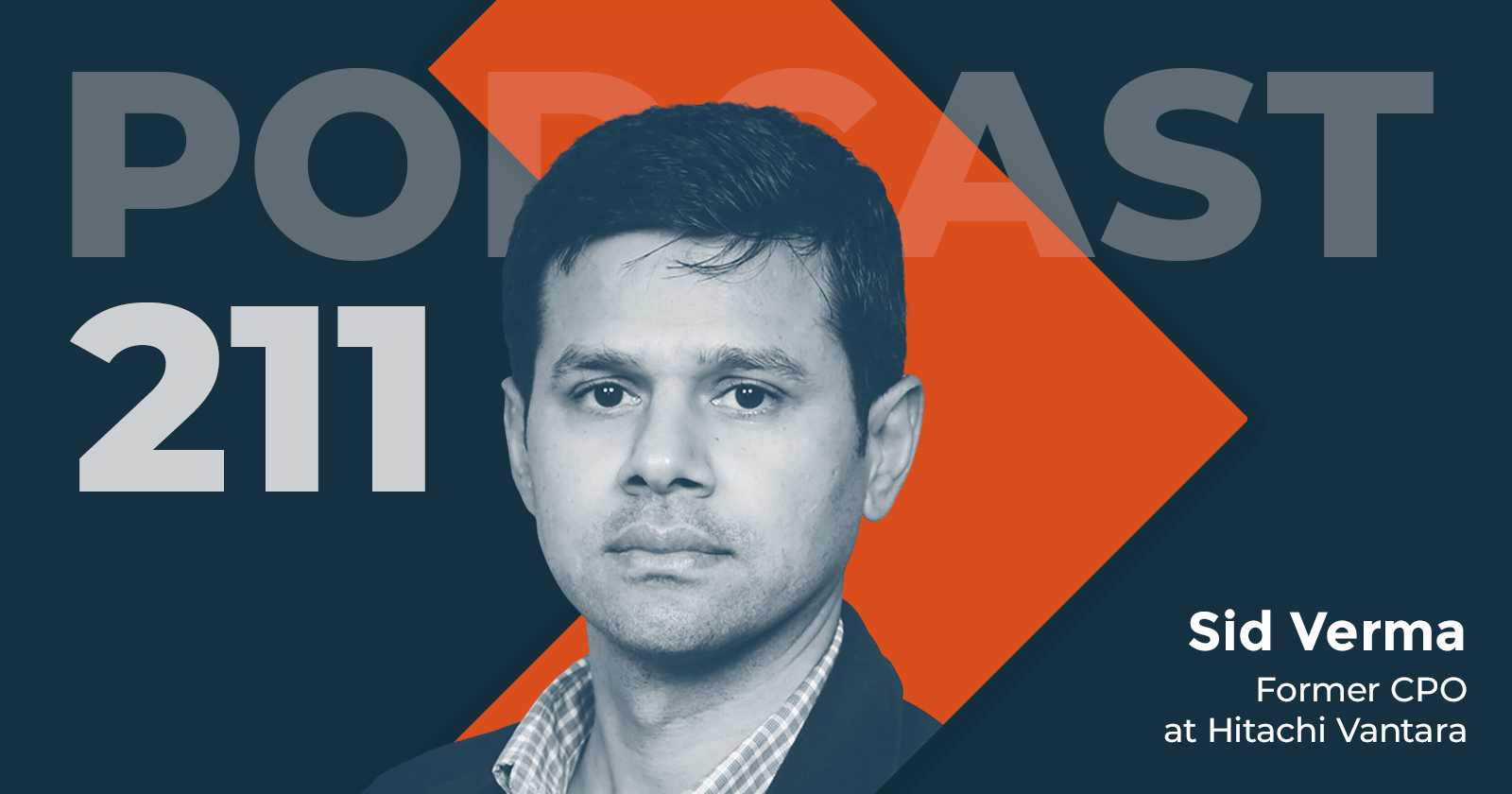 TRANSCRIPT
Ken: Good day, and welcome to episode 211 of our Momenta Digital Thread podcast series. Today, I'm pleased to host Sid Verma, a deeply experienced digital industrial transformation adviser.
Sid builds profitable, high-growth digital product and services businesses across diverse industries, including the industrial, aerospace, and automotive sectors. He was most recently the CTO and President of Digital and Innovation for Aztec Industries, a publicly-held industrial leader with over 1,100 employees. Prior, he was Chief Product Officer, Industrial Advisory for Hitachi Vantara, VP and Global Head of IoT for Industrial and Energy at Siemens Advanta, all topping off seven years at Deloitte Digital, where he was the Practice Lead for Industry 4.0 and Industrial Internet of Things. Sid holds an MBA from Rotman and a Master of Mechanical Engineering from the University of Ottawa. Sid, welcome to our Digital Thread podcast.
[00:01:45]
Sid: Thank you, Ken. Thank you, I appreciate it. It's a great pleasure. As you said, I am a longtime listener and a first-time caller. I have been listening- a few of those over the years that you have been publishing, this fantastic, thought-provoking podcast.
[00:01:59]
Ken: Thank you, I appreciate that. That's the first time anybody's ever used that; I was a Rush Limbaugh fan way back in the day, and that was always a common way to start the conversation. I will make no comparisons further there and leave it simply at that. We call this the Digital Thread podcast, and of course, we think about one's personal and professional digital thread regarding their journey. What would you consider to be your digital thread? In other words, the one or more thematic threads that define your digital industry journey?
[00:02:35]
Sid: Yeah, thank you for that. That's the question: you look back to see where you are, how did you make it here, and why are you doing what you're doing? For me, I was born in a family of engineers. I graduated in engineering, and I worked in aerospace and auto. I was good at my job. I did control systems for airplanes, landing gears, and climate control. I liked my job, but then I learned that you have to do it repeatedly. A part of me was looking for a calling, like, where I would be good and where I could differentiate myself. I took a path; I went to do my MBA and ended up at Deloitte. The journey took me in a different direction, so I chose a different path. My first path was the engineering path; the other was a completely consulting path in IT. I spent a few years working in banks and insurance companies doing private architecture. Again, I felt like, "Hey, this is good. I could do it. But this might not be my calling." Fortune took me to several industrial companies, especially a nuclear power plant. I was doing my traditional consulting work, and they started asking, "Hey, we in radiation protection need this kind of technology to work with IT. IT is more focused on emails and printers, and cybersecurity. Can you help us with that?" For the first time in my career, I got to a point, like, okay. Maybe connecting these two threads is my path forward because not many people- at those times, like ten years earlier, traverse between IT and the OT. They were both quite far apart. I'll say for me, putting them together at that time, putting the Enterprise Architecture together by looking at both the function and additional production, operation, safety, and logistics, with the help of IT and making them aligned on the business and the IT roadmap and architecture and funding was my great start. I'm genuinely grateful that I took that path forward, bringing me here. Over time, that became an IoT and industrial IoT as a business area. It followed its life cycle, but now it's an intrinsic part of most transformations. You must look at how IT and OT work together and how the data and automation come together. I have walked that journey, taken the hard part, and figured it out, and I'll say that's my journey of being where I am right now, and I can make the influence or transformation that I can.
[00:05:21]
Ken: That's great, the crossover of IT/OT, and I'd offer- we'll talk about it in a few minutes, but also consulting and product leadership. That puts you in the dead center of impact, especially from an industrial perspective. Great story. I know you've got a decade-long track record of successfully leading digital industry transformation practices for Deloitte Digital. There, you created a $55 million top-line practice, and then separately, at Siemens Advanta, you were running their US and European vertical market in IoT, industrial, and energy. A decade-plus of doing this, what were some of your more memorable engagements there?
[00:06:06]
Sid: Good question. Again, I walk down memory lane. As I remember my early days in Deloitte, we were all excited that we wanted to do this IoT- Gartner and Forrester were all there to say this is the next thing. It was hard when we started doing it; people had not done this before. We did multiple projects. I worked at a cold storage group. I worked in a couple of sports companies and an airport- they all wanted these IoT solutions, as I think back. We did those projects as custom projects. For something to be successful in a company like Deloitte and Siemens, you need a lot of repeatability in terms of- you'd have to tell your team, this is what you're going to do, this is the product and services, these are our standard partners. Again, you return to the client and say, "Hey, this is how we are better and support you."
An earlier part was ad hoc. I struggled with my industry peers and partners, like, what is that standard we have by the time- learned from CRM, like Salesforce and SAP. When that had a standard, you could expand and scale it; IoT didn't add it. What we did at Deloitte, my personal journey on that one, I sat down with the leadership group and said, "Hey, we've done this ad hoc 10 to 15 project, and we came out okay. But there's nothing repeatable. There's not a start of something there; it might just go away after a few months and years; you don't scale it. With the help of management, we landed our biggest client, Caterpillar. We said, "Hey, give us a chance. We'll do an investment program." Not a project, but a program that was standardized, how we do a large program of IoT, how that creates real value for you. It became the Live Factory program, and we had seven projects under it. We had SAP, Microsoft, PTC, type machine. A lot of partners together- we did the use cases like a traditional consulting firm, and the big thing was we did an IoT architecture, Enterprise Architect, TurboCAD. How do you use these things together? Then, we broke them into smaller programs and ended up doing multiple projects that started to work, as expected by the client and us. We did real-time MES and location tracking for the inside and outside of the equipment. We did shipping automation all the way from a factory. We did real-time reprioritization, we did a digital dashboard for production, and finally, we started to feel like this is what IoT in success will look like. There was a lot of hype at that time. Everybody was committing to mega million savings, but very few could deliver it. For me and my team at Deloitte, that was a marquee project, a program. It's still there if you google Caterpillar Live Factory; that whole program- the output, the process, the partner is out there. Something for me, the most memorable engagement, paved my path for a larger, bigger successful career and project development.
[00:09:29]
Ken: That's a great one, certainly, to remember. I will have to look it up, but I think I've heard about this in passing. I'm curious; you use the term digital industrial transformation a lot in your profile, and that's how we introduced you as an expert. In this time that you worked across these companies- again, over a decade, how did you see digital industrial transformation changing over that time?
[00:09:57]
Sid: This is a good one. This is part of how the industry has grown; the clients have grown, and even myself and my peer group, which I always keep in contact with, have grown their careers. If I look back, digital transformation in the beginning for industries where the factories had standard ERP systems and a standard set of PLM, MES, and CMMS. At the bottom, you had the SCADA systems running the factories, and then you had the ERP on the top.
Here comes IoT; we're going to change the world. We will bring the best of IT and OT and give you predictive maintenance. It was all those early days of GE Predix; they made the markets for us, and it's good for us. They did the big thinking. For me, at that point, we were at the highest point of the Hype Cycle. PTC was doing great, GE was doing great, Siemens had MindSphere, SAP Leonardo.
At that point, we had a lot of buzz and excitement, clients wanted that thing implemented at the side, and they wanted to see the business use cases and benefits. But we didn't know how to do it in the early days. It means we had a good idea. If you remember, 95% of POCs didn't go into production. We had a lot of people claiming they have done it, but hardly a few have implemented it to scale. We made many mistakes, and we have learned from those mistakes. Our partners have become much more pragmatic regarding what can be done. Our people, our practitioners, have learned the skills of IoT. Before, a lot of them came from one side, either the OT side or the IT side, and then they had to learn from the other side. But now, those learning paths have been formalized, and people are experts, and the main thing is that we have this whole new set of IoT platforms. Before, it was like an IT company trying to do IoT. Same thing as an IT person trying to do OT. But those things are standard industry. We have platforms like PTC, even AWS and Microsoft.
We have people who are experts. Then from consulting and practitioners' point of view, we have found the use cases that create value. It's no longer science fiction or, like, I found it. It's like, know now. OEE calculation, predictive maintenance, predictive quality. We can deliver those things in a relatively fast amount of time. I'll say that transformation, that has changed. The walk away from ERPs and the mega application is catered to a set of standard platforms, people are trained on it, and we can deliver value in tandem with the other applications. The great part is IoT didn't die with the digital industrial transformation. We're still there, which is great. It didn't die with the Hype Cycle; we standardized the process and the outcome. Everybody's now using it. I compare it to CRMs and ERPs. Those things are there forever, and IoT and digital transformation will stay forever. The last thing is I've gone up on the flip side. Now they say, "Okay, you departed. I don't want to pay you for basic OEE calculation." You have to give me the higher-end stuff, and that is where the next level of challenge for us is.
[00:13:31]
Ken: Well said there. I liked that you jumped into the middle step there, into industrial IoT platforms. I know our exec search team placed you at Hitachi Vantara in 2020. You were Chief Product Officer, Industrial Advisory in Lumada IoT and Insights. Of course, that is their industrial IoT platform. It was a bit of a crossover role, with one foot in advisory and one foot in product leadership; that's our comments earlier. Tell us, what was your remit there, and what are you most proud of?
[00:14:05]
Sid: I'll say my role at Hitachi- thanks, Ken, for placing me, and Jonathan is listening. Thanks, Jonathan. That was the highest point of happiness or personal gratification as a role I could deliver. From my journey from Deloitte, which was mostly consulting and solution accelerators, to Siemens, which was large-scale programs and solutions, I always felt my pull towards products. At that same time, Hitachi had just started consolidating their companies in North America, Europe, and Australia. They were merging the data systems with the consulting, and some of the smaller groups focused on consulting and products. I got a chance to come in and help them create the industrial side of it. What it meant was Hitachi was already known as one of the big industrials, but their companies were more focused on delivering banking and health care and more like IT hardware. I got to create this whole practice focused on product and consulting. It was a good time because they had just acquired ABB, the power grid business. After a few months, they brought me in as the GlobalLogic Product Engineering. It was a great time, and I had a great role in taking this legendary company into this industrial consulting and product. I got the role of Chief Product Officer focused on taking their IP around manufacturing applications and took it to the next level, which was what I did. For me and Hitachi, the main strategic thing was, what should we do that has not been done before? We don't want to replicate MindSphere or Predix, or we don't want to compete with AWS and Microsoft.
We can't be a small, tiny shop; we must think big. What we came up with at the time was to create a role-based, persona-driven application. If you look at the process of somebody working in a company, any company- automotive aerospace, they have a role. For that role, they need an application. They typically have to go into an enterprise application like TMMS and MES to do their part. What if the applications are designed for the role in mind? Then they take care of who you need to talk to regarding enterprise applications and what data you get from IT and OT so that you can do your work better. That became a strategic calling. Like, Hitachi will make a role-based application, and our product will design that- like Hitachi is a lot more focused on custom development, which is similar, and my role was to take that IP, think about role-based and start making a product. We built the Lumada product line- it was already there in some sense, more focused on data and financial services, and my goal was to take it and focus it on manufacturing energy. We started with mid-sized clientele, a lot more in Asia and Europe, because the competition was slightly less, and Hitachi's presence was very well noticed. I'll say that was my calling. I executed it, and I was happy about it. A part of the role was not only to build the product and the clientele but also to build the team underneath that will function.
Hitachi had these geographically-isolated separate groups focusing on different products and clientele, and I brought them all together. I had to put a high-performance framework, which I learned in Siemens and Deloitte, so they're all marching towards the same type of products while serving their clients in the local industries. Sometimes, they were specializations. Australia specialized in agriculture and mining, and Europe specialized a lot more at that time in automotive, like we got Tesla Gigafactory coming out. It was much more about North America's big auto and aerospace. From the Japanese perspective, you build a business; you have to grow the business. This was a good hit in terms of clientele. Even our analysts like it. The product went from nowhere to a Gartner visionary. You're competing with the big boys and big girls. The growth was phenomenal, and the team was happy. I was happy with that project and how it came out at Hitachi.
[00:18:38]
Ken: I like that you often use the term 'calling' in the conversation. Most recently, you were CTO and President for Digital and Innovation for Aztec, a leading global manufacturer of specialized equipment for asphalt road building, aggregate processing, and concrete production. In fact, your tenure had you also ringing the bell at Astec. Just quickly, what was your focus and some of your key accomplishments?
[00:19:05]
Sid: Astec was an amazing experience. You see CNBC and Bloomberg every day, but to be there is fun. But for me, coming to Astec- a little bit of, again, following my path. I have this feeling and passion for solving problems that can make a difference. We all have that. Sometimes, I have it more. Sometimes I have it less. But at that time in my career, environmental sustainability was a big deal. Hitachi had just gone through this massive program of 2030 carbon neutrality, and then we did a big program with Rainforest Connection. My program showed up in Japan Summer Olympics at the time. When thinking about sustainability, automation, and role-based products, I got a call from Astec, a mid-sized company, like a billion-class construction equipment. That industry was ripe for digital transformation. There are not a lot of companies playing in that market. There are not a lot of software vendors out there, and it's one of the most- not the right way to say it, but it's an environmentally unfriendly business to produce asphalt and concrete, and they all want to change. I saw what I have been building in Hitachi at a much grander level.
Can I do the same thing at a much narrower level but then do a full-vertical solution from a plant or construction equipment? Do the machines control the plant, so they are running at optimal performance? Telematics on the equipment so that I can control the engine and the operation and then do the business-like, processes in a more optimized manner, just like how I built Lumada. That's the reason I came to Astec. I was the CPO and President for the digital. The role was to take the solutions that we had, around 10 to 12 different groups. We just acquired a couple of companies under my leadership, and take a whole new set of technologies, take all the products we have, and transform the way the clients are doing business. This industry wants to change. There was not a lot of competition, and I felt I had the skills and the path to do it. I came in, built the product line on machine controls, built a telematics product line, and connected the whole thing together in a- we call a rock-to-road value chain for clients. It was like a SaaS program that everybody could come in, role-based, do the work they're asked to do, optimize using some level of AI and then you can pass that information to the Department of Transportation or your end clients, and you have better roads which are more sustainable. That was my remit. There are many others, like building the whole team, which is unique when you work in a smaller industrial company that is not the MBAs, or there are more experience less people, bringing them together. Clients who want change but are uncomfortable with new teams, how do you walk them through that path? Then again, being the President, I ran the P&L profitably, which was not the case before me. It was a loss-making group, so I had to bring that all, grow the business, grow the team, and ensure the clients were happy with the transformation. I was satisfied with what I got into and what I could deliver.
[00:22:44]
Ken: In a recent conversation setting up for this podcast, you mentioned a deep passion for re-shoring industrial AI. This is a great way to refer to the opportunity here. Can you say more about this?
[00:22:59]
Sid: Definitely, definitely. Yeah, this has become my latest passion and calling. We all follow the COVID supply chain glitches, and we've all read the articles. I've read the articles. For me, at Astec- I felt it was too late. We all talked about diversifying the supply chain, which means procuring from somewhere else except one place, mostly China, for certain industries in India, like technical and biotech. We went through this challenge, inflation came in, and we talked about doing it. This is the first time that companies and governments are making a concerted effort to make the change, and you'll see the government is spending a lot of money both in Europe and in the US. The Chips Act, the IRA funding. A lot of it would bring critical manufacturing on shore. It will not happen if all the competitive capitalistic KPIs are not met. That means automation in workplaces. It was always the labor arbitrage. This time, the key differentiator would be industrial AI technologies. I've seen technologies like HighByte and Cognite allowing us to take the data from controls. Controls have always been there; they're not matured as fast. I think they do the job fantastically, so they're good. But the next part, industrial data ops or industrial AI, has matured. Then some of the other ERP vendors all come together and reduce the cost of operation to the point that we are almost competitive with Mexico, China, India, and Vietnam. Of course, a bit higher because our cost structure is high, but then, you compare it to the risk of not diversifying your supply chain. Then against the risk-adjusted, you're doing good. For me, that is the next big wave. Onshoring will not happen in two to three years; it will take 10 to 15 years. For me, the next five years will be a critical defining moment. Can we make the manufacturing return here and be competitive long-term? This is for me, saying this is my hype cycle; we are on top of it. Everybody's investing in it, everybody believes in it, but can it be done? If it can be done in the next five years, it will stay here forever. Otherwise, I hope life will be normal after four to five years. Then it will go back to wherever competitively it's cheaper to make. But this is a big deal right now. Bring back manufacturing, especially the new areas when you make a new factory for EVs, the batteries, the energy grade, the rails- especially automotive. The government is spending money, and then we have the technology, the first time that we can be competitive in the long run here. That, for me, is the re-shoring with industrial AI.
[00:26:12]
Ken: I think it's an interesting thesis. Most people look at, as you say, supply chain difficulties. Maybe geopolitics being what they are and all is the driver for re-shoring. In some sense, I think what you're saying is that technology and the form of AI, probably robotics you'd put in there and other such technologies, has created, if you will, or enabled the catalyst of these events to allow us to re-shore as Europe and North America. As you say, it probably would not have been a lasting re-shoring without those technologies. But with those technologies, it becomes the great equalizer, if you will. I've heard this relative to robotics and manufacturing, especially in North America, given some of the labor constraints there. But we're also seeing it now in more traditional information technology fields like coding, maintenance of software, and things like that, where some of these large language models and AI can do what teams of programmers had to do before. It also creates a re-shoring element, especially when discussing data sovereignty and security. It's an interesting thought; you've probably been one of the first to put a twist on that that I hadn't thought about before. If you think about industrial automation, it is at an important crossroads. You've mentioned re-shoring, but I also mentioned the energy transition and labor challenges. What are some of the key trends you're watching relative to the future of the industry?
[00:27:49]
Sid: There are many threads that you can trace here. Each has its own business case, leadership groups, people, and companies that want to be successful. But the mega trend I am seeing overall is- we had the IT revolution in the late 2000s and early 2000s. Then, you had the big data, and the IoT came out. Now, we have the big AI talk, generative AIs. But from an industrial point of view, which of these threads would be a lot more relevant, and which will define the future? Time will tell, but as we discussed, from the industrial point of view, the ability to implement automation and robotics combined is one of the big things that is happening, and it's happening faster.
Finally, there is a lot more movement in this space, like we have standard data, and PLC is known as soft, PC-defined coming in. The next big thing that we talk about a lot is industrial data, which is new. It has been there for many years, but in a sense, it is reborn in a way that it works now and can automate a lot of the process. Where 80% of the data, people spend time making models, tracking models, and collecting tags, that's going. The enterprise applications, they're still there. They got better, and they could talk to each other better. But there will be a disruption in those applications, where with the low code RPA kind of thing, people can build smaller enterprise apps that fit their purpose. For me, those are the technology trends. But overall, as we move forward, I'll see reshoring again as one of the big things. But within reshoring, the whole vertical supply chain moves back to US or Australia so that they can do it from the beginning- which is like designing, trying to mine the material, produce it, manufacture it, and then recycle. We worked together from a business point of view to the vertical supply chain within the business and technology area to support it and convene those two things. If we are successful in the next five years, it will stay forever. That will also elevate the labor challenges coming in. Because a lot of the labor that we have in the traditional industries are not the most highly educated by the university, but they are more trade-based. They learn from trade. If you have low code and RPA things- you can talk the way you could tell it to do. It'll be fantastic for those people to take this industry forward. That's what I feel. There are a lot of threads, like the EV thread, the battery thread, the charging thread, and the carbon capture thread. They're all going to run in their own small paths, and then let's see which is successful. But overall, this is where we are all going.
[00:30:56]
Ken: Very good. I'm sure our audience is wondering now because you've talked about everything you've done up to this point. What's next for you? What's your next calling?
[00:31:06]
Sid: Usually, it's a little late to figure out the calling. I am looking for a place to make a difference in products. The new, next-generation digital product in the industrial domain, whether it is mining, auto, aerospace, food, and bev, or construction. They all have these small products that they want to sell. They have been selling it. But the management always won't put it all together in terms of cohesive architecture that a client can consume, and the teams are now duplicating it. I'm good at that and passionate about bringing data ops and industrial AI capability to a smaller sector. I invest a lot of my time looking at wastewater treatment and then agricultural- like, animal food and agricultural products. Those two industries are relatively small: they're relatively local. They have done the traditional way of doing the work. Food and water are the bases of industries or human civilization. They're not transformed, just like I saw in construction- these two industries are ripe for transformation.
With the capabilities of the industrial data of Cognite and HighByte and might hear that role-based application- I can help them create a vertical solution so they don't have to buy 17 different solutions. A vertical solution from automation to apps to business operations that I can help solve. This is my passion right now, trying to focus my efforts on all the industrial architecture, technologies, and partners and solving a vertical solution end-to-end, vertical solutions from automation to business apps. Large companies tend to buy piecemeal and put it together. Small-medium companies don't like it. They want somebody to put it together. That's what my calling is or could be; time will tell. These are the two big parts of my mind as I think about where I will go and where my journey will take me.
[00:33:31]
Ken: Sounds like you are remaining true to your calling, as you said earlier. In closing, I always like to ask, where do you find your inspiration?
[00:33:41]
Sid: Usually, I look around my house and my family. They work super hard to keep a person like me in check. But I read two books some time back, and I've read them a few times again and again. That helps me when I get muddled in the day-to-day and can't see the forest or the tree in the forest. One of them is called "Guns, Germs, and Steel." It's an old book; I read it a long time back. It's a Pulitzer Prize-winning book, and all it does- it's like a consulting book. It says why was China, at that time in history, the most powerful nation. Why did America become successful from- like 400 years, nothing. Why did things happen? It's trying to scientifically grow a coin. As a consultant, I'm looking at my life and my work. If you're Google, why did you become that? Then, similarly, you're not Google, and you want to be Google or something else; you have to build those founding factors and put it all together. I learned that the world had evolved over a hundred thousand years as we came in. Different civilizations have come at different points and always brought something different. They out-innovated themselves from before. They were not scared of competition, and conflict brought some innovation.
There is always a next level of innovation. It will never be okay. "Today, technology will be the end all, be all." That's what keeps me going. We are in not the end all, be all. IoT is not the end all, be all. There will definitely be something next, and I have to keep looking, and there will always be the next AT&T, the next Exxon, the next Google, and the next Apple. They will be there. I have to keep driving, be true to my calling, and I can find the next one. We have a hundred thousand years of proof that it is possible. I'll keep doing it. The other book is "The Pursuit of Happiness." It's a good book; I read it again and again. Eventually, you want to stay happy, correct? Be satisfied with what you do. Happiness is not what- common sense says it comes. If you read that book, you'll figure out that it's a lot more scientific what makes people happy and not happy. I read these two things every two years, so I don't forget the lessons and keep my motivation and calling going.
[00:35:15]
Ken: "Guns, Germs and Steel" is also one of my favorites. We could say guns, germs, steel, robots, and AI- in terms of the defining technologies that are the great equalizers between civilizations. If I were to look at that and "The Pursuit of Happiness," those two books probably define who Sid Verma is in some sense, back to the intro on Crossroads. Sid, thank you for sharing this time and insights with us today.
[00:36:46]
Sid: Appreciate it, Ken. All the pleasure, and as I said, this is a fantastic podcast. You've done 200 of them, and I've listened to a few of them, and it gives you a perspective of what people are thinking from their vantage point. You bring it out quite well, so thank you for allowing me to do the same.
[00:37:04]
Ken: Sure, thank you for agreeing to do it and participating, and thank you for recognizing that. You are a great addition to the leaders we've interviewed in 210 episodes. This is Sid Verma, a deeply experienced digital industrial transformation adviser. Thank you for listening, and please join us for the next episode of our Digital Thread podcast series. We wish you a momentous day. You've been listening to the Momenta Digital Thread podcast series. We hope you've enjoyed the discussion, and as always, we welcome your comments and suggestions. Please check our website at momenta.one for archived versions of podcasts, as well as resources to help with your digital industry journey. Thank you for listening.
[The End]
Connect with Sid Verma
What inspires me?
Sid's life embodies a quest for innovation, continuous optimization, and happiness. He draws wisdom from history, nature, the stock market, literary texts, news, and experts.
Starting his journey by learning how things are done, Sid dedicated many years to refining and improving them. As he progressed in his career and personal life, he realized that life presents situations without precedents, and one must find their own answers. Thus, the best response lies in analysis, a sound decision-making process, and conviction in a reasonable path forward.
"Guns, Germs, and Steel" by Jared Diamond left the deepest imprint on Sid. Learning that innovation has persisted for over 100 thousand years, and that no one remains on top indefinitely, became the foundation of his life and calling. He never loses faith in the potential for innovation and actively integrates this belief into his daily life through a structured approach known as the transformation journey.
In summary, "The road to success is always under construction, and I believe that no one can build it alone." Sid's positive outlook and commitment to growth are a remarkable source of inspiration.