Jul 15, 2020 | 3 min read
Conversation with Jeff Christian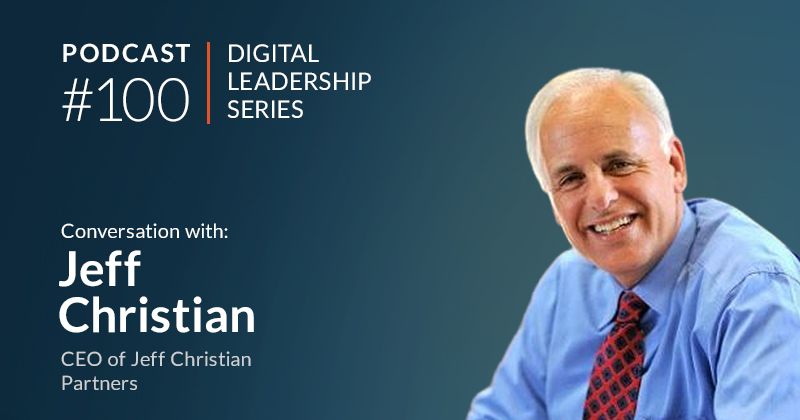 KF: Good day and welcome to a very special edition of our Digital Leadership Podcast today, episode 100. I could not think of a better person to celebrate this, than our special guest Jeff Christian.
Jeff is considered one of the top five search consultants in the world, he has generated and built over 500 million in retained search and has been named in the Forbes Midas List of the top 50 most influential dealmakers for four years running. Focusing on CEO, board member, and senior level executive search and selection, his client span high-profile early stage companies to the Fortune 500, including industry stalwarts like IBM, Microsoft, Hewlett Packard, Apple, and Netscape. Jeff has literally written the bestselling book on executive search, titled, 'The Head Hunter's Edge'.
Jeff, welcome to the Momenta Digital Industry Leadership podcast today.
Thank you Ken, thanks for asking me.
KF: And we're very pleased to have you. So, in a first for these podcasts, I'd also like to welcome Richard White, and Jonathan Molten as well, our executive search leaders, so making this a group discussion. Richard, Jonathan.
RW: Thank you very much for inviting me to participate Ken, looking forward to this a lot.
JM: Yeah, thanks Ken, and Jeff great to have you with us.
KF: So, let's start off with your professional journey, we always like to have that sense of the background that got you to where you're at now, really in digital industry. So, tell us a bit about your background, and how it has informed your views of what we'll call, catalytic talent.
Well thanks Ken. I would say that my background since I've been in search for so long, has been all search. I was an entrepreneur trying to start little companies whilst I was in college, and then at 23 founded Christian & Timbers. So, my background as from a very early start has been about building early stage companies, initially in robotics, CAD/CAM, and automation, and then moving on into other sectors of technology.
RW: Jeff, you've had a storied career obviously, what were some of the most impactful placements you ever made, and how did you know they were the right person for the job at the time?
That's a great question. I think a couple of ones stick out, my first CEO searches were probably the most difficult to get, and anyone that's in search today tries to get in the C- Suite, and it's not an easy thing to do. It took me a number of years to move from mid-level search, to VP level search, and then into the executive level, at the time that's what we would call it, there was no term for C-Suite. Then getting my first CEO search and then my first board search were probably things that I can look back at as important moments in my career.
I can't actually remember the exact search that I did, it was my first CEO, but one of them was GE's printer business, in Waynesboro Virginia, called GENICOM, it was bought by a private equity firm. This is way before everybody wanted to work in the private equity world, as one of the highly coveted areas for executive search today. Welsh, Carson, Anderson & Stowe, they introduced me – in their R&D center I'd already been working with General Electric in their robotics and CAD/CAM areas connected in New York in their RND Center, but this was my first big CEO search.
And then I think building Thermoscan which was when we had our first venture firm, Technology Ventures, and we were able to find that patent for a first digital thermometer in the nanotechnology park. And then bring in the CEO, the entire leadership team, built the board, and the company was to Thomas Lee about 2½ years after inception, and then they flipped it to Braun. We should have waited, maybe another year and sold Braun for about $100 million more than what we sold it to Thomas Lee for.
JM: Jeff, you not only created a highly successful search practice, but went on to create an equally successful venture capital practice, and in fact you were an inspiration for Ken and me as we built Momenta. What inspired you to create the Ventures Practice?
That's a great question, and I always wonder what inspired you guys! And I'm going to ask that question as well, because I think you're the only firm that read the book, and saw that as something that you could do, and maybe add some importance.
How we got into venture capital, first we were dealmakers, we were making introductions. Very early-on, I think one of the first robotics searches that I'd done – I can't even remember the name of the company, but they were a company in Princeton New Jersey, it was a robotics firm. I remember looking to raise money, and we knew the venture, another firm in Princeton that didn't know each other! So, we made that introduction, and we got a Lehman Brothers formula, the 5, 4, 3, 2, 1 formula as a finders fee which was a pretty good deal.
We were always talking to CEOs and board members and getting to know what was going on in the company, and then we had clients on the ventures side. So, those introductions became pretty easy to do. Then we ran into General Research which was our first big homerun, and that was the first Interplak toothbrush with rotating controversials. We found an inventor in Chicago, he had a prototype, and my partner and I Steve Lindseth we ran around and raised a little seed around of about $100,000, getting checks for $7, $10, $9, whatever, from people in Cleveland, and that allowed the company to get going, and then his dad as they also did thermo-scanners, it's the same model, his dad gave us adult supervision, because again these are my first CEO and board searches, I didn't know what I was doing. Whereas his dad somehow did, and John and Seth instructed us, and we built the board, wrote the business plans, and built the leadership team, and that was sold to Teledyne about 2½ years after inception, I think for about $220 million. So those were huge homeruns, and they might be called unicorns today. A talent centric unicorn.
So, the concept of really understanding extraordinary leadership, and being recognized for understanding what extraordinary leadership... I'm not sure I actually really did, but I did get recognized for it, and that allowed me to get the CEO search at HP, WebMD, FI Networks, Upwork, etc. Upwork is another deal where we didn't know it was going to be Upwork, it was called Elance at the time, and at that point we had a $44 million fund, Ctx Ventures, and we were in the seed round, we brought in a CEO, we brought in a couple of board members, were in each round of funding until IPO, as a lot of our last exits, that was in 2018.
So, we've always had that combination of recognizing, or at least being thought of as being able to recognize extraordinary leadership, and being able to bring money, capital, innovation, and what's most important, extraordinary leadership and talent, to make a company highly successful. We've only really done those types of deals. I can tell you about another one, it was a spin on a case, maybe in a few minutes.
KF: Jeff I've got to jump in here, because you asked the question of what inspired Jonathan and I. I think you just did a beautiful job of describing that, it's what I call the meta patterns. One is what you are, you're in the relationship and insights business; you develop relationships, you mind those, you have insights about those, and you do pattern matching with that, right? I remember having lunch with you and your sons earlier this year, and I referred to you as an Exec. Search professional, and you quickly corrected me and said, 'No, I'm a dealmaker'! That struck me, you really are, and you can apply that toward many different sectors; Exec. Search is pattern matching, Venture Capital is pattern matching, M&A deal flow is pattern matching. So, it was that meta pattern that struck out to us in the book, probably more so than the hard lessons around just Exec. Search, or just Venture Capital. So, well done in terms of inspiring us.
Thank you. I like to talk about all of us striving to be CEO whisperers, those that are strategic confidants, not just strategic talent confidants, you guys know this from your training. Strategic talent confidant is someone that is recognized and appreciated by a top leader, a decisionmaker, as someone that brings more than just people, someone that they can confide in about everything, about their own career. Every key search there's a strategic problem, there's some strategic or tactical problem or they wouldn't be doing the search. And so if you're going to do the search correctly, you really have to understand whether it's a senior vice president of marketing, or what we call a CMO today, you've got to get into the strategy, you have to be able to talk to the CEO about what's going on in the market, you have to be able to talk to candidates about that.
So, the best search guys are really those that for whatever reason, have a combination of intuitive ability to recognize leadership, recognize B.S! Recognize when someone is not who they portray themselves to be, and just have a kind of a sixth sense of who's a phenomenal leader, I might call it a transformational leader, which you call catalytic leader. There are many names for them, some people call them backable CEO's, extraordinary CEO's that seem to always win no matter what.
Those tells, those things to be able to recognize those, if you end up doing enough CEO searches you end up being able to know one when you see one. I look at the very best venture people that were mentors of mine like Vernode Coseley, each of the years I was on that Forbes list he was number one, and he deserved to be on the list. I think they just threw me on there because I was a novelty, I was a search guy with a venture fund, and only one at the time. I think you guys might be number two, I don't know of anyone else that's really raised a real fund and has a venture fund in a search firm, maybe there's another one. But Vernode, he has an uncompromising leadership hiring role. Same thing with Bruce Rauner, Bruce is my mentor in private equity, Bruce recently was nice enough to make me one of his co-campaign Managers, when he ran for Governor of Illinois, which he just lost to Pritzker, last fall.
Bruce is the founder and the innovator behind the Backable CEO, he's the one that gave me that word, I need a Backable CEO that I wrote an article for PE Magazine in 2005, and now it's been distorted. But he had the real definition of one, he had the definition of what one's outcome was, he could not tell me what were the qualities of them, I had to figure that out on my own. In fact, no-one in the firm was able to really give me a succinct definition, they just knew one when they saw one. The same thing with Vernode, he knew one when he saw one, but he has an uncompromising leadership hiring model, plus any investment he makes.
The same thing is true with Ann Winblad, extraordinarily successful. She says the most important thing for a board member is the firing and hiring of a CEO, and both of them have the ability to fire any CEO, they put it in the contract, they can replace them any time they want, if they're going to invest in them in an 'A' round, if that CEO does not turn into the kind of leader that they believe they need to be, because some can morph and become extraordinary leaders, others are just that way and you can tell by their experience. But still, no more than you see one, and being able to define it is difficult.
RW: Expanding upon that a little bit Jeff, and getting one level deeper, you've heard us discuss catalytic leadership, or so-called turnaround leaders as we used to refer to them at Patriarch Partners, my former employer. Can you give us any specifics of key trends that you look for every time, or is it much more a gut feeling?
Well, I did write an article on scale and published it, and a lot of other people, I think Associated Press did, and a couple of others put it out, and it was called The Top 10 Traits of Transformational CEOs. We actually identified 60 primary qualities, behaviors, scenario reactions, leadership models, the human characteristics and many other. We created and identified 60 primary ones which we do keep proprietary. I can tell you what the first one is, I got to define what that meant, what was a transformational CEO, or a catalytic CEO? I got to define it in that article and make it mine.
I don't think anyone else has this data, and the only reason I have the data is because no one that does assessments can get their hands on it, because how are they going to get a sampling of 100 CEOs that they would know were extraordinary performers, to even sit down and be assessed? They couldn't. First of all, they had to identify one without an assessment, then they had to find another 99 of them, or whatever their minimum requirement was to create a sampling big enough to create an assessment tool. But I had the opportunity to interview about 40 or 50 of the highest performing CEOs in the world, which really meant at the time in the US – this goes back a while before, we've had many-many CEOs from Europe that have come to run companies in the United States, and that we even know who those leaders are in other parts of the world.
So, that was mostly… and I'd say Sam Palmisano was one of my role models, so was Paul Leany, so was Lew Platt. Sam though is probably the best, and then there are ones just like him that I've been able to identify and have known throughout my career, and I'll explain that in a minute. Sam was the CEO, and probably the most heralded CEO at IBM, turned it around, built it, grew it, and by the way I don't think you mentioned calling for a turnaround CEO, yes they can be turnaround CEOs but they can also take something that's nothing and turn it into something. They always win, no matter what.
And then there are certain qualities, one of the main qualities is they're all talent engineers. Most search firms would never run into them, because they don't use search firms. So, you wouldn't necessarily be able to even know what one looked like, because they have an entourage they follow, the world is always trying to recruit them, some other talent engineer CEO knows them outside their company, it's there's clearly the people inside. So, if they're in big companies they always get promoted into turnaround situations, because there's very little start-up situations, or they don't put those types of leaders into organizations that are doing well. So, that rings true that start-up mentality.
But the first quality that I noticed about Sam, I'm just going to talk about Sam and the others that are like him, Sam was at IBM, and all the others that I know, many of them, about 20 percent of all the transformational CEOs I know of worked for John Acres, or under him, Sam was a couple of generations after John. My first CEO was a guy named John Harker who reported directly to John Acres. Then when John became CEO, John Harker left and I put him into Genicom that was meant for a CEO search. Ray Laine is in that vein, they're all very similar. Now, back then they were all tall white males, and they all kind of looked like movie stars, they were about 6' 1", they were very Ken in fact, they all looked like Ken! Tall, good looking guys, smart, but the first thing I noticed about all of them is that they're incredibly likeable, as genuine when you meet them, like good people.
Number two is, they oozed integrity, they wear it on their sleeves. Somehow when you meet them you just know, 'This is someone I can trust', you like them, the way they talk, the way they handle themselves, just who they are. At least I can tell, and others I think can tell, this might resonate with you. Then there are many things that happened after those two, but those first two have to be there from the out. There are extraordinary scoundrels, there's Larry Ellison, he's been highly successful at being a scoundrel. I chose not to include him and his type of qualities, as a transformational CEO.
Steve Jobs would not meet the likeable quality, he was prickly is the best way I can describe Steve, whenever I met with him he was prickly! Very strange interactions most of the time, but he was prickly. You couldn't get close to him, he didn't like it if you asked him questions to get close to him. Whereas these types of transformational CEOs, they get close to you almost from the minute, you just like them, you feel like they can be your best friend sometime in the future, go out and have a cup of coffee or a beer with them, whatever.
And so those are some of those qualities. We can talk about more of them, I should probably stop here and hear some of your thoughts.
JM: Thanks Jeff, and in a sense, post-COVID we now all have to be catalytic leaders. So, what do you think the next five or so years looks like for executive leadership needs?
Well, I think about 70 percent of all of us are going to disappear, as we always have in every recession. You should take the course, Richard and Ken are on it, and I give an update every Friday, data based on data. We've been watching the data since January 7th, that was when they announced it. I think on the 12th I bought N95 masks and gloves, and all kinds of other stuff. But I knew what was going to happen, and anyone who's smart enough can just look at the data, you just watch the John Hopkins Coronavirus heatmap, you're going to know what's going to happen, this flu has not gotten here yet, they're now saying that, even Fox News is saying it, it has not gotten here.
The door is almost closed in the United States, I knew that Great Britain had screwed-up almost as bad as we did, but the United States with 25 percent of all the cases, 25 percent of all the deaths, and 4 percent of all the population, we've done something horribly wrong. Even Fauci the primary doctor is now saying that there is no possibility of a herd immunity, which is the only way you're going to get rid of something without vaccine. Other than that, it just keeps going until it kills everybody it can kill, and then whoever gets the antibodies lives. That's just basically what happens, unless we all stay inside.
So, because more and more people will be dying, more and more people will be staying inside. As a result, manufacturing is going to die, a lot of manufacturing already is, we just haven't even seen the best, most of the layoffs they've been holding off on. Plus, we're not getting any good data from companies, because they're no longer doing predictive announcements of what they're going to do the next quarter and things, so they're just giving us results, and they're hiding some of the results. So, we're not even seeing what's actually going on.
But we are in a depression, we're not even into recession, we are in a depression with huge unemployment getting worse, because everybody that just got rehired in restaurants are going to go home, airlines are going to go out of business, a couple of banks are going to fail, there's a number of oil companies failing. And we're going to see that, we're going to start seeing it, other than it's been falsely propped up by Trump, and he's got busted this week, Trump is now being exposed by all Republicans.
As a result of not wearing masks, and not really following CDC guidelines, there's going to be a reaction, and it's happening right now in Texas, in California where they're rolling back, and they're going to go to the opposite extreme. We'll see it in the next two or three weeks, of having opened up way too early, they're clamping back down because all the hospital beds in Houston for instance are full, or 97 percent happening in Arizona, Florida. As soon as we get full and we start seeing on the news everybody in makeshift beds like we did New York, we're going to start seeing the economy appear the way it is. But there's going to be more positions put on hold, and there's going to be significant layoffs in the search business, in the industry. It's the first time I have not seen it happen by now. We've known about this since March, and I would have predicted massive layoffs in Heidrick and in Korn Ferry about now, because it will be very hard to get those first new retainers going in at the fall, particularly when we're back in lockdown, and as we're back in the flu season, and we've never left the flu season. So, COVID-19 is going to change everything, but the good news is, there's a new economy to pursue.
RW: Thanks Jeff. You've not only been an inspiration for Momenta Partners, but a mentor personally for me through your Jeff Christian Partners offerings. Your tagline describes that you are, 'The World's Best Practice Firm'. Could you describe for the listeners, how do you help executive search companies?
Yeah, those are two different messages, Jeff Christian Partners is the search firm, Jeff Christian & Company is the holding company that has our family office, and also has the jeffchristian.com on my mentoring platform, which is what you guys are part of, as we start to build these online mentoring modules for the contingent to retain, and the retained search market, that's how we break it up. There's about a million of each in the world! About two million total recruiters and retainer recruiters, retain wannabe's C-suite wannabe's, and those that are in it. But that particular tagline is talking about best practices in the search firm that sit above all competition.
So, whenever we've built a search firm, and as we were building Christian & Timbers, we always tried to give the client what they don't get. We don't get up every morning and wonder where's our next search, though we always kind of do, everybody does in searches. What we really focus on what is it every day that we can give the client, that they're not getting, what do they want that they're not getting? I love asking clients about that, and building a business around it, and doing it remedially. I was always finding new solutions. So, what that means is, is that we have talent-centric solutions, they set up another competition, and we know our best competition only as assessment tools. And we know assessment tools don't mean anything, because a search client, a company, a start-up, big company, they can have better assessment tools than we can, because they have their own talent analytics, or at least around some degree to get their own talent analytics, which they can apply to an assessment tool.
So, all you have to do, all we have to do, anybody that's a boutique, is finding solutions that we can give a set of competencies, and it's easy to do since the competition, the big guys are just not very innovative, they don't really have anybody who think about that. They only think about innovation as it relates to money, so they think, 'Well, Korn Ferry can do future steps, we can make money doing this'. They don't think about building solutions around client needs, and as long as we as search professionals think about client needs, then we all get to be a best practice search firm.
JM: Thanks Jeff, in your seminal book you discuss how companies at the time, such as GE, and Apple were setting the bar for leadership. Who do you see as the benchmark companies today, those attracting and consistently I would say attracting top talent?
That's a very good question Jonathan. Everybody's become much more sophisticated. Back when I was doing all the big CEO searches, many of them what have you, the HPs, the WebMD's, the excited ones, BI.com, a bunch of different ones that were big searchers at the time. Capital One, OffRoad Capital, I did a COO at Capital One, not the CEO, but they did those searches, they don't do those anymore. Google is never going to be doing an outside CEO search. IBM's never going to do another outside CEO search. HPs never going to do another outside CEO search. So, that means that they're all getting better at succession planning, and they're driving succession planning down into the organization.
I was talking with a company that didn't exist two years ago, they are $800 million in revenue now, they're a government services business, national security state. It's all grown through acquisition, and the CEO is telling me that he mandates, but first of all he thinks of himself working for all of his people, the same way that we think about it. We don't think anyone that we lead serves us, we serve those we lead, that's in our culture. We try to drive it in our culture, so there's no-one underneath anybody, and nobody above anybody, because then they think they're serving us. No, as CEOs as leaders we must serve those we lead.
So, he has that philosophy, and then he's mandating or asking, or requesting, because I don't think I think he actually mandates, but everybody has to have three potential replacements for every job. So, they're thinking about who's the internal person, they're thinking who's the external person, and who's our competitor. Those are the three that they're asking to do.
Things like that are happening more and more out there. So there are many companies that are using the science of what we call talent asset management, and adapting it, what's in the book. The book was never written for search firms, that's the craziest thing, it sounds like it, to have it for headhunters, it's not. I wrote it for CEOs, and clients, and HR people to think like a search person, or at least to think how I thought as a search person, so that they could use managed talent as a primary asset, as a competitive weapon.
The book is interesting, because it talks about the talent economy, I hadn't opened it up for a while, and when I did, I was surprised at what the chapters were called! Because Talent Economy I wrote it 15 years ago, people didn't really start talking about it until maybe five or seven years ago, but we are right in the talent economy. Those that create wealth have always done it through talent, through finding some form of talent grab. So, I see them becoming more and more sophisticated, putting pressure on the mid-level of retain, and I think retain will be gone in 20 years. AI will replace us clearly, and not just AI, but AI enabled solution that replicates voice, replicates conversation, we don't have the computing power. Cooper my middle son, my cyber-student son says, 'There's not enough computer power on the planet yet, to replicate all the synopses that need to fire to have a conversation'. But eventually there will be, and it can just be getting on the phone, because that's what they do with us, we're not going to meet that many people in person in the future. We were starting to do video 20 years ago, trying to avoid flying around and meet people, and now we have to do that with clients as well in the search business.
There's going to be a conversational bot, there are those today, they're not replicating full conversation, but eventually you'll be able to just talk to something, and say, 'I need a CEO with this kind of background', it will go into a world database of everybody, Indeed, LinkedIn, they're all building those. They're all building giant databases to replace us, so we've got to figure it out. So, there are many great companies, Google is great – I don't like Google, I don't like the leaderships since they fired my friend Eric Schmidt. I think the two kids that run it are not great, but they do have great talent engineering, they do know the value of talent. That's all Bill Gates knew, that's all he really was, was a very highly-paid recruiter. I do not know of anything that he did other than that, than hire people, I don't know any strategy put together. I kind of knew of him, I worked closely with them in the very beginning when he hired three search firms to find as many software people and chief scientists as possible, whilst he was doing the same thing with his internal team and himself, recruiting every day.
So, it's always been there in technology, talent engineering at the core of wealth creation, everybody's getting more and more sophisticated every day.
KF: You know, it's funny Jeff that the… I'll call it the "Bible of the Search industry", was never written for the search industry! Which is quite a testament to the knowledge and insights that you shared in that as well. And speaking of books, in closing typically we ask for our speakers to provide recommendations on books or resources that inspire you, beyond the one that's sitting right behind you, 'The Headhunters Edge', which is already a great book. So, what else would you recommend to our listening audience?
Well, I do not read non-fiction, and in fact I've only read excerpts from my book, because I wrote it, I know what's in it. The only thing I have is a memory for some reason, I'm not all that bright, I just have a good memory. But I don't read non-fiction, at least very rarely I do, so I'm really not a very good person to make those recommendations. I like historical, I love Johnny Adams, I love anything by McCourt about leadership, where I can look back into the leadership of our patriots that started this country, and then compare it to who we have to vote for today.
I like historical novels that have to do with leadership, that's probably what I like most, I learnt quite a bit from that. Our founding fathers were all entrepreneurs, they all ran their own businesses, they all believed in your handshake was your word, and they gave it even if they were shaking the hands of a Southerner on the plantation, it was someone up North like a Benjamin Franklin, which I guess was an early industrialist as a publisher or something, different mentalities, that was their word or we never would have had a country, we don't have that today. So, I love learning about the leaders that forged our country, and other great leaders. I love Colleen McCullough who wrote 'The First Man in Rome', which is all about Gaius Marius who was Caesar's uncle. So, I love all that kind of leadership stuff.
KF: So, this has been Jeff Christian, founding father of Christian & Timbers, matchmaker to the stars of business, legend, lifelong entrepreneur. Jeff I could not think of a better person to help us celebrate our 100th podcast. Thank you for inspiring us to create Momenta, and for inspiring some of the best search firms in the industry.
Well thank you very much for having me, and I hope I've given your listeners something of value.
KF: And thank you to my partners, Jonathan and Richard for doing our first ever group podcast, you guys all did well. And finally, thank you to the listening audience, please join us next week for episode 101 of our Digital Leadership Podcast Series. Thank you and have a great day.
[End]