Mar 15, 2023 | 3 min read
Michelle Bockman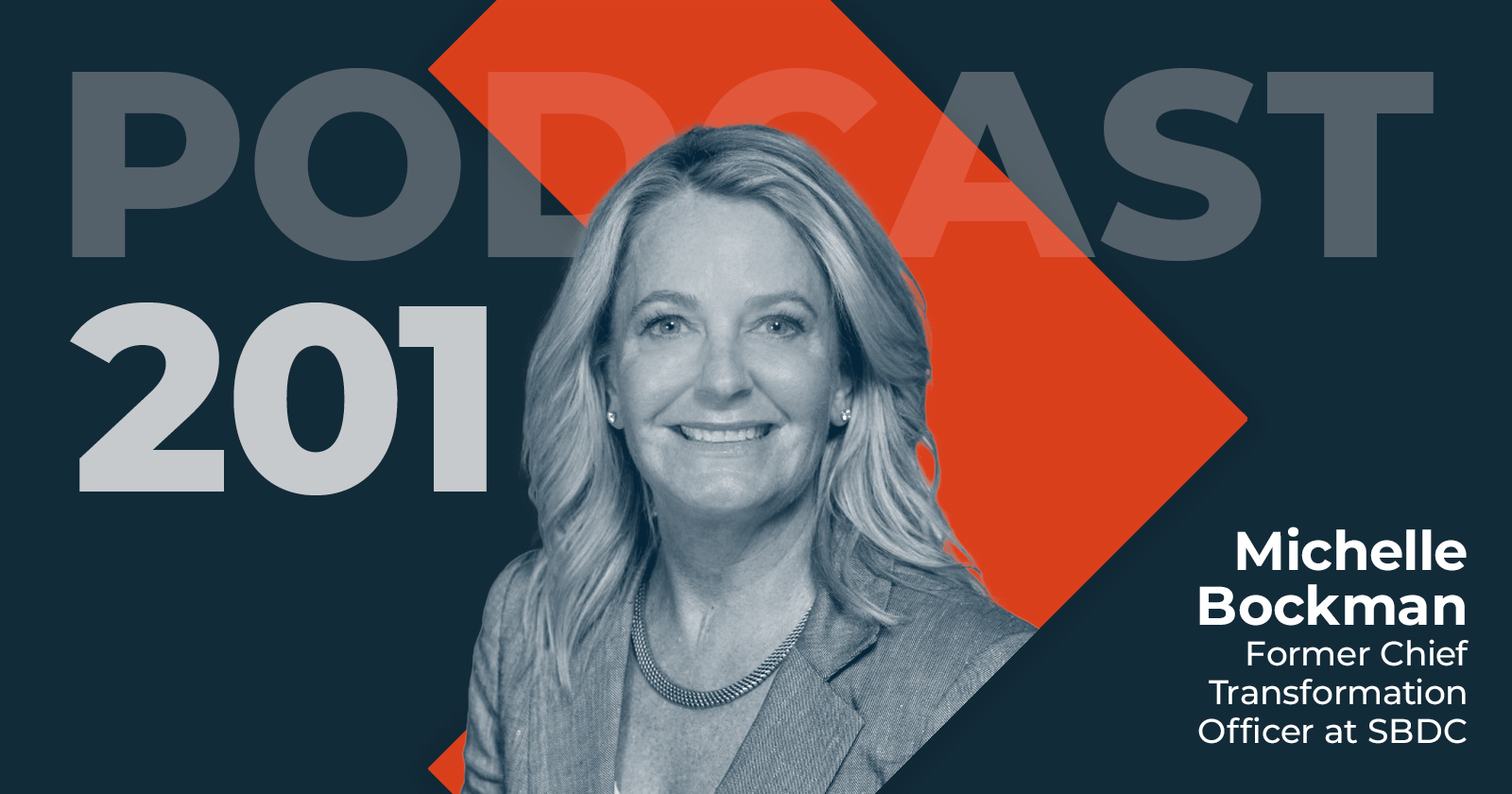 TRANSCRIPT
Ken: This is Ken Forster, Executive Director at Momenta. Welcome to our Digital Thread podcast produced by, for, and about digital industry leaders. In this series of conversations, we capture insights from the best and brightest minds in the digital industry- their executives, entrepreneurs, advisors, and other thought leaders. What they have in common is like our team at Momenta; they are deep industry operators. We hope you find these podcasts informative, and as always, we welcome your comments and suggestions. Good day, and welcome to episode 201 of our Momenta Digital Thread podcast series. Today, I'm pleased to host Michelle Bockman, former President of Stanley X and Chief Simplification and Transformation Officer at Stanley Black and Decker. Ms. Bockman has over 20 years of experience leading major corporate transformations across matrix enterprise organizations and scaling startups. Prior to her leadership role at Stanley, she served as the CEO of 3D Control Systems, held multiple executive positions in service, supply chain, sales, and product development at GE Healthcare and Industrial Solutions, and served as General Manager and Global Head of Automotive, 3D Printing and Digital Manufacturing at Hewlett Packard. She was inducted into the Women in Manufacturing Hall of Fame 2022 and was named by 3dprint.com as one of the most inspiring women in the additive manufacturing industry. She's won the Malcolm Baldrige National Quality Award, the nation's highest presidential honor for performance excellence. Michelle is a champion of women in science, technology, engineering, and manufacturing, so STEM, and is passionate about developing diverse talent for the workforce of the future. Michelle, welcome to our Digital Thread podcast.
[00:01:58]
Michelle: Thanks, Ken. I appreciate all the wonderful things you said about me. It was like, "Who is that? Oh, that's me." Sounds great. Thank you for that; I appreciate it. Thank you for having me here; it's such a pleasure. I'm happy to be sharing this with you.
[00:02:15]
Ken: I appreciate you taking the time as well. The bio in the front you have earned clearly and well-deserved to provide a summary of it at the beginning. We call this the Digital Thread podcast, which talks about one's digital thread that brought them to where they are now. What would you consider to be your digital thread? In other words, the one or more thematic threads that define your digital industry journey.
[00:02:41]
Michelle: Well, I would say I go back to when I first started. I'm a mechanical engineer, so I started in manufacturing as a mechanical engineer on the manufacturing floor. Back then, I'm not going to tell you when, but it was a while ago- we would do time studies manually. Everything was analog. As I progressed through my career, we started learning statistical process control, SPC, TQM, and total quality management. Toyota brought in Six Sigma. Early on in my career, I took those early learnings from the analog and started to make this digital, starting even at automotive at that time and using analytics to determine, like, if a production line was starting to drift out of control, say, or if a product was out of tolerance, we were able to start doing that early. As I went through my career, I started implementing ERP into manufacturing, started looking at how we gather test results off of machines, for more than- I would say, gathering the test results off of the machine by downloading into an Excel spreadsheet, as opposed to having it go into the Cloud and gathering it that way. Those were the early days. Then, it just started progressing. We got into Cloud computing, we got into machine learning, so as those machines were starting to drift, they would start correcting themselves on a production line. As an example, I was key in implementing ERP into production and lean methodology. You take the two together, and it provides a powerful manufacturing facility. As I've gone through my career, I've gone through from analog, implementing all of these digital threads even at GE Digital, where we started connecting things and gathering information to drive productivity for the company to 3D Printing. I've had this digital thread throughout my career; those are just a few examples of what I've done in the industrial space. Then, I remember- I would have an Apple phone or even a Blackberry. I remember scratching my head. Why can't we use this application in manufacturing? Sure enough, over the years, we did. It's like that personal digital thread, and then the industrial starts to meet. We see that today if you go into an advanced manufacturing facility or plant, a manufacturing plant, and what they're making and how they're making it.
[00:05:24]
Ken: What a great background, and we'll deep dive into each of those elements you mentioned. Let's start with GE. You're a 15-year plus veteran of GE's Healthcare and Industrial Business, and I might add, at a very formative time for GE, especially GE Digital. If you had to summarize your time into three learnings relative to manufacturing, what would those be?
[00:05:47]
Michelle: I would say- I spent the majority of that at GE Healthcare, and they just went public, so I am super proud of everybody over there. It's been a long time coming; we wanted that to happen many years ago. The learnings- the first one would be changing. Don't underestimate change, the amount of change that has to happen, and how you have to go after the change. A lot of folks or a lot of companies will start with their senior leaders and hope that the change happens. Well, that's not typically going to work. You have to work through middle management, and you have to work with the folks on the floor and let them be part of the solution and driving that change and let them feel like they own it in that it's part of their DNA. Change and not underestimating change are important. I would say simpler is better. Don't over-engineer anything, whether it's a product, production line, facility, or company. It's like you start getting too complicated, and suddenly, it's taking you a lot longer to do anything you should be doing in a very brief period. I know a lot of corporates are trying to become more like startups, nimble and simple. Then, of course, the startups are trying to be more like corporate because they're trying to scale. But it's this balance of just being simple. The third one is people, all about developing the next generation of leaders. I'm so proud when I have someone who has worked for me become an executive or go off and be a CEO at a company. Don't underestimate how much time you need to take personally to develop yourself and your team individually and as a team, and it's something that I have done over the years. When I finally get my team together, if I'm going into a new org and have the right members on the team, pull them in and ensure we do some leadership development individually and as a group every quarter. You get better and stronger when you have a diverse team.
[00:07:47]
Ken: Very nice. What I appreciate is the combination of technology and people or change management that comes in there. When we talk about digital transformation, we often focus on the digital, not the transformation. Digital becomes or should be the catalyst for much of the transformation. Having a foot in both those worlds to affect and execute change is critical. If I divide your career, as you talked about in three steps, we talked GE- the next one interests me. You joined Hewlett Packard in 2017, leading their 3D printing business, so another very formative time, and later became CEO of 3D Control Systems. What attracted you to the 3D printing space? What were some of your key accomplishments during this time?
[00:08:37]
Michelle: When I started manufacturing, I went from being at a plant to being on-site at Jeep Truck Engineering in Detroit. We were down in the engineering lab and doing a tolerance stack of an axle, so it's in the drive train vehicle. We're down there, and I just saw a 3D-printed carrier. It's like the major part in the middle of the axle, and I was like, "What is this?" They took me over, and I got a tour of this little 3D printing room and learned about it. That was my first learning of what 3D Printing was and could be. We 3D printed that carrier because it was a lot cheaper than going and buying tooling and having to wait three or four months for the tooling to come. By the way, if you do a tolerance stack, and you've already got the tooling, then you got it in something doesn't look right, it doesn't measure right, then you got to go back and redo the tooling, and that takes a long time. 3D Printing- I just saw the immediate value 20-plus years ago and then used it again when I was leading spare parts or logistics for GE Healthcare. We kept having to do last-time buys for suppliers either going out of business or it was end-of-life for a product. However, we still had to source that product for our customers for 30 years. To keep that inventory on the shelf was a lot of money and cash just sitting there, so if we could 3D print that, that would help the company's bottom line tremendously. That was another stint that I did in implementing 3D Printing.
Throughout my career, I had this little- I don't know, I'd say a passion for 3D Printing, even though I wouldn't even probably have known it at the time. But I did, and so when this opportunity came to me from HP to go over to the startup within the corporation, I was like, "Oh, my gosh, I got to do this. This is cool, and I can't wait to do it." When we went there, it was about finding product-market fit, which applications will ring true with customers, which will create value, and help them get to market faster, for example. We got in there, and then we ended up doing a study and found out the automotive was an area that we should be focusing on, so I took on the automotive P&L. I developed it. One of the things I'm most proud of is seeing these automotive companies go through to market with a 3D-printed part. It's a very long period, and every milestone is like a victory. Once you've passed this test, or that test, or that test, then you're like, "Oh yeah, we're getting closer. We're getting closer. Okay, the cost. We've done the business model; we're getting closer." We're getting there, and then all of a sudden, we see it in a car. It's like, "Wow, that's cool." We worked on that with our customers, and you're so proud. That is one thing that I was proud of when I was there.
[00:11:38]
Ken: That's a lot to be proud of, and I like how you took working at a large corporation and spun that into a startup or entrepreneurial activity as well, even though, as you said, it was a part of HP. You did well at that because right after that, Stanley Black and Decker hired you as president of something called Stanley X, the innovation business of Stanley Black and Decker. Can you tell us about your remit there and what you are most proud of?
[00:12:06]
Michelle: Yeah, so that was my dream job. It was like a corporate meets startup, and I was so excited to join. When I did, the team was amazing. I looked at what we were working on and talked to my manager about where we should focus. We stopped doing some things; we started doing some things and continuing other things. We ended up investing in some startups, like seed round startups. Then we developed our product or software, and lastly, we had venture studio, where we would take ideas, say, from megatrends or what's going on the market, or what customers came up with. We had good relationships with many customers that gave us input. Then we would take a business, work with the idea, and take an expert and residents and create a business from it. Then from that business, we would spend it out, fund it and help them scale. That was incredibly exciting.
We ended up focusing on construction technology as well as manufacturing. Those were the two areas. Before that, it was a bit of everything, so we shut some of those efforts down and focused on those two areas. Finding that product-market fit was the most challenging and proudest I could be of our work. Finding that product-market fit is difficult in a startup or company. Then, the debate on my team- what is product market fit? When do you know you have it? It was a great debate. When we had some offerings that had product market fit, that was an incredible feeling. The team was wonderful, and we just had a good time over there, focusing on innovating for the future of Stanley Black and Decker.
[00:13:59]
Ken: Stanley X was a fairly advanced innovation structure, as best as I can tell from the outside in. You're probably one of the first to put in such a structure. But I'm curious, who did you look to in terms of pure industrial companies as a potential trend center and innovation as you guys at Stanley X?
[00:14:20]
Michelle: I didn't necessarily look to our peers. Of course, I would see what everybody was doing. But early in my career, I took this executive class, and it was around innovation. The professor at GE Crotonville talked about three boxes. The first box of innovation is to look around. What are your competitors doing? What sequential- what kind of step function more can you do that competes with them or takes a step above them? That's about box one, and that's fine. What I like is box two and box three. Box two looks at other industries like Uber, Apple, and Tesla. What are they doing that has moved the needle, and their customers are pulling that would apply to us? How do we make that apply to us? Box two is interesting to me. Then, box three is like ideas way out there, like disruptive business models.
A good example of one there is a company called Smile Direct. I don't know if you've heard of them, but- well, first of all, there's Invisalign or Align Technologies that disrupted the orthodontics market with the plastic retainers. Then Smile Direct comes along and goes direct-to-consumer with orthodontists online. They have small pop-up shops, so they disrupted that market and were at a cheaper price point. I love this disruptive business model that aligns with that box three. That's how I think about innovation and trendsetters. I also look at megatrends, like, what's happening worldwide and how we get ahead. COVID helped a lot for these megatrends to become a reality.
[00:16:15]
Ken: Yes, we used to joke about it being a black swan and then the Panama Canal black swan and the Ukraine black swan- it feels like it's a whole flock at this point.
[00:16:27]
Michelle: Yes, exactly.
[00:16:28]
Ken: Let me drill down on one aspect of Stanley X and proceed- I'll tell a short story. Guido Jouret was the former Chief Digital Officer at ABB. When he left ABB- I knew him well going there, but I interviewed him in a podcast. One of the questions I asked was, "As Chief Digital Officer, if you had to do it over again, what would you do differently?" He said, "Two words. venture studios." I was tickled by the fact that you mentioned venture studio earlier. If you had the opportunity to restart Stanley X, knowing what you know now and about the venture studio model, what would you do differently?
[00:17:06]
Michelle: Well, there are two different types of venture studio models. There are ones within a corporation, and then there are ones outside, like a venture capitalist group or in another area. Well, when they're in the corporates, what you have to think about is how does this help your business? Our studio model was- when I first got there, it was like, it didn't matter. We would spin it out, spin the business out and let them go for funding, and whatever it was, is what it was. However, being part of Stanley Black and Decker, we needed to make sure that if there was a competitive advantage that the software or the hardware had that could help Stanley Black and Decker, we needed to embrace that and bring it back in and not let it go. It was always this chicken and the egg, whether they had product market fit and if they had product market fit, bring it in. But if they didn't, and it wasn't quite there, and you had them go out for funding, you'll miss out. You must keep that inside the walls if it's in a corporate setting with a competitive advantage. But keep it separated enough to allow it to scale and not be burdened with corporate processes. That's what I would have done differently, and we were starting to do that.
[00:18:25]
Ken: That's probably one of the biggest challenges of corporate venture studio models. I always joke that the litmus test is, when I make the first hire in this venture studio, do I have to use the corporate HR? You can go down the list of finance, operations, compliance, etc. If the answer is yes, then you know it's probably too closely bound, to be honest. That's certainly been our experience as we've worked in helping strategically set up venture studios but also helping to scale some of these up. It's the adage, if you love something, set it free. It doesn't quite work for many corporate venture caps or corporate studios. You most recently took on the Chief Simplification and Transformation Officer role at Stanley Black and Decker. I love the title, by the way. I can figure out the transformation part, but what exactly does a chief simplification officer do?
[00:19:22]
Michelle: Our CEO was very passionate about making sure that we focused on simplification, and it was because sometimes, if there's a process in place, say, like an internal process, and it's been there over the years, and it's just compounded, and you keep building more processes, more tollgates and- because, there are reasons like risk or compliance or level of approval that's needed. Suddenly, you look one day, and it's like, wow. It's taken six months to get capital approval for some equipment. That doesn't necessarily make sense. It was taking a step back and looking at overall processes internally and externally; we wanted to be simpler for our employees and customers to work with us. We have taken a step back in evaluating what those processes were, what was needed, and what we could live without to make it easier to get feedback from the people who lived in the process and use the process- that was important. We got a lot of feedback, so that's why simplification is there.
[00:20:32]
Ken: Perhaps an apropos title would have been Chief Deconstruction and
Disruption Officer.
[00:20:40]
Michelle: Yes, sure.
[00:20:41]
Ken: I'm sure you had to explore both those facets. Let's switch gears; I want to discuss your passion for women in technology. Since your GE days, you've led programs and institutions focused on engaging women in STEM. It's science, technology, engineering, manufacturing, and you'll note these days there's an A in there, i.e., art. It's interesting talking about both. But tell us a bit about your efforts here.
[00:21:09]
Michelle: I went to an engineering school, and not that many years before I joined, it was an all-male school. There were like 24 different disciplines of engineering degrees- you can get chemical engineering, metallurgical, mechanical, etc. I grew up without too many females in my classes, so that's where it started. I was looking around my mechanical engineering graduation class, and there were five of us. It started there. I was like, okay. We need to get girls or women to stay and start in STEM. This isn't related to STEM, but I created women's networks in several cities with the Corporate Women's Network at GE. Part of that, we would have some STEM- mechanical engineering or manufacturing or operations, pieces of that to help develop leaders at GE. It started there. Then I was asked to lead GE Girls, and GE Girls is an initiative across all of GE, and there are about 15 executive women at the highest levels who are on this executive team for GE Girls. Then, we have teams underneath them.
We put together a program for fifth through seventh-grade girls during the summer to come in and learn about STEM. We will have experiments, and an experiment might be how to make lip gloss using chemistry. Or it could be how to 3D print a bracelet, how to make a city, and then with electrical connections, how to make the city light up. We would combine these experiments, so they learn about it and get feedback. We had a review system and knew what was working and what wasn't, and we changed every year depending on the feedback. We did this during the summers. We also found that a partnership with SWIE, the Society of Women in Engineering, was important to continue that through high school and then into college. Then hopefully, at that point if they go through college, they will stay in STEM. But what's interesting in some of the research we did with girls that age is that they start to lose their confidence. They lose interest because, all of a sudden, engineering is around cars, and maybe they're not interested in cars. They're interested in other things. It's about bringing something to them that they can relate to and showing them that you don't have to work in automotive-like did to be a mechanical engineer. You can do something else. You can make shoes, and you could work for Nike. There are things that we were trying to do to help open up their eyes to the possibilities of staying in STEM, and I enjoyed it.
I did that for a few years. Then when I went to HP, we started Women in 3D Printing at HP because we did have quite a large group of women in 3D, so we started the group there. Then there's an external group, Women in 3D Preprinting I belong to. Lastly, I'm on the board for Women in Engineering in Silicon Valley. I spent some time mentoring and speaking to girls and women about what it meant to be in STEM. I did the whole gamut. My daughter is a chemical engineer; she just graduated from UCLA. Hopefully, it runs in the family, and she'll continue that.
[00:24:41]
Ken: Well, it sounds like you've taken the right steps to ensure success for her and many other young women. I appreciate that you didn't bring women to STEM in the sense that- as you say, automotive examples and things like that. You brought STEM to women by giving them things that were relevant. You mentioned lip gloss and a footwear manufacturer and things like that. Topics that are relevant there at the time, that they need and can relate to. I like the approach that you've taken. I also noted that you're a founding member of something called Chief. Can you say a few words about that as well?
[00:25:17]
Michelle: Oh, Chief is amazing. It's a group of individuals who are executives in the workforce, and you get to hear leaders like Michelle Obama speak at the events. It's just incredible. Stacey Abrams came and spoke, and it's a good connections group. It's good networking; it helps with leadership development. You also have a close-knit group in your geographic area that you get together with, and you can open up and talk about issues or things you want to see happen in your world. You bounce ideas off of each other; there is a person who moderates those discussions and helps move those along. It's a wonderful organization, and I'm very proud to have been part of it.
[00:26:09]
Ken: I noted that Jane Arnold is part of Chief as well, and of course, she is the one who referred us to you and convinced- I think both you and us that this would be a good podcast. I have to agree.
[00:26:21]
Michelle: Yes, she's wonderful.
[00:26:22]
Ken: Isn't she? She's wonderful. I noted that you've just left Stanley Black and Decker. What's next for you?
[00:26:31]
Michelle: I am taking time for myself. I have worked a long time and am just trying to get back to me. I'm working out a lot. I'm reading, and I'm talking to you. I do have some opportunities that I'm reviewing. Some are in startups, and some are big corporates. I'm taking this time to figure out what I want to do next. Then, maybe I'll write a book. I don't know.
[00:27:02]
Ken: You certainly have a rich enough bio that they could write a book, and it would be quite timely. As I'm listening to the Davos sessions today, one of the clear messages we're hearing is about attracting talent into the manufacturing or the industrial sector. It's a common challenge with all nations. Certainly, an easy answer is to provide more equality of those opportunities, and so it would be a very good time to have women in manufacturing voices out there in that regard. In closing, I always like to ask- where do you find your inspiration?
[00:27:39]
Michelle: I mentioned earlier I love people. I love people's stories, so if you look at my nightstand, it'll show biographies like Winston Churchill; I love learning about him. I met his great-grandson and learned much more about him just by sitting by him on the plane. It was cool. But one of my passions is sports. Right now, we're in the playoffs for the NFL, and the Chiefs, my team, the Kansas City Chiefs, are in the playoffs. I am obsessed with the coaches running the plays and the players on the field. Patrick Mahomes is a quarterback for the Kansas City Chiefs. What they're doing- the coaches and the team are studying their competitor for weeks, months, and years, just trying to predict what they will do next. These plays are so important for the right time of the game; you can take that and look at businesses like that in the market and how you need to be able to pivot your business depending on what's happening in the market. We've seen that in the last few years. I like to see how they take these plays and then apply them on the field, and then you see- well, okay. He didn't run the play like he was supposed to; he did something else. Because guess what? Whatever was supposed to happen didn't happen, so he had to get creative. Then the other thing I like, especially with the Kansas City Chiefs, is this- I think it was the last game. They were in their huddle, they got out of the huddle a little bit, and they did ring around the Rosie, and then just went to the line and just like- it was so cool.
But guess what? It was innovative. It was creative, and it was to throw the competition off, and it did. It was great. I love the Chiefs, and I love the Golden State Warriors. Even after the game, I listened to all their interviews. Then I look them up. While we're playing the game, if I don't know their background, I'll look them up and learn all about them because I want to know what drove them to be as successful as they are today, like Michael Jordan. I'm sure you saw his documentary-series, and it was so good. I think I've seen it twice or three times. As I mentioned before, in this kind of box two and box three of innovation, I look outside of where I'm at today for inspiration for what I can do in my daily world.
[00:30:03]
Ken: Very nice and unpredictable answer, so I appreciate that even more. Talk about throwing off the podcast facilitator.
[00:30:11]
Michelle: I know. I probably should have given you a heads-up.
[00:30:14]
Ken: Michelle, thank you for sharing this time and insights with us today.
[00:30:18]
Michelle: Thank you so much. Again, I appreciate your time and for letting me be part of this. I know you've had a lot of interesting people on this before, including Jane Arnold, of course. I've got to give her another shout-out. Thank you so much.
[00:30:30]
Ken: No, thank you, and you are a good addition to the cadre of great thought leaders that we've had in this program. This has been Michelle Bockman, former President of Stanley X and Chief Simplification and Transformation Officer of Stanley Black and Decker. Thank you for listening, and please join us for the next episode of our Digital Thread podcast series. Thank you and have a great day. You've been listening to the Momenta Digital Thread podcast series. We hope you've enjoyed the discussion, and as always, we welcome your comments and suggestions. Please check our website at momenta.one for archived versions of podcasts, as well as resources to help with your digital industry journey. Thank you for listening.
[The End]
Connect with Michelle Bockman
What inspires me?
I have a passion for technology and people so I stay current by reading or watching these two areas. I read biographies of historical figures like Winston Churchill, political figures like Hilary Clinton, business leaders like Elon Musk…and even sports figures like Michael Jordan. I like to learn about their passion and drive to be the best and obstacles that they have had to overcome. I follow a lot of tech companies, blogs, and stay current on the economy through Bloomberg and other new sources. I just watched the docuseries, "Return to Space," which tells a story about Space X and it's mission to send NASA astronauts back to the space station. It was very inspirational and depicted a human level journey which I thought was brilliant.
About Stanley Black & Decker
Headquartered in the USA, Stanley Black & Decker (NYSE: SWK) is the world's largest tool company operating manufacturing facilities worldwide. Guided by its purpose – for those who make the world – the company's more than 50,000 diverse and high-performing employees produce innovative, award-winning power tools, hand tools, storage, digital tool solutions, lifestyle products, outdoor products, engineered fasteners and other industrial equipment to support the world's makers, creators, tradespeople and builders. The company's iconic brands include DEWALT®, BLACK+DECKER®, CRAFTSMAN®, STANLEY®, CUB CADET®, HUSTLER® and TROY-BILT®. Recognized for its leadership in environmental, social and governance (ESG), Stanley Black & Decker strives to be a force for good in support of its communities, employees, customers and other stakeholders. To learn more visit: www.stanleyblackanddecker.com