Aug 22, 2023 | 5 min read
Momenta Invests in Pico MES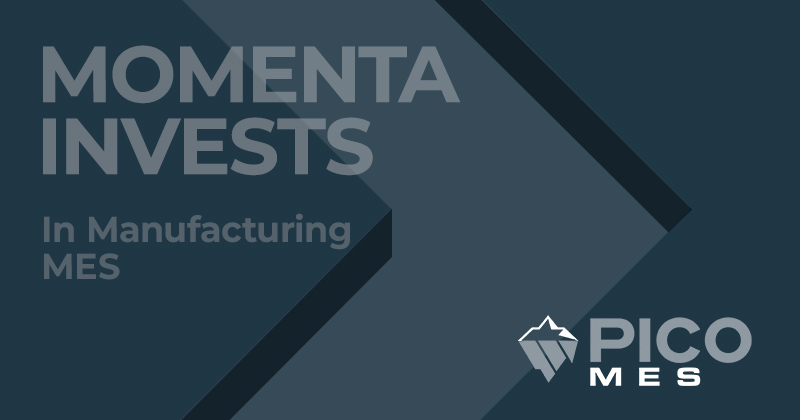 Momenta Invests in Pico MES to Bridge the "Digital Gap" in Mid-sized Factories
Pico MES, a leading software company enabling digital transformation for small to medium-sized factories, has secured a significant investment from Momenta. This strategic investment aims to bolster manufacturing, empower mid-sized factories, and build a connected supply chain, addressing the industry's pressing need for digital solutions.
The demand for higher production capacity has risen with increased factory construction and re-shoring, supported by funding and tax incentives for green infrastructure and the clean energy transition. However, operational transparency challenges hinder most manufacturers from meeting this demand. Ninety percent of factories use outdated tracking methods. Current manufacturing software serves large enterprises, leaving small and mid-sized manufacturers with 500 or fewer employees underserved.
Recognizing these challenges and the unserved needs of smaller manufacturers, Momenta has chosen to invest in Pico MES because of its commitment to bridging the digital gap in factories. Under the leadership of Ryan Kuhlenbeck, a seasoned professional with extensive tenures at Tesla, General Motors, and Alta Motors, Pico MES has already brought about a revolution among factories operating as Tier 1, 2, or Tier 3 suppliers within the electric vehicle, automotive, and battery industries.
Pico MES has unequivocally demonstrated its impact, digitizing over 10,000 processes and connecting 150 families of critical tools and machines since its founding in 2019. The platform connects tools and machines with workers, digitizes assembly lines, and provides real-time data analytics to drive continuous improvements. Pico MES's affordable, no-code platform is designed with the average factory worker in mind, ensuring ease of use and faster adoption rates. The software's open API allows integration with other essential systems on the shop floor.
Michael Dolbec, Managing Partner of Momenta, stated, "Pico MES is at the forefront of the digital transformation of mid-sized factories. We firmly believe that manufacturing cannot thrive without a strong supply base, and Pico MES's solution is missing. With its ability to connect factories with OEM customers and provide end-to-end visibility in the supply chain, Pico MES is poised to unlock new levels of efficiency gains for all stakeholders."
This is the eleventh company receiving investment from Momenta's AIoT Ecosystem Fund, powered by Advantech, the world leader in digital industrial solutions. The investment from Momenta, along with the participation of other notable investors such as Robert Bosch Venture Capital, Counterpart Ventures, Lemnos, Congruent Ventures, Union Labs, and Schneider Electric Ventures, further validates Pico MES's vision and growth potential. The new funding will enable Pico MES to expand its solution to more factories, accelerating the digital transformation of American manufacturing and establishing more interconnected supply chains.
Jerry O'Gorman, VP at Advantech IIOT division, stated, "We are excited to participate in this investment in Pico MES. By integrating Pico MES's software solution, factories gain critical visibility into their operations, enhancing productivity, quality control, and agility. We see great opportunities to collaborate with Pico MES to help scale up their footprint in this critical segment."
About Pico MES:
Pico MES is digitizing the supply chain, starting with small to medium-sized manufacturers. Over two dozen American factories have migrated from legacy systems to Pico MES to gain visibility into their factory operations for continuous improvements. Pico MES serves American factories in battery manufacturing, automotive, aerospace, and more while also supporting jobs and local economies. The software is designed by end users, for end users. Pico MES is a 100% remote-based company. To learn more about Pico MES and its digital transformation solutions for factories, please visit www.picomes.com.
About Advantech:
Advantech has the corporate vision to "Enable an Intelligent Planet." The company is a global leader in IoT, intelligent systems, and embedded platforms. To embrace the trends of IoT, big data, and artificial intelligence, Advantech promotes IoT hardware and software solutions with the industrial IoT platform WISE-PaaS core to assist business partners and clients in connecting their industrial chains. Advantech is also working with business partners to co-create business ecosystems that accelerate the goal of industrial intelligence. For more information, please visit https://www.advantech.com.
_____________
Momenta is the leading Industrial Impact venture capital + growth firm accelerating deep tech innovators across energy, manufacturing, smart spaces, and supply chain. For over a decade, our team of deep industry operators have helped scale industry leaders and innovators via our award-winning executive search and strategic advisory teams.
Schedule a call to learn more about our Industrial Impact investments.