Nov 30, 2022 | 4 min read
Jane Arnold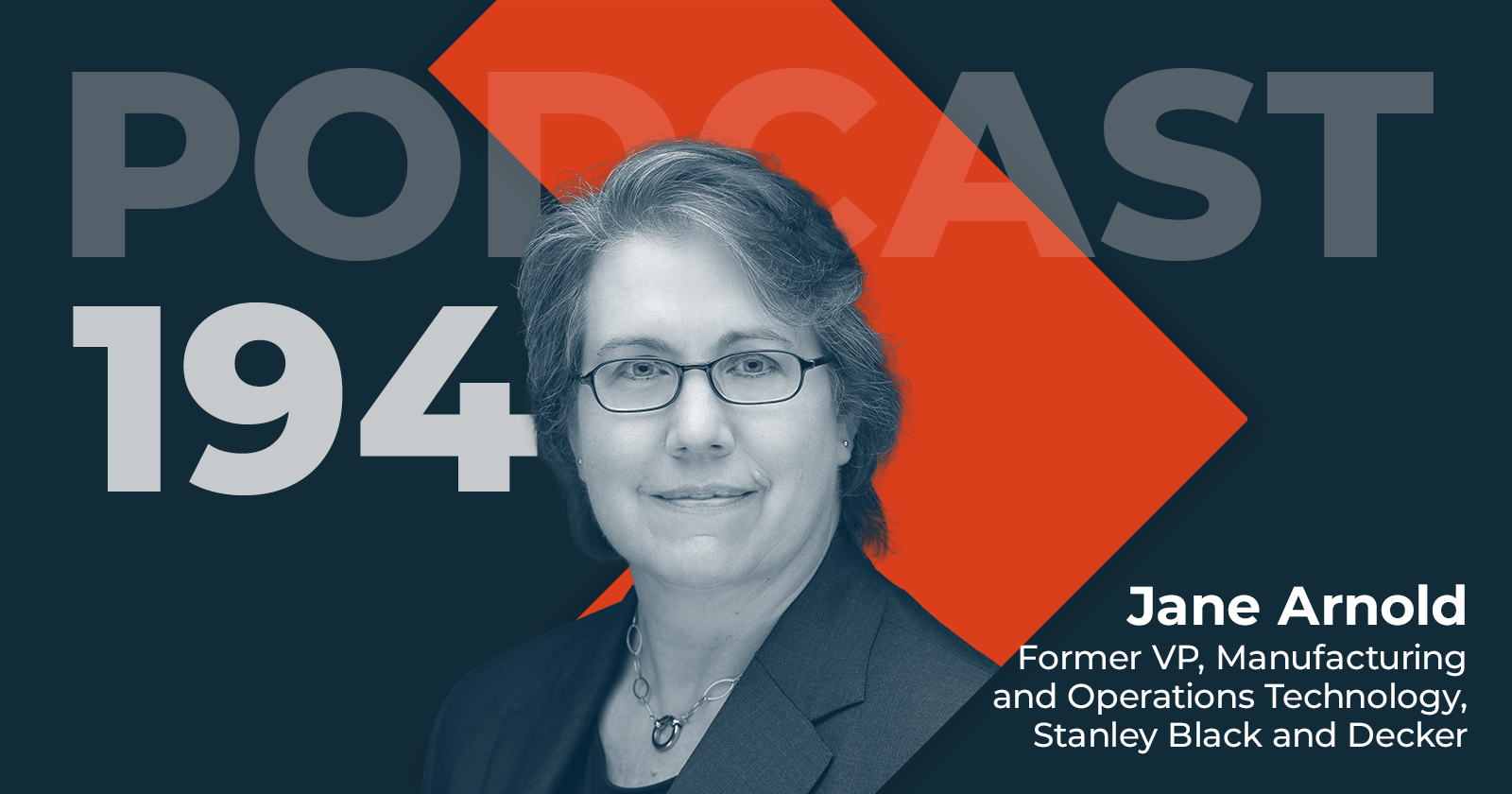 TRANSCRIPT
Ken: Good day, and welcome to episode 194 of our Momenta Digital Thread podcast series. Today, Mike Dolbec and I are pleased to host Jane Arnold, former VP of Manufacturing and Operations Technology for Stanley Black & Decker. Jane is a thought leader and Industry 4.0 expert in manufacturing technology with over 30 years of experience in Manufacturing Technology, Control Engineering, and Operations. She has held executive leadership roles at Stanley Black & Decker and Covestro, where she led the transformation of manufacturing globally by bringing together diverse functions and expertise to solve problems utilizing the advancements in technology sustainably. Her focus is to improve digitalization in manufacturing, emphasizing emerging technologies and a passion for engaging a bottoms-up approach that augments the workforce with technology. She graduated from Oxford University's Business Economics program and has a degree in Mathematics from the University of Houston. Jane, welcome to our Digital Thread podcast.
[00:01:37]
Jane: Thank you very much, Ken, for having me. I've been listening to your Digital Thread series and enjoying it, and I'm happy to be a part of it.
[00:01:45]
Ken: Great. We're happy to have you as part of it, and thank you for being a longtime listener. I feel like a radio host at this point, a longtime listener first-time caller. By having listened to this, we call this the Digital Thread podcast. It's very much about one's digital thread leading up to the role you're playing now. Jane, what would you consider to be your digital thread? In other words, the one or more thematic threads that define your digital industry journey?
[00:02:11]
Jane: I gave this some thought, and I'm going to have to go back to the beginning of my career, which was the late '80s, early '90s. I accepted a summer job at a small chemical plant in Texas City called Sterling Chemicals. That summer job did turn into 16 years, and the reason why is because I got there and I was doing instrument electrical drafting. I got to go out in the field a lot and talk to people, and I was fascinated by how things worked and how systems and people worked together.
That experience changed my pursuit to engineering and math. I joined the Process Control team early in my career, where we migrated panelboard instrumentation and DCS. After that, I was like, "Okay, well, what do we do with these computers?" So I worked on advanced process control algorithms and the acrylonitrile plant for many years. But the pivotal part for me was that sometime in the late '90s, there was a union strike and lockout. I had the opportunity to run the board in the unit.
I walked across the picket line and helped run the plant. I had programmed the controls, trained operators, and felt comfortable on the board. I learned that there's so much an operator knows when running the process that the engineers have no idea what's happening, It's really a nuance. I developed this great appreciation for the frontline worker, the operator, and the maintenance technicians who were keeping the plant running in what they were doing. I spent four months, 12 hours a day, improving what was there, so the operators wouldn't have to ignore quite so much or plan to work around for things that didn't quite work. But that experience changed my view on engineering and operations. You cannot effectively drive change without the operator engaged, which led to a lifelong passion for a bottoms-up approach to transformation.
[00:04:08]
Mike: Hi, Jane. It's Mike Dolbec; thanks for joining the podcast. It's good to talk to you again. You've had deep experience in process control, leading Covestro's Manufacturing digital transformation. Covestro, of course, is a large chemical manufacturer in Germany, it's €7 billion market cap. What are the top three insights you've gleaned from your time there relative to Industry 4.0?
[00:04:36]
Jane: Thank you, Mike, and good morning to you as well. During that executive role that I had at Covestro, I lived in Germany. I interacted with many different leaders in different industries around Europe and the world. But what I saw around Industry 4.0 was a lot of excitement about what was possible, and the success early on across the industry was not very high in return on investment. My belief is that the leaders were investing in the hype without a clear strategy to implement, engage the workforce and have sustainable solutions. During my time there, I also saw a lot of pilot purgatory, where companies were trying to decide between all the technology available in the market and doing numerous pilots or proof of concepts. At Covestro, I saw my role as someone who would make the decisions and move the team forward, which is what I did.
The third thing I had to figure out was how to engage operations, moving from the role of the individual contributor, like my example at Sterling Chemicals, to that of a department head with over 100 different units spread across 30-plus sites. We worked out a strategy with the pilot project in Caojing, which is in Shanghai. We had designated Digital Champions on-site to put together an engagement blueprint. The digital champion worked with local teams to get feedback from operations on what was important, what was a nuisance, and what we were delivering. We use this Digital Champion as a liaison. The concept was to have a flexible blueprint to deploy the solution at scale, keeping in mind that every single unit at every site will have a slightly different culture. Hence, you have to be flexible.
[00:6:21]
Ken: You joined Stanley Black & Decker in early 2021 as VP of Manufacturing and Operations Technology. As Stanley is a well-known discrete manufacturing company, this was probably a significant step from your process background. What attracted you to the company and space, and what was your remit there?
[00:06:40]
Jane: The whole thing started kind of by chance. Early in the pandemic, I was traveling from Frankfurt to Houston. It just happened to be my ticket was just before the borders closed, and I did get COVID. While being sick and having downtime with my family gave me the opportunity for self-reflection. I love Covestro and my team and all we'd accomplished, but I wanted to do something new and learn something new. I only spoke to Stanley because of their very public stance on DEandI. The more I talked to them, the more I liked them and decided to make the change. I was hired to lead Industry 4.0 execution at the factories, which included innovations in discrete manufacturing and additive manufacturing or 3D printing. When I first started, I was nervous. I asked myself, "How could I leave 30 years in chemicals and dive into something completely different?" I drove to Dallas–Fort Worth, the closest facility, on day one. I spent the week there looking at the three facilities and talking to people. It was quite interesting, and I was able to bridge what I know about producing chemical processes with discrete manufacturing. There are a lot of interesting parallels. Both are making stuff, just in different ways. We had the opportunity to work with several innovative startups during my time there to improve manufacturing, such as Tulip Interfaces, DeepHow, and Raven AI, for example.
[00:08:11]
Mike: Thanks, Jane. I wanted to compliment you before we go on to the next questions. Stanley Black & Decker was always known as a lighthouse customer if Industry 4.0 startup could make the grade. It was unique and very effective. But it's also a good segue to the next question I want to ask you. In our conversations before the podcast, you listed several topics you wanted to cover. They're all very relevant; OEE, data quality, change management- of each of those, they're all very big topics that all speak to agile manufacturing. Can you draw a conceptual line between each of those?
[00:08:52]
Jane: Yes, of course. OEE is simply the amount of on-spec product produced during a period compared to what was expected. I've spent my career analyzing data for cause-and-effect relationships to solve problems. When you're analyzing industrial data and designing new control schemes, the result is always an improvement in OEE. In addition, you might reduce natural gas usage and things like that. I was part of the advanced manufacturing team with the World Economic Forum, where we worked on data excellence. There were representatives across all verticals in the Industry. I learned that we all have the same problem with data, so it was a fascinating experience. In my first year as the Head of Global Process Control at Covestro, we analyzed all the prior year's major failures. It was a tough year for the company from a production standpoint. But we could trace all the major failures, unplanned outages, to approximately €120 million EBITDA loss. We performed a root cause analysis on every failure. About half the time, it came back, leading to an operator error as the root cause, which is quite common in the Industry.
I asked the question, "Why? Why did the operator make the decision that led to a mistake?" We saw that the operator either didn't believe the information on the control system and ignored it or responded to information on a wrong control system, which led to an event. We decided that this fundamentally points to data quality issues from the field. We decided to add a data-quality AI solution to our stack, Aperio AI. Covestro is still deploying CPM with the engagement methods I taught them, and people are responding to the information. This shows consistency and an improvement in OEE. When you look at the summary- correcting data quality issues to improve OEE, you won't succeed without properly engaging those with their hands closest to the process, which is the operator.
[00:10:58]
Ken: Jane, can you talk about some of your wins across Covestro and Stanley Black & Decker?
[00:11:04]
Jane: Happy to. At Covestro, I led a very engaged and innovative team. As I mentioned, they built the Covestro Monitoring Platform, or CPM for short. They built it on top of the PI data historian and asset framework, where we linked solutions from SEEQ and Aperio, and AVEVA's PRiSM specifically for rotating equipment with PRiSM and other software tools. As I mentioned earlier, also this solution is still being deployed. I speak with my protege monthly in the regions where it's been deployed; the end users have adopted it. That continues to be rolled out and happening, and the expectation is that there will be fewer unplanned outages in the future.
At Stanley, we were at a much different starting point. Some of the factories were lighthouse factories with connected assets for collecting data. But many factories did not have connected assets, so we started gathering data for shop-floor machine performance. To do that, we had to connect the assets. My connected factory team built a data historian with open-source software, installed an OT network, and started collecting and visualizing the data for the site teams. Seeing the entire factory performance in one glance was very impactful for the team. There they customized different reports or graphics at the site needed to improve the production. In parallel, we started digitizing the shop floor with Tulip Interfaces. My first site tour showed me a lot of paper, and sticky notes, much more than I ever imagined would be there. When you have this manual method of rewriting things with different people involved, it's going to lead to errors. My team started converting those paper processes to digital, and we were able to see immediate improvements. For those that were impactful, we scaled to deploy globally. But there were things such as doubling on-time delivery for one facility, halving the time it took for physical inventory at another and performing first article inspection at the sites which required it, and automatically transferring the information to the quality system. We were building an MES one step at a time, connecting the shop floor machines, businesses, and quality system and getting real-time information to make improvements.
[00:13:24]
Mike: That is super informative. Thank you, that's very detailed. I know our audience is interested in those things. But let's back up a little upstream up there. In your role as a digital leader, how do you know when an organization is ready to adopt agile manufacturing technologies? What best practices have you seen work best when trying to realize that value?
[00:13:47}
Jane: One thing to remember is that each manufacturing enterprise and facility is at a different step in the improvement cycle, so there's not a single answer. It's easy for senior leadership to tell the facilities they will do something with new technology or a workflow process. Still, a best practice is to meet each facility where they're at. You can build a general roadmap of where the company wants to go, but you must define the details for each facility separately. You start by talking to the workforce to learn their pain points and solve them. You gain their trust and take them to the next level. You need to engage all levels to understand where the problems are. If you can solve a problem for a production worker, then you can build transformation from that single point and build trust as a primary lever to excellence. Each person in each position has a different perspective on where the pain points are. For example, I recently toured a small OEM and talked to them about some of their pain points. The site manager was worried about on-time delivery, the process engineer was worried about making improvements to the on-site boiler to save on natural gas usage, and the line supervisor was worried about a high turnover rate due to the manual assembly process. You can't go to a new place and tell them that all their problems will be solved with Industry 4.0. You have to start small, succeed and build on it, and there can be multiple paths simultaneously. In that one example, I shared on-time delivery, boiler control improvements, and adding digital tools and automation to the production line.
[00:15:20]
Ken: You mentioned Industry 4.0, and I'm here in Chicago, just finishing up the Rockwell Automation for this week, and this was a big topic right among the participants and speakers. What does Industry 4.0 mean to you? Also, as a secondary question, what is your perspective on the European Union's work on Industry 5.0?
[00:15:39]
Jane: We'll start with Industry 4.0. It represents advanced technologies that will improve the bottom line, so this is efficiency and productivity improvements. It talks about interconnecting people's data and making information transparent. It allows mass data from all manufacturing areas, including remote technical assistance and cyber-physical systems for decentralized decisions. When I first heard of Industry 5.0, I honestly was quite surprised. Many companies are not fully connected yet, meaning they're still working on Industry 3.0, and 4.0 is only now getting some good traction and making a difference. I've been doing some research on what is meant by Industry 5.0, and there's a good Forbes article on 5.0 written in May this year. According to the European Union, Industry 5., 'Provides a vision of an industry that aims beyond efficiency and productivity and reinforces the role and contribution of Industry to society.' The intent is to shift from an economic to a societal value, shifting the focus of welfare to well-being, which is fascinating to me. Instead of just looking at the bottom line, we want to see how we can improve the world with Industry 5.0.
[00:16:59]
Ken: We've done a podcast with Sean O'Reagain, the EU commissioner who runs that program. What's interesting is we bylined it as productivity plus people on this planet. It's bringing in that broader, triple bottom line that especially with- you mentioned the DENI, ESG is another angle on this one. But rolling those together so that productivity is balanced with those other goals. It was interesting. At the event, there was a lot of discussion of enabling or augmenting the human- the worker in the factory. That ties into the same Zeitgeist around that as well. Interesting timing regarding the Industry 5.0 initiative; all these things are converging.
[00:17:49]
Mike: Given the understanding of Industry 4.0 and the evolving understanding and meaning of Industry 5.0, as we just discussed, where do you see the greatest opportunity areas in the next five years? Where should people be looking? Where should people be making investments?
[00:18:08]
Jane: It's very interesting. I want to build a bit on what Ken was saying about the experience with the EU Commission. Suppose we can change manufacturing and put people on the planet first rather than profits and growth center stage. Then the very definition of industry is new, which is very exciting. Ken's three points are human-centric. That's coming already. Augmenting the workforce, having the technology or solutions that are resilient, meaning that they can manage and survive a VUCA situation, and then being sustainable, where we have ESG goals. They were a net improvement to the planet instead of just being better. I see interesting growth in what is possible, and it will take the businesses to embrace that we have to put people and planet first over the bottom line.
There are many different things that we can look at; one of the things that I'm interested in, beyond augmenting the workforce, is the part about being resilient. Agility and flexibility don't necessarily lead to more resilience, and businesses today need to focus- or today are focusing on driving efficiency and optimizing profits. Becoming lean makes companies less resilient, which is a different way of thinking. Suppose you look at the VUCA environment we've had these past few years with COVID and the war in Ukraine. In that case, these issues show how vulnerable businesses are without some safety stock, for instance. Industry 5.0 will make companies less fragile, which is key, meaning that they can anticipate and react appropriately to crises and therefore have stable or more stable performance, and that's quite interesting.
Regarding the greatest opportunity, I see that opportunity is throughout all enterprises; manufacturing will never go away. But we can improve it in such a way that it has a positive effect on the environment instead of a negative one. It's going to take time for solutions to emerge, and I hope to be part of that change.
[00:20:24]
Mike: Great. That's a great answer, thank you. You spoke of augmenting the workforce; I'm a big fan of augmenting decision-making. But one very real kind of tactical augmentation leads me to my next question: You've described yourself as the champion of women and diversity, particularly in STEM roles. Can you say more about your work there?
[00:20:48]
Jane: Okay. Well, this is based on personal experiences. Throughout my career, I've often been the only woman or one of the very few women in a particular function or organization. I've had to learn how to stand up and be heard to impact my work positively. I've been fortunate, I've always had good people around me that I could lean on when needed, and I wanted to provide that same safe space for other women who feel as though they're an anomaly and uncomfortable in their environment because they're different. I want to help support them and give them a strategy for difficult situations. Earlier this year, I joined Chief, a network for executive women. It's an organization that focuses on providing that support for different women. My first experiences made me think that true DEandI across the industry and all businesses were becoming more prevalent.
[00:21:45]
Ken: I have to laugh a little bit, Jane, just because attending the event this week was one of the few times that there were long lines in the men's restrooms, not the women's restroom. You can tell a little bit about the makeup of the audience.
[00:21:59]
Jane: That's all the time. I'll have women approach me at conferences because there are so few of us to connect and say, "Hey, I'm happy to see another woman here," and have that conversation.
[00:22:09]
Ken: Jane, I imagine the audience is all thinking the same question, knowing that you've just recently left Stanley Black & Decker. What's next for you?
[00:22:21]
Jane: Interestingly, I decided to take some time off and consider what is next. There are quite a few things that, through networking and talking to people that have happened, have made me consider where I'm going next. One is I'm an adviser to MIT on building a manufacturing consortium, and they have discussed with me whether or not I'd like to lead that consortium once it gets approved, which would be very interesting. If you look at Industry 5.0 in the direction that that's headed, I can be part of that change there. I also recently joined the board of directors at Aperio AI as an independent director to work on the data quality issue I've seen throughout my career. I'm also looking to advise startups and open my own company, which I'll kick off in January to do consulting. That is a general idea that might change a little bit. In January, I was accepted into the MIT entrepreneur class. With my thoughts on Industry 5.0 and potentially leading the consortium, I could take that in a different direction where I'm going to be doing a startup to try and make a difference in the world.
[00:23:35]
Ken: How can people get ahold of you if they're interested in engaging with you in any of these capacities?
[00:23:40]
Jane: Right now, they can reach me through LinkedIn. I respond to everyone who reaches out to me. In January, at some point, I'll be launching my website. Right now, it's just Jane Arnold and associates, and we'll see where it goes from there.
[00:23:53]
Ken: Perfect. Well, we look forward to engaging with you as well. You're talking about somebody on target for what Momenta believes and is passionate about in all facets. In closing, I always like to ask a question about your inspiration. Where do you find your inspiration?
[00:24:10]
Jane: Okay. Earlier in my career, I would have answered the question differently, so I will give you two answers. In the first half, or maybe two-thirds of my career, I would have said I got my inspiration from people telling me, "No." That a problem could not be solved, it was too hard, or I couldn't do it, whatever. Well, I was raised to believe that any problem could be solved. My father was also an engineer. You just had to figure out how. Whenever someone told me that I couldn't do it or could not be done, I made it my passion to prove them wrong, leading me to be an outstanding advanced process control programmer. It resulted in a lot of savings in greenhouse gas usage in the production plants. Today, I take my inspiration in several different ways. Mostly, I get excited talking to new people and learning what they're doing in the Industry and what kind of problems and solutions they have encountered. I love sharing stories and learning from them. I'm getting most of my inspiration from the people I meet each week. I'm doing a lot of networking and meeting a lot of people. Otherwise, I'm an avid reader and constantly absorb information differently, such as online articles, books, and podcasts.
[00:25:22]
Ken: Excellent. We're happy to be part of that ecosystem as well, and it's interesting; as wide and diverse as people may think this, I'll call it digital industry spaces- we always joke it's the same cast of characters wearing different hats and/or t-shirts at big events.
[00:25:37]
Jane: Yes, that's exactly right.
[00:25:38]
Ken: It's a very small, tight-knit community.
[00:25:40]
Mike: It is a small world.
[00:25:41]
Ken: As you said, the women in that community, you certainly will be an even smaller sector, and so it's good to have you as an inspiration to them. Jane, thank you for sharing this time and insights with us today.
[00:25:52]
Jane: Thank you very much for having me. It's been interesting and fun, and I look forward to seeing what happens next.
[00:25:59]
Ken: As well. This has been Jane Arnold, a thought leader in Industry 4.0, and sounds like 5.0- an expert in manufacturing technology. Thank you for listening, and please join us for the next episode of our Digital Thread podcast series. Thank you, and have a great day. You've been listening to the Momenta Digital Thread podcast series. We hope you've enjoyed the discussion, and as always, we welcome your comments and suggestions. Please check our website at momenta.one for archived versions of podcasts and resources to help with your digital industry journey. Thank you for listening.
[The End]