Feb 2, 2022 | 4 min read
Sean O'Reagain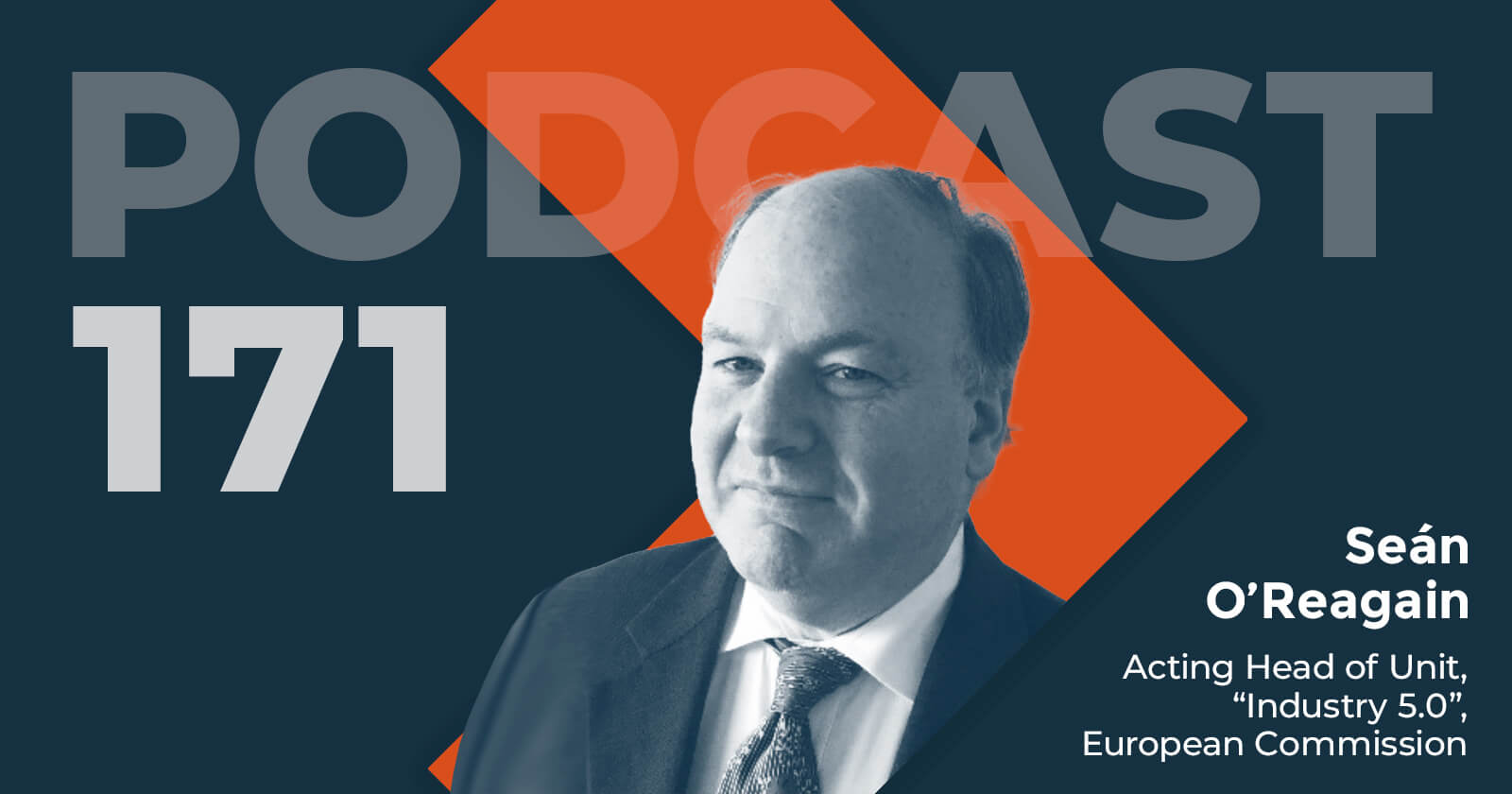 TRANSCRIPT
Ken: This is Ken Forster, executive director at Momenta. Welcome to our Digital Thread podcast produced by, for, and about digital industry leaders. In this series of conversations, we capture insights from the best and brightest minds in the digital industry: executives, entrepreneurs, advisors, and other strategic thought leaders. What they have in common is much like our team at Momenta; they are deep industry operators. We hope you find these podcasts informative, and as always, we welcome your comments and suggestions. Good day, and welcome to episode #171 of our Momenta Digital Thread podcast series.
Today I'm pleased to host Sean O'Reagain, acting head of Industry 5.0 at the European Commission's Directorate-General for Research and Innovation. In this capacity, he leads the development and adoption of Industry 5.0 as a human-centric, resilient, and sustainable approach to industry digitalization. Mr. O'Reagain previously managed the set-up and implementation of the joint technology initiatives at the first public/private partnership in research and innovation at the European level. He also managed the Industrial Technologies program under the Horizon 2020 European Framework for Research and Innovation. Prior to that, he managed the European Commission's Benchmarking for Competitiveness and Innovation Initiative. And finally, before joining the European Commission, Sean held management positions with Enterprise Ireland and with the Irish Industrial Development Agency or IDA. Sean, welcome to our Digital Thread podcast.
[00:01:41]
Sean: Thank you very much, Ken. Very happy to be able to join you today. Our conversation is coming at quite an exciting moment in our Industry 5.0 journey as we move from developing the concept to beginning the rollout and implementation together with our stakeholders. I think it's a very good moment. I'm delighted to be with you today.
[00:02:01]
Ken: Thank you so much, and we're delighted to have you as well. We've had several conversations through 2021, and I tell you, it certainly has Momenta excited about the great work you guys are doing. I look forward to drilling into this. Let's start a little bit with your journey. What would you consider to be your digital thread? In other words, what are the one or more thematic threads that define your digital industry journey?
[00:02:25]
Sean: Ken, for me, it's very much the profound impact that digitalization is having on industry innovation: the challenge and the opportunity that this presents. From where I'm sitting, this starts upstream with the impact digitalization has on the scientific research that feeds innovation. Digitalization has significantly increased the productivity of scientific research. And we see how it's enabling novel forms of collaboration and discovery and enhancing the reproducibility of research results. That's very exciting for us managing European programs and bringing together researchers across Europe because it opens new opportunities for collaboration. And this, in turn, is transforming the very DNA of innovation by accelerating the rate of knowledge diffusion, and indeed its valorization. Digitalization is boosting open innovation, and this facilitates matching supply and demand for technology and then, in turn, for services and skills. For us, it's opening access to larger talent pools, giving us new momentum for what we're trying to do in European Research and Innovation. Within this digital thread of innovation, my strand, I would say, is ensuring that industry embraces the innovation opportunity presented by the digital transformation. Since the first industrial revolution, industry has been the engine of prosperity. It remains the case that industry must continue to innovate on an ongoing basis, and, indeed, ever more rapidly to stay competitive. And today, this means riding the wave of innovation powered by digitalization. This is the key to future-proofing industry and then having an agile and resilient industry because it can capitalize on flexible and adaptable technologies.
[00:04:19]
Ken: You've been an early advocate of industry in Europe. What attracted you to public service and particularly the interest in industry?
[00:04:27]
Sean: I've always been excited by new ideas. Public service provides the opportunity to bring ideas to reality. If I take an example of something I've been working on recently, it's the Transitions Performance Index. This came out of an idea that we need to monitor the progress towards fair and equitable sustainability as we move into the digital world. The 'TPI', as we call it, enabled us to provide a basis for a new model for prosperity that focuses not only on economic growth but on resilience, inclusiveness, and sustainability.
A second reason that I was attracted to public service is the opportunity to make progress happen. Through my career in public service, I've had the opportunity to be part of advancing the development of our economy and society in Europe. What's been particularly valuable for me has been the opportunity to foster the conditions in which the private sector can create value. It's in a way that also generally benefits the economy and society. The work I was involved in, leading the initiative on benchmarking policies for competitiveness and innovation, illustrates this quite well. At that time, benchmarking was widely used in the private sector. Our thinking was why not use it as a mutual learning tool to improve public policymaking? Once we clarified that this was not an exercise in naming and shaming countries, national policymakers across the European Union engaged fully in it. This led to improvements in areas such as administrative procedures for startups and incentives for company-level innovation.
And the third reason I was attracted to public service is the opportunity to serve in itself. For me, there's an intrinsic reward in having the opportunity to put one's capabilities, knowledge, and expertise to work for the public good. And of course, in that regard, I've had the privilege to serve the European Union and I've helped to take forward the European project for the last 25 years. I've had the opportunity to be involved in significant policy advances at the European level over that time, such as the mainstreaming of policy for small and medium-sized enterprises, increasing the role of research and innovation in the overall policymaking agenda at the European level, and the development of a partnership approach with industry at the European level.
And I think that my interest in working with industry follows from that. Whatever the stage of economic development, industry remains the backbone of the economy. Since the first industrial revolution, industry has been central to prosperity. It's always been a vital source of employment creation, both directly and in what it can do to stimulate employment right across the economy. What I find most exciting from my work with industry is the opportunity to work with dynamic companies, dynamic industry leaders, and help create the conditions in which their ideas and dynamism can thrive and create new value.
[00:07:33]
Ken: You know, what I appreciate is that you've taken a quantitative approach to how you assess and build policy. You mentioned building the framework for European industrial policy, for benchmarking Europe in competitiveness and innovation, and taking that all the way forward to the Horizon 2020 work you did on industrial technologies. What were some of the key insights from this seminal work?
[00:07:55]
Sean: Well, it's an interesting question, Ken. Because as I'm still very much involved in it, it takes some effort to stand back and reflect on the journey. Some insights would be, first, how the approach to supporting industry through our European research and innovation framework programs has evolved as we've seen research and innovation moving more center stage on the European policy agenda. We've moved from what was essentially a sectoral approach to funding projects. Now we're in a situation where we have a strategic approach based on how industry can contribute to the key political objectives for Europe and strategically orientate our support in that regard. We'll see industry very much implicated in European goals such as making Europe Fit for the Digital Age, delivering on the European Green Deal, and ensuring that we have an Economy in Europe that Works for People. For example, we moved from this project-based approach to the approach to developing our new program Horizon Europe. It started with a strategic co-design process involving over 7000 stakeholders. This, in turn, led to strategic orientations, which now guide the priorities for our programs. We've seen a much more strategic approach to engaging industry to our Famework Program.
A second crucial insight is the value of partnering in working with industry. Fifteen years ago, when I was at an early stage of my European journey, we saw that industry was disengaging from the research and innovation program at the European level. To reverse that, we found that what was helpful was to work together with industry developing platforms with industry at the center and bringing together other stakeholders. In certain areas, industry came to us and said, "We would like to have a more formal partnership." We've developed several partnerships to help industry address long-term strategic objectives, which require long-term risk investment in areas such as health for a new drug development or aeronautics for next-generation aircraft. Beyond that, there are other sectors where industry requested a more informal partnership. We've set up these more informal partnerships based simply on memoranda of understanding. So, for me, a second insight is how partnering works and working with industry in research and innovation.
I suppose a third insight would be the important role public funding can play in facilitating longer-term risk investment by private players. In a way, we came in as partners on the longer-term risk. And I think this concept of working together can widen it out. I remember when we started to work on benchmarking of competitiveness and innovation, there was hesitancy on the part of member states about the value of sharing practices. We've moved forward to a stage where stakeholders, member states, industry, and societal players all come together in the European Industry Forum to agree on implementing transition pathways towards huge prosperity and achieving greater sustainability and effective digitalization.
[00:11:26]
Ken: Wow. And all of these insights lead up to the Industry 5.0 initiative, which we want to talk with you about today. What is the origin story for Industry 5.0?
[00:11:37]
Sean: If industry continues to play the role it historically has, as an engine of prosperity, then it needs to rethink this role and position in society today. This means thinking beyond what the impact of digitalization and technological change can be on the factory floor. Industry needs to continue contributing to the wider transformation of our society, starting with industrial workers. They are citizens, and they are part of society. In the whole process of digitalization, they're seeing their roles changing and in some cases being threatened. The whole concept of transformation means that increasing reliance on complex technologies will require new skills and new relationships. This is where Industry 5.0 comes in. With Industry 5.0, we see workers as investments rather than simply a cost to the company. We see the opportunity to capitalize on the potential for increased collaboration between humans and smart systems if we can merge the opportunity of greater high-speed accuracy of industrial automation with the skills of humans, particularly their cognitive abilities and their capacity for creativity and critical thinking. In essence, they are engines of Industry 5.0, where the story began in recognizing that a technology-driven approach is insufficient to enable industry to play the role it needs in society going forward. We need to move to a more human-centric approach, capitalizing on new technologies to realize workers' capacities and maximize their creativity.
[00:13:29]
Ken: Technology is the catalyst, and what you're looking at is the impact, and you guys have divided that along three lines: human-centricity, sustainability, and resilience. I appreciate these focus areas. Can you briefly explain why these are so fundamental to Industry 5.0?
[00:13:49]
Sean: Yes, certainly. The first point is that these three elements need to be seen as mutually reinforcing.
The human-centric dimension puts human needs and interests at the heart of the production process, rather than focusing on what we can do with the digital technologies in themselves. With Industry 5.0, we're seeking to capitalize on technology to adapt the production process to workers' needs. In essence, Industry 5.0 is about how technology serves people rather than the other way around in the industrial context. It means that technology in manufacturing is used to capitalize on and realize the creativity and the diversity of the skills and capacities of industrial workers, rather than the worker adapting to ever-changing technology. In this way, workers become more empowered, leading to greater productivity improvement. And it also makes the workplace more inclusive. Allied to this then is the need for industry to play the role it historically has in our society to respect planetary boundaries. It needs to be sustainable. What we're talking about is the need for circular processes that reuse, repair, and recycle resources that reduce waste and limit environmental impact. Sustainability also means reducing energy consumption and greenhouse emissions to avoid depleting and degrading our natural resources. In essence, the sustainability dimension is all about ensuring that we meet the current generation's needs but without jeopardizing future generations.
Resilience is the next element. We're talking about the need to develop a higher degree of robustness in industrial production. We have seen in recent times, of course, the emergence of more and more globalized value chains and markets. But these are very vulnerable to disruptive changes. The current COVID 19 pandemic has highlighted the potential fragility of our approach to globalized production. Hence, Industry 5.0, in its resilience dimension is about balancing this trend towards globalized production by developing sufficiently resilient strategic value chains by having a more adaptable production capacity. It's about having business processes that are flexible enough to respond to these disruptions, these changes, these challenges.
[00:16:13]
Ken: If I were to simplify that, I think of this as putting people and the planet on par with productivity. You've also mentioned process, which could be an interesting other 'p' word. But in some sense, it's creating a triple bottom line. Another way to think about it is to look at what industry 4.0 represented in terms of productivity and what we call ESG goals of Environmental Sustainability and Governance. Of course, industry 4.0 represented the fourth industrial revolution or the digitization of industry. In this sense, do you see Industry 5.0 as a revolution or evolution?
[00:16:48]
Sean: We certainly don't see it as a revolution. We would see that it complements and extends industry 4.0. I mean, what we're talking about is looking beyond purely technological and economic aspects and recognizing the power that industry must achieve greater societal goals beyond jobs and growth. In this regard, industry 4.0 certainly provides some guiding principles for the further development of European industry to capitalize on technology. At the same time, what we see missing with industry 4.0 is that it is primarily a techno-economic vision. It certainly points to how technological advancements will impact industrial value chains. It's a vision for how industry will use technology to cope better in a challenging world and economy. In this respect, I would say Industry 5.0 is an evolution because it complements the existing Industry 4.0 approach by focusing on a transition to a sustainable, human-centric and resilient human industry by capitalizing on technological development and digitalization. At the same time, I think it's too simplistic to say that Industry 5.0 is either a chronological continuation of Industry 4.0, nor is it an alternative to Industry 4.0. It's more about helping to frame how industry and emerging societal trends and needs can coexist. Within the 5.0, we're trying to realize the full value of new technologies going beyond the factory floor and capitalizing on them to provide greater prosperity, in the wider sense, for our economy and society.
[00:18:25]
Ken: While maybe one wouldn't consider it a revolution, although I certainly could argue that because I think it's a very bold stance, I give the EU a lot of credit for taking such a global lead on this idea of E of the ESG benefits in addition to Industry 4.0. I think what we've seen over the last year, if you're really looking from an investment perspective, is that there's been a fundamental shift in terms of where people are seeking to invest, and a lot of it is driven by impact. The impact of technology is the impact of policy versus simply the technologies that catalyze it themselves. In some sense, this bold stance is a continuation because, of course, the EU has taken stances now on digital sovereignty, most recently on privacy with GDPR. Is that a fair assessment to call this bold? And if so, where do you see this boldness emanating from?
[00:19:19]
Sean: Yes, it does continue the trend of bold action because I think it's clear that Europe is at its best when it acts boldly. There are similarities with recent bold measures such as GDPR. The important difference is that in Industry 5.0, we're not aiming to have a regulation that will start Industry 5.0 or implement it. We're much more looking to develop a concept, test it, learn what works, work in a spirit of co-creation with industry and other stakeholders, and that at the policy level to see the principles of Industry 5.0 being implemented. As you rightly say, Ken, what we've seen over the last year is much more focus on the impact of technology. Therefore, I think this is another reason this is the moment for Industry 5.0.
Where does this boldness come from? I believe there are several sources. First, it comes from having visionary leadership at the European political and policy levels. That's very clear with Industry 5.0; we have been able to advocate and push forward the concept very clearly and strongly thanks to the unwavering commitment we've had from our Commissioner Mariya Gabriel to tackle the innovation divide in Europe. Industry 5.0 can be part of addressing the innovation challenge for Europe. We've been very fortunate that we're allied to a strong Commissioner. We've had a Director-General in Jean-Eric Paquet, who has had the wisdom to restructure the research and innovation service of the commission around the United Nations Sustainable Development Goals. Within that structure, we've had a Director for Prosperity in Peter Dröll: he's had extreme zeal in ensuring that this Industry 5.0 concept has been truly developed and taken forward.
The second reason for boldness in relation to Industry 5.0 is that European citizens expect this from us. We have an ongoing Conference on the Future of Europe, which is bringing together citizens from right across the European Union. In their discussions, particularly around the impact of the digital transformation, they're expressing concerns about the potential implications that it can have for work, for society and our culture. They're very much indicating the desire for the digital transformation to be implemented in a way that's in line with European values, particularly in a way that allows us to capitalize and take forward the creativity and diversity of European workers.
The third source of boldness is certainly that we're building on a solid evidence base. We've seen in recent years various strands of academic literature that focused on the opportunity for increased collaboration between humans and smart systems. One academic has summarized it along the lines of leaving the monotonous, repetitive tasks to the mechanical while opening the creative side to the biological. Some other academics have focused on clear evidence that's emerging that success will come to industries that are more innovative and that are better able to respond to rapid, unexpected market changes. Industry 5.0 is part of the way forward because it accentuates and highlights the value of changing from mass automation to using technology to enhance the capabilities of human workers. Finally, in this regard, industry itself has told us that this is the way to go. Going back to 2016, there was an Accenture survey of over 500 manufacturing executives across the globe. It showed that some were envisioning the way forward through advanced collaborative production between humans and robots. The way to make their plants more productive is to allow them to respond better to the demands for customization and deliver on sustainability while at the same time enhancing operational efficiency. So I think there are many different forces behind the boldness of our approach with Industry 5.0.
[00:23:30]
Ken: Yes. And as I think you said in leading in, it is the correct initiative at the right time. I can see where industry is already heading in this direction. I believe you've wisely put a framework around that and hopefully leading in that area. What are some of the key initiatives in the pipeline for the Industry 5.0 initiative, and how can people learn more or participate?
[00:23:53]
Sean: Yes, as I said in my introductory remarks, Ken, we're really at a very interesting point now in our Industry 5.0 journey, and the year ahead will see us evolving very much from presenting and communicating the concept to looking at the first Industry 5.0 experiences with implementation. This will allow us to take stock of the state of the art and to identify good practices that can help us and help stakeholders to move forward on their 5.0 journey. Already this year, we have launched the first-ever Industry 5.0 Award. And this will reward and recognize European projects whose results make European industry more resilient, sustainable, and human-centric. There, developing this award, we're working in the spirit of co-creation; we have developed the award jointly with our industry partners in the Factories of the Future Association and the Manufuture platform. In addition to being an award and recognition itself, we also see it as an opportunity to raise awareness to take stock of what's happening with the implementation of Industry 5.0 and develop the framework going forward. In addition, the thinking on Industry 5.0 is developing. Over the past year, the commission's independent expert group on the Economic and Societal Impact of Research has produced a policy brief on Industry 5.0. It brought forward some fascinating ideas, particularly how we can broaden the focus of Industry 5.0 to other areas of policy, which we'll need to come in to support if we're to bed in Industry 5.0. We're talking about things like employment policy, how the government deals with industry, and how the taxation system can be tuned more to encourage and support those who go the Industry 5.0 route. And in terms of how people can become more involved and learn more about Industry 5.0, the French European Union Presidency is indeed organizing as part of its Industrial Technologies Conference in June of this year, a strand in relation to Industry 5.0. Connecting to that conference will be a good way to understand where we are with Industry 5.0 at this stage. We will continue to develop this in conjunction with industry partners in Manufuture and for the Factories of the Future Association so people can also engage with them and become involved in the debate and in the discussions around Industry 5.0 to partner with us in this dimension. I will also emphasize that we don't see ourselves having the real monopoly of new ideas for Industry 5.0. We're working very closely with the European Institute of Technology, where its flagships are very much dovetailing with our Industry 5.0 philosophy. That, in turn, is impacting business education. They're adapting their modules to include the Industry 5.0 dimension. I'd also give a shout out to Innopharma Global, which has brought together more than 30 companies and put in place a number of lighthouses that are cross-sector in nature and looking at how the digital and sustainability challenges that these companies face can be addressed by applying the principles of Industry 5.0. There are also some conferences being organized at a national level where people can understand more about Industry 5.0. Ken, as you can see, we have a lot going on in the year ahead as we begin to look much more towards implementation of Industry 5.0. We're very keen to dialogue with stakeholders through these various forums.
[00:27:38]
Ken: I would point our listeners to your policy brief because it's a great white paper to describe Industry 5.0. It's titled, 'Industry 5.0: Towards a more sustainable, human-centric and resilient European industry' and that's available on the European Commission website. Sean, always in closing I like to ask, where do you find your inspiration?
[00:28:01]
Sean: My personal inspiration Ken, comes from the great minds and the deep thinkers I encounter through and in my work. If I think back to the early stages of my career and my strong interest in industry and competitiveness and innovation, it would not be a surprise that Michael Porter's work on competitive advantage was an early inspiration. And I still refer to some of his thinking. In a similar vein at the European level, I have from an early stage found the thinking of Jacques Pelkmans to be particularly enlightening, right back to his important work about achieving the Single Market. He brings original and stimulating insights which help us to think ahead, be ambitious, and be open to new ideas.
And in my career, I've been fortunate to engage with many innovative and forward-looking thinkers who have been very good sounding boards and valuable sources of inspiration. If I go back to my time benchmarking competitiveness and innovation, I got to know John Bessant, who was with Howard Rush at the University of Brighton. He was a very strong forward-thinker on applying this benchmarking tool used in the private sector to the policymaking environment. And to this day, John remains an inspiring and forward-looking thinker on innovation, who's always looking at the next new idea, and it's a great source of inspiration for me. And of course, in the current work, in Industry 5.0, there are many inspiring interlocutors. Andrea Renda comes to my mind with these insights on how Industry 5.0 can be a 'north star' in European industrial strategy going forward. He's opening up new avenues of thought and action into how we can be more ambitious with what we want to do with Industry 5.0. And equally, Sandrine Dixson Declève, the co-president of the Club of Rome has also been a formidable and insightful interlocutor as we've been moving forward on our Industry 5.0 journey. I would say the inspiration comes from the opportunity I've had to engage with these very insightful thinkers. They're always looking ahead of where we are at the moment.
[00:30:11]
Ken: Excellent. I'd offer that you've become a thought leader in your own right with this initiative, and clearly with the work before as well. Sean, thank you for sharing this time and these insights with us today.
[00:30:22]
Sean: Ken, it's been a pleasure to have the opportunity to share with you my journey and, more particularly, the exciting journey we're on, where we are and where we plan to go in the months and the years ahead, to bring Industry 5.0 to fruition and allow industry to once again play a central role as a driver of prosperity in our economy and society in Europe.
[00:30:45]
Ken: We look forward to great things, and Momenta particularly looks forward to supporting you in this very meaningful initiative. This has been Sean O'Reagain, acting head of Industry 5.0 with the European Commission's Directorate-General for Research and Innovation. Thank you for listening, and please join us next week for the next episode of our Digital Thread podcast series. Thank you and have a great day. You've been listening to the Momenta Digital Thread podcast series. We hope you've enjoyed the discussion. And as always, we welcome your comments and suggestions. Please check our website at momenta.one for archived versions of podcasts, as well as resources to help with your digital industry journey. Thank you for listening.
[The End]
Sean's Inspiration Comes From...
The great minds and the deep thinkers he encounters through and in his work. Sean cites several influences like Michael Porter's work on competitive advantage, Jacques Pelkmans' ideas on achieving Single Market, and John Bessant's benchmarking as a policy tool. He also mentions Industry 5.0 figures like Andrea Renda and Sandrine Dixson Declève as particularly formidable and insightful thinkers who are always looking ahead of the moment.
About the Directorate-General for Research and Innovation:
The Directorate-General for Research and Innovation (DG RTD) is a Directorate-General of the European Commission, located in Brussels, and responsible for the European Union's research and innovation policy and coordination of research and innovation activities. DG RTD defines and implements European research and innovation policy with the goal of reinforcing the scientific and technological base, promoting innovation and turning societal challenges into innovation opportunities. Learn more at https://ec.europa.eu/info/departments/research-and-innovation.