Mar 22, 2018 | 5 min read
Insight Vector: Executive Search in the Digital Age: 6 Things to Consider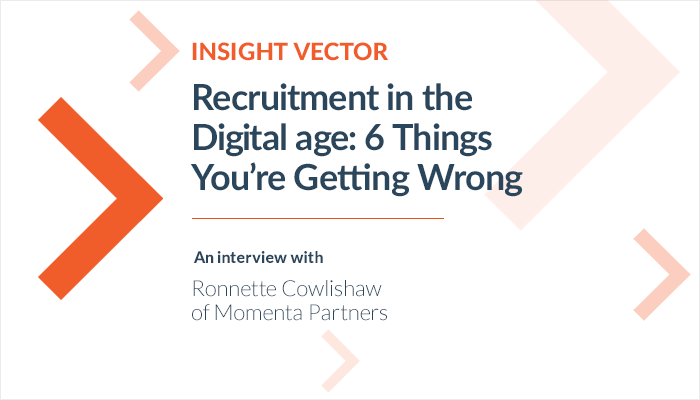 Innovation and market perspectives from leading IoT innovators
We recently spent time with Ronnette Cowlishaw, US Search Partner at Momenta Partners, to discuss IoT, high-tech recruitment and how the world of jobs is changing, both for employers and those seeking employment.
Ronnette Cowlishaw
Executive Search, Momenta Partners
Few could argue that we've seen a massive evolution in industry over the last decade with technology creating new jobs, roles, responsibilities, and careers. This has also evolved how we position ourselves as job seekers and as companies seeking top notch talent. Networking has always had a part in filling executive roles, and this has been enhanced with online networks like LinkedIn to seek potential roles or candidates. People are more visible online, featuring their personal brands in articles, podcasts or online videos to cast their nets further afield.
Unfortunately, these basic approaches to recruiting fall short for hiring Internet of Things leaders and practitioners, as these roles are Renaissance men and women, with deep technical skills and broad organizational acumen. Let's take a look:
Some of the challenges experienced by employers:
1. A poor understanding of how IoT changes business
For companies looking to build IoT divisions within their core business, it can be difficult to identify what their IoT team should look like. With each new hire, the requirements for the next hire can change significantly. Each addition has a much greater impact on re-framing the next stage of staffing more so than adding someone to a traditional R&D or Sales role. Such fluidity changes the way historic recruitment and interview processes have traditionally been conducted. Technology clients may better understand the IoT team required, but still navigate branding and evangelizing decisions.
2. Not targeting ambitious, future leaders
Executive leadership needs to have a compelling vision, to convey the catalytic potential of IoT technologies - providing confidence in the technology that they're representing and setting the change trajectory as an outcome of it. I may have a great company and a great professional candidate, yet they likely have differing views on target potential and trajectory of innovation. It's the mix between what the company needs, what are they really trying to accomplish with IoT, and with what's the proven performance of executive leadership.
3. Being too focused on traditional KPIs and candidates
As a general rule, the higher the role profile, the greater the flexibility in potential candidates. We recently placed a North American sales leader for a promising Ag-tech startup based out of Greece. The ideal candidate was involved in agricultural industry media, writes thought-provoking blogs, and hails from a family with a large farm. It was not simply the person that made four times over what the original plan was for a similar role. There's many reasons that he might not have been a match, but it was because of his domain-knowledge, industry connections, and thought-leadership that he's succeeded.
4. Driving hard skills over soft ones
The talent factor in technology is ultimately what allows vision to become reality and allows organizations to scale. Yet, working in technology today at a management level is not just about the possession of technical acumen. It's a combination of technical, people and organizational skills: the ability to bridge the division and the cultures of industrial Tech, Operation Technology, and Information Technology. Then there's the political capabilities to advance initiatives within an organization without having a real mandate attached. This is the value of the soft skills that help you get things done through informal leadership mandates.
Companies aren't the only ones experiencing challenges. Job seeking candidates are equally open to failure without the right support:
5. Focusing too much on startups

People want to join startups as they see it as a way to get up in the morning and slay dragons, an incredibly exciting space. I might talk to an executive about filling roles within their own company but often find they'd like to join a startup and be considered for other roles. Unfortunately, many are not prepared for the lean nature of startup life - creating a mismatch of capability and capacity. We therefore, do quite a bit of pattern-matching between potential startup roles and candidates, to minimize disappointment and maximize long-term value contribution.
6. Not recognizing that IoT is paradoxically expansive and incredibly niche
A candidate might have established C-suite experience but they need to often bring in technological expertise around a specific niche e.g. gyroscopes, as well as knowledge of the company, domain, and industry. Outside of sourcing candidates from direct competitors, finding plug and play C level candidates require broad pattern-matching skills. It's often why we're asked to build teams long-term vs. just brought in for single hires.
Momenta is uniquely positioned to place exceptional, strategic talent for Fortune 500 leaders and venture-backed innovators. Contact us to find out more.