Apr 11, 2019 | 5 min read
Event Spotlight
From The Cloud Foundry Summit: Convergence is Here, But Operationalization is Key
This year's Cloud Foundry Summit in Philadelphia underlined one of the key drivers of the cloud tech world now: the tools are ready, now let's operationalize. The event is hosted by the Cloud Foundry Foundation, keepers of the Cloud Foundry open source platform-as-a-service (PaaS) project.
"We see a world of computing that is ubiquitous and flexible – supporting public, private, and hybrid application environments; portable and interoperable – enabling users to move their applications wherever they need to go; and vibrant and growing – underlying a massive ecosystem of applications and developers based on an efficient marketplace." the Foundation says about their point of view on cloud.
And judging by last week's event, with a developer-heavy attendance around 1,000, it's definitely vibrant and growing.
Executive director Abby Kearns summed up the changes she's seen in her five years on the Cloud Foundry project — two at Pivotal and three with the Foundation — this way: "I used to spend a lot of time explaining how containers work, how platform-as-a-service works," she said. "Now the questions about interoperability and adoption are front and center."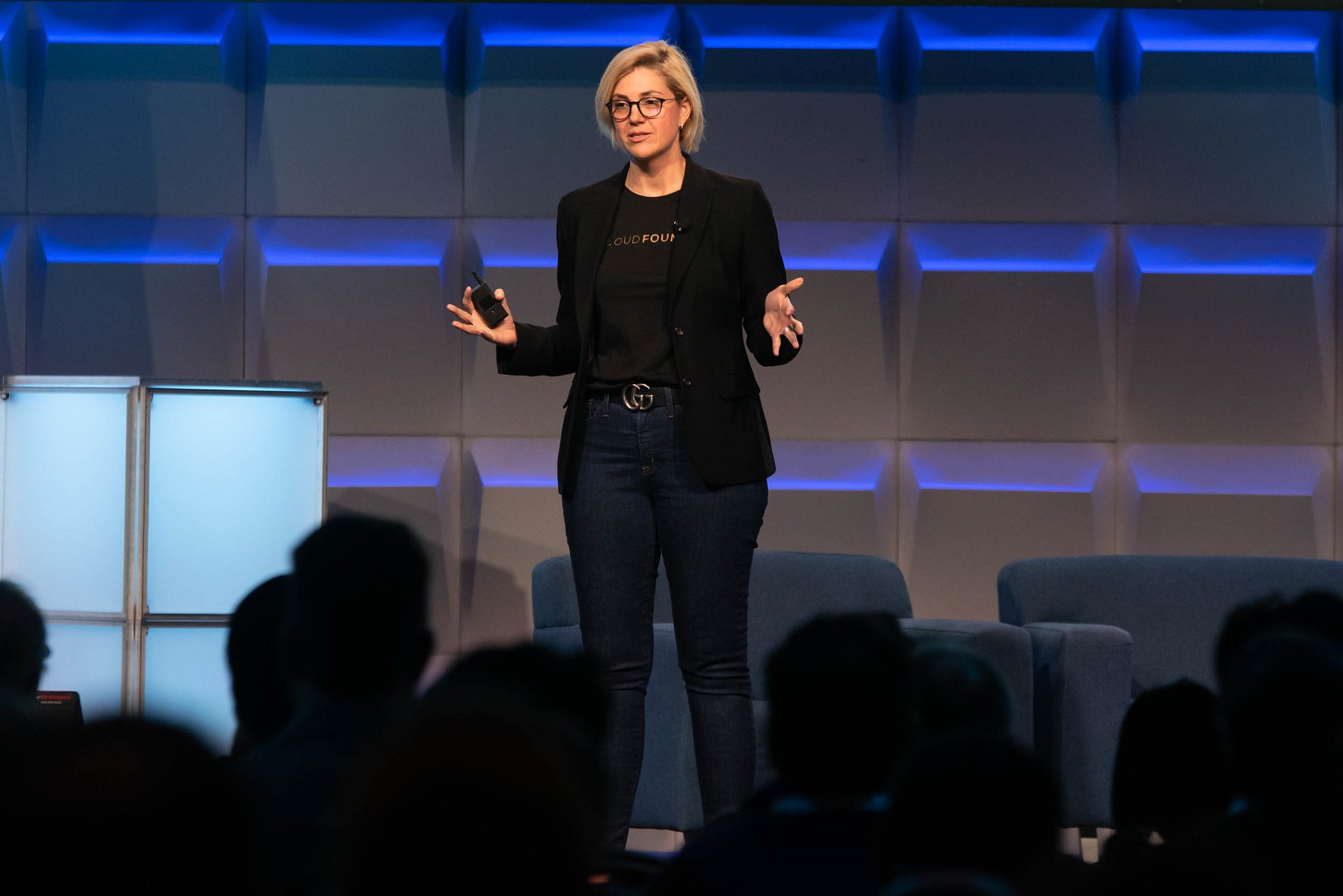 Abby Kearns featured above
(Editor's Note: Stay tuned for our upcoming podcast with Abby and the Cloud Foundry Foundation's CTO, Chip Childers, for more on convergence as well as the changing view of cloud technologies in the enterprise community.)
Everywhere you look, convergence
Convergence of cloud and virtualized platforms was a big part of the discussion in Philadelphia. Cloud's ubiquity, ease of access and relative cheap cost mean it's a critical to digital transformation initiatives. But we're so used to hearing cloud discussions center on the "Big Three" of hyperscale cloud — Amazon's AWS, Alphabet's GCP and Microsoft's Azure —and how they're in battle with Oracle, IBM, Salesforce or SAP who are looking to leverage there client relationships to drive implementations in the enterprise arena. Or conversely, we hear about how they're fending off China's Alibaba and Tencent globally in a race to complete cloud commoditization.
At the same time, virtualization software like VMWare, allowing IT teams to run multiple systems and applications and test them in different environments continues to unlock further value in traditional IT spending by helping realize efficiencies in already-purchased hardware or by optimizing your on-premises and cloud expenses.
These aren't necessarily new messages at Cloud Foundry Summit. Convergence has been a technological reality for a while now. But the difference is in readiness of teams, executives, managers and developers alike, to seek adoption. "The cloud and cloud native industry is changing and changing quickly," Abby said.
While virtualization helps IT operations manage physical infrastructure O&M, cloud native technology is more about making it all seamless for developer teams, to unlock new innovation and efficiency from this critical group inside big enterprise by letting them forget about the hardware.
Think of it this way: The "compute unit" is divorced from the machine, with no server, or drive or network or even a machine at all: it's a container. Managing the care and feeding of wherever that container is located is, of course, critical, but irrelevant to the developer.
The Summit was yet another example of the multiplier effect we see in the innovation journey so many companies are on. Like with the other underlying enabling technologies that make up part of digital transformation discussion today — from AI and machine learning, to IoT's new networks, to the blockchain's distributed ledgers — the convergence of virtualization's ease of implementation yoked to cloud's massive scale means developer teams can do so much more, far more quickly and cheaply, too.
It's not about replacing team members, it's about unleashing them. However, there was discussion about how these technologies could impact IT org charts across the Fortune 500. Within IT, new technologies often meant new silos. But the open source approach could help change that.
"It will be especially good for DevOps teams that have applications with different needs," said Tom Petrocelli, contributing analyst with Amalgam Insights. "Convergence between Cloud Foundry and other cloud native projects will provide platform choice for 'Ops' while presenting the same environment for 'Dev.' It's the best of all possible outcomes."

Momenta Partners encompasses leading Strategic Advisory, Talent, and Investment practices. We're the guiding hand behind leading industrials' IoT strategies, over 200+ IoT leadership placements, and 25+ young IoT disruptors. Schedule a free consultation to learn more about our Connected Industry practice.