Sep 27, 2023 | 9 min read
Newsletter: Q3 2023
Reinforcing Fundamentals of Industrial Impact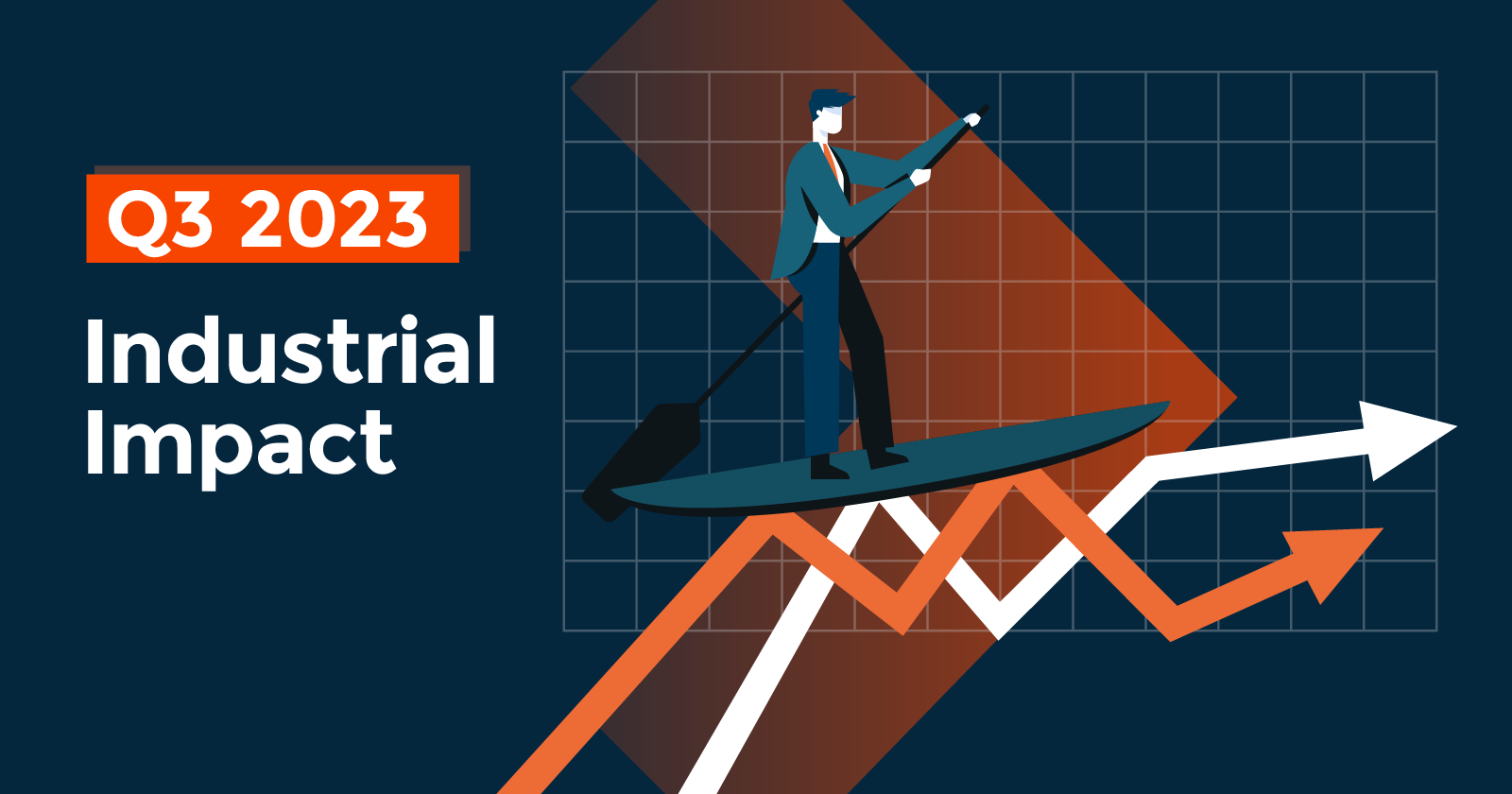 Q3 2023:
Reinforcing Fundamentals of Industrial Impact
As we enter the last quarter of 2023, concerns about a substantial recession have diminished, thanks to the stronger-than-anticipated performance of the U.S. economy, which has played a crucial role in mitigating a global economic downturn.
However, there are concerns that the weakening Chinese economy could prove a larger drag in 2024, according to the OECD. Despite the moderating rate, inflation continues to weigh on overall consumer sentiment, while the effects of sustained higher interest rates are being felt in declining home sales. With oil prices creeping higher, the impact of inflation and interest rates is raising concerns that this year's generative AI-fueled stock rally will weaken.
Venture Funding Environment Remains Difficult
The funding environment remains significantly more challenging for startups, with AI still the hottest sector of interest. In 2Q23, global venture funding declined 18% from 1Q23 to $65bn, according to Crunchbase, representing a 49% decline from a year earlier when startup investors spent $127bn. The environment has been tough across the board – early-stage funding was down 45% to $27bn. compared to the previous year, while late-stage funding experienced a decline of over 50%. Notably, companies classified as AII by Crunchbase made up 18% of the total investments.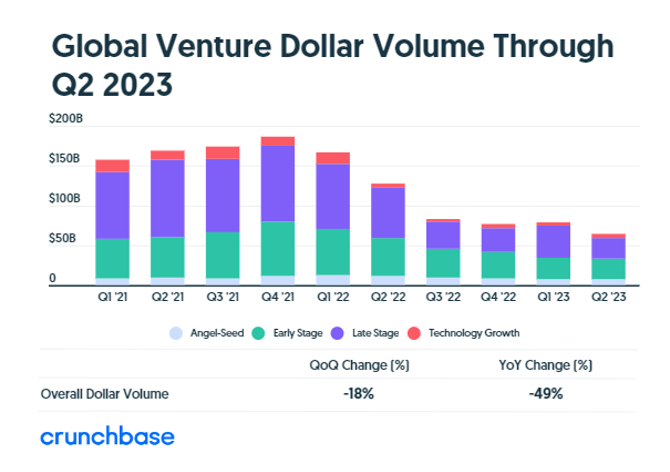 Tentative Steps Toward Recovery in M&A, I.P.O.s
For the first half of 2023, tech M&A trended slightly down from the second half of 2022 in deal value and volume, while deal volumes over $1bn declined 56% since 2021. Cash-rich corporate buyers are awakening to the strategic advantages of a large balance sheet. On September 21st, Cisco announced the $28bn acquisition of data analytics/security firm Splunk (its largest acquisition) to be paid entirely in cash.
The I.P.O. markets, which have been dormant for much of 2022 and 2023, saw the largest deal of the year with the September 14th trading debut of A.R.M. Holdings plc, in which the stock jumped nearly 25% on the first day of trading. Initially, the excitement was fueled by the potential advantages of AI for the business. However, since then, the shares have relinquished their first-day gains due to more comprehensive evaluations of growth prospects and competitive challenges.
Despite the volatility, the $65bn valuation and subsequently successful I.P.O. of Instacart provide positive indications of investor appetite for new issues.
Investing for Impact - Why it Matters
At Momenta, our investment focus is driving industrial impact through the digitalization of Energy, Manufacturing, Smart Spaces, and Supply Chain/Transportation. While it's essential that innovative businesses provide sustainable financial returns, the scope of industrial impact encompasses far broader objectives. Our fourth Digital Industry Fund is based on the E.U.'s Industry 5.0 framework, which builds on Industry 4.0/Industrial IoT principles with themes of Human-Centricity, Resilience, and Sustainability. Through the combination of innovation and broader mission, we believe there are opportunities to create incremental value – for business, the environment, entire industries, and broader societal benefits.
Promoting Sustainability through the "Net-Zero" Transition
Sustainability is central to the vision for a net-zero emissions economy, driving. There are many ways to approach sustainability targets, starting with analyzing the environmental impact, re-evaluating the sources of raw materials, reducing the proportions of waste generated, increasing recycling and repurposing of materials, adopting new non-petroleum-based materials and composites, and improving the energy efficiency of processes. We highlight notable portfolio companies delivering demonstrable and quantifiable impact by significantly reducing energy and materials waste.
Impact: "Near Zero Waste" In Metal Manufacturing
One of Momenta's portfolio companies that embodies these principles is Tvarit, a Berlin-based software firm' driving the world towards sustainable and zero waste manufacturing.' Tvarit focuses on the challenges of metal casting, which involves pouring molten metal into molds from which automobile wheels, aircraft components, and many consumer goods emerge. Historically, metal manufacturers relied on Continuous Improvement Process techniques that gradually improve the quality of produced goods. The challenge is that there are over 2.4 trillion possible combinations of process changes (many of which vary with the quality of inputs and even outside humidity) – and impactful parameter changes can account for as much as 9% scrap and 18% of energy waste.
Tvarit employs AI-based models that devise the best recipes for each batch based on historical data and best practices. The system then analyzes and monitors key process parameters to drive to 'near zero waste manufacturing' goals. Typical pilots have achieved 18% energy savings and 50% scrap reductions – while reducing emissions by 77% - resulting in 900 tons of CO2 annually and over €1M in savings – all from a single plant!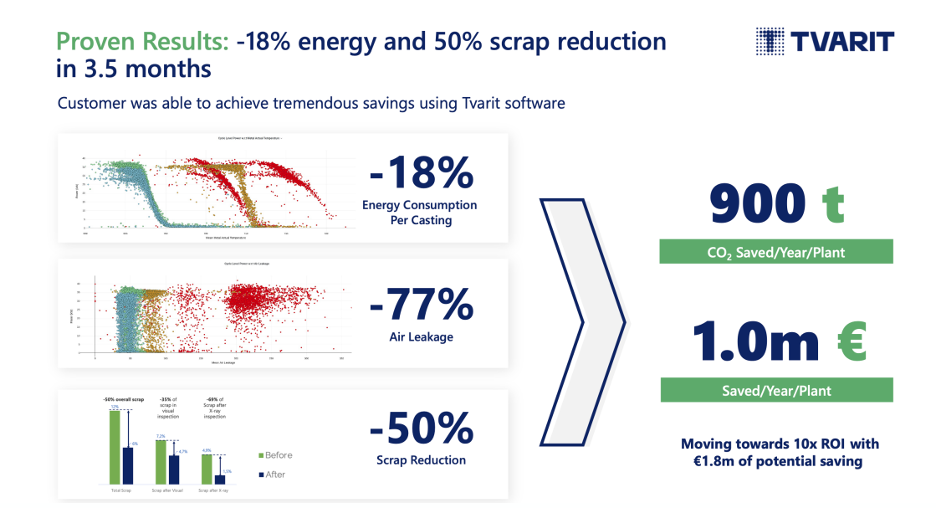 Impact: Capturing Wasted Energy from Steam Systems
It's not widely appreciated that the production of steam accounts for 45% of all fuel consumed in Canada and the U.S. Pulse Industrial is an Ontario-based firm that provides real-time monitoring of industrial steam systems in order to improve energy efficiency and reduce carbon emissions. Steam traps are common components of steam systems that frequently have a failure rate of 8%-15% annually. These failures can lead to heavy steam leaks, accounting for over 5% of plant fuel and water treatment costs.
Pulse has devised a simple, inexpensive monitoring solution powered by an AI engine that can detect and predict minor or major steam trap failures. The data then populates a system report card on overall steam operations, indicating the quality of each steam trap while highlighting suggested maintenance. The impact is already significant: in 2022 alone, Pulse saved over 1.5bn pounds of steam and 72,000 tons of carbon emissions, resulting in nearly $2.1mn in energy savings.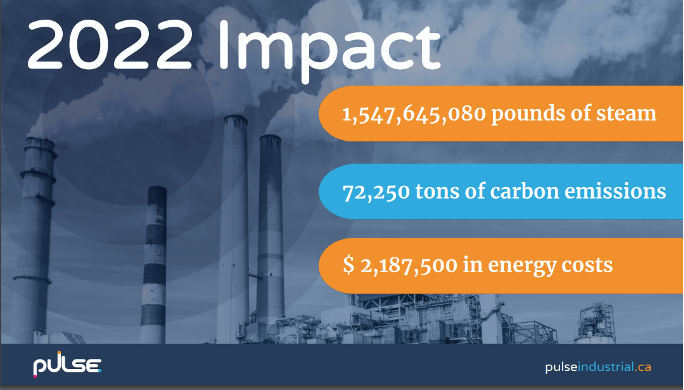 Impact: Reducing Textile Production Waste
The textile industry has historically experienced significantly high defect rates, which impact both factory margins and generate significant waste into the environment. Nearly 10% of textiles produced for modern clothing are discarded due to defects not caught until later production stages, creating more than $100bn in waste annually.
Another company in Momenta's portfolio, Smartex, is located in Portugal and specializes in creating real-time inspection systems for circular knitting machines. Incorporating a network of smart cameras empowered by an "AI Booster," these systems enhance human inspectors by identifying defects in real-time on the production machine, allowing for immediate halting of production in the case of defective items. In 2022, Smartex achieved remarkable environmental savings, conserving 42 million liters of water, 3.4 million kWh of electricity, over 845 tons of CO2 emissions, and preserving 375,000 kilograms of fabric – equivalent to enough material for 1.5 million t-shirts.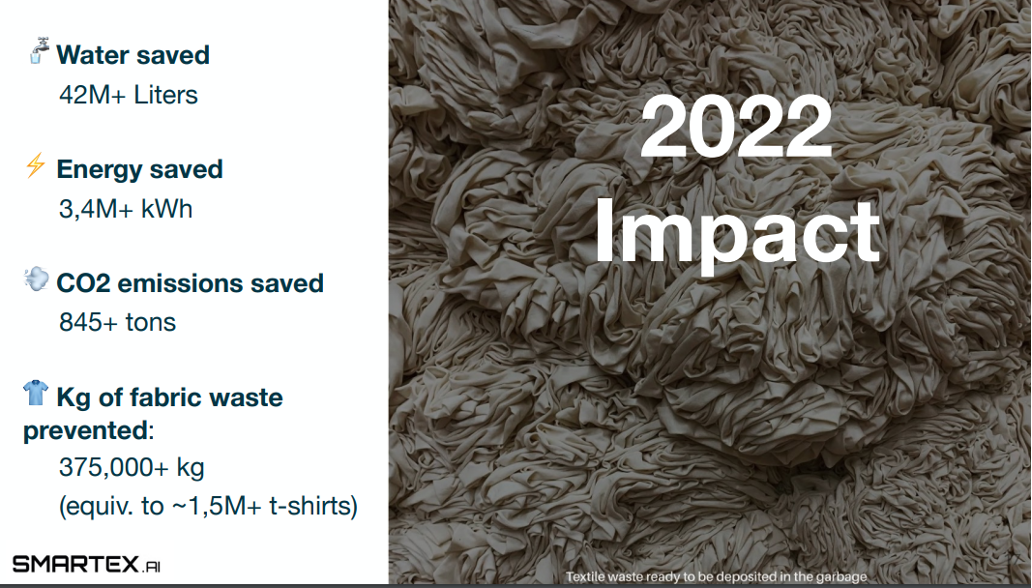 Building a Solid Foundation for Industrial Impact
In the age of digital transformation, the power of data analytics, machine learning, and AI is the driving force behind creating real value and industrial impact. The key now is to bring analytics closer to the data, enabling lightning-fast decision-making. As we witness the seamless integration of analytic workloads across the cloud, data centers, and the edge, businesses are orchestrating a symphony of impact like never before.
Yet, for established firms, true transformation goes beyond financial investment alone. KPMG's data reminds us that ROI remains elusive without a broader strategy. Deloitte's study underscores cultural alignment and a shared mission are equally pivotal.
To make a lasting and meaningful impact, the journey begins with data but thrives when intertwined with strategic objectives and a culture that fosters transformative change. Embrace the future, for the possibilities are boundless when data, strategy, and culture converge.
---
Momenta is the leading Industrial Impact venture capital + growth firm. We accelerate entrepreneurs and leaders devoted to the digitization of energy, manufacturing, smart spaces, and supply chains. Since 2012, our team of deep industry operators have made over 100 investments in entrepreneurs and helped scale over 150 industry leaders via our award-winning executive search and strategic advisory practices.
Schedule a call to learn more about our Industrial Impact investments.