Jun 15, 2021 | 6 min read
Digital Insights Newsletter: June 2021
Back to Business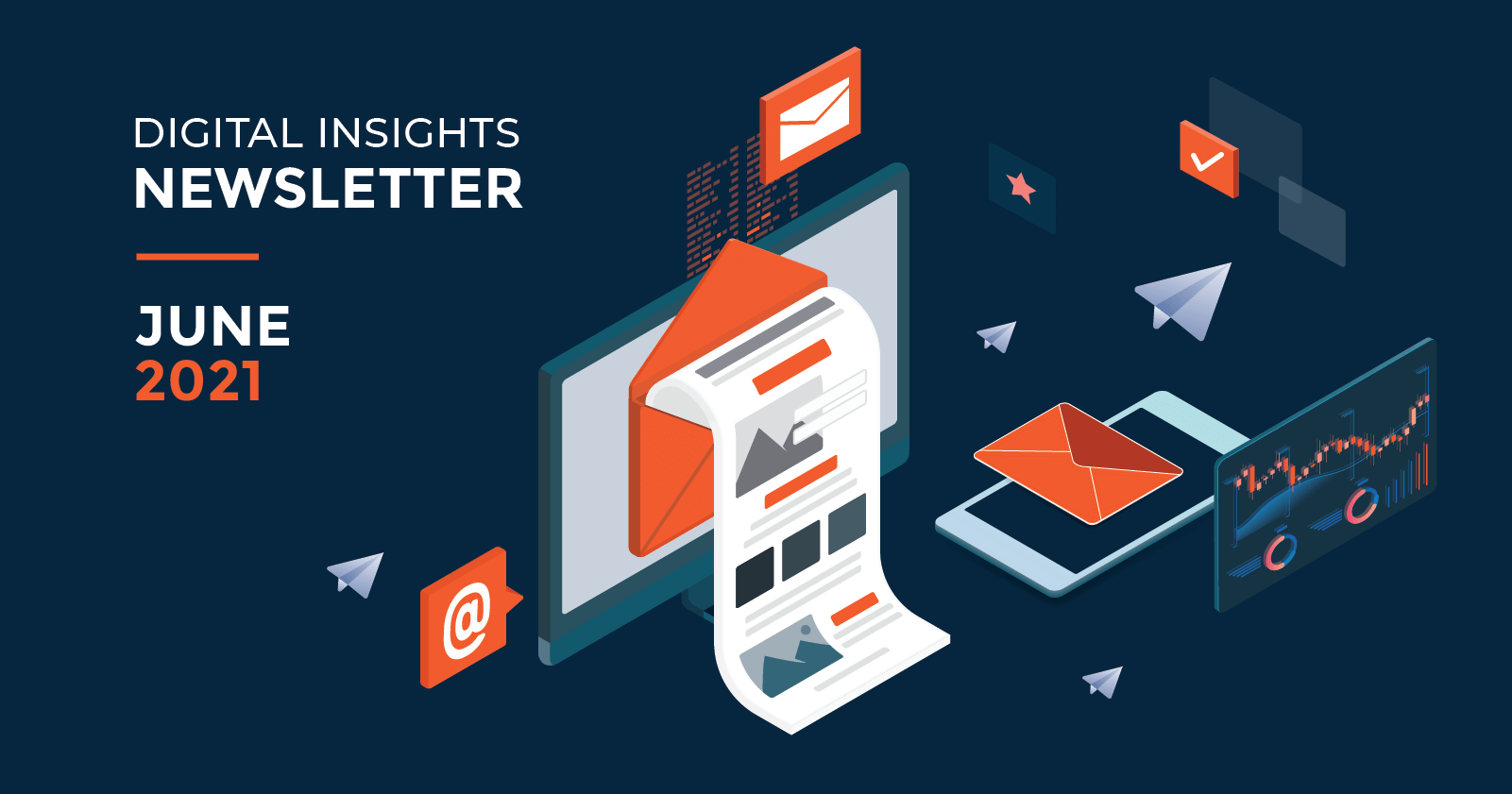 As of mid-June 2021, Covid restrictions are being lifted across the developed world, restaurants and entertainment venues are re-opening, fans are going to see professional sports again, airports are getting busy, and demand for goods and services is roaring back. Challenges have not completely receded as countries like Brazil and India are reckoning with outbreaks of new virus variants, and delays in vaccine distribution are prolonging pandemic conditions. With U.S. President Biden's pledge to buy 500 million doses of vaccine to distribute to developing countries (while temporary vaccine distribution sites are closing down in the U.S.), there is hope on the horizon. For the developed world, it's (almost) back to business as the pandemic recedes, but a new set of challenges emerges.
Financial Markets Grind Higher
The steady flow of positive economic news and company earnings has pushed markets steadily higher as the bull market enters its second year. Historically bull market gains tend to fade in their second year, and the absence of a 5% or greater decline in 2021 suggests a correction could happen at some time this year. Nevertheless, new IPO and SPAC listings continue to be robust.
Demand is Back - With a Vengeance
Consumers and businesses are putting cash to work and fueling record pace of demand. For example, according to Canalysis, the PC market in the U.S. grew 73% YoY 1Q21, with notebook shipments up 131% over the prior year. As demand for goods of all types of surges, this is causing delays in manufacturing and delivery across the board, along with rising prices. In the first five months of 2021, orders for new container ships doubled all 2019 and 2020 orders, while rates for transporting shipping containers are skyrocketing with no end in sight. Some bottlenecks appear to be easing, however, with lumber prices finally retreating from historic highs and widespread shortages of building materials.
How Long will the Inflation Last?
As a result of the rapid rebound in demand and shortages of supply across industries, inflation is evident wherever you look. Data showed a 5% jump in consumer prices on a year-over-year basis in May, and the impact is being felt across the board as companies pass on rising prices to their customers. The debate whether it will be "transitory" does create new potential risks and headaches. The topic of inflation provides grist for cryptocurrency advocates. While the crypto-mania boom from earlier this year has faded (with Bitcoin down nearly 50% from its $61k high in the past week), established financial institutions continue to roll out new businesses – trading desks and investment products with State Street the latest. El Salvador is the first country to announce that Bitcoin can be used as legal tender.
Never a Dull Moment in the Food Supply Chain
With virus restrictions finally being lifted in California, the west part of the U.S. is facing an unprecedented drought situation, creating huge challenges for farmers and ranchers with spiraling prices for commodities like corn and hay. Recently a ransomware attack targeted meat processing firm JBS, which accounts for 25% of the daily meat production in the country – this follows the Colonial Pipeline attack as hackers seek out operations that play a critical role in the economy. While companies have been paying ransom with Bitcoin (partly recovered in the case of the Colonial hack), uses of blockchain to address security remain some of the more promising use cases. The Project Connected Home over IP (CHIP) working group in the Zigbee Alliance is developing a blockchain-based ledger to focused on enabling secure compatibility between IoT devices from different manufacturers.
Looking into the rest of 2021, we expect accelerated digital business adoption to continue, as organizations absorb the lessons of the pandemic with urgency. Connected Industry progresses steadily, with the IoT platforms market exceeding growth expectations, led by hyper-scale cloud providers. Adoption of electric vehicles and solar continues the transportation innovation and energy transformation, but innovation is everywhere as Japan doubles down on investments in hydrogen as an alternative energy source. The focus on ESG (Environment, Social, and Governance) factors is gaining momentum as investors plow money into ESG Funds, which in turn spur publicly traded companies to address their own ESG stories. We will be digging into ESG's industry impact in the coming weeks.
---
Momenta is the leading Digital Industry venture capital firm accelerating digital innovators across energy, manufacturing, smart spaces, and supply chain. Led by deep industry operators across its venture capital, strategic advisory, and executive search practices, Momenta has made over 50 investments, with notable exits to SAP, PTC, and Husqvarna Group. Feel free to schedule a call to explore your company's digital potential.