Jul 13, 2021 | 6 min read
Digital Insights Newsletter: July 2021
The Bumpy Road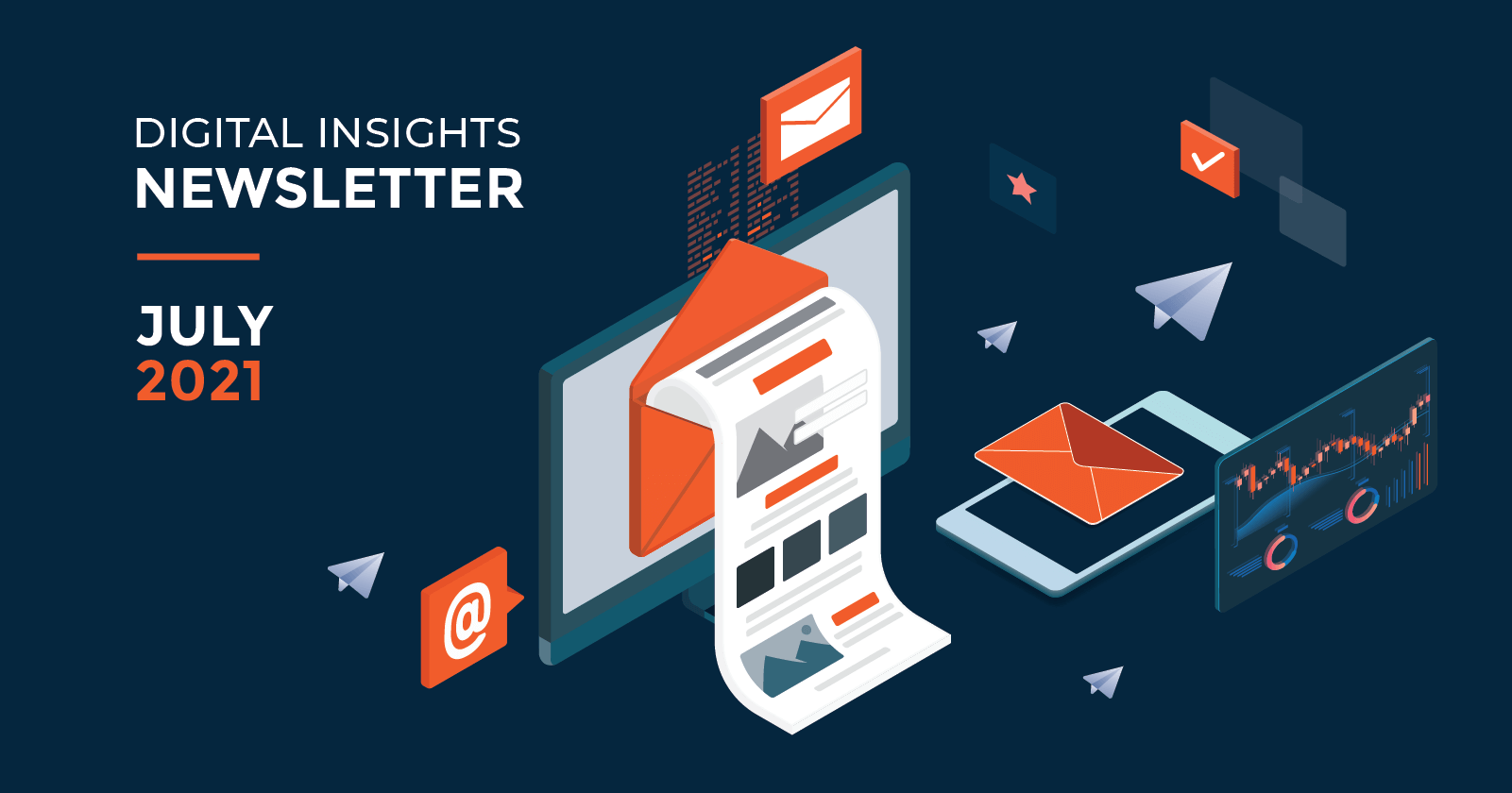 As of mid-July 2021, we're seeing a healthy recovery across Western economies as travel restrictions are lifted and sectors most hard hit by the pandemic (hotels, restaurants, entertainment venues) see traffic and demand steadily creeping back. Recent estimates show that the U.S. economy likely returned to its late-2019 size in 2Q21, helping to lift global output above its pre-pandemic level for the first time.
The (Bumpy) Road to Smarter Growth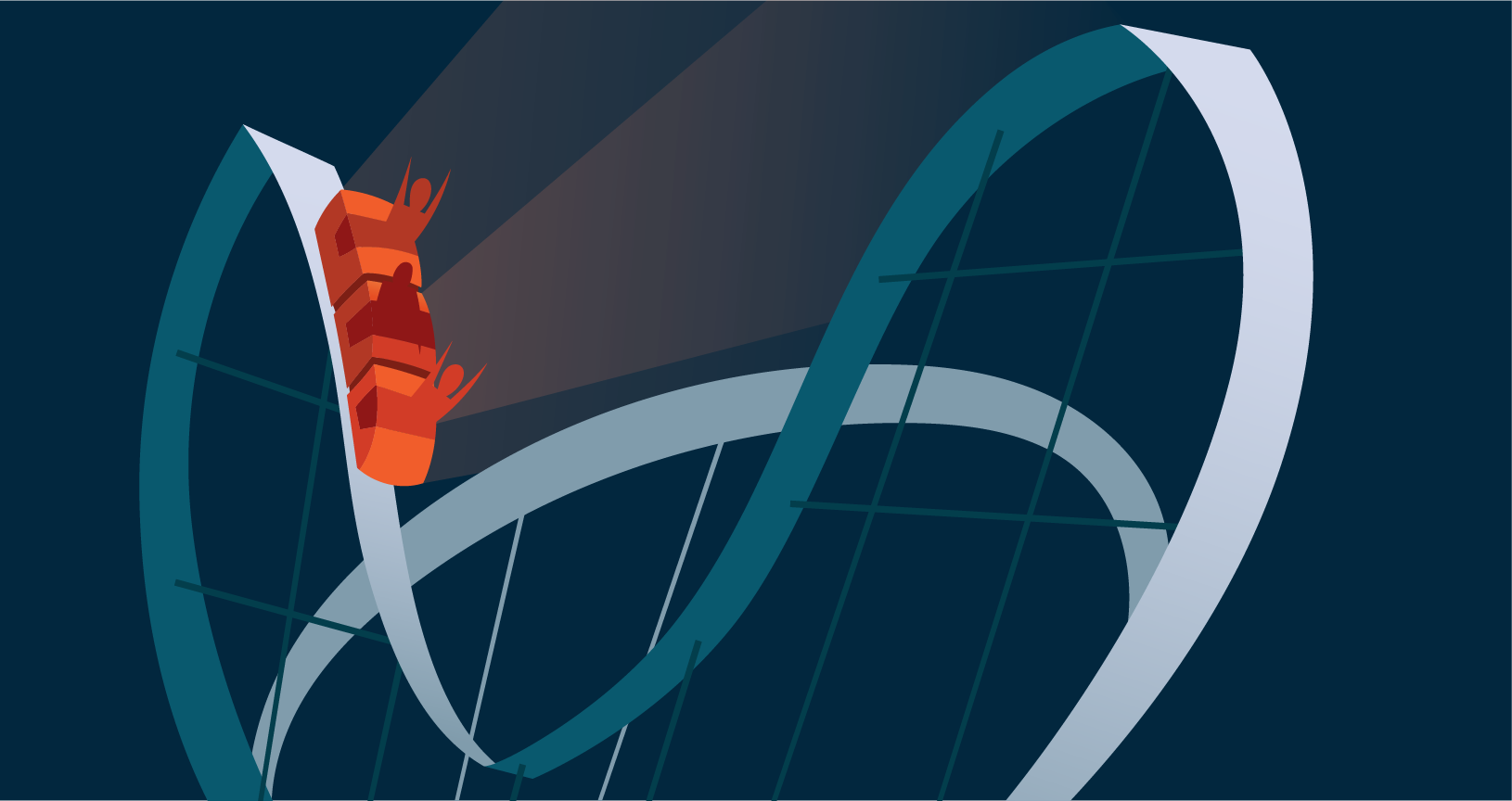 According to ITA estimates, global GDP growth is expected to be 6% in 2021 and 4.4% in 2022, but growth is not projected to be shared equally across countries or industries. Much of the variability in growth relates to uneven access to vaccines (low-income countries would add $38 billion to their GDP forecast for 2021 if they had the same vaccination rate as high-income countries), domestic policies, which vary across countries that impact the pace of economic recovery as well as the reliance on high-contact sectors, such as tourism.
Survey Shows the Pandemic Slowed IoT Adoption
Adoption of digital industry solutions suffered during the pandemic, despite many of the advances in digital business. According to a new State of IoT Adoption Study commissioned by Eseye, over one-third (36%) of U.S. organizations have reduced IoT investment plans and 33% canceled their IoT initiative altogether as a result of Covid-19, a considerably higher than their UK counterparts (19%). Interestingly, scale appears to correlate with higher adoption of digital industry solutions. The Eseye study found the larger the project, the faster the digital acceleration as organizations embrace IoT. The more devices respondents have in the field, the more they are planning to deploy in the coming twelve months – which points to a "tipping point" dynamic in the market. The challenge for practitioners is to help reduce barriers to digital business adoption for smaller organizations and projects.
Security remains a growing challenge as more devices and people work online – and also creates challenges as workers return to the office. In a study during a two-week evaluation during the peak of Covid-19, security firm Zscaler identified 533 unique device types on corporate networks, many left behind while employees worked elsewhere – and blocked 833 IoT malware attacks per hour against these devices, a 700% increase in attacks year-over-year. The hybrid workforce model will face new challenges as workers seek greater flexibility over how and where they work.
Macro, Supply Chain Are Top of Mind as Pandemic Concerns Fade
The importance of macroeconomic factors, the supply chain, semiconductor shortages, talent, and sustainability are top of mind and growing in importance for CEOs as concerns over Covid-19 are fading as concerns, despite the increasing prevalence of the Delta variant.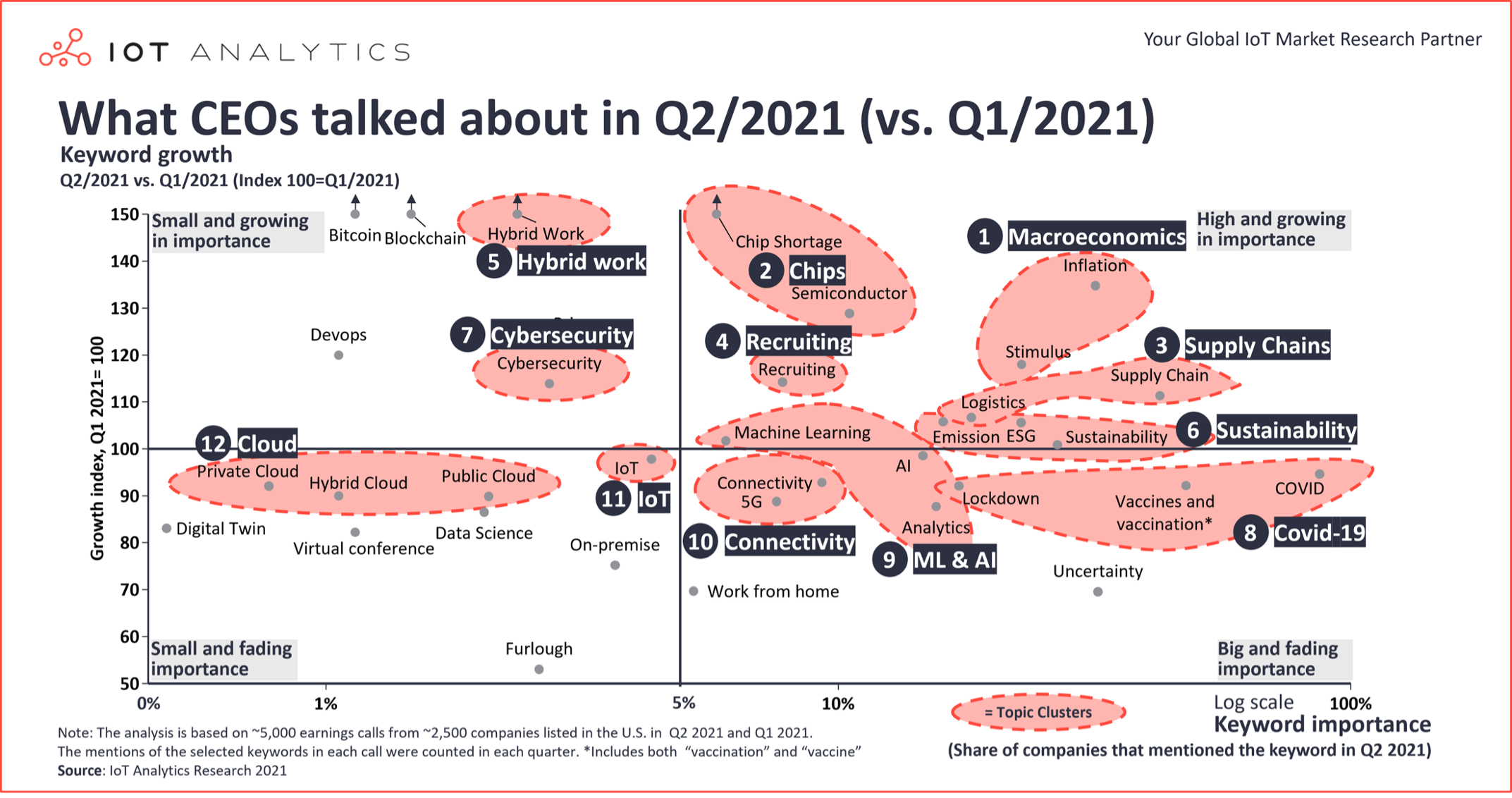 Supply Chain Not Yet Running Smoothly
Recent shortages in lumber appear to have receded, with prices down over 70% from highs in May of this year. However, supply chain disruptions continue to impact different industries. Semiconductor shortages continue to plague multiple sectors that depend on chips - and we are seeing massive ramps of investment in semiconductor manufacturing capacity, along with the software and machines necessary to support increased output. The food industry has been particularly impacted because of the disruption to traditional work/school/travel patterns. With the return of students to schools, cafeterias are cutting menu choices as food suppliers face labor shortages and transportation challenges that are adding costs and limiting supplies.
Manufacturers Reducing Choices for Consumers
One of the surprising impacts of the post-pandemic rebound is that we may be seeing a longer-term reduction in the number of choices that consumers have, which is not necessarily a bad thing. Grocery stores, restaurants, even the storied motorcycle manufacturer Harley-Davidson are cutting the number of different varieties and brands they stock, partly due to the lessons of unreliable supply chains during the pandemic. Some IGA Inc. grocery stores now offer only four choices of toilet paper, compared to the 40 varieties typically carried by the company's 1,100 locations prior to the pandemic. The reduction of choice is not altogether unwelcome by consumers overwhelmed with the Paradox of Choice. However, this trend does fly against the longer-term trends that have supported the development of tools and technologies to support "mass customization" such as rapid re-tooling and rapid prototyping. The new focus on less variety will lead to more emphasis on curation, and unsurprisingly the supply shocks experienced during the pandemic have resulted in more conservative adoption of digital innovations particularly among smaller firms.
---
Momenta is the leading Digital Industry venture capital firm accelerating digital innovators across energy, manufacturing, smart spaces, and supply chain. Led by deep industry operators across its venture capital, strategic advisory, and executive search practices, Momenta has made over 50 investments, with notable exits to SAP, PTC, and Husqvarna. Feel free to schedule a call to explore your company's digital potential.