Jan 14, 2020 | 5 min read
Digital Industry Insight #4: The Industrial Ecosystem Imperative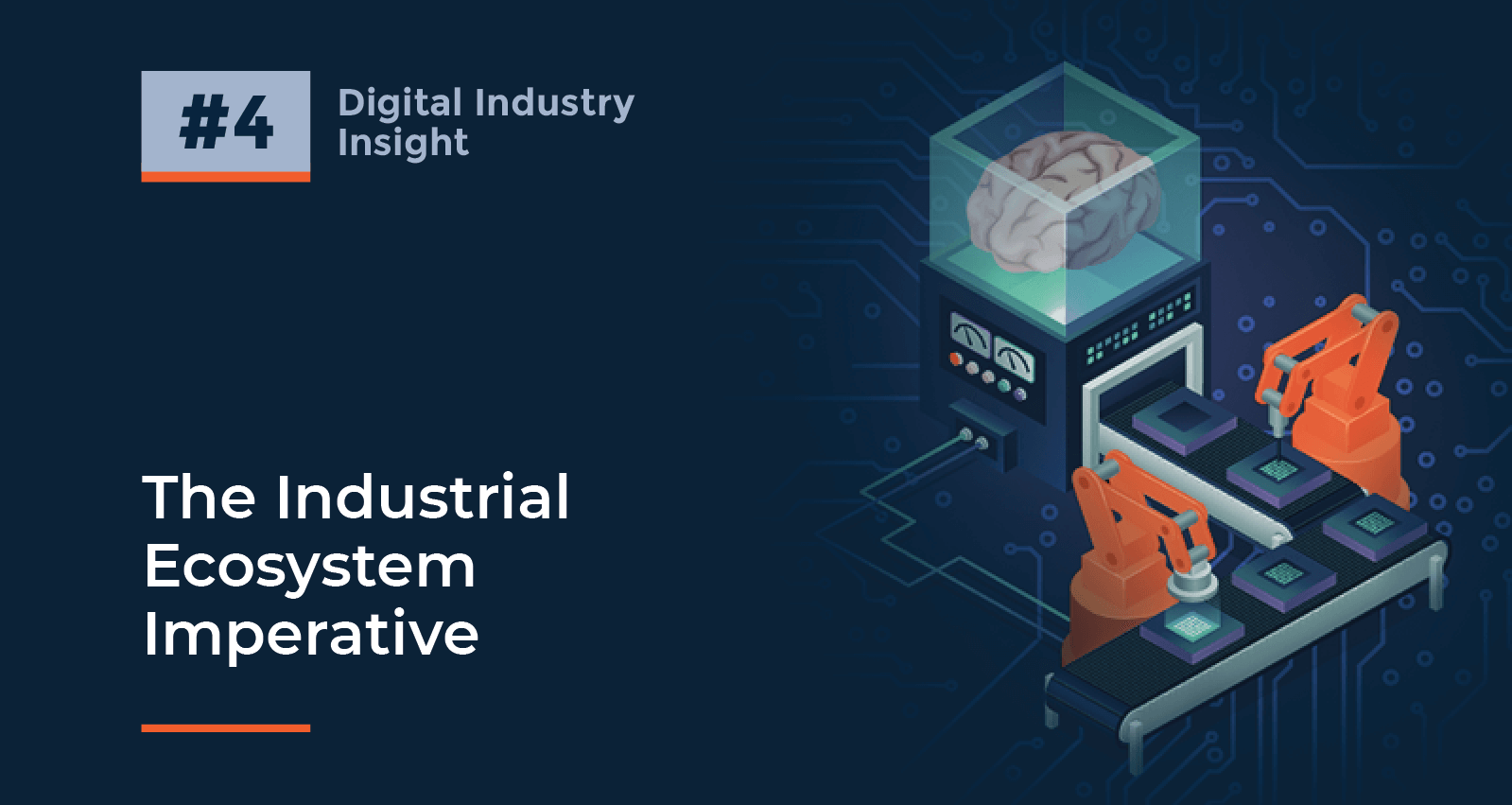 "Coming together is a beginning, staying together is progress, and working together is success." — Henry Ford
Ford was of course speaking in an industrial era dominated by wholly owned, integrated supply chains. Ford Motor Company owned everything from the steel mills making steel for its cars to the rubber plantations used to build its tires. Since then, supply chains – often called value chains today – have devolved into specialized suppliers, original equipment manufacturers (OEMs), and distributors. This specialization was delivered on the promise of providing incentives for each player to deliver the best possible product at the lowest possible cost. However, this also means that the relationship between each of the participants in the supply chain was transactional in nature, offering little incentive for post-engagement collaboration.
In both direct and indirect supply chains, the procurement department dictates engagement terms with the focus being on best prices for equipment or parts. However, procurement professionals are not compensated for considering longer-term perspectives including how the equipment will be serviced, how the OEM can improve equipment design based on usage information, and how to optimize the value chain for all participants. And, in any case, how would you measure these areas? There are simply too many variables to take into account including how the equipment was being used (or abused), environmental conditions, and buyer objectives. As a result, the buyer retained responsibility for managing and servicing the purchased equipment while maintaining an arm's length relationship with the supplier.
Buyers built their own in-house expertise to optimize the management and maintenance of the equipment they now owned and operated. Whole departments were created, technology was acquired, data was collected and analyzed, and decisions were made. How well a company executed these tasks was part of their competitive advantage. As for the suppliers, competitive advantage was simply a matter of making a better "widget" at the most desirable price point and effectively selling that advantage.
That's now changing. Industry 4.0, the Industrial Internet of Things (IIoT), or whatever descriptor you prefer, is ushering in a wave of supply chain transformation not seen since the days of Henry Ford. Innovations such as advanced wireless sensors and connectivity, secure cloud storage and collaboration, and more powerful analytical tools (such as machine learning or ML) are engendering a fundamental restructuring of industrial value chains. It's not simply a question – as those with a vested interest in the status quo would like to believe – of moving a few chairs around in the executive conference room.
"When competitive advantages don't last, or last for a much shorter time than they used to, the strategy playbook needs to change." ― Rita Gunther McGrath, The End of Competitive Advantage: How to Keep Your Strategy Moving as Fast as Your Business
To help illustrate the kind of change that is coming let's construct a hypothetical scenario. If an organization could have access to the best possible information and expertise should they use it? If they are true fiduciaries for their shareholders (or owners) they certainly should. And, given the hazardous nature of many industrial environments, they also have a responsibility to their employees and the public to do so. The reality is that no organization can assemble all the necessary information and expertise needed to make the best possible decisions at every single point in time. Even if such proficiency could be assembled for one point in time, conditions change, and the required information and expertise similarly evolve.
It's not about returning to the days of Henry Ford and wholly owned supply chains. This was the era of very limited information, communicated – at best – in the form of a telegraph. We are entering an age of ubiquitous data instantly available almost anywhere. This is not only raw data, we now have the ability to create context and visualize data in a manner that limits reliance on organizational HiPPOs (Highest paid person's opinion - Avinash Kaushik first coined the term HiPPO in his book Web Analytics: An Hour a Day). Today, there is no reason to be limited to internal expertise and doing so is increasingly detrimental. We are entering a new era of information sharing and collaboration – the era of the industrial value chain ecosystem.
Value chain ecosystems will be mostly created in response to "outcome as a service" initiatives, sometimes referred as product as a service. Machine builders or OEMs have the greatest incentive to create ecosystems around delivering new value-added services to their customers. However, they will continue to face resistance from customers largely a result of information sharing concerns in addition to internal cultural hurdles (see Organizational Inertia and Data Siloes Are Major Roadblocks). In all cases, success will require strong leadership, vision, and a commitment to technology-driven innovation.
It's not a matter of if industrial value chain ecosystems will be created and become the new business model, it's a matter of when, the potential catalysts, and who the eventual winners will be. One likely scenario is that outside investors, such as private equity firms, will enter and disrupt the industry by buying existing players and restructuring them around new data-centric models. However, the certainty of change renders its means as almost irrelevant. Existing players have an "opportunity to win" in this transition and should resist complacency, a lesson harshly learned in other industries. The time is now for organizations to adjust and understand that collaboration is perhaps the key accelerator of industry-leading innovation.
To learn more about industrial value chain ecosystems as well as what's in store for 2020, join us this Thursday, January 16th for our annual Predictions webinar.

Momenta Partners encompasses leading Strategic Advisory, Talent, and Venture practices. We're the guiding hand behind leading industrials' IoT strategies, over 200 IoT leadership placements, and 25+ young IoT disruptors.  Schedule  a free consultation to learn more about our Connected Industry practice.