Sep 27, 2023 | 5 min read
Christine Seymour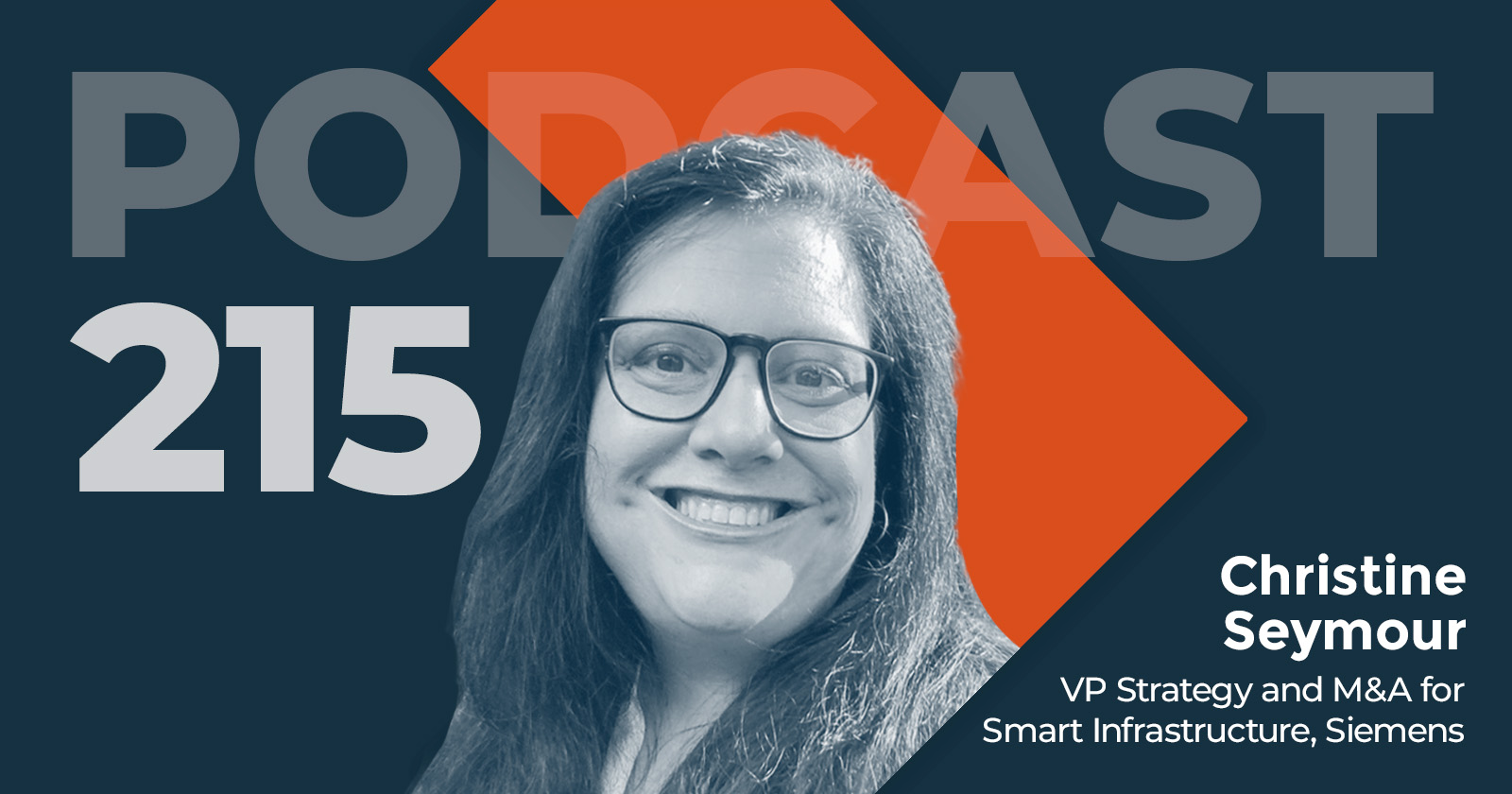 Ken: Good day, and welcome to episode 215 of our Momenta Digital Thread podcast series. Today, I'm pleased to host Christine Seymour, Vice President of Strategy and M&A for Smart Infrastructure at Siemens. Christine calls herself a management consultant in recovery, solving commercial problems with execution, creativity, and teamwork. For the past 23 years, she has led key functions at Siemens, Honeywell, and John Crane to grow revenue and gain share through general management, strategy, marketing, business development, and partnerships. She's crossed chasms, blueprinted services, generated new business models, and established blue oceans. Along the way, rebooting marketing, growing lifetime value, reducing customer acquisition costs, adding distributors, enabling direct selling, launching new products, building brands, and grappling with disruptive technology. Christine is passionate about the future of digital transmission, AI, IoT, smart buildings, connected supply chains, industrial software, and sustainability. She constantly advocates for diversity, equity, and inclusion, or DEI, as it's known. She has been recognized as an outstanding people leader, guiding and coaching top talent and global teams to success. Christine, with that introduction, welcome to our Digital Thread podcast.
[00:02:03]
Christine: Thanks so much, Ken. It's great to be here, and I am excited to speak with you and the Momenta staff. I've been following your podcast for a few years. Thanks for having me.
[00:02:10]
Ken: Great, I appreciate you taking the time. I know it has been a lot of fun to coordinate this, so I'm glad we finally had the opportunity to get together and tell your personal story, but also the story of what you're doing at Siemens now because I think it's all quite compelling. We call this the digital thread podcast, so let me ask you: what would you consider to be your digital thread? In other words, the one or more thematic threads that define your digital industry journey.
[00:02:37]
Christine: I would say that my digital thread is sitting at that intersection of operations and technology. We're adding digitalization now to manufacturing energy or building management, which allows us to predict future asset performance and arm all of our field service and plant floor workers with the knowledge they need at the right time. Three strings braid together for me for that digital thread. My industrial domain expertise is an important part of this, which started very early. Honestly, my dad was an old GE manufacturing guy who later rose in other companies to the rank of CEO, and that means that I grew up spending time in factories, and that affects you. I later applied that DNA to study industrial engineering in college. While I had not been in a manufacturing role for a long, long time, later at Siemens, at John Crane, and at Honeywell, this backdrop- has been able to help me tie the OT to the IT side of the equation and I think that's important. Along the side of IT in the tech side, I love innovation as a strategy, and very early in my career, at the old HP, I started working. That's when I first fell in love with innovation- what technology could do to improve outcomes for our customers and we were applying our tech at that time, which now seems like the Stone Age. But customer problems were part of our strategy and culture, so later, I saw that in action at companies like Siemens.
I joined this internal team, and we consulted with the Siemens operating companies for a few years. I got to travel and see different business models, but innovation was part of the core competence of each of those Siemen's groups, and that was pretty exciting for me to see, definitely formative. Later, I expanded my customer focus, the third string in that braid of my digital thread. I would say that the seamless industrial sector where I landed after doing that consulting is I was able to run a couple of small businesses, I added channel partners and salespeople, and I ran business development, a number of the things you mentioned in the intro. What was happening was that I ended up putting the customer at the core of all my decision-making processes, even when I was headhunted away to move into marketing at John Crane, a Chicago-based industrial company that was working on things in the digital space. I was later promoted to the head of Global Marketing, still the customer centricity, their buyer's journey, and their challenges- so they can understand their operations and predict when a critical pump or compressor might fail; that was the heart of my work. That customer focus has stayed with me for a long time.
[00:05:28]
Ken: What a beautiful triad of experience: the industrial side or OT, innovation or the IT side, and certainly, a strong focus on the customer and use cases. I found it interesting you qualified HP as more IT and very old engineers will remember that HP IB and GP IB was the original bus structure for a lot of data acquisition that became process control system. HP has a much stronger bridge than just the IT side.
[00:05:58]
Christine: That's right. That's absolutely true.
[00:06:01]
Ken: You've got a great track record as an executive change agent across several marquee industrial companies. You mentioned a little about the familial connection, but what attracted you to the industrial space?
[00:06:14]
Christine: Besides what I described before, Ken, the short answer is going to be that industrial's complex, there are a lot of opportunities for improvement, and I think I just like problem-solving, especially the gnarly problems. I genuinely like operations in general. It's not just that I'm an industrial engineer; anyone needs to like operations and want to understand it because that's how you understand what operations customers' jobs are, no matter what software or technology you're selling. Customers are tasked with figuring out how to improve energy efficiency in their sustainability strategy. They need to run for plants- for their workers, for the community. They need to operate and monitor sustainable and smart buildings in the infrastructure space. They want to drive down costs, charge their new electric fleets, and optimize their electrical grids because they're using sustainable energy. You need a bit of operations street cred to help them, not just a shiny new software offering. In this industrial space, digitalization- the mix of core industrial players, the big tech, the Cloud providers, and some of the smaller software startups- is creating an interesting dynamic in the space. Everyone is claiming some level of expertise in digital transformation, and there will likely be interesting ecosystems that develop across all those diverse players to solve some of these big gnarly problems for operators. I hope everyone remembers to bring operations to the table because that's what you need in the industrial space.
[00:07:57]
Ken: Clearly. With your career at that intersection of IT and OT, I know you've seen both sides. Both the catalytic technologies in the form of IT and the real-world constraints, use cases, and outcomes are needed on the OT side. It's a rare skill to truly sit on both sides, and you clearly have that. One of the other things I noted was what I'd generally call professional dexterity. You seem equally adept at marketing, strategy, and general management. To what do you attribute this ability to handle all those types of usually very different personas and tasks equally?
[00:08:37]
Christine: Well, that's interesting, Ken, because I have been called a triple threat before, and whenever that comes up, it makes me a little self-conscious. If I were to say where that comes from and the ability to move to those different types of management and leadership capabilities, being fluid means having deep and varied experiences, so everything I've mentioned earlier has been incredibly impactful for me. I may have always been good at the basics of strategic marketing. Sometimes analysis, horizon scanning, and competitive intelligence are all part of the strategy, but it's a precursor to the tactical side of marketing and demand gen. If you're doing M&A, doing your synergy analysis and portfolio understanding, and how you will manage your business unit or division as a general manager, that is an important building block. I've been lucky to have had some tough assignments and diverse experiences. In an innovation-driven culture, you have to iterate quickly. In performance-driven cultures, the demand is that you have to deliver. I've done both and genuinely liked thinking outside the box on strategy, but I'm a little competitive. I also like to win, which plays well for marketing and P&L management.
[00:09:57]
Ken: If we get to put a point on it, if I look at your time at Honeywell, it's probably a great example of this dexterity. You moved from CMO at their connected industrials group to Head of Strategy at the Connected Enterprise Team. What was your remit there across both roles? What are you most proud of?
[00:10:15]
Christine: Yes, I see the Honeywell Connected Enterprise, the software business there at Honeywell provided a great experience for me. The charter of my first role was in the connected industrial space, so that's that industrial software. My team included a focus on product marketing partnerships, so I created some positioning and target marketing and key verticals, sales playbooks, and the usual things you need to do to carve up your market and do the right strategic marketing. My team supported product launches with the PMs. I did drive industrial portion of the largest strategic plan at that time and got alignment, but I also supported several partnerships, including Microsoft. What I'll probably call out might seem small, but I was most proud- if I really think about it, establishing and hosting an executive-level customer advisory council. A lot of people have customer advisory councils, but if you imagine an insightful circle- global enterprise leaders providing strategic feedback live to your product teams and a number of other people, it's powerful stuff. Then the remit for my next role when I shifted over to strategy for all of Honeywell Connected Enterprise, so now I've got buildings and life science, and I'm looking at a lot of different elements of this. That was mainly focused on the strategic plan, plus very strategic projects. I would support my M&A partner in crime, respond to various special requests, competitive intelligence. I worked previously on partnerships. This continued- I drove a partnership ecosystem strategy within HCE to manage, but it's the go-to-market and the technology side. In addition to countless hours- strategic plan, I'm proud of the framework I created for partnering and gaining that buy-in across the organization.
[00:12:13]
Ken: You recently took your next step up as Vice President of Strategy and M&A for the Smart Infrastructure business in the US for Siemens. Of course, you already had a prior 14-year tenure at the company. What attracted you back to Siemens? What is your key focus?
[00:12:45]
Christine: What attracted me back to Siemens was that I liked how Siemens is walking the talk, and I wanted to be a part of that. My view was from the outside, and it was interesting, especially in the last few years, to see Siemens bringing together this real physical world and the digital world in a number of things that Siemens is doing. I thought about what that would mean for my next few years, possibly pinnacle years as a leader. Since we're integrating our software and our hardware, we're creating smart grids, and buildings operate and run more efficiently; sustainability is huge as a major secular trend, and it's baked into everything. Here we are, walking that talk. We're helping our customers, addressing environmental challenges, saving some money, and being fiscally conscientious, incorporating digitalization into their sustainable solutions. Many of them already have the strategies, just like figuring it out, helping them figure out how to make it happen. Of course, there's always the people factor when you go to a company. This is not only the leadership and teamwork culture that I knew from before, but I also see Siemens as this global player training the future workforce on a broader scale.
Interestingly, we have a lot of programs with apprenticeships, internships, etc., training and development, for instance. Many of the people who went through those programs when I was at Siemens years ago are now in management positions and doing really well, so it's great to see that that plays into it. My key focus- I am now part of this great technology company. This time, I'm focusing on the smart infrastructure side, not as much on the industrial side. I'm leading and driving organic and inorganic strategic projects. I'm excited about that; I found it a very attractive value proposition for me to return.
[00:14:44]
Ken: What a good time to be doing that, given trends of reshoring moves through the energy transition or move to renewables coming out of COVID, the whole idea of remote operations and the new importance of that, so I'd say great role in an already great company but at a perfect time. You talked about the ecosystem earlier. I want to drill down specifically on your M&A role because, in essence, you're watching the ecosystem but also looking to see how Siemens can participate more in specific areas. What sectors and types of companies are you looking for these days?
[00:15:19]
Christine: I can't speak to specifics, but I can talk about some of those companies. As you can imagine, we'll always keep an eye on those businesses out there. Siemens operates in manufacturing, infrastructure, and mobility, so some focus areas exist. They're focusing on a diverse portfolio, so we've always maintained an interest in many sectors and ensuring that we stay at this cutting edge of technology and infrastructure, so that's playing a factor in what I'm looking at and how I'm looking at it. In smart infrastructures, we're interested in startups and established companies innovating in a few areas, like sustainable energy, smart buildings, smart spaces, and intelligent transportation systems. The area important to us in those companies would be companies facilitating digital integration. That's important, bridging that gap between what I described earlier as the digital and the physical or the real world. Another focus area, along with sustainability, is the decentralized energy system. There's a global shift toward more renewables. There are a lot of trends out there, but this is an interesting point in the history of how we use energy and manage that, and so we're looking at businesses that can help enhance great resiliency and adaptability. Just backing up for a second, I'm sitting in the US, and so I'm responsible for this for the US. The US is still seen as the largest market globally, and over the last few years, about four years, we've invested about $400 million to grow our manufacturing footprint in the US and over two and a half billion dollars in acquisition. People might always think of Siemens as a German-based company and making decisions from that, but if you look at our M&A activities in the US in the last four years alone, $2.5, $3 billion, that's certainly impactful.
[00:17:38]
Ken: Yes, it is, and you're right; there is a common notion that you are the leader in Germany and in Europe, but it's interesting to see the US remains large and- continues to grow as an important market for you, especially around energy, which I think is, again, great time. It's also an interesting time to be in M&A because you've got a background where you've been part of this ecosystem in the digital industry space. When I compare today with some of the past activities you've done, where there are certainly very different macroeconomic factors and challenging startup landscapes- how do you see this landscape today compared to your earlier roles in strategy and corporate dev?
[00:18:21]
Christine: Right, absolutely great question. I find it interesting to be in M&A right now; what I view as this critical inflection point with digital plays such a strong role. When I reflect on my journey and strategy, and now adding the M&A, not just supporting M&A, although I've been part of it, driving some of that- today's digital industry space presents a unique blend of opportunities and challenges. As you mentioned, they are shaped significantly by certain macroeconomic dynamics, so this M & A landscape drastically differs from a few years ago. This accelerated pace of technology and change, whether in AI or Cloud or how we manage data, contextualize it, etc., is pretty exciting. Going along with that is a heightened level of due diligence. On the macroeconomic side, especially during uncertain times, this means that what we do on the due diligence has to be even more rigorous than anything we've done before. Hence, we need to ensure two things: we have to make sure those acquisitions will not only align with our current goals, our current strategy, and some near-term expectations but also future-proof our strategies down the road. That means a lot of extra work on the due diligence side and the rigor applied. We also need to balance innovation and the ongoing stability of our investments. Today's startups push the envelope in digital innovation, but sometimes they face challenges in scaling and sustaining their business models. All these previous roles have taught me the value of balancing that fantastic, attractive, innovative spark with some operational stability.
[00:20:20]
Ken: That's a tough balance to achieve. We're venture capital investors, of course, in digital industry, and so think digitalization of energy, manufacturing, smart spaces, and supply chain, and with that in mind, it's not the same VC landscape and or playbook that you're going to work if it's social media companies you're investing in or B to C or pick your sector. Because one very strong incumbent player will always be there, Siemens will always be there, nobody ever got fired for bringing in Siemens, and the same goes for all your peers out there. You've got to work with those giants in well-regulated and very conservative industries. It's a much different playbook you apply here, so he did a good job of talking about innovation and stability. Somebody told me once- there was a startup talking about being a disruptive startup, and he said, "The last thing I want in my factory is disruption."
[00:21:21]
Christine: Absolutely.
[00:21:23]
Ken: Yes, and the same certainly could be said for energy. None of us get excited about that.
[00:21:28]
Christine: That's very true. Very, very true. That resilience is key.
[00:21:33]
Ken: Absolutely, it is. It's interesting. Given the reshoring and energy transition, it's an important crossroad right now, and we'll throw in labor challenges. What are some of the key trends you're watching relative to the future of industry?
[00:21:47]
Christine: There are a lot of them. I'm sure finding them, some of these will be the expected answers. But as we're all navigating this transformative phase, we can focus on many pivotal trends. These will define the next chapter of our industrial revolution. To highlight, we all used to say go global, right? That was a mantra in the 90s. But one of the prominent trends, as you mentioned with reshoring and other things, is this move toward what Siemens actually calls 'glocalization.' Glocalizing to us is this balance between having global strategies and local adaptations. It underscores Siemens USA, which, again, is the largest single market for Siemens, and our commitment to deliver globally consistent solutions. But that doesn't mean everything's exactly the same; those are tailored to address the needs of the local markets we serve. This is important because, with increasing geopolitical uncertainties and macroeconomic trends, there's a shift toward localizing production but still being able to innovate globally. Another trend is around sustainability, no surprise there. Green energy- this energy transition is absolutely paramount, the push toward any more sustainable and renewable energy sources that are driving changes across all of the automation, especially in terms of energy efficiency, grid, adaptability, in many cases, to new sources of energy and how that's managed. Then I'd be remiss not to mention AIML. As labor challenges certainly do, we expect it to persist; AI and machine learning will be pivotal. I see that enhancing productivity, predicting your maintenance needs, and, in general, ensuring quality control are important parts of this digitization combined with automation. Finally, we talk about ecosystems. But I do believe that this future of industry lies in creating a lot of interconnected ecosystems so data ends up being seamlessly shared, processes get optimized in real-time, and businesses can adapt swiftly to the changing market circumstances and the operational circumstances. This is where we work with many of our digital offerings in this space.
[00:24:26]
Ken: Given your bullet there around AI and machine learning, it's interesting to see the impact that generative AI models like ChatGPT have had on the expectations of OT leaders and workers. If I can do it at home on my browser, why can't I ask my factory how to run it more effectively?
[00:24:47]
Christine: Absolutely.
[00:24:49]
Ken: For us and our startups, we're about 50 portfolio companies, and increasingly, they are all getting that same question. How can I apply this? How can I have user experiences that more closely mirror that those ChatGPT? I suspect that will drive an awful lot of at least raising the bar exercises.
[00:25:09]
Christine: Absolutely, I agree with you. The AI and what we're working on with that is driven by operations and the intense focus on more productivity, constantly improving where you were last year, last quarter, it has to get better next time. AI is going to be a big part of making that work.
[00:25:31]
Ken: Yes, and I think rightfully so; you talked earlier about augmenting labor and enhancing labor productivity, which will continue to be key. Call it the digital equivalent of robots or cobots, probably. We certainly see the same. Let's shift gears. You constantly advocate for diversity, equity, and inclusion, or DEI. I appreciate that, especially given that the industrial space we tend to operate in is still very male-dominated. Can you tell us about this passion and how you brought this to the companies you work with?
[00:26:06]
Christine: My personal passion for DEI started very early. A lot of women of my generation, we're in college, we saw that less than one in five of the engineering students were women, and if you look at the statistics, at least in the US for engineering graduates, they haven't improved that much since, hovering at or below about 20%. Then you look at other diversity groups and see it's been even worse for Hispanic engineering graduates, around 12% or 13%, and African American engineering graduates, only around 4% or 5%. That's when it started that there wasn't a representation of everyone in this wide and exciting field. The statistics on the computer science majors are similar to the engineering numbers. Later, when I was at Siemens, years later, I was able to help create and lead multiple- we had a lot of different women's affinity groups. We drove out to one cohesive Women's Information Network at Siemens that drives collaborative efforts, mentoring, and other programs. It's fun to come back to Siemens and see that it's still active over a decade later. I'm proud of that. On a personal level, I'll be honest; I've had the honor to mentor diverse mid-level leaders and early career high potentials. I enjoy doing it, and even if you don't have very many diverse people on your own team, mentoring others forces you to co-create, step out of your comfort zone a bit, and do that work with people from different backgrounds.
They have different experiences in their life than you have, and once you've done that and become comfortable with it, it's easy to become an ally. Allyship is part of the DEI story, and we have to keep that in mind in the industrial and technology spaces because you don't always see as much diversity as you would expect or see in other markets or industries. If you're in a meeting, once you've become an ally, you're actually more naturally and subconsciously valuing input from every single person on your video call or in the conference room, especially those not in the majority. You will stop and ask them to speak up. This diversity of thought is driving strong decision-making and better teams. When you're doing that, it's forcing everyone around you to acknowledge some of their own unconscious biases, which I firmly believe in, to be aware of, recognize, and work and combat it. Siemens today still has, and this is partly why I was happy to return to a workplace that is striving both on the evidence side with the policies and the practices for inclusive and equitable attitudes, and that's driving cultural messages. All of this reinforces the importance of diversity. It's embedded in our business goals. In fact, it drives how we work with our partners, hire talent, build teams for projects, and even interact with our customers. Here's this big, global, multicultural technology organization in Siemens that's empowering all of our people and encouraging the growth mindset I have discussed.
[00:29:32]
Ken: Traditionally, DEI has been a- forgive me for saying this, but a 'nice-to-have.' It's one of those goals we want to achieve in terms of balance. But I'd offer with the labor challenges. If countries continue to re-shore and want to continue to grow, it is now an absolute necessity. It's interesting to see the EU Commission; our listeners will know we're fond of the Industry 5.0 efforts they've been pushing. One of the three pillars there is human-centricity. Originally, we thought, okay, it's interesting. Basically, making sure that automation is put there to augment humans. But what the story that comes out as you talk with people working in this is inclusion. It is a mechanism for inclusion and equality on the factory floor. Why should your muscle dexterity determine the jobs you can do on the factory floor? Automation should be able to help augment that.
[00:30:25]
Christine: It's interesting that many governments and other organizations are driving this. It behooves all of us to look at what we're doing on the AI side and ensure that we're combatting and preventing any bias from getting baked into that before we roll it out. Because at the end of the day, that is impacting the people that are going to be doing the work, we have an opportunity here to make sure that we're open and inclusive when creating that AI.
[00:30:58]
Ken: Yeah, definitely a great point. It brings a whole new strength to this idea of inclusivity. You'll see a lot more of that, especially relative to industry. Final question. I always like to ask: where do you find your inspiration?
[00:31:14]
Christine: Ken, I'm mostly inspired by some of these incredible individuals that I have been privileged to work for, to work with, and some of the people I have managed. There are many stars from many fields of software consulting, strategy and corporate dev, engineering, and operations. I often think of them when I need inspiration for a tough decision. I ask myself, "What would Stewart do here? Or Judy? Or Pierce? Or Patrick? Or Anne?" Those people are like my personal virtual board of directors that I think of, and they are very inspiring leaders.
On some of the other inspiration, I do love to read. In books, good stories never fail to inspire me. From way back when "Soul of a New Machine" won a Pulitzer to a more modern-day story on "Moneyball." I love all of that because there's a story to it. A business author focuses on writing business books in the form of a story that's a fable, Patrick Lencioni. Patrick's been successful with many of his books, partly because they're easy to read. Also, his "Five Dysfunctions of a Team" is probably his biggest bestseller, but honestly, he's written so many good ones, and I think that "Death by Meeting" should be mandatory reading for anyone who is in a leadership role. It's a great little book on that. There are so many books, so little time, Ken. I can throw in "Blue Ocean Strategy," "The Lean Startup," and "Business Model Generation," I love all of those. But there's not a lot of time, and I like podcasts and audiobooks, so of course, Momenta's "Digital Thread."
I've been able to find inspiration in some of the different TED audio channels because you have a lot of people from different areas, not only business, and I like to look at what's going on with society and also with the psychology of the self and how we can drive leadership. Some popular ones, like Brené Brown and Simon Sinek, are out there. There are a lot of quick doses and inspiration, even if you only have 15 minutes. I'm a big fan of Brené Brown, especially her book, "Daring Greatly." That's definitely worthy of the inspiration bookshelf all by itself.
[00:33:27]
Ken: Wow, speaking of a bookshelf. Now I know where you get your professional dexterity; it's your intellectual diversity. That brings it all together and closes the loop on it. Christine, it's been an absolutely great conversation. I appreciate you sharing your time and insights with us today.
[00:33:44]
Christine: I appreciate it, Ken. Thanks so much, and I'm glad we could make this happen.
[00:33:47]
Ken: Absolutely. I am as well, and I know we've known each other through several steps of your career. I know the best days are ahead regarding your accomplishments, so I look forward to joining you on that journey. This is Christine Seymour, Vice President of Strategy and M&A for Smart Infrastructure at Siemens. Thank you for listening, and please join us for the next episode of our Digital Thread podcast series. We wish you a momentous day. You've been listening to the Momenta Digital Thread podcast series. We hope you've enjoyed the discussion, and as always, we welcome your comments and suggestions. Please check our website at momenta.one for archived versions of podcasts, as well as resources to help with your digital industry journey. Thank you for listening.
[The End]
Connect with Christine Seymour
Christine's Recommendations: Books and Other Resources
Christine's passion for reading drives her inspiration. She enjoys captivating stories in books like "Soul of a New Machine" and modern tales like "Moneyball." She's particularly fond of business authors like Patrick Lencioni, who tell stories about leadership through books like "Five Dysfunctions of a Team" and "Death by Meeting." Titles such as "Blue Ocean Strategy," "The Lean Startup," and "Business Model Generation" are also sources of inspiration. However, due to time constraints, she opts for podcasts and audiobooks, such as Momenta's "Digital Thread," for convenient learning on the move.
She also finds inspiration through TED audio channels, exploring a wide range of topics beyond business, including societal issues and self-psychology in relation to leadership. Well-known figures like Brené Brown and Simon Sinek provide short bursts of inspiration in 15-minute sessions. Brené Brown's book, "Daring Greatly," deeply resonates with her and is a strong candidate for her inspirational bookshelf.