Dec 18, 2018 | 4 min read
Portfolio Insights
FreeWire Technologies - From Innovation to Execution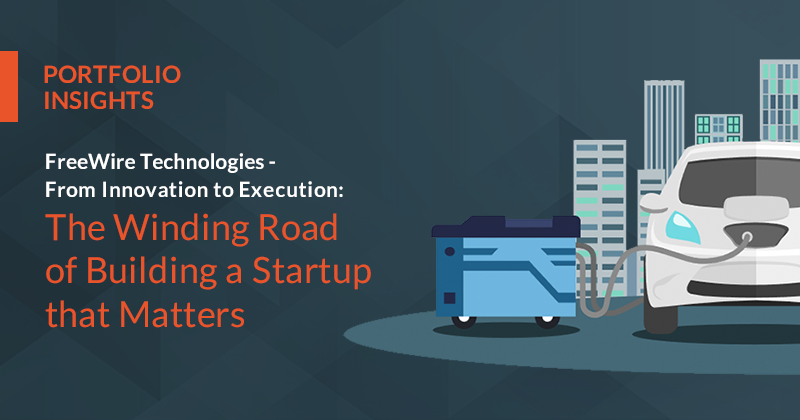 The Winding Road of Building a Startup that Matters
At Momenta we bring a unique combination of experience to help founders and management teams meet the challenges of building and sustaining start-ups, enabling companies to realize their full potential. We're proud of our portfolio companies and in the coming months we will be featuring the insights and experiences of a portfolio company. It's a great opportunity to share their first hand knowledge with the Momenta Community.
This post is guest written by Arcady Sosinov, CEO of FreeWire Technologies. Their mission is to support the increasing demand for clean and quiet power in an infrastructure light way. The way people consume energy is changing, and as demands on infrastructure increase, so will the need for more power in more places, at higher speeds with lower costs. FreeWire has developed the first truly standardized energy storage system, bringing a clean energy solution to dozens of markets, applications and business models. It provides comprehensive solutions for energy delivery and energy management to its customers and enables new applications and business models for them. FreeWire works with a wide range of customers from Fortune 500 companies to Universities in Asia, North American and Europe and has been selected as a Top100 Cleantech company in 2018. The company recently finished a successful Funding round, their partners including Volvo and BP.
Arcady Sosinov

CEO
FreeWire Technologies
Starting a venture-backed business is the most rewarding decision I've taken in my professional career. And as we all know it can be stressful and pivotal in any aspect. But interestingly and unexpectedly, the early days of conceptualizing, proving out business models and building the first products in hindsight aren't the crucial period in building a sustainable company. It's transitioning from innovation to execution that is exponentially more challenging, and if done right, exponentially more rewarding.
Especially in the Bay Area – but also true to various degrees around the world, a large network of resources such as incubators, accelerators, and maker spaces are available to those who've chosen to chart a path as an entrepreneur. And companies, especially large corporations, are usually open and willing to cooperate with early trials and have specialized Strategy and Innovation teams that foster relationships with companies such as FreeWire. It is however a false sense of accomplishment to believe that a trial, be it successful or not, elevates a startup to the ranks of established and known companies. It gives brand recognition and it proves technology in a smaller scale. The actual hurdle an entrepreneur must make is to become a relevant partner that is considered trustworthy and reliable enough to be a crucial part of another company's or public entity's operation.
We have been fortunate with our investor and partner structure. We have succeeded in deploying technology that our customers depend on. But all too often in the past after inspiring and fruitful conversations we struggled to convince the core business to consider us for larger rollouts, for mission critical applications. Small scale innovation is easy to sign off on whereas larger leaps are all too often avoided. "Play it safe" is the strategy; after all, no one gets fired for choosing IBM (or in this case, ABB or Siemens). Unfortunately, hardware-centric startups are especially vulnerable to this behavior.
At FreeWire we have a radical approach to design and customer focus. We want to build products that make a difference so we take a different angle towards common problems. But a different angle from a conservative perspective just sometimes seems risky.
The Importance of Operational Excellence
The breakthrough for us – and that is the lesson I learned and want to share - was to heavily invest in operational excellence. To prove to our partner that we can be considered for more than just their innovation budget. That our products matter and that we know how to manufacture, implement and service them at scale. It's a fine line between agility and process that we had to find and more importantly that we need to maintain. My advice to early and mid-stage startups is to think about scale early and to make operations a key part of your strategy. Be creative, be different, be energetic, be enthusiastic about what you are creating. But at the end of the day, make sure you have the operational capacity to deliver. It is the crucial component to build a company that matters and that will matter.
For regulators, large companies, for public companies my advice is to connect startups with your core business early. The lessons that both can learn from each other are limitless and extremely valuable. You may find a trusted partner that exceeds your expectations in larger rollouts, in mission critical applications that would otherwise have stayed under the radar for too long.

Momenta Partners encompasses leading Strategic Advisory, Executive Search, and Investment practices. We're the guiding hand behind leading industrials' IoT strategies, over 100 IoT leadership placements, and 17+ young IoT disruptors. Schedule a free consultation to learn more about our Connected Industry practice.