Apr 16, 2020 | 5 min read
Insights
Digital Industry Pulse Check #14
Posted by
The Momenta Team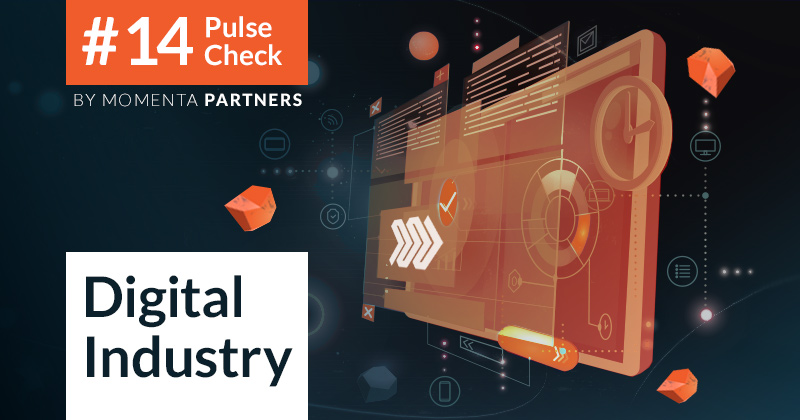 Momenta Partners' Pulse Check series highlights recent and notable Digital Industry developments. Our monthly Pulse Checks are designed to help keep you abreast of the evolving trends within the global Digital Industry. As enterprises increasingly embrace and rely on digital, we want to help you keep pace with the innovations and occurrences propelling entire industries into the future.
In this Digital Industry Pulse Check, we look at a notable investment, two new partnerships, a solution launch, a recent IDC report and more.
IDC report details COVID-19 predictions
IDC recently released a report detailing COVID-19's expected impact on the semiconductor industry. The report posits that a there is an 80% chance of significant contraction in semiconductor revenues. IDC further estimates that year-over-year revenue growth for the semiconductor market would be around -6% in 2020. IDC's release interestingly noted that companies should continue to focus on advanced technologies such as 5G, IoT, and edge computing in order to rebound post-crisis.
Cisco and Microsoft announce collaboration
On March 3rd, technology giants Cisco and Microsoft announced plans to collaborate in an effort to integrate and expand their IoT solutions. The solution will provide enterprise customers with the hardware, software, and cloud capabilities necessary for deploying IoT.
For customers, the partnership should be viewed favorably as it combines the capabilities of two of the most prominent global technology companies. The collaboration enables each provider to leverage strengths of the other. Generally, customers also benefit from these kinds of collaborative solutions as they potentially eliminate the complexity involved in selecting/cobbling together appropriate tech solutions.
Global M&A Reset
Last week, the M&A Leadership Council shared insights from an executive survey. In the short term, 50% of deals are on pause and valuations are being reexamined, PEs are securing and protecting their portfolio and corporates are accumulating cash resulting in the lowest number of deals since 2013. For in-progress deals, integration is paused to focus on the core business with a reevaluation of the synergy impact. Mid to later this year, the PEs will start looking for bargains as will the corporates, but the latter will have a laser focus on synergy with their core business. As a result, companies looking to exit should work with advisors to help them with positioning, market level and pre-deal optimizations.
CRN debuts list of "The 10 Coolest Industry IoT Companies of 2020"
Industrial IoT companies are constantly trying to improve procedures and revenue streams, and thus CRN recognized the top 10 coolest IIoT companies of 2020. Featured here is Momenta Ventures portfolio company Litmus and Advisory portfolio company Schneider Automation.
Inseego announces new investment
On March 10th, IoT and 5G solutions provider Inseego announced the closing of the sale of $25 million in Series E preferred stock to Mubadala Capital. Inseego provides customers with enterprise software as a service (SaaS), IoT, and mobile solutions. The company advertises its solutions as enabling asset tracking, fleet management, IIoT, SD-WAN, and mobile broadband.
NEC and Siemens set to partner over manufacturing solution
On March 9th, NEC and Siemens announced they would be collaborating in an effort to enhance digitalization within manufacturing. The two companies will be delivering a monitoring and analysis solution that combines Siemens' MindSphere, a cloud based open IoT OS, and NEC's System Invariant Analysis Technology (SIAT), a part of the company's AI portfolio. The offering will initially be focussed on the manufacturing industry with an intent to expand to other sectors.
The providers advertise the collaboration as enabling total data collection, storage, monitoring, and analysis for customers. MindSphere works to collect the accrue sensor data and SIAT subsequently provides automatic data monitoring and analysis.
KORE unveils new vertical IoT strategy
On March 24th, global IoT provider KORE announced the implementation of a new IoT strategy focussed on specific vertical markets. KORE is set to launch five specific industry solutions: KORE Health, KORE Life Sciences, KORE Assets, KORE Fleet, and KORE Industrial IoT. According to KORE, the solutions will enable customers to primarily focus on end-user customers while KORE focusses on the "behind-the-scenes" of IoT solutions.
KORE also notes that its new strategy is partially enabled by two of its relatively recent acquisitions. In December 2018, KORE acquired ASPIDER-NGI, an advanced connectivity, network, and eSim solutions provider. ASPIDER-NGI's capabilities will help KORE with its large-scale industrial deployments. In December 2019, KORE acquired Integron, an IoT solutions/tech provider focussed on the healthcare, pharmaceutical, and life sciences industries, a move that helps boost KORE's health IoT solutions.

Unlock the Power of Digital - Momenta Partners encompasses leading Strategic Advisory, Talent, and Ventures practices for Digital Industry. Learn more about our three practices.