Dec 22, 2020 | 5 min read
Momenta's Take #21
Technology in 2020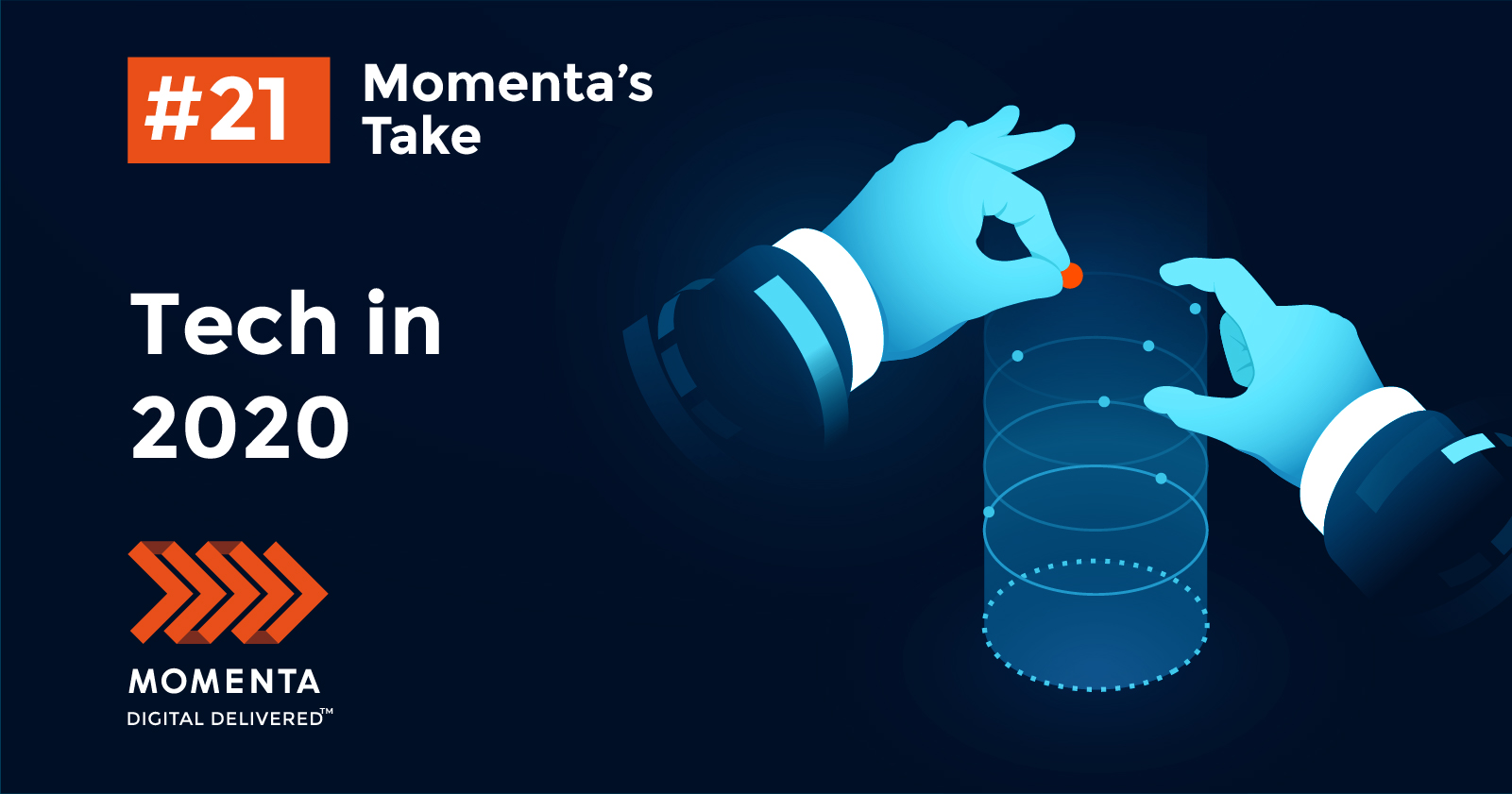 A Bounty Year for Technology

While 2020 created unprecedented challenges for businesses in the travel, entertainment and hospitality industries, technology benefited from powerful secular forces arrayed in its favor. With the rapid adoption of work from home practices in response to lockdowns and travel restrictions, businesses of all sizes relied on collaboration technologies and cloud based applications. This has fueled a boom in the value of tech companies, with giants like Amazon, Facebook, Google enjoying record valuations, with the "Zoom boom" driving strong market performance from SaaS companies, Content Delivery Networks and other related businesses. While tech has been in favor with consumers and investors, there is growing focus on the competitive practices of Big Tech leaders, along with anti-trust litigation that will shape the tone of 2021.

The capital markets have also been highly receptive to new IPOs, with three of the largest IPO's for U.S. tech companies taking place in 2020. Snowflake, Airbnb and DoorDash were the largest of the year, but valuations have been rich and investor appetite still hungry for more.
There are growing signs that there is an IPO bubble however, with money flowing into recent IPOs from new investor on platforms like Robinhood and funds that specialize in IPOs. The reason for concern is the rich valuations, with hearken back to the height of the Dot.com bubble – Snowflake, the cloud data warehousing firm recently traded at a multiple of 95X 2021 estimated sales. Despite the solid fundamentals for cloud and data analytics, sustaining valuations at these levels is a stretch, and 2021 could be a challenge to sustain similar gains. That said, the infusion of additional stimulus cash into the economy could provide an additional tailwind to the equity markets.



SPACs Ascendent

While 2020 was a good year for tech IPOs, it was even better year for Special Purpose Acquisition Companies (SPACs). SPACs are companies with no commercial operations that are established solely to raise capital from investors in order to acquire one or more operating businesses. Until a couple of years ago they were a small part of the investing landscape, but popularity has exploded recently. According to Renaissance Capital there were 200 SPACs in the US that raised about $64 billion.

SPAC's are coming to tech. SoftBank has filed to raise $525 million via an IPO of its first SPAC, and is said to be prepping at least two additional SPACs. SoftBank has never before raised a SPAC, but it is portfolio company OpenDoor agreed in September to be acquired by a SPAC for $4.8 billion enterprise value.



Europe to play Catch-Up

According to Refinitiv data, there was a record $81 billion of initial public offering (IPO) proceeds this year so far in the U.S. In contract, European IPOs raised just $19 billion in 2020, the lowest in at least a decade, partly because of more attractive alternatives on offer such as private equity deals. There are a number of European tech companies targeting IPOs in 2021, but it's not clear yet whether new listings will go to local exchanges, to the US for a larger pool of investors, or whether SPACs will provide an alternate avenue for companies to go public.



Big Tech - Antitrust and Backlash

Despite Big Tech's robust success, or because of it, there has been a growing backlash from regulators seeking anti-trust relief to curb some of the market power of the big firms – and this is likely to define the tone of 2021. The US Federal government and states are taking aim at two of its largest companies with antitrust lawsuits and an influential Congressional report raises the question whether new legislation will force the sector's giants to change their business practices. Facebook in particular faces the prospect of being broken up after the Federal Trade Commission and 48 states filed separate lawsuits that target its efforts to protect market share by buying two large social media rivals Instagram and WhatsApp.

Amazon, Apple, Facebook and Google have come under intense scrutiny for their dominance of online commerce, digital apps, social networking, and internet search and advertising continues. Meanwhile, concern over the safety and use of data mined by technology firms remains top of mind for both consumers and regulators in the US and Europe. The debate over the merits, practicality and ultimately the effectiveness of regulatory efforts to curb Big Tech's dominance will continue – and we expect the ongoing litigation to highlight critical questions – but not necessarily any resolution.


Momenta delivers digital transformational innovation, growth and leadership across energy, manufacturing, smart spaces and supply chain. As deep Digital Industry Practitioners, we help companies grow through one-stop advisory, M&A, executive search and venture capital services. Feel free to schedule a call to explore your company's Digital potential.