Jul 19, 2023 | 4 min read
Suhas Patel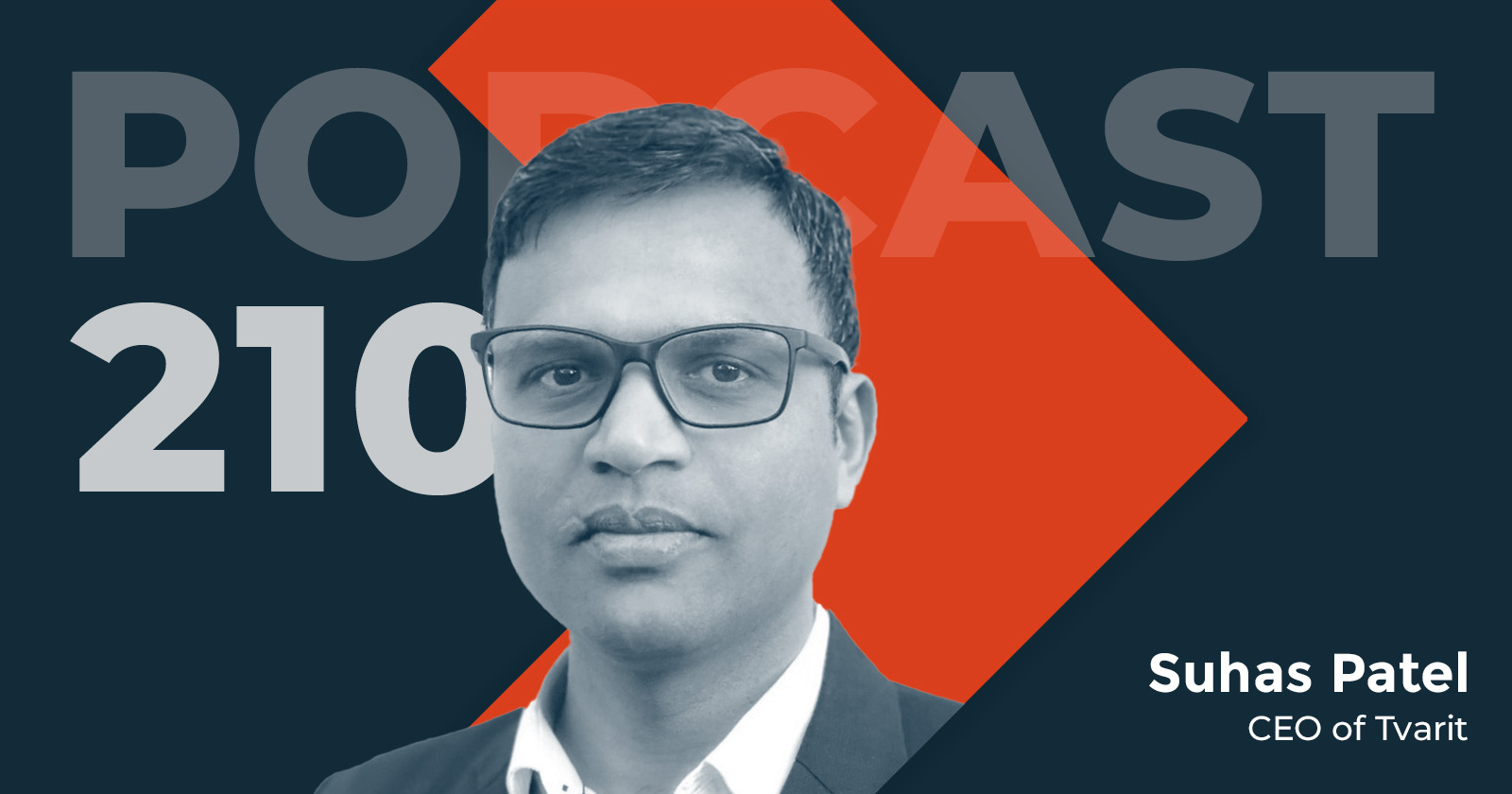 TRANSCRIPT
Ken: Good day, and welcome to episode 210 of our Momenta Digital Thread podcast series. Today, I am pleased to have Suhas Patel, CEO and founder of Tvarit, a German startup focused on reducing scrap and energy waste for metal manufacturing companies. Momenta is a recent investment in Tvarit, having led the Series A round. With a passion for sustainable and zero-waste manufacturing, Suhas has set up and steered greenfield factories in metal processing, densified biofuel, and packaging machinery. His early R&D experience with Qualcomm and Intel groomed him to set up and lead world-class tech startups. He considers himself a business-driven philanthropist, actively mentoring startups in his ecosystem. Suhas serves as President of TiE, the German chapter of a Silicon Valley-based entrepreneur organization. He was recently nominated as an ambassador of GINSEP, G-I-N-S-E-P, a bilateral startup exchange program supported by the German Federal Ministry for Economic Affairs and Energy. He serves on the board of the Sustainable Manufacturing Alliance at EU Tech. Suhas holds a bachelor's degree in computer science from India and a Master's in Telecommunications from France. Suhas, welcome to our Digital Thread podcast.
[00:01:56]
Suhas: Thank you, Ken, for the warm introduction. It's a pleasure to be here on Momenta's Digital Thread podcast, joining esteemed professionals and thought leaders in digital industry and transformation. I'm thrilled to have this opportunity to share insights and discuss our work at Tvarit. First and foremost, I want to express my gratitude to Momenta for its support and investment in Tvarit. It's an honor to have Momenta as a partner in our journey to revolutionize the metal industry through sustainable practices and waste reduction. I'm excited to dive into the discussion on digital industry, the impact of technology on manufacturing, and the innovative solution we offer at Tvarit to address scrap and energy waste in metal manufacturing companies. Together, we can drive the industry's more sustainable and efficient future. Once again, thank you for having me, and I look forward to a fruitful conversation on the Digital Thread podcast.
[00:02:54]
Ken: Wow, that was nice, Suhas. I appreciate that. Yes, this was not a sponsored endorsement. Unbeknownst to me, it was coming, but I appreciate it. Look, we are honored to be a key supporter of you guys and, more importantly, the industrial impact you are having in your home country, Germany, but obviously across Europe and globally. I look forward to digging into that. We call this the Digital Thread podcast, so we think about it as one's digital thread, how you got to where you are now. What would you consider to be your digital thread?
[00:03:34]
Suhas: Ken, my digital thread started with a metal processing factory. It was a greenfield project. When I looked at the balance sheet, 30% of the production cost came from the energy bill, and 60% was attributed to the scrap generated in the production. Initially, we worked with pen and paper, logging every important parameter. At the end of the day, I used to sit with my production manager to check the possibility of optimizing using fishbone diagrams. We needed to observe more parameters, and we started using various formulas in Excel. We saw a small uplift in profitability. As we progressed in the following two years, I started developing a small software that was helping me analyze the production, energy, and scrap losses. I was laser-focused on reducing avoidable losses to zero. I observed that if I target reducing only the avoidable losses, my profitability will increase by 20% to 30%. This intrigued me to explore more opportunities to increase the profitability of my factory using digitalization.
The second thread was a meeting with my co-founder Rahul. When I met Rahul- I met him at one of the entrepreneurial events organized by TiE, where I was a president. Over some time, we started exploring ideas to combine my manufacturing background and his deep tech and digitalization knowledge. Tvarit- our journey in the digital industry is defined by the relentless pursuit of revolutionizing the foundries and metalworking sector. Our flagship solution TIA, powered by patented potential industrial AI technology, lies at the core of our digital thread. We firmly believe in the potential of AI to shape a sustainable future while driving operational excellence.
[00:05:30]
Ken: There was a movie several years ago, out of a Michael Crichton novel called "Moneyball." Of course, it was about the application of deep analytics toward US baseball- the Oakland As in this case. Of course, a good movie with Brad was part of it as well. But in some ways, as venture capitalists, we always describe our new investments across the team, and somebody, I believe it was Rohit at the time, when he was presenting your initial investment proposal, who said, "It's Moneyball for metal casting."
[00:06:04]
Suhas: That's true, yes.
[00:06:05]
Ken: What you've just said about your digital thread comes right into it, both the intersection- but your own experience, how you were already applying a very analytical approach toward your manufacturing journey. Not surprising because in the bio, we mentioned that your early work with Qualcomm and Intel, over ten years between those two, had groomed you for founding and leading Tvarit. Can you say a little about how that DNA helped you in Tvarit?
[00:06:30]
Suhas: Certainly, my tenure at Qualcomm and Intel, spanning over ten years, significantly contributed to my preparation for founding and leading Tvarit. The diverse experiences I gained at these renowned technology companies were instrumental in shaping my entrepreneurial journey. While at Qualcomm, I had the privilege of working at their UMTS R&D center in Germany. My role involved technical sales of the revolutionary mobile technology called MediaFLO. I was responsible for showcasing the technology to key stakeholders across Europe, South America, and the Middle East. This experience gave me invaluable insights into disruptive technology development and marketing.
Additionally, I learned the intricacies of engaging with government regulators to advocate for spectrum allocation, a crucial aspect of introducing new wireless technologies into the market. Secondly, following my journey at Qualcomm, I transitioned into Intel, where I served as an independent consultant. In this capacity, I was entrusted with the vital responsibility of ensuring the quality assurance of Intel's low-power devices. This role deepened my understanding of the importance of quality control and the rigorous processes required to deliver high-performance products to customers. This combined exposure to the dynamic technology landscape at Qualcomm and Intel and the rigorous quality assurance practices at Intel honed my technology development skills, marketing, and maintaining the highest standard of product excellence. This experience has provided me with a solid foundation for navigating the challenges of entrepreneurship in the digital industry. Founding Tvarit was a natural progression for me. Qualcomm and Intel are both deep tech companies. It allowed me to open my vision that the most complex challenges can be solved with technology.
My manufacturing background gave me insight into the real challenges of metal manufacturing plants, which they face daily. The insights I gathered from working with disruptive technology, engaging with regulators, and ensuring product quality have been invaluable in guiding Tvarit's approach to delivering innovative AI solutions to the foundries and metalworking industries. This whole experience combined Intel, Qualcomm, and my metal plant as the base for Tvarit.
[00:09:03]
Ken: I can clearly see that. What's interesting is you jumped from Qualcomm and Intel after ten years to manufacturing in 2010. Co-founder, Head of Production for Giriraj Speciality. What attracted you to the metal manufacturing industry? What were some of the learnings here that inspired you to create Tvarit?
[00:09:21]
Suhas: Yeah, so Giriraj Speciality Private Limited- this is the metal processing plant I started. The pivotal moment in my career was when I made the leap into metal manufacturing in 2010. Co-founding GSPL, which is Giriraj Speciality Private Limited, and serving as a head of production allowed me to embark on a journey that would shape my path and inspire the creation of Tvarit. What attracted me to the metal manufacturing industry was the incredible transformation that takes place when molten metal is converted into a stabilizer for the plastic industry. Witnessing this process firsthand ignited a passion for the intricate world of metal processing, and it is the world where the raw material undergoes a metamorphosis, giving birth to essential components and products that fuel various industries. At GSPL, I assumed multiple roles- from the founder to the plant manager to the software engineer. Wearing these hats provided me invaluable insights into the challenges faced by manufacturing plants on a day-to-day basis.
I was responsible for maintaining profitability, ensuring high overall equipment effectiveness- OEE, and optimizing production processes. To overcome these challenges, I delved into data analysis and modeling. I designed detailed statistical and financial models that allowed us to make informed decisions and identify areas of improvement- maximizing efficiency. This experience served as a bedrock for the genesis of Tvarit. The learning which I gathered from GSPL and the successful exit, which we did in 2020. For all its investors- this instilled in me a deep sense of accomplishment. It reinforced my belief in the transformative power of technology and data-driven approaches within the manufacturing industry. As I said earlier, in GSPL, when we started the factory, it was like pen and paper. We were doing all the analysis on paper. Then we moved to Excel, and then we developed our own software. This analytical approach was helpful in Tvarit as well.
[00:11:30]
Ken: All of this, of course, brings us up to Tvarit, spelled T-V-A-R-I-T for our listeners, which you founded in 2019. What is Tvarit's value proposition?
[00:11:43]
Suhas: Ken, Tvarit's value proposition lies in its proposition as a world-leading deep tech company at the forefront of industrial AI solutions for the foundries and metalworking industries. Our ultimate vision is to realize sustainable and zero-waste manufacturing for our customers. We strive to empower manufacturers worldwide to achieve maximum overall equipment efficiencies with minimum waste and energy losses, revolutionizing production planning with a focus on energy efficiency. This transformation is made possible through our cutting-edge AI technology, which is known as TIA. T-I-A Tvarit Industrial AI. Under TIA, we offer two flagship products, PsQ and PsE. The first product is PsQ, which is a software-as-a-service offering. PsQ means prescriptive quality, and it provides real-time AI-based prediction and prescription to minimize scrap, benefiting casting operators, process engineers, and production managers. With PsQ, we have achieved remarkable results, delivering over 50% reduction in scrap for our plants. On the other hand, PsE, our second product, addresses the need to reduce energy waste. This SaaS offering visualizes energy consumption and provides real-time alerts and recommendations based on AI for saving energy. Prescriptive energy, PsE, has proven to be highly effective, resulting in an average reduction of 15% to 25% in energy consumption for our customer plants.
What sets Tvarit apart is our immediate impact on our customers' operations, scalability, and continuous learning capability. Our solution can be seamlessly scaled from a single machine to an entire plant. As more data is transferred into our model, they become increasingly intelligent and accurate. With over 25 data experts, three successful product launches for the smart factory, and more than 50 metal plants impacted, Tvarit has solidified its position as a leader in the metal casting industry. We are serving clients having plants in nine countries across five continents, and through our innovative solutions, we have saved our customers a staggering €14 million. Tvarit's mission is also clear: to drive the digitalization of the metal manufacturing industry. Our metal AI platform, already deployed in over 50 plants, offers ready-made AI models for various sub-segments such as die casting, hot metal rolling, cold forming, and metal joining processes. It provides comprehensive connectivity, traceability, and analytics solutions, covering crucial aspects like energy optimization, defect prediction, prescriptive maintenance, and supply chain optimization for the metal manufacturing plant. At Tvarit, we are driven by the belief that the potential of AI in sustainable manufacturing is unlimited. Our value proposition lies in our ability to empower manufacturers to embrace a future of efficient, sustainable, and forward-thinking practices fueling their success, creating a positive impact in the industry, and evolving at a large level.
[00:14:51]
Ken: Let's put a point on it for our audience. What have been some of your notable use cases and wins?
[00:14:58]
Suhas: Tvarit had numerous notable use cases and wins, marking our continued success in industrial transformation. But let me take one example in the metal casting industry.
In the casting line, there are 12 steps. It starts- you receive the ingot, the metal, in the factory. You melt it, then it goes into the degassing cycle, and then it goes into the holding furnace, the casting, the heat treatment, etc. There are 12 steps, as I mentioned. Let's take the example of the casting process itself. The casting process is a very, very complex process. The part produced is also complex; it is impacted by the molten metal temperature, how the degassing is done, and how the geometry of the mold is also impacted.
What we did for the casting industry is when the molten metal is taking shape in the mold, there is a variation in pressure when the metal is injected. This pressure injection, the molten metal injection into the mold, is done by compressed air. If there is a leakage in the air, the molten metal in certain parts creates bubbles, and it does not reach all the parts of the mold. That means we need to increase the temperature of the mold to keep it liquid. That means that it requires more energy. If there is a bubble, the part is cracked.
With our software, we recommended to our clients how to optimize the process so that the scrap is reduced in the casting process. We could reduce, as I said, more than 50% of scrap in the casting process and more than 18% energy bill for our clients in the casting process itself.
[00:16:41]
Ken: It's quite an impact that you've had. In fact, what attracted us to Tvarit was the idea of industrial impact. It's not just on productivity, which clearly, you're doing, but also the positive impact you are having on IT and people, specifically in the metal casting industry in Germany and wider Europe. What is that industrial impact?
[00:17:03]
Suhas: Yeah, sure. There are 45,000 metal casting plants worldwide. If you consider Germany, Germany has 513 metal casting factories, providing huge potential. Now, let's consider a very conservative number, the average size of a 50 million turnover for a factory, and then that makes industry 25 billion turnover in Germany itself, minimum. If we consider Europe, we can even consider four times higher, which is 100 billion. The impact we have created in one plant is 900 metric tons of co2 saving per plant per year; we have proven this for our clients. Now, if you consider Germany itself that all the plants, which means half a million tons of co2 saving, which we can do that in Germany- and if we go Europe-wide, it is conservatively four times higher. It's 2 million tons of co2 savings that you can achieve within Europe.
That's the impact that we are talking about. Now, the advantage for Tvarit is being niche. There is no other solution focused on the casting industry very specifically. We can impact this plant. We are the one industry-leading solution for the casting industry. These 2 million tons of co2 savings are the impact we can create across Europe in the casting industry. We are not talking about other metal processes, only in casting.
[00:18:32]
Ken: That is a phenomenal impact that you're having. You mentioned metal casting to be a very conservative-rolled industry in terms of its uses of technology. How do you know when an organization is ready to adopt your solution? What best practices are- or have you seen in realizing the potential value of your solution?
[00:18:53]
Suhas: You are right. In the industry, many factories are not ready to adopt artificial intelligence. They have their own challenges, and determining the readiness of the organization to adopt our solution involves assessing their progress across different levels of preparedness. We have identified five levels, each indicating a stage of readiness for adopting our AI solution and realizing its potential value.
If you consider level one, it is a data-aware organization. At this level, understand the importance of digitalization and recognize that AI can address their day-to-day challenges, such as scrap production and sustainability. They have identified specific problems they want to solve using AI, and we consider this data aware only.
The second is hardware ready. At this level, the organization has installed sensors in their machines and uses PLC to collect data from the sensors.
Third is data ready. Organizations in this stage collect data from key performance indicators such as quality, availability, performance, and energy consumption. They have traceability solutions in place and store data in a scalable, secure, and agile manner.
Level four is data-driven. Organizations at this level actively monitor and analyze the data they have collected. They started making decisions based on these data insights, leveraging the information to drive improvements and optimize operations.
Level five is AI-ready integration in preparation for these data sources. Merge, harmonize the data, use the data for the basis of decision-making, and look into the future by using data for predictive purposes.
The best practices we have observed in realizing the potential value of our solution include the development of a digitalization strategy, integrating existing data sources, consolidating the data in a central system, implementing secure data storage, and so on. There are multiple steps involved.
Ultimately, organizations become AI-ready by integrating necessary computing capacity, defining specific applications and KPIs for implementing and training those algorithms, and applying algorithms in real-time by following these practices. No industry, no factory is ready from day one for up to level five. It's a mindset change as well. It takes time for that. But if they follow the five steps we have already defined when we go to the client, we help them- first, we identify where they are, maybe at level one or level three. From there, we handhold their journey to level five, AI readiness, and provide prescriptions. These are the best practices in the industry.
[00:21:41]
Ken: Wow, that's a nice hierarchy that you put together. It's effectively a digital transformation, both hierarchy but also roadmap in that regard. The challenge we often see is that the older the industry, the more likely companies like Tvarit will need to come in and help them with some of the earlier stages to benefit from the later stage. Thus, the challenge is that you always get pulled into some sense of professional services, which is hard to escape from. You guys have had some interesting solutions regarding your channel partnerships and things like that, but I liked that you put the structure around this whole journey. In fact, there's probably a white paper and/ or maybe a deep-dive podcast on using that framework someday.
[00:22:30]
Suhas: We'd be happy to do that.
[00:22:31]
Ken: I appreciate that. You can't have an AI topic these days, at least as we're recording this, and not talk about generative AI, aka ChatGPT, or what we jokingly call "Chat IoT." Where are your clients seeing some of the largest impacts of AI in their operations? Do you see any examples of generative AI-style interfaces?
[00:22:55]
Suhas: Yeah, I have seen in the industry that people started talking about that more privately.
But when it comes to the industry, they think about that- okay, this can be helpful to them. But as I mentioned, just two minutes before these five levels- they are not yet there in their production, and we are working on the production level. They're not there. The thing about that- is how can you ChatGPT help them in their day-to-day operations in productions.
There are no identified use cases they have seen or started looking into in this technology. Of course, this technology creates a lot of interest, which is good for us. As a market, when you are providing a solution to the factories, there are other technologies like ChatGPT, making AI quite well-known. It spreads awareness about AI, which helps us in selling our solution. Gradually, down the line, in two to five years, we will also see the adoption of ChatGPT in production. But at this moment, they're not talking too much about that yet.
[00:24:03]
Ken: Funny, I was at a dinner conversation last night, and it took place- our conversation went to how we're using ChatGPT, from recipes to generating- one person was with an HR group, and she's using it to effectively write policies. It's amazing when you think about all the different usages clearly something on the roadmap, so we'll call it level six, AI+ ready, or something like that in the future. When you're not busy leading Tvarit, you're active in entrepreneurial organizations, including TiE and GINSEP, as we mentioned earlier. What's your remit in these roles? How does this help you be a better entrepreneur yourself?
[00:24:47]
Suhas: My role within the organization like TiE and GINSEP: TiE, I was president from 2016 to 2018 for two years. For led that organization in Germany. The beauty of TiE is meeting different entrepreneurs. When I was the president, every week, I used to meet two to three new entrepreneurs. They used to bring new ideas, having spar, in their eyes, the positive impact they want to create in the world- and they are willing to go the extra mile to achieve that impact. That's the advantage I had, and I have now also when I go to the TiE event and meet different entrepreneurs. Sometimes, as an entrepreneur, you find different difficulties. Everybody has certain challenges which they need to overcome. Here, I get an opportunity to discuss those challenges and how to overcome these challenges to make Tvarit better prepared for the future. That's TiE.
GINSEP is a German Indian startup exchange program promoted by the German government. I get a lot of connections between these two countries. We have two offices in India; this also helped us to a certain extent. The challenges, for example, when we have visa-related issues, or any other issues which are out of the government processes, then GINSEP helped. I get their guidance, and then we can solve those issues.
[00:26:13]
Ken: It's commendable that you now give back to your resident country. The economy and, clearly, creating more bridges between your native India and the rest of Europe, so I'm impressed. It was one of the criteria we looked at relative to investing in you guys. In closing, I always like to ask, where do you find your inspiration?
[00:26:35]
Suhas: I've met a lot of people, a lot of entrepreneurs. Two weeks back, I was in Berlin, meeting around 100 founders. There was an event called High Growth Icons. One hundred founders get together in a closed room. They speak openly about their challenges and how they overcome those challenges.
I draw abundant inspiration from various founders who have successfully raised millions of euros, with some even achieving unicorn status. Their journeys and the paths they have taken greatly inspire me, particularly in terms of how they have overcome the challenges they face in their daily lives.
Also, I read a lot of books. One of my favorites is "What Got You Here Won't Get You There." It's by Marshall Goldsmith. That's a very nice book, and it's true as well. Every day is a different day. You reach and achieve a certain milestone based on your capability and your work, which might not be true for the future You need to be innovative; you need to be learning on a day-to-day basis to reach the next milestone. This is a beautiful book that came out; I highly recommend reading this book to everyone. It's Marshall Goldsmith's "What Got You Here Won't Get You There."
[00:27:45]
Ken: Good recommendation. There's often a quote we use when we talk with early-stage founders who are attempting to take their company into, usually, later-stage growth and how to best effectively pivot your own skill set to carry the company to the next level. Somehow, we won't have that conversation with you down the line. Suhas, thank you for sharing this time and these insights with us today.
[00:28:11]
Suhas: Thank you for having me in this Digital Thread podcast.
[00:28:15]
Ken: It's been a real pleasure. This has been Suhas Patel, CEO and Founder of Tvarit, driving sustainable and zero-waste metal manufacturing. Thank you for listening, and please join us for the next episode of our Digital Thread podcast series. We wish you a momentous day. You've been listening to the Momenta Digital Thread podcast series. We hope you've enjoyed the discussion, and as always, we welcome your comments and suggestions. Please check our website at momenta.one for archived versions of podcasts, as well as resources to help with your digital industry journey. Thank you for listening.
[The End]
Connect with Suhas Patel
What inspires me?
Inspiration can be found in various places, and for me, it comes from a combination of sources driving my passion.
Firstly, I draw inspiration from the incredible individuals I meet in the industry—their stories, experiences, and innovative thinking. Collaborating and learning from these talented professionals fuels my own drive to make a positive impact. Internally too, we have a rich, talented pool of young individuals who are some of the brightest minds in the industry.
Secondly, I love reading. I find Marshall Goldsmith's - What Got You Here Won't Get You There to be particularly insightful when thinking about growth hacking. You reach and achieve a certain milestone based on your capabilities and efforts, which might not be helpful in the next growth phase. You need to be innovative; you need to be learning on a day-to-day basis to reach the next milestone. The importance of eliminating the dysfunctions between you and the next level of achievement is very well explained in this book.
About TVARIT
TVARIT is a Deep Tech Saas company specializing in creating digital assistants based on its "TVARIT Industrial Artificial Intelligence" (TiA). TiA provides perspective analytics to shop floor engineers to reduce the wastage of resources (4M - Man, Machine, Material and Money.)
The team consists of over 40+ highly qualified engineers and experienced data scientists. We combine extensive industry experience with academic research and development – driven by a passion for technology & innovation.
TVARIT's customers include world-renowned manufacturing companies in the metal industry, such as Maxion Wheels, Gienanth, Endurance, and Schunk Group. What they particularly appreciate about working with us is our high level of flexibility and personal commitment, unique innovativeness, and quick ROI. For more information, visit https://www.tvarit.com