Aug 25, 2021 | 7 min read
Sean Clay - Spirax-Sarco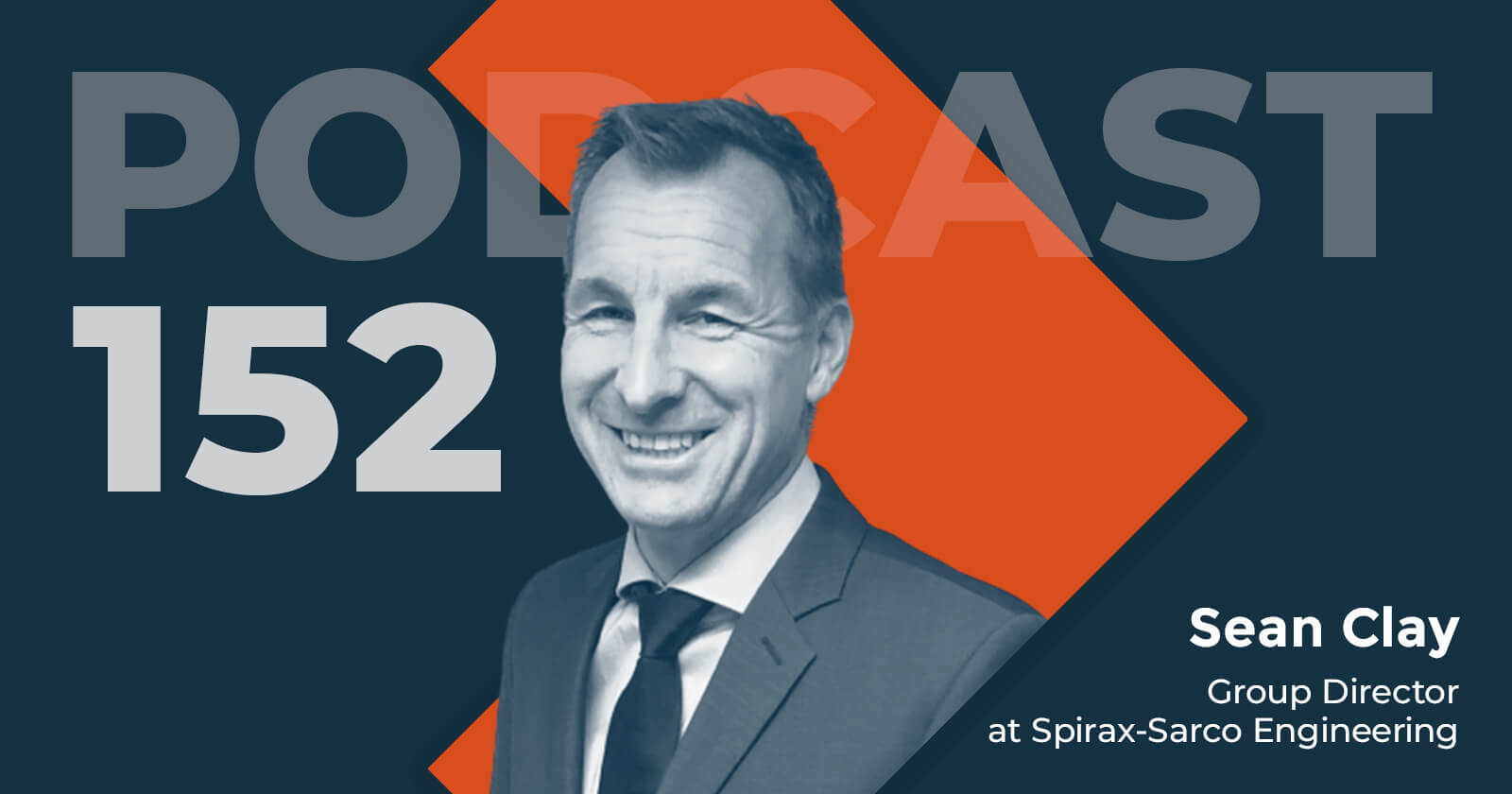 Ken: Good day, and welcome to episode 152 of our Momenta's Digital Thread podcast series today. It's my great pleasure to have Sean Clay, Group and Divisional Director of Spirax Sarco Engineering, an FTSE 100 world leader in thermal energy management, pumping, and fluid path technologies. Sean has been leading global industrial technology companies for over 20 years, including Honeywell's global sensors and devices division, where he was VP and GM of industrial safety, later as President of the $1.2 billion European division of the safety and productivity solutions group, he's a proven people and growth-oriented leader with deep experience building and enabling high-performance teams and organizations, building resilient businesses for growth and sustainability, and leading large scale digital industrial transformations.
In short, he has a passion for the digital and the physical. Sean, welcome, to our Digital Thread Podcast.
[00:00:56]
Sean: Hi, Ken, thanks for the invite. It's a pleasure to be here.
Ken: It's great to have you here. I know you have been doing some great work within Spirax Sarco. I am excited for you to elaborate on this.
I always like to start with the question about your own, if you will, professional trajectory and what I like to call or consider the digital thread. Tell me, what would you consider to be your digital thread?
[00:02:06]
Sean: This is a great question because we use the digital thread principle when building digital business strategy. It is quite curious to turn the question back on myself.
I was fortunate throughout the 1990s to be exposed to the early application of digital capabilities for industrial and commercial environments—for example, algorithms for modeling how different types of smoke behaves in different types of fire. And we use this to differentiate between unwanted and genuine fire alarms, for automatic drift compensation and predictive pre alarms.
And then using connectivity and analytics to remotely service and triage customers' building systems to optimize service performance, reduce downtime and this also complimented the physical field service operations that I was running at the time. And then on to the connected building or Novar Intelligent Building Systems as it was called, where the objective was to de-risk the commercial build process through simplification and optimize the building and business operations as well in use. It wasn't all successful, though. Perhaps one, which was less successful was the connected home. I was working in the late 1990s with an Alliance of utilities companies, local government, IT, and other industrial systems providers, which for the connected home, although the concept was proven to be correct years later, it just demonstrated the importance of timing because the technology wasn't ready at the timeor connectivity, but of course now connectivity is ubiquitous. That early experience and engagement, really started to form the basis of my thinking and my digital thread. And I think more prominently today I'm increasingly engaged in how digital is enabling ESG - I'm helping companies to build a path to meet their long-term sustainability and business objectives.
If I try and wrap that up, in terms of what that means back to the thread, I think these early experiences created that passion for combining digital and physical and the human capabilities, really, to find ways to help customers, to improve the environment, and to develop new growth strategies for the business.
And I think the important thing as well, through that journey, was realizing that these things don't have to be mutually exclusive..
[00:04:00]
Ken: What a great perspective you've been able to develop as a, as you say, that, you know, with a passion for the digital end and the physical, you've left us a lot of good hooks for the, for the conversation. Let me start with a broad question just because I think it'll set a good context for the rest of our discussion.
And that is what does digital transformation mean to you?
[00:04:26]
Sean: When I think about digital transformation, it has become a phrase used to describe a wide range of digital applications. And so within a business, this can be okay, but provided there's a shared understanding and use of the term.
But for me, over time, transformation is becoming something more specific. And I think also should be ambitious. In the purest terms, digital transformation is creating something that is a 'net new' rather than enhancing something that we already have, and which is designed as well to be born digital rather than being designed for physical and then being sold through digital technology.
And for the business, it's a growth enabler. Even where the focus might be on a net new efficiency, this efficiency should ultimately enable a strategy for growth based upon, for example, a step-change in transaction cost at scale. If it doesn't fit this definition, the question is then whether it's more so an ROI project, which serves to optimize the business today. This can still be perfectly valid, but just recognize it for that and build for transformation in parallel.
I tend to think about digital optimization of the current business strategy to enhance the growth focus, through more excellent customer value and engagement, and also to optimize the enterprise, combined with digital transformation where digital technologies, disruptions and business models inform us to today in preparation for our next strategic cycle, such that we can be monitoring, seeding or building for that future.
[00:06:08]
Ken: So perhaps an evolutionary and revolutionary perspective at the same time in terms of transformation. That is truly unique to operating technology companies, large OEMs, like, of course, you're leading - just because so much of the installed base, the brownfield as many would call is, continues to be the core business and indeed will be surrounded by the optimization if you will technologies that are there.
So always having that balance is critical. I was fascinated with your background because it's rare to find someone with digital leadership roles across such diverse industries. You have building automation, mining, energy, processing over the past decades. What were some of the key trends you saw emerging over that time and thinking about how these crescendo with your time at Spirax-Sarco Engineering?
[00:07:04]
Sean: Well, perhaps the key trends, which are common across all of these industries, is that they're all ultimately seeking assistance to achieve their long-term sustainability and business goals. And increasingly, we are seeing that the planning horizon over which we engage with these customers is extending as the scale of their challenges expand
At the same time, I think back to the comment you just made previously as well. In parallel with that, they still need to maintain and improve their business operations every day to efficiently deliver consistent, repeatable, and predictable product quality for their own customers. But I think what has also continued to evolve over that time is changes in legislation and regulation, which do increase such that things such as provenance and reputation are something that is not necessarily always mentioned in the conversation but should always be in the supplier's mind for its customers.
I also mentioned as well that, previously about ESG. And each of these industries and now really understanding how to measure the impact and return, not only in terms of pounds and dollars but also in terms of the environmental benefit. And so how they understand carbon now, for example, is a currency.
If we look at Spirax Sarco s we have been taking the equivalent of 7.7 million cars off the road, boiling the equivalent of over 600 billion fewer kettles and reducing the equivalent of over half a million people's water consumption annually through the CO2 energy and water savings that it creates for its customers.
So, for me, these are the key trends that I've certainly experienced. In addition to that, we also see that customers still expect to partner with companies that understand their differences, their business economics, and how their industry works. They want context, and they also want that right level of granularity.
In the food and beverage industry, for example, we recognize 21 different sub-sectors, such as packaged foods, pet foods, brewing, and tea plantations.. And this ensures that we can meaningfully engage with the customer.
[00:09:22]
Ken: Before we jump in full because you've already touched on the high impact potential you guys have, especially on the energy side. Looking at your background, of course, you guys, you and I have known each other for a while, but what fascinated me. In 2015 at Honeywell, you engineered a combination of their existing sensors, business analytics, and safety products business into one business line, focused on connected and passive safety technologies.
Given that timeframe 2015, you were ahead of your time in applying analytics to sensing the environment, what we'll call the AI IOT now. Right? What was the inspiration and the result of these efforts?
[00:10:11]
Sean: Well, I started with Honeywell going through its transformation in the 2000s.
And part of this transformation was the Honeywell Operating System or HOS GOLD. And this focused on delivering world-class lean manufacturing and new product innovation, which ultimately combined as an integrated supply or value chain. This started to connect with partners and customers, both upstream and downstream, as part of a broader ecosystem.
And what happened is that this highlighted that many of the digital enablers within the enterprise could then be applied as solutions to our customers, too. So consequently, we developed sensors, analytics, and industrial safety for high-risk workers, including first responders. The difference being that in a hazard, they're the ones that have to run towards the hazard rather than running away.
So critical to ensuring the safety of that worker was understanding their workflows. Sensing the worker and the environment around them to create that holistic understanding. The outcome was the connected worker, using connectivity and insights to create safer environments. And that eventually finds its way into more mainstream, lower-risk worker applications and expands from safety into health and then into well-being.
And the other outcome from that is that where the worker is considered an integral component to the process, then the connected worker also leads to workflow automation and productivity.
[00:11:48]
Ken: Upon joining Spirax-Sarco Engineering in 2018, you set out on what I would consider being the largest digital transformation to date. Tell us a bit about the company and the digital opportunity, and you already threw out some great numbers in there. One thing maybe I can add into that based on some work we had done in the past, 66% of industrial energy in Europe is consumed for process heat production.
That's incredible. When you think about most of that goes into a steam, another metric we saw 37% of fossil fuels burned by the US industrial sector is to produce steam. It, it sounds like you are sitting on the critical point to make a difference there. We'd love to learn more about the company and the work you're doing.
[00:12:39]
Sean: To that point, in terms of, steam use and steam production, that's a really important point. Spirax-Sarco Engineering is a FTSE 100 multinational industrial engineering group. And it serves those industries where the precision and expertise of thermal energy and fluid path technologies are critical, such as food and beverage, biopharma, water, and wastewater, as well as energy.
And the key thing about this is that in thermal energy, we have two components: electrical thermal energy, and steam thermal energy. So, the use of steam, for thermal energy, to help our customers run their businesses. There's an increasing demand for steam as that thermal energy fluid, to be able to help them optimize how their business operates. But they also, at the same time have the interest in the clean generation of that steam, which is where, our business in electrical thermal energy enables our customers to produce steam in a clean way. So that's a core part of where we are right now and has informed some of the acquisitions that we made with Chromalox and Thermocoax. We're in a really exciting position, having already made an impact, but having a huge potential in terms of building from here as well.
So, we achieve that when we go to market because this is a business with global reach. It operates with deep specialist knowledge. It operates in over a hundred countries and also operates through a direct engineered sales approach. The value is in helping the customers, not only to help them find process and energy optimizations, but importantly, our ability to design and execute the solutions.
We've been building more recently, the digital and the physical capability to enhance the value that we create for our customers through that process. An example of that is that our physical relationship with customers. We talked about brownfield sites, before, the brownfield sites, we have this vast installed base. Now physical relationships have enabled us to create value for our customers. But through a point in time engagement, IoT and omni-channels enable that continuous relationship to realize, insights for the customer and ourselves all of the time. The types of customers that we serve as well, do range in size and scale.
They range from large multinationals, which are leaders within their industries and need to partner to meet ambitious long-term business and sustainability objectives through to this high concentration of smaller local customers, which may currently have a significant focus on maintenance and optimization.
And what we have seen is that these customer segments often require a different approach to serving their needs through Capex and Opex. Customers who are leaders in the industry, have the confidence to make more significant Capex investments to achieve their ambitious objectives. But this often requires customized solutions, which are not necessarily scalable or repeatable to the large majority of customers.
Therefore, we created a smaller Opex solution, which is part of incremental proof points that build over time through a process of joint discovery with the customer and this way, as one proof point meets a need and creates an insight, this provides the customer with a justification for the next investment and the customer can choose where to prioritize that investment next.
So subsequently we've been building this digital transformation, which is scalable, repeatable, and accessible for all customers.
[00:16:36]
Ken: You know, that's an interesting angle is accessibility. Often the IOT or industrial IOT is compared to, you know, SCADA systems of old, but, basically, driven by, by Moore's law accessible now to Arduino boards in some sense.
Right? A significant portion of digital has. Then making things cheaper, more powerful, and more accessible. And what's interesting is you've leveraged that to do the same in terms of your own business process and, thermal energy solutions, perhaps as you know, even thought of it as, as a service.
Not only are you guys a leader in thermal energy solutions, but you're also a leader in environmental sustainability and governance, you know, so-called ESG? And you mentioned it a little bit earlier, so I'd like to dig down into that a little bit, because I understand you've got one foot of your leadership position in ESG and one foot in digital transformation.
How are your digital transformation goals supporting the company's stated purpose to create sustainable value for all our stakeholders as we engineer a more efficient, safer, and sustainable world
[00:17:45]
Sean: Spirax-Sarco Engineering has a commitment to net zero emissions by 2030 and by 2025, a 10% biodiversity net gain and sending zero waste to landfill. And this is captured in our one planet commitment. And by combining new innovation with connectivity, we can also in the same way that we are applying this to our business, where we can also help our customers find and solve their own demanding levels of sustainability objectives, across all of the scopes; scope one, two and three.
So, you know, we've laid out a clear path and a solid commitment to sustainability, not only for ourselves, but also for our customers and also our communities as well. Other areas as well, that we've considered is that I talked before about the majority of customers, those brownfields installed sites.
Because if, as a society we're going to deliver on our global sustainability goals, then we need to not only digitally enable those large multinational leadership companies, but actually all the companies. And that's where we identified that the digital OPEX can help us achieve this. But beyond sustainability, because you mentioned ESG, effective digital execution also has the potential to transform any company's focus on inclusion, equity, and wellbeing, by creating more dynamic ways of collaborating, providing global reach, removing geographical and technological boundaries. And now I guess 18 months on, none of this is particularly new, but what we have learned is more about the effective execution of this to ensure that it enhances rather than detracts from inclusion.
And on the governance component, by providing supply chain provenance from raw material to end of life disposal, creating greater visibility of the business operations, reducing risk, and increasing predictability. This protects all stakeholders and the company's reputation. We really do see how digital can accelerate a company's ESG objectives.
[00:20:00]
Ken: In the bio, we talked a little bit earlier, mentioned, you know, proven people and growth-oriented leader, deep experience building and enabling high-performing teams and organizations. The first movers in digital industry say like GE., created the large central organizations usually taking on the subtitle digital, if you will. Some that of course have been more successful than others. I'm curious, given your own deep experience in this space, to whom do you look for inspiration for your own journey and how do you organize to approach this digital opportunity?
[00:22:39]
Sean: Yeah, we certainly do benefit from the experience of the first movers. And one of these lessons of course, was that whilst using the term digital is still helpful to engage people in the conversation.
The focus is the business strategy and the outcomes that you want to achieve, and subsequently how digital may transform this for the future and optimize in the nearer term. In addition to that key component. I think the other thing as well, to your question on creating centralized digital organizations.
For me, this is an excellent example of a conversation of an 'and' conversation of centralized and decentralized. I think, first of all, it's essential to understand how the business is organized today to serve its customers, make its money, and execute its strategy, and also consider the pace of change that your customers expect from you and what pace of change you've set for yourself.
Because it is about that context, different businesses have different operating models. For example, from being highly decentralized to being highly centralized with only the local sales organizations being decentralized to serve its customers. One of the key things I've considered, as I've looked at different businesses, is, first of all, understand how the business operates.
And then, it's a question of what should be enabled locally and what the focus should be centrally. And with this in mind, what I would say the role of the center should consider - is, first of all, to be constantly scanning for digital disruption and technologies that are likely to transform its business in the future. You should be considering monitoring, seeding, and building capabilities that are required for future transformation.
And also, consider providing a clear vision. A set of guide rails and a common l architecture upon which the capabilities to meet the local needs can be locally developed. For me, it's not a case of centralized or decentralized because even if not now, at some point in the future, the capability for digital business innovation needs to be embedded locally.
Otherwise, the center becomes the constraint, and the edge becomes incapable of serving its customers or its internal business needs. So subject to the current culture, the solution can really consider the democratization of digital technology and also organizational capabilities locally with the center really fulfilling that role of the platform today and readiness for the future transformation.
[00:23:15]
Ken: You mentioned culture a moment ago. How do you sass each of your team's readiness for digital change? And I guess, more importantly, how are you building that infrastructure and leadership to support the transformation?
Sean: The best talent needs the right environment to thrive. And therefore, the first focus is on creating that environment.
And this really comes from a strong purpose, a clear vision, and also leadership, which enables capabilities such as curiosity, innovation, and velocity to thrive. It's been well stated before that digital transformation is about culture first. But to the point perhaps I was referring to earlier, we do need to contextualize that free to organization and its current culture because the currently culture is that reflection of how the business makes money, how decisions are made, and which behaviors are incentivized today.
And it's within that context that the transformation has to find its place. Some of the critical aspects I assess really for readiness within the organization and seek to build are first of all, looking at how strong is the business purpose, how clear is the vision, and does it provide context for each stakeholder to innovate and make decisions locally?
Does the leadership have the confidence and humility to create a safe environment within guide rails, but for discovery, experimentation, and learning are the capabilities of, curiosity, resilience, engagement, and adaptability are present within the team, and the other consideration as well is that transformation is changing but change management. It can feel like something that is being done to you, even if you're actually engaged in the change itself. I see that change management has evolved towards adaptability, whereby the team has the foresight and the capability to lead the change for themselves.
[00:25:33]
Ken: You mentioned innovation a moment ago. How do you leverage the innovation ecosystem, or even how are you developing it? Both inside your company, but also outside, you know, think small companies, disruptors, etc.
Sean: This is a good point can because earlier we discussed, how to enable innovation locally and close to the customer. But the transformational innovation really requires the development of capabilities and partners beyond the current organization. When we look at transformation through the eyes of the customer, the future is not necessarily organized how we're organized today. The customer's objectives, perhaps being more significant than the scope of our own capabilities.
This requires an innovation ecosystem and orchestration, which extends beyond the current business. And that's where I believe that Spirax-Sarco Engineering has that environment, has the reach and it has the expertise for other innovators to connect with, to experiment, and to build value, which is greater than the individual parts.
So created collaboration will expand further as we host, accelerate, and learn with innovative startups and collaborate with like-minded digital industrials and digital talent. And we're very open to different forms of collaboration and innovation.
[00:28:25]
Ken: It's fascinating. You think like a PNG, I believe, was the one who originally came up with the outside innovation approach. And I've also seen inside out, I believe Guido Jouret talked about it as a venture studio in some sense. And so, there becomes truly an ecosystem of leveraging external and internal players together. We did an interview not too long ago with AF works. This is the US air forces, innovation program, and two of their key leaders there. And they really indeed created a sustainable, resilient ecosystem and culture around innovation. There are so many of the things that now you've said that actually coalesce around some of the key points they were making as well.
It's great to see this applied, especially to an industry that is as impactful as Spirax Sarco is as well. In closing, I'm curious, where do you find your personal inspiration?
[00:28:03]
Sean: Well, it was William Gibson that said the future's already here. It's just not evenly distributed.
I do look to leading indicators, and I do look for inspiration and potential in a number of areas. Some of the areas I'm mainly focused on is leapfrog disruption. Observing, for example, how, by being unconstrained by the sunk cost of existing physical infrastructure, more developing countries have been able to leap directly to transformational digital capabilities.
And they also look for where and when developing technologies will land in a meaningful state, looking to anticipate where the technology will be at the point that we need it in the future, rather than where the technology is right now. And I also look for inspiration from our young talent. Spirax-Sarco Engineering has a fantastic graduate program - we made a real investment in providing global opportunities through those programs.
But for me, the young talent, are the future leaders. Not only our industry but also of our customers and as digital natives and consumers first, they also bring that mindset to work, which informs how we build our customer engagement strategies, such as the consumerization of B2B, for example.
They really do provide a vision of the future. We've spoken about books your previous guests have provided some great recommendations. I thought I'd try to add something different. One, which is due to be released in September that I'm looking forward to, is "Hacking Digital" by Michael Wade and Didier Bonnie.
I'd also recommend "Riding the Waves of Culture" by Fons Trompenaars, particularly for global businesses. It really addresses the point of the 'and', you know, for digital and physical for centralized and decentralized. And a third book is "What You Do Is Who You Are: How to Create Your Business Culture" by Ben Horvitz.
There are three books that, hopefully, others may find some interest and inspiration from as well.
[00:30:21]
Ken: Perfect; great recommendations. The first one sounds quite intriguing, and I haven't heard about that one. We will include links to these publications when we publish this podcast.
Sean, thank you for sharing these insights with us today.
[00:30:39]
Sean: Thank you, Ken. I've enjoyed the conversation, and I hope it's provided some insights.
[00:30:45]
Ken: It clearly has. I'll certainly put you up there with some of our more impactful, Chief Digital Officer discussions that we've had in the past.
It's great to see not only learning from that but applying those and setting a threshold for the rest of us coming forward. This has been Sean Clay, Group and Divisional Director of Spirax Sarco Engineering, leading digital and physical innovation. Thank you for listening, and please join us next week for our next momentum digital thread podcast.
[The End]