Jun 10, 2020 | 3 min read
Conversation with Ken Piddington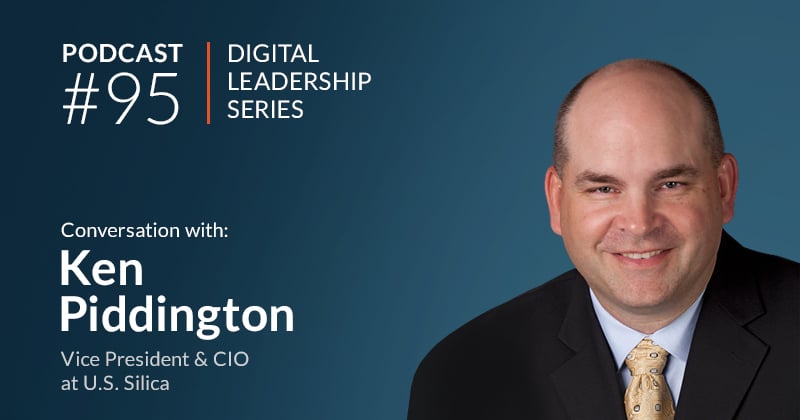 Good day, this is Ken Forster with edition 95 of our Momenta Digital Leadership podcast series. Today it is my pleasure to welcome Ken Piddington. Ken has been building, transforming, and creating multibillion-dollar growth for high performing businesses throughout his career.
As an award-winning thought leader and published author, he is respected for game-changing industry contributions, and his passion for talent, development, and customer satisfaction. Ken is currently Vice President and Chief Information Officer at U.S. Silica, where he is responsible for defining and exiting the company's business technology strategy and driving transformational change across all lines of business. Prior, Ken was the CIO of Global Partners, SGR Energy Incorporated, and MRE Consulting Limited.
Ken is the President of the Advisory Board for the Energy Institute High School, chairs the technology committee for Stages Repertoire Theatre, and is a board member at HITS Theatre. He is also an Advisory Board member for the CIO Executive Council, and a mentor in their leadership development program.
Ken is recognized as an industry thought leader, is a regular speaker at business and associated conferences, has been featured in multiple media publications, and is an IDG contributing editor to the CIO, CSO, Network World, and Computer World. He has been named a Computer World Premier 100 technology leader, is the CIO 100 award winner, and has twice been recognized as the Information Week 500 top technology innovator.
With that great introduction, because you have a wonderful background and experience space, Ken well come to the Momenta Digital Leadership podcast.
Ah, thanks for having me Ken.
Great. So, we're going to talk about three things for listeners of our podcast series.
We always talk about the digital industry journey because we love to see how people have risen in terms of digital leadership, and what their influencers and impacts have been.
As a practitioner relevant to the energy sector, and as a CIO, and truly as I'd say CIO as a digital change leader.
Of course, as a leader currently as CIO of U.S. Silica.
So, Ken, tell us a bit about your professional journey, and how this has informed your views of digital industry.
Absolutely, yeah. I don't have the traditional career journey that one might think of for someone who's been a CIO at publicly traded companies. I've kind of bounced around a little bit from my CIO work, software development companies, consulting. But the foundation really starts and job I have stems from college, working for a building supply and masonry supply company, where I started working in the yard as the yardman, and then ultimately to doing inside sales, and running the dispatch, I drove a truck, to doing accounting, to running every aspect of the business. I was really taken under the wing by the CEO of the company, I was kind of the son he never had, and he helped develop me and teach me about how to run an organization.
I look back at that time as really a foundation to everything that we do. We think about digital; you can't drive value through your organization unless you understand the business, understand your customer needs, understand what's going on throughout your organization at every different business unit, every different department. I think the foundation things I learnt there really help me, and I look back to that moment in time often and pull on experiences there that really have helped shape who I am today.
But moving on from that, my time where I worked for a software development company, I owned my own consulting firm, and I've worked with other consulting firms. Those areas really gave me a good perspective of the customer; going out there and seeing what the technology I was creating was being able to do for them, and where their needs were. How do we solve problem, how do we create the right business outcomes through the use of digital technology, was really what pushed me and helps drive me today.
Then fast-forward from there to my role as CIO of Global Partners, or at SGR Energy, and today at U.S. Silica, those foundational things have really helped me think about our customer, think about my peers throughout the organization, and how do we use technology to create a better experience for our customers, and engage with them differently, add value to whatever our core products are. Then also take a look at the digital side from internal in the organization, how do we create the digital workplace? How do we change how we work? There's never been more to that than today as we think about everything going on from a COVID-19 perspective, and how we need to look at that, and how business has changed.
It's been an interesting journey, and one I wouldn't change at all, but I think it's helped put me in a good spot for where I am today, and how I'm able to lead here as CIO at U.S. Silica.
I love the deep operational background, especially as you talk about that first career opportunity at a very young age. What inspired you to make that next leap into – I'd say into digital, but it sounds like you were already well into that, but at Triple Point, and then Lyland?
Yeah, I said I worked for that building supply company for many years, it went from summers at college to a whole lot more. But there was a point where you couldn't go any further, unless I became part of the family! I'd always had a love for technology, and I needed to be able to really make that what was first for us. So, I took an opportunity that just happened to fall in my lap one day with Triple Point, got there and ultimately started as a junior developer. From there became Head of Product Development.
But what I found I loved most was being there, engaged at our customer sites, seeing how my software was being used throughout an organization as not just a system of record, but a system of engagement. That gave me the passion to see I could do a whole lot more for these organizations than just the software product of the company I'm working for. That led me to leave there and start Lyland Associates.
There was my opportunity to start doing more to really focus on how to drive technology initiatives for our customers. I served a lot in that capacity, and that role as the capacity between the different business users and IT, helping serve as that liaison being the person who could translate what they were talking about and what they needed, into the technology, and vice-versa; helping people to really communicate in the right ways, to talk about how we could leverage technology to drive those business outcomes. That really led me into Global Partners with the big project, and ultimately on to CIO.
Yes, in fact I noticed a sizeable leap. It seems like a short time as Director of Applications and Software Development there, and then you jumped to CIO for a long 10 years. Tell me a bit about that jump.
Well, whilst I was working and had the company at Lyland Associates, I was working on a big project for Global, I was also serving in a consulting fashion as their Director of Applications when we decided that it was time to shut Lyland down and they wanted me to be their CIO. The role of Director of IT was a stop-gap in between, we knew the CIO role was just a temporary title change in there as we moved forward. But yes, it was a big leap, and it wasn't per se on my career journey as we went, it was taking advantage of an opportunity, and demonstrated through the project we were doing some really good things and how we were creating value in ways they had never had before.
That combined, and I think with my leadership, was the desire for their CEO to say, 'Ken, I'd like you to run IT for us, because where I'm trying to take the company, where we're going to grow, I have great plans, and I believe technology has to be a big component, a big contributor of that'. So, the opportunity with the company I already knew well, to really help transform technology, help change the shape of that company, was an amazing opportunity that you couldn't say no to. I learned so much in that opportunity.
We took the company at the time I started as CIO, we were just about $6 billion in revenue, grew to $20 billion in revenue, and it was because we became a very-very different company. Global grew up as a home heating oil distributor, and gasoline distributor. By the time I left we still did that, we were removing crude oil out of the Bakken Region, we were removing ethanol by rail all across the country. We owned 1200 – 1500 gas stations and convenience stores, built a new brand of convenience stores to go in with our gas stations, to give ourselves an identity. We owned an Ethanol refinery out on the west coast, we were operating in 38 of the 50 states in what we did, so our business had dramatically transformed, and technology was a big part of it.
We got those gas stations, we built a mobile application that allowed you to pay at the pump, and loyalty, which was a real big part of our digital in how we engaged our customers differently. There was a big part to it of how we looked at data and took advantage of the data differently to make more timely business decisions. That was a very volatile market, and we worked on pennies on the dollar from a margin perspective, so how could you provide the insights that could be actionable to your various traders, marketers, and business development folks, to take action upon how the market was moving, how your customers were buying your product, so that you could really tweak what you were doing each day to maximize your potential profitability.
That was a big part to what we were doing, so it was a little bit internal and a big part external in how we engaged with our customer. A lot of M&A went on in that in order to get that dramatic growth regionally. It was a lot of fun, it was a great-great experience, got to develop my team, got to work in a number of different capacities even outside of IT, where I ran an operational support group in addition to IT, which was really ordered to cash. So, that exposure there on our wholesale business to see what was going on and be involved in that at such a deep level, again another part to help shape and see what the customer needed, and how we could add value to our customers through what we were doing. It was a lot of fun and getting back to that foundation a lot to support who I am today.
Clearly some great best practices, in that you went to MRE and developed effectively a CIO advisory service. Give me a sense of at the time what was the state of the CIO because this is right around the time that GE started talking about Chief Digital Officers, of course the emergence of Bill Ruh and that architype. What was the state of the CIO in the sense of keeping the light on shall we say, versus really leading digital change in their organizations?
The state of CIO I think then and even now, is still very much there's a lot of different types of CIOs out there. There is some foundation of those who are really strong at keeping the lights on, there are others who are a little bit more transformational who still do a good job keeping the lights on, and able to drive some business. Then there's the game changers, the real business strategist, those are the ones able to drive the true digital initiatives that really engage differently with our customer. But you had companies going, 'I need that strategist', 'I need that true game-changing CIO', and whether we called it a CIO, or a Chief Digital Officer, or Chief Technology, or through some combination of these letters together, you had companies doing all sorts of different things, and I think a lot of it had to do with how capable did we believe our CIO was; did we view them only as the lights on type of person, or did we believe they could be a game-changer.
Some of that was perception, some of that was reality, some of that was the culture of the organization, I think it still is today. I'm not one who's big on the titles, I'm big on what the outcomes, the position can do. I don't care if you want to call me the Chief Information, or Chief Technology, or Chief Digital, to me those titles help you on a résumé and make it look good to whoever the next company is, the next organization you're talking to, but what's really important is the outcomes you're going to be able to drive. That's about the person, and that's about the culture.
At MRE when we started the CEO advisory and transformation practice, it was me coming in and taking my experience of leading a Fortune 250 company through that dramatic growth, taking those practices and being able to help others. I looked at it as a sandbox for myself in that this was my opportunity to take the things that I had done really well, help others to do it, take the things that maybe I didn't do as well. I needed to continue to work on, and experiment with those by helping others through those same challenges, positioning me for the next CIO role, because I ultimately wanted to be back into the corporate side, and this was just one more part to that career journey that I stepped through.
And you clearly did make the jump to SGR at the time. Oil and gas has not been the most advanced from a digital technology of sectors, yet it certainly benefits highly from it, especially in efficiencies. Give me a sense of what you saw as the digital impact at the time, circa 2018, for oil and gas.
Oil and gas, you're right, has always been a bit of a laggard as an industry as a whole, in adopting new technologies for how we run our business. As it relates to the production side, and the refining side of things, all of that, they're much more as a leader in being able to create design. But when it comes to technology driven to make people's working lives easier, engaging with the customer, that definitely is far-far behind.
But what I did start to see, and this happened probably over the last five years, a bigger push to how do I look at automation differently, whether that's officially robotic process automation or others, how do we better integrate with different systems to make our data flow smoother, make our lives easier. How do we look at data differently, whether that's geological imaging as we go there, whether it's the data around transactions, it's being able to do more predictive analysis at a refinery of what's the slate of crude I have in the feedstock, and what's the output I need to meet my customer demand? How can I more predictively look at how to optimize my refinery to do that? It's been a lot of engineers doing that over the years, and now if you could leverage technology maybe even some AI in there to help it, that was the start, starting to see companies do that.
Then where probably, I would take this from the mid-stream to down-stream side of the oil and gas industry, probably the biggest lag is how do you use technology to engage with your customers, and add value to your customers? Because if you think about, I'm selling a… I hate to say it, dirty oil related product, gasoline, not able to think of that as anything cool, it's just I deliver gasoline, it is what it is, it's a commodity. What can I do from a technology perspective, and I'd argue there's a lot?
I can do things as I'm a midstream, I'm selling to whoever my end customer is, how could I make their cost of doing business with us…if I'm selling in bulk to the person who is going to then supply it to you to put it in your car, how can I help them, whether it's integration to their systems, giving them visibility into contract performance, some very common things we might think of in other things we do as a consumer. Or, how can I engage my customers differently like we did at Global Partners, with that mobile application where you could pay at the pump; you pulled up to the pump, you could engage on your phone, you didn't have to step out of the car until it was time to put the nozzle into your tank.
Then the time from there I was getting advertising targeted to me, I was getting the opportunity to earn loyalty points, we were trying to grab the customer, pull them into the store, because the real money is made from the products they buy in the store, the potato chips, the sodas, and all that. We don't make a lot on the gasoline, so how can we get them into the store to buy additional products, and that's where those real opportunities are; customer engagement, I believe automation, and data. I think we're seeing more of that happen today.
I have one more part to the oil and gas which has been probably slower in recent years. How do I advance cybersecurity when you think about the robust infrastructure that exists, and how critical it is to our nation that the infrastructure be running operationally sound and secure? There's a lot of old infrastructure, whether we're talking about the oil and gas side, you want to get into utilities, there's been more and more emphasis on the security of that and how do we fix that, how do we apply more technology to that, how do we look at things like AI for security? I think we've seen a big push in that side as well in the oil and gas space.
Let me ask, and maybe this is as relevant in talking about U.S. Silica, but do you have influence over both IT and OT in the organization? Because when you think cybersecurity and the way you've portrayed it, it clearly affects both areas.
The answer is yes, I do, and always have. So, I'll go back to Global Partners first, I owned IT and OT, so for an OT perspective for us we own 27 product distribution terminals, all of them had security and automation systems that control the recipes, the loading and unloading of trucks and ships, and that technology fell into my group. I actually had a separate arm of IT that had the deeper knowledge with dotted lines back in infrastructure and applications. Moved to the gas stations, that meant gas pumps, that meant point of sale systems, that meant TVs on the pumps to entertain you while you filled your tank, all that was owned by my group as well.
Fast forward to SGR Energy, we own the terminal down in Baron Key at Columbia, we're building another distribution facility in Texas. I was involved in that construction right from the start, not just worrying where piping and everything was, but talking about the technology that was going to operate that through an automation; whether that was how the inventory levels were managed with technology in the tanks, the controls to manage the flow of product through the pipelines, to the loading and unloading of rail cards, that OT was all part. So that was great because it was being built from the ground-up, so that we could think about security and automation right from the start, where every other one was something that was inherited, often through acquisition, and you had to go back after the fact and think about how you wanted to adjust that.
Today at US Silica, we come in, we've got 25/26 plants operating today, and thinking about how do we use IoT in there to again gain insights into the operations of our equipment, to help that run better, manage things from a maintenance perspective, gaining data from there to make insight that will help us run those facilities. We may be doing sand-related products but I related a lot to the refineries that I've worked for in the past, in that it's still a big chemistry set; you've got your inputs and your desired output, and what do you do all along the way to make that raw material go in, and produce the end product that we desire in the most effective and efficient way. I think the technology there combined with the security component to it is critical, and yes, I have a role in all that.
Given the breadth of business lines at U.S. Silica, how do you organize and manage digital initiatives, whether they're upstream, client-facing, etc.?
Yes, easier said than done. U.S. Silica is 120-year old company, today we're broken down into two core business segments, with two business units under each of them. So, we have an oil and gas segment, and we have an industrial segment. The oil and gas segment produces mines and finds the sand-related products used for fracking, also in the oil and gas segment is what we call our sandbox logistics, that's our arm, our last mile logistics that bring sand to the customer. One of the most interesting ones from an opportunity to really think about digital and how do you change the game right there, because there's so many other extra moving parts.
Then we move over to our industrial side, and we broke it up into two divisions there, one called Specialty Minerals, and one called Performance Materials. One is about us producing the raw materials that are used by others to make something, sand that's used to manufacture glass as an example. With the performance materials we're creating finished products, different materials for building material into a kitchen countertop, or filtration for your beer and wine, those are all end products, so we have these various segments.
It's challenging when you think about how to prioritize, because you've really got four distinct business units with four individual leaders, each with their own priorities. Then from a technology perspective we have to satisfy all of them, we do have to look holistically as a company in how do we manage that, but it's really been driven by where we think the busiest return on investment, the biggest change to our company, so driven by business outcomes. We've put a lot of effort into the sandbox side of late, really changing and automating the dispatch world, we put a mobile application out in September of last year that engages with our 800+ drivers to give them their dispatch loads, so they could accept the orders, they could get out to the sites to pick up the sand, deliver the sand to the specific well site, send the documents back all digital to us. Again, it helps us with engagement with our drivers because some of those are employees, some of those are contractors. It helps the speed time to delivery; it helps us to let our customers know better where their loads are. I kind of think about it as I can see where my Uber is, I can know where my truck is.
To ultimately getting that back in and turning order to cash, how fast can I get the accurate data back into the office, manage through there, and invoice our customers. So, it's about time value of money as well. But it really comes to business outcomes, and when we think about our industrial side which has been very lax, we're limited on the technologies, if you think about digital for a customer engagement, that's where I think there's a lot of opportunity to continue to push forward on in how we engage, or how do we add value-add to our products with our customers.
Sure, we're doing a lot of technology integration with the suppliers and with invoicing, but that to me is foundational still. There's a lot more that we can do and that's where I think some of the future opportunities hold.
Where do you look for inspiration or innovation in the space? You mentioned Uber a moment ago, and comparison of that with your own trucks.
I look everywhere, inside and outside my industry, to my friends in the CIO world and their companies and see what they're doing, but I've always looked to everything I can think. Just because it works at one industry doesn't mean it can't work for another industry as well, we might just have to tweak it around, so look or innovation everywhere. Obviously, I look through my team as well, and I look to my customers and my peers, but I like to look outside.
When we built the mobile application at Global, I talked to some people I knew over at Starbucks. I loved the Starbuck's mobile application and how that worked, and my experience as a customer. So, we model a lot of it after their platform, going, how can we use a coffee company with how they distribute product there and engage with their customers, how could we do something similar to that in the experience of the gas pump.
We like to think of it as patent matching if you will in this case, pattern matching of successful digital patents and initiatives that are out there. I guess given the last couple of months, and certainly the COVID pandemic has changed a lot of things we would have considered to be normal behavior before and after, what impact has COVID had overall on your company, but more importantly on the overall industry.
Yes, it's had a lot of impact, good and bad. First you think about what it's done and its reduced demand for our products, so that has slowed down business. We do a lot of building materials, we do the oil and gas, all that stuff has slowed dramatically. So, we've had to readjust our plants and how we are producing product to really slow down because the demand has reduced so dramatically.
But on the other side as we think about daily work, our plants had to stay operational, they were vital still even though the demand was smaller. What we do in the oil and gas side, what we do in the industrial side for things in life sciences and filtration, those were all things that still needed to be happening, they were critical. So, we had to relook at our operations, and safety is one of our core values, how do we provide an environment that our plant workers could continue to do their job and do so safely during this pandemic. We had to make a lot of adjustments there. Those weren't that hard, we I think as a company are strong operationally, and had already been doing a lot of things to keep our employees safe, so I think this was just a natural extension of our safety group, and we moved forward on that without a hitch.
Moving to the corporate side of things and the office workers, that's where there's actually a lot more change that happened, I think a lot of opportunity that exists here into the future. Now, I'm proud to say our business continuity plan worked very well, we were able to move remotely fairly seamlessly. A couple of things we had to go through and make some adjustments on at the last minute as we were going through our checklist, realizing what this meant on such a large scale that you've not really practiced and dealt with before, and had to engage with some of our vendors a little differently to have them help us make sure we were smooth to go.
But now we're working remotely, what then happened, and I think a lot of companies saw the same thing, is we started to work differently. The video meetings, the use of all these different collaboration platforms which were kind of a secondary thing we used, not something we were engaged in all day, all the time, and how we could use those differently.
To me it was about now the digital workplace that some of us have talked about was starting to be realized, or starting to realized that this is a necessity, not just through what we do with video and collaboration tools, but how did we get rid of a lot of the paper? How did we get rid of and change things from where we had to have all the direct next-door to my office kind of in person meetings? What could we do and how could we take our data, how could we engage with our co-workers differently, that was the need, and that to me was part of the digital workplace, how do we work differently?
I think this whole pandemic is going to help light a fire under organizations to think differently about work. We're going to have more people working remotely for a long time, or maybe permanently because that's just what works for your organization, that's going to reduce what you need from an office footprint that's going to change how you even look at your talent. Do I have to have someone who is based in the same city as your office, that's going to come in and have a desk, or can I just open up my talent pool because we successfully worked remotely, that now I can go ahead and hire somebody in a different city and let them be a permanent remote work employee. I think there's going to be some interesting opportunities for us as companies, particularly in IT when talent is tight in your area, and you can start to spread out and look differently.
I think on the digital side it's going to open the doors to thinking more about how to work differently, and that's going to really drive the initiative of the digital workplace in many organizations.
At the height of the pandemic there was a meme floating around LinkedIn that was a checklist or survey, it said, 'Who's driving digital change at your company?' checkbox one – CIO, checkbox two – CDO, checkbox three, which was checked – COVID-19! And probably pretty accurate in that regard.
We have actually done a webinar a couple of months ago on how climatic change if you will, critical change has usually created a rapid adoption of digital technologies, and post-9/11 is a quintessential example. So, in this case we do see rapid adoption of especially remote access technologies, we see budget moving from as traditional business uses to IT and OT over the last several months. Many of our portfolio companies, Momenta Ventures, have seen the same, and in what should be ultimately a downturn across the industry, we've actually seen an upturn in at least, 'truly digital' companies that are supporting this digital industry space. So, I think it aligns pretty well with what you were saying there.
Final question we always like to talk about is, what inspires you in terms of speakers, books, resources etc. How do you find innovation, and what keeps you really inspired?
It's a great question. I'll answer a couple of ways, from a book and resources, there's a few authors I think have been – I've used the word foundation a lot here in our conversation – that to me have been a foundation to my career again, that I've read all of their books and looked back and referenced them often. Anything from Patrick Lencioni are some of my all-time favorites, Brené Brown's 'Dare to Lead', is an important one. Peter Hyde who funnily you just mentioned about that little checklist up on LinkedIn is an article he has through Forbes, and that checkbox is there right now, about on who's driving digital transformation. So, Peter's stuff has been great with all his articles.
Then there's a woman named Erica Keswin; this is someone newer to the offers out there with the books. She has one called, 'Bring your Human to Work', and I really found that one interesting, if you think about the world of digital and technology-technology-technology, but we still have to be humans. I found that to be a really interesting read, and a good one there to look at and use as inspiration for where you want to go.
I mentioned my peers in the CIO community, I leveraged that group and believe strongly in those relationships; don't reinvent the wheel, look to your peers who have been there, done that. Learn from them, provide them some learning from you, and help each other out through your good and bad, which is something that I do all the time.
But my real inspiration through all of it and has been for a long time, has really been my kids. I've learnt a lot from my kids particularly over these last probably five or six years. My kids are in musical theatre, what they do on stage and they've had the opportunity to perform in some very large audiences and see what goes on there as we think about how they prepare for putting on this performance. I've taken things there back to my organization, we can't do what we do well unless we prepare, unless we've thought through all the aspects of it, and know whether it's about implementing this particular project, whether it's about engaging differently with our customer, our peers in the business, we have to have a plan, we have to know what we're trying to do.
Seeing what they do on stage, and it doesn't always go right, people forget lines and people miss their cues, and how they're able to adapt, but you as the audience have no idea that anything really went wrong. That's been a great inspiration for me, and one I've taken away from learnings from them to be able to apply that into what I do as a technology leader.
Additionally, as you mentioned in my bio, I mentor for a number of different things. I served as the President of the Advisory Board for what's called the Energy Institute High School, 100 percent stem project based High School here in Houston, my son is a graduating senior. Being there and seeing what the future work for the future leaders are, especially from a technology perspective. 75 percent of these kids, the graduating class are all going into something within engineering or technology as they're coming out and going into college. That's a big inspiration for me, looking and talking to these kids who are digital natives, they're not like you and I who grew up and actually know what a rotary phone was, and didn't have the internet at all! They are always connected, they've know nothing different, it's all it's ever been for them. Being able to see how they have no fear of technology, no fear of change, they're able to move so quickly, they're your new customers, they're going to be your new leaders in your organization.
So, being able to see from them and learn from them, and also help guide them so that they could be the best that they can be, because I believe we're developing our future workforce and future leaders, that's a big part to my inspiration and that's why I do so many of those mentoring things that I do. It's the give back component, but there's also a selfish side that I'm learning a ton from them, to being able to bring that back to my organizations.
There's an old adage that your life is divided into thirds. There is the learning phase, the earning phase, and the returning phase. It's neat to see you actually combining both of the latter two into one; obviously giving back while you continue to drive change.
So, this has been Ken Piddington, I'll say, lifelong CIO and digital change leader who happens to be at U.S. Silica now, and I'm sure benefiting that organization greatly, and who has been instrumental in change in a number of companies, and very exciting to have you on this podcast Ken.
Well, thank you very much, it was a lot of fun, appreciate the opportunity.
Well, thank you so much, and, for our listeners we look forward to engaging you next week with edition number 96 of our digital leadership podcast. Take care and have a great day.
[End]