Jul 21, 2021 | 6 min read
Conversation with Mitch Maiman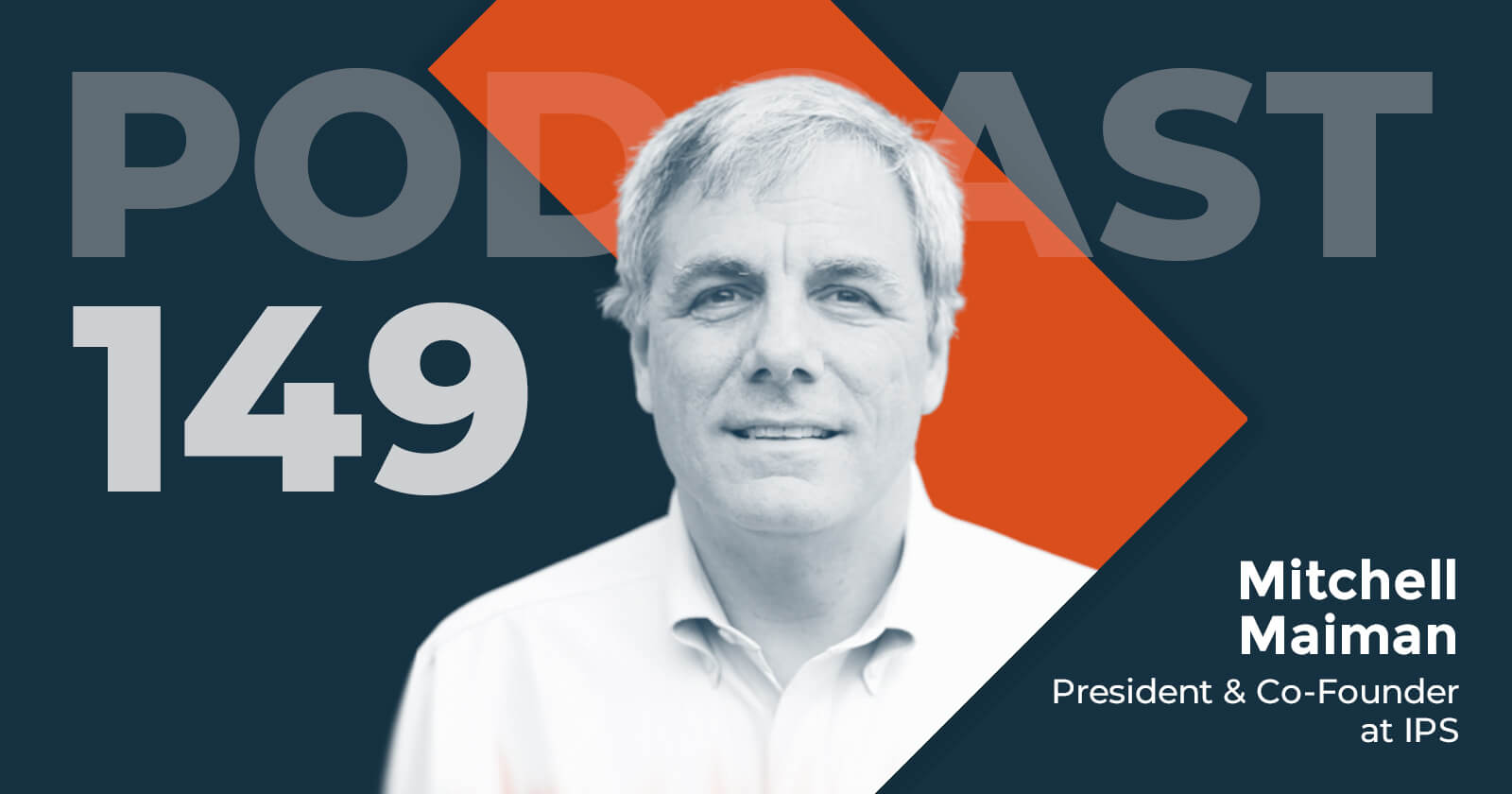 Good day, and welcome to episode # 149 of Momenta's Digital Thread podcast series. Today, I'm pleased to have Mitch Maiman, President, and Co-founder of IPS, a New York-based product design firm focused on design and developing intelligent product solutions for commercial, industrial, and consumer solutions.
Prior to founding IPS, Mitch had a long successful career at Symbol Technologies, now Zebra Technologies, where he served as Vice President of Engineering. Mitch is a member of the Board of Directors for the Tesla Science Center in Wardenclyffe and is a long-term member of the Dean's Engineering Advisory Board at the New York Institute of Technology. He earned a Master's Degree in Mechanical Engineering from Columbia University, an MBA from Farley Dixon University, and a Bachelor of Science in Engineering of Science from Hofstra University,
Mitch, welcome to Momenta's Digital Thread Podcast.
Thank you very much. I'm glad to be here.
I'm glad to have you as well. I know we've had a lot of chances to interact over the last couple of years, and it's good to finally be able to corner you, to get you on our podcast. So, I always like to start with this idea of the digital thread and ask, what would you consider to be your digital thread? In other words, the one or more thematic threads that really define your own digital industry.
Yes, thank you, this is a good question. Today it's really almost in every project we're working on right now, it involves the design of an integrated, an IoT solution, an Internet of Things solution. And by that, full-stack solutions that include both, hardware for sensing, processing communications, as well as the software that takes the data, puts it in the right place manipulates it, converts it to actionable information, which could be in a machine-to-machine context, or it could be direct to other users or employees.
It evolved from days when this was novel and in a niche to where we are today, that almost anything we do know is what I call smart and connected.
It's it is interesting when you talk about the history of that. When we founded Momenta, we always used to talk about the theme. The underlying theme was IOT wasn't new or novel, that you had telemetry and machine-to-machine industrial automation, RFID, all of these that kind of defined waves. And I can't think of a better company to typify that than certainly Symbol Technologies who were truly an early industrial leader in industrial data collection.
You led the engineering there from 1991 to 2004, I think over overseeing a fantastic growth period there, including I remember a lot of work in barcodes and RFID at the time. What were some of your key projects and wins?
Yes, the Symbol Technologies experience was great for me in a lot of different ways, and while I didn't start out heading engineering, I evolved to that point. And there's a lot of things that I was really proud of that happened during my tenure there at Symbol. The days I was there, we were the first with many things and even after we had come up with the first, we always remained the best. And it's a broad number of areas.
One of the first things that we did when I first got there was the move from a laser-based system, moving light based on laser-based systems where we were using it with tube technology. We moved to low-cost VLDL, Visible Laser Diodes to read barcodes, and it was interesting because we sca-venged VLDLs out of the technology that was used for making CD players and that enabled us to make barcode readers that were faster, had longer range, had lower energy requirements, they were more compact, they were smaller. That was one of the first things I was involved with when I got there.
One of the most interesting things, because it fits in with the theme of IoT was, we're talking about probably in the timeframe of '92, '93, we wanted to create cordless scanners that could talk to mobile computing devices or to point-of-sale systems and using wireless technologies. Now, at the time there was a Bluetooth committee, but there were no Bluetooth standards, there were no Bluetooth chipsets, there was nothing. And WIFI, while it was available, it hadn't evolved to the point of stability and low cost that we needed for making a simple… basically a connected barcode reader.
I remember the first experiments we did was with one of our engineers who at the time, as an intern, we took the radio out of a car remote and open the car door, and we use that radio technology to enable a barcode reader to talk to a PC or a computer. So, it was one of the first wirelessly connected scanners. We eventually ended up doing Bluetooth versions not long after, but it was at the time again when there were no Bluetooth chipsets available, and those that were available were very immature and buggy. We ended up creating some of our own technology and Bluetooth. We had I would say, probably the first handheld barcode readers that were Bluetooth connected.
One of the things that was patented, as crazy as it sounds, but it was a big thing for Symbol in the industry, was the integration of a barcode reader with a mobile computing device. Now, this is again at a time before mobile phones were ubiquitous, or certainly mobile phones that were mobile computing devices. So, we were making our own mobile computing systems pre-Palm computing days and integrating them with barcode readers. We were the first in the market to do that.
If I go forward to the last product category that I was involved with in my tenure was, these mobile computing devices going to very abusive environments from a standpoint of abuse, physical abuse. They're used in warehouses, they're used in transportation logistics, they're dropped. They have large displays and they're very fragile and most things, even today, a cell phone in a typical… now it's called Zebra Technologies and not Symbol, but in a typical Zebra Technologies client, your average even good quality mobile phone won't last a week in those kinds of environments, they just can't stand the dirt and the abuse. And in 2004 we released a series of really rugged handheld mobile computing devices, and I'm really proud to see that even today, they're still doing derivatives of basically the same product because it's been so successful.
If I have to summarize it, we were the first in Symbol in so many product categories. But the thing that I was really proud of, and I'm still proud to see, that my compatriots are doing today is, they remained at the top of the game in terms of being the fastest and most accurate at reading barcodes. They got the longest and widest range field of view. It's pretty impressive not just to come up with the first of something, but to be able to sustain that leadership for as long as Symbol has, and I'm talking about a sustained leadership of more than 30 years.
And that's a real tribute to the innovation in the company where they can not only create new products and product categories, but they can remain competitive as those products start to become a little more commodity.
That is impressive and I think at the same time, probably a real testament to your own engineering acumen and what you've imbued into IPS.
Let's talk about IPS. So, you founded the company in 2008. I see a list of clients, including Zebra Technologies, Becton Dickinson, Anheuser-Busch, L3, Pepsi, Google, Verizon Steinway, etc.
What inspired you to start IPS and tell me, what have been some of your most interesting product solutions
The period of a very short time between leaving Symbol in 2004 and founding IPS in 2008, I was on a journey to figure out what comes next. I had been at Symbol for more than 13 years, I had been involved – who knew, but I was involved with a company from when it was an early stage of sub $100 million a year business. Not small, but not big, and to the journey to a $1.5 billion company, and I learned a lot along the way. But I wasn't quite sure what I wanted to do next and in the interim period, there was a firm called Kaleidoscope, I believe they still exist based out of Cincinnati. They were an industrial design firm that was doing work for my buddies at Symbol, and I knew the founders pretty well. They asked if I would be up for joining and starting an engineering services business within this design services company. I agreed to do that. I eventually dragged in my business partner and co-founder of IPS Paul Severino, I dragged him into Kaleidoscope with me.
The interesting thing I learned there along the way was that the business I built was really from the network of people I had worked with over the years, people who had gotten to know me and trust my abilities and trust me as a person of my word, that when I said I was going to accomplish something, I did it by hook or by crook or, whatever means it took I was going to follow through and succeed. So, I had the trust of a lot of people in my network. That led to me bringing a lot of clients together that wanted us for engineering services and collaterally for design services. And then having been a manager for a long time, never really thought much about it in the past, but I realized a lot of my former co-workers were anxious to come to join me in my next step in the journey, so they joined me a Kaleidoscope.
After a few years, we had a little bit of a falling out, and that had to do with why we ended up starting IPS. We left the firm to start IPS, which my vision was that there was a gap in the market at the time, where there were very few firms frankly, that actually had a full stack of engineering capabilities to complement the design capabilities, and Kaleidoscope, it was really a design function with a mechanical engineering business I'd built, I brought in there.
But I had a broader vision and that led to IPS, which is a firm that does not just design and that's hardware and software design, user interface, user experience, but includes a pretty strong array of engineering functions including, electrical engineering, embedded systems, RF, mechanical engineering, systems engineering, as well as software at the application level and up because it was a very apparent fact at the time we started IPS, that the world was moving to what I called smart connected technology; now it's called IoT, that a full solution for a problem was more than just a nice piece of hardware that could talk. It was really the full stack that included the application level that was very necessary.
So, upon leaving Kaleidoscope my business partner and I, Paul Severino started IPS. Then the client base started out based on people that we had a relationship with and networking.
We've been lucky to have built a really nice client base, that's not only the large clients that you mentioned Ken, the Zebras, the Becton Dickinson, the Anheuser-Busch, Pepsi, etc., but it's also a lot of early-stage and startup companies that we engage with as well. So, for every big name is probably two or three names that people haven't even heard of that we've helped along the way. Some of the interesting things we've done has not only been for big companies, examples of some of the things that I think are pretty cool were for Anheuser-Busch we created something called the BeerBox; it looked like a small freestanding bar that was actually a canned beer vending system that took a credit card transaction wirelessly and dispensed and opened the can beer, dispensed a beer open. The intended application there was sports and entertainment venues particularly in the US where you can't dispense an unopened can of beer. It was a pretty interesting system and actually work continues on it today. They've licensed the technology out to another company and we're working with those guys as well.
Another one that almost everybody that's flown has interaction with is something called the Pro-Vision body imaging system. You all know – everybody knows this as when you go into an airport, you go through the screening station. That is the place where you put your hands up, you stand and the antennas move, it gets an image of your body. It does a security screen on that for looking for contraband and weapons. The first generation that was out was really a replicated version of a piece of lab test equipment. So, it wasn't really a product, but it worked. I think at the time that the underwear bomber came along, they needed something right away. The TSA wanted something right away that could help detect explosives on the body.
This technology came out of a government lab, a Pacific Northwest National Lab, PNNL, that was licensed over to L3 at the time and got produced, but it really wasn't producible. So, we created a new generation of that product, and that's the one you probably see just about every time you go to the airport right now. If you're observant the original machine looked like something out of Frankenstein's lab that you walk through. This looks like it's been designed to be less intrusive, less offensive, in terms of aesthetically, it's a little less intimidating. But from a practical business perspective, it's much less expensive to produce, it can be deployed on-site, much faster, it's more reliable. That was another one that was really interesting.
And then one of the big ones that come to mind is for Steinway. This is going to be countered to what people think, of when you think of Steinway, you're thinking of one of the top two-piano brands in the country. And if you talk to Steinway, they are the top brand, not in the country, in the world I should say.
How you would think of Steinway, they will think of themselves as the best piano in the world, and they're right. We helped them create what's called Spirio.
We integrate sensors and actuators into the piano in a way that's totally transparent to the user, totally isolated from the action that the pianist feels on the piano when he plays. It can stream the keystrokes including the velocities, from that connected piano to be able to either record or more interestingly, play on another piano with perfect replication of not just the note, but the sound and intensity that comes out of the artist striking the keys in different ways. So that's another one, it's very interesting, it's got more than two dozen microprocessors in it. We continue to work to this day on offshoots of that technology, mostly in the software.
Another couple that I know are of interest to you Ken, are some of the early-stage clients because we don't always work with big clients. One of our most successful early-stage clients is a company called Adhere- tech. They're not a household name, but what they came up with is a smart connection - an IOT pill bottle. And what we do in the pill bottle is have sensors that detect the removal of the cap and the changing contents of the bottle. And then with a cellular radio, we communicate this change in content to the cloud where we can monitor a patient's adherence to a prescription protocol. As you could imagine, this is not the 15.25 cent pill bottle that your typical prescription comes through from CVS, for example.
But if you imagine a couple of use cases where it's just absolutely proving essential, one is when drug companies do clinical trials, they need to gather data on the patient's adherence to the prescription protocol. In other words, did they take the right amount of medication at the right time to go along with the outcomes that they monitor? In the past, this was done by phone surveys or people being required to go onto an app to log the use of the medication. But both of those require direct user interaction, and that can be flawed, it can be late, that feedback can be missing or inaccurate. With this, it can be done totally remotely with the pill bottle.
It was a difficult challenge because these days having cellular-connected devices is not that surprising, but to make that to do cellular in a way that's easy, to do that typically today people use modules and an SBC, Single Board Computers that have the cellular technology integrated for easy integration. But in the size of a pill bottle – because we were really trying to stay within the footprint and relative size of the pill bottle, the only way to do that was to put the cellular chips down on board, and those who were in the business know that once you start to do that, your carrier certification process goes way up through the roof before the Verizon's and the ATT's of the world will let you put your device on the network.
So, we had to go through that for Adhere Tech and we've been involved with them for several iterations. That original prescription protocol monitoring has evolved to other things, where patients who take life-critical medications, the AdherTech system can monitor the usage of medications and it can be lifesaving for a lot of patients. If you consider some older patients, people that might have some dementia or Alzheimer's, they may forget to take their medications on time. This is a way of enabling that feedback loop to help and ensure that they can be safe and remain healthy, get better health outcomes. So that's one of the smaller companies we've dealt with.
Another one is a company called Opti-Harvest; we're working with right now. I can't go into too much detail there, but it's an early-stage company and it's in agriculture and we're coming up with systems with a mesh of sensors and communications, we can monitor the conditions in the farm in big agriculture. We're talking about, orchards vineyards, things like that.
Great examples. I had to laugh at the Spirio ones, true digital twin if you can imagine the digital piano player matching exactly the real one in there. And the full stack theme I think certainly follows everything that you guys are working on.
We were first introduced, I think in 2016 by a gentleman named Tom Gilly, who is an extraordinary CTO. I think what intrigued me at the time was the way that you were working with younger companies, and you've mentioned several times in the podcast about the work that you do. Since we are avid investors in a number of young companies in Industrial IOT, or we call it digital industry space, it's always interesting to look at how these companies scale up their full-stack offerings because by definition they are full stacks of digital industry. And so going from internal custom design or the work they've done internally, to some form of scale-up down the line. Let me ask, what's the sweet spot for bringing in a firm like IPS into this? And I know there's a design and engineering element to that.
Yes, great. We have a lot of different engagements, in a lot of different ways with clien

ts. You mentioned certain occasions where we've take

n equity positions, there are a couple of instances where we've taken an interest. IPS is a small company, our parent company Forward Industries is not huge, and there are a couple of instances where we've proactively taken an equity position in the client, and it remains to be seen how some of these are going to pay off. But one of the other things I'll just say, it was making lemonade out of lemons.
One of the troubles we have sometimes with early-stage clients is their desire sometimes to run ahead of their budget, and they've run out the project where they've run out of capital, and in a situation where they've owed us some money. We've taken an equity position in some of the companies as well, which we're riding out with them as they try to raise capital and create value in the equity space there. We have high hopes; actually, there's a couple of them that's going to actually make a very nice lemonade out of the lemons. That's happened.
In terms of the sweet spot of a firm like IPS, obviously, when we work with large highly capitalized, well-capitalized firms, and it's a relatively simple matter to engage IPS, they often know what they want to do, and they often know where they need help. Not everybody needs all of the capabilities in IPS, sometimes they just need help in a particular domain, whether it be software or maybe they're having an RF problem, or it could be a problem with their embedded systems, and they need some firmware development to help. But large companies typically have an idea of where they need help and have the wherewithal to go solve this out, to create new solutions, solve problems. But it's always a little more challenging with early-stage clients, and we do work with a lot of early-stage clients. In fact, I sometimes work with some that are even pre-funding and I try to help coach and guide them through the process of getting funded. The way IPS is able to help them is that we try to identify any of the small stumbling blocks that may be getting in their way of being able to demonstrate their technology or take it to the first or next step, to be able to present their technology to investors.
We try to in certain instances, especially with early-stage companies where funding is always tight, is trying to figure out what is the nearest term essential problem they're having that's really a barrier for them? Can we get in there for a few hours for a few weeks, help them through an initial problem and then bail out, step aside while they go out and get the funding and move to the next step? We can help these firms with a little dose of our staff which is very experienced. We have a lot of engineers on board in each function that has got more than 15 years of experience. Not every startup has that breadth of talent internally. Sometimes just being able to talk to somebody with that experience can help get over a hurdle that's an impediment.
One of our clients referred us to another client and that's a big way that we land new business at IPS, but the way he referred us to his friend was, basically to say that they have to work with us because IPS is the special forces of product development. We were very proud of that perception that people perceived us as experts, as we're not the special forces, we're not the guys that stand on the ground for three years, they go in, they complete a mission, and they step back until needed again. And I think in early-stage companies we can be thought of as that force, that we can jump in, solve a problem and step to the side until you're ready for us again.
I love that description actually and it reminds me, while we can't talk too much about it, we brought you guys in on a fairly large M&A deal not that long ago. And it's funny, you did exactly parachute in!! … to what was going to be a challenging situation and had even more challenges with it and performed admirably. We interacted probably with a dozen of your people, and I know there's a lot more there. I would certainly vouch for these special forces of product development moniker, I think that's absolutely great.
One of the things that Ken and I like to help too is not every client engages the special forces, for example, sometimes they're just trying to get to the next level of capital, a capital raise, and putting together their pitch decks and things like that. And one of the nice things about being at IPS is I get to see a lot of early-stage companies. And I get to see which ones succeed and which ones don't succeed in terms of moving the ball forward. So, I like giving advice to early-stage companies, to try to help them present their ideas in an authentic but the best light possible. And that's something that I personally enjoy doing.
That's great. Perhaps it's a great segway to my closing question which is where do you find your inspiration from?
That's a good question. Ken, we've known each other for a while, and I really am a people-oriented person. So, I can't say there are particular books that I read or online media that I get my inspiration from, though I do read some online magazines and get ideas there. A lot of it comes from my interaction with both my staff and with my clients and even client prospects.
IPS is an interesting vantage point though, from which to see the world because we're seeing ideas that are coming to the table for things that are going to really be the future. It's people who are really coming up with innovative new businesses and new product ideas. And even though the folks are in the earlier stages, not everybody is successful, not all of these ideas are going to succeed in the hands of the people I may be meeting, but their good ideas do survive.
And I'd love the chance to be able to see that little vision into the future. And it really charges me up to want to learn more, find out more, discover more, that's what keeps my energy flowing.
I can certainly vouch for your own work at IPS, and you have touched at least one of our small portfolio companies and I continue to hear great things from the coaching and work you did, and also helping them develop their network. Admirable. So, Mitch, thank you for spending this time with us today.
You're very welcome, I enjoyed it, and thank you for the opportunity.
So, this has been Mitch Maiman, President, and CEO of IPS, and I guess at the special forces of product development Monika, where I'll call you the General of the Special Forces or Product Development. How about that? And I'm actually going to tag this one, I think I'm going to call it 'Special Forces Engineering', that's perfect!
It is. Maybe I'm more like the Colonel because I'm a little closer to the operation than the General might be.
There you go. There you go,
either way, it's been great to have you. And I think that moniker really does define the value you guys provide, both to large companies and certainly too small, and we look forward to continuing working with you in that regard.
So, thank you for listening, and please join us next week for our next Momenta Digital Thread podcast.