Aug 26, 2020 | 4 min read
Conversation with Christopher Chong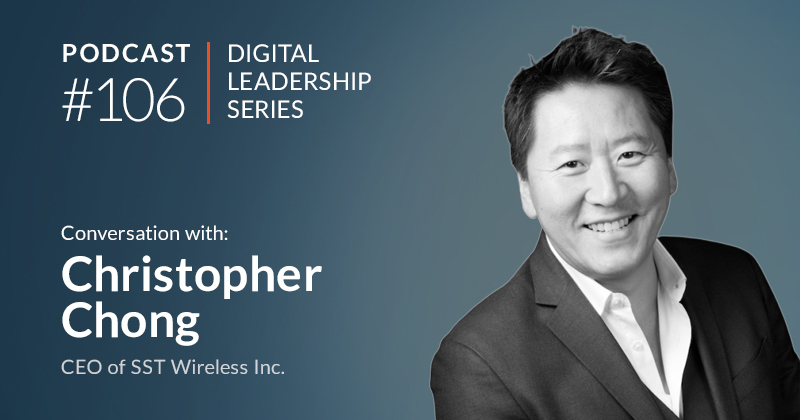 Good day and welcome to episode 106 of our Digital Industry Leadership podcast, produced by, for, and about digital industry leaders. Today I'm pleased to interview Christopher Chong, CEO of Momenta Ventures Portfolio company SST Wireless.
Christopher brings over 30-years of executive experience in media, technology, and marketing, across Canada and the United States. Notable positions include CEO of Chalk Media Corporation which produced network television and lifestyle shows, and Director of Business Development for Blast Radio, the premiere provider of web marketing for brands such as Nike, Nintendo, BMW, and Air Canada.
Early in his career Christopher founded Vancouver Online, a pioneering online community for destination-based web portals and local shopping. Christopher has been a guest university lecturer and is a sought-after speaker for his expertise in marketing & technology. So, welcome Christopher.
Well thank you Ken, it's a pleasure to be here. I've been looking forward to this, and I've been thinking a lot about our conversation, so thank you for having me.
Perfect, it's long overdue since we announced our investment in you quite a while ago! It's a good opportunity to finally interview the man behind the legend, if you will.
Absolutely, but your investment into us peaked us to a very interesting time, wasn't it?
Well, it really was, yeah. We'll definitely talk about that a bit in our interview here. So, let's start with your professional journey, and tell us a bit about your background, and how it has informed your views of digital industry.
Yeah, it's been a really interesting road, I was thinking about this. I started noticing technology I think as a child, and I found all of that very fascinating and wanted to understand how things worked. I do recall with my dad telling me not long ago that I took pretty much everything in the house apart. There was a long list of things I disassembled but have never really been able to put back together! My mum reminded me one time that I had been dragging all these computers home, a massive CPM machine with 10-inch floppy drives, and one time somehow I got my hands on a digital VAX PDP, which is a minicomputer the size of a refrigerator, and to my mother's horror every time I turned this thing on, the lights in the house would dim, and the floor would start vibrating.
But I wanted to know what was going on, and back in the early days I thought I was going to be a programmer, but that didn't end up being my path after all. I had a business with a friend of mine in high school, we were doing software, and one day he told me that simply I was really a pretty bad programmer, and he was a bit of a genius, so I knew he was right. We made this decision that I would focus on the business side of things, like sales and marketing, the human side of things, and that's how I started into my career in technology marketing. But fundamentally technology and digital industry has always been in the back of my mind since I was a child, and I think I'll never really leave that field.
I've done lots of crazy funny things, especially when I was young, when it comes to the industry, but it's kind of fun to look back on it.
Yeah, I imagine. You had a bit of a folklore start creating Vancouver Online, the first client server destination-based internet portal, offering advertising and corporate intranets, even offering free dial-up service, I guess directly against some of the peers at the time. Providing web access and of course services like email accounts. We were talking beforehand about the AMC series, Halt and Catch Fire, and it seems like you were creating something right around the same genre, around the same time that they covered that. What inspired you to jump into this space at this time, beyond of course the big CPM machine!
There was a bunch of other things I saw happening. I think I was quite idealistic at that time, and I thought that technology was going to make everything better, marketize everything, make lives better, improve it, information available to everyone any time they wanted. Obviously, things have turned out a little bit differently, but I think deep down I'm still very idealistic about the future, and how digital technology is transforming that.
So, in the eighties I had a Borden Board system, that was called the IRS, called Information Retrieval Service, and it was a solid base of users, a community where people got together, exchanged information, and I kept on adding stuff about government, law, other things I felt people should know. I ran it as a hobby for a number of years, until I got a letter from the actual Internal Revenue Service, saying that I can't use IRS for the board name! So, that was the end of that one.
Fast-forward a few years, and back in 1994 here in Canada, we were dealing with something that could possibly break up the country, and it was called the Quebec Referendum. People were arguing about the politics of it, and a lot of people were talking about the constitution changing the Bill of Rights and Freedom. But when I looked around and talked to people, what I realized was that very few people had even read the constitution, things that we were being asked to vote on, or the Quebec Clause we were being asked to vote on. So, people were simply not informed, and it was really not easy to get access to that kind of information, you could run down to the library, look at all these different things, but people didn't do it.
So, it was at the early stages of the World Wide Web, and I felt I could provide a service that could keep people informed, a bit like going back to the BBS days, so I kind of merged the concept of the BBS that I had, with the Web, found a company in the US that had a client server platform that ran on MAX, I leased a bunch of ISD in lines from the local phone company, and then proceeded to create a program to split them off into 28 day phone lines; if you remember back you had the dial-up modems, not like the high bandwidth that we have today. And so, I put together this company called Vancouver Online.
We set-up shop in an area called Gas Town, which is an old district of Vancouver with the brick exposed walls, and all that kind of stuff. We made up all these little client software discs on a 3 ½ inch floppy for a PC and Mac, and made them available to anyone, at computer stores, retail stores, and people would simply install the software, connect to our service, and basically I was taking on the concept of America Online, but the difference was that we were a free platform, funded by local companies advertising, creating virtual offices, shops – this is before ecommerce. So, people were downloading or printing coupons, and redeeming them.
The dream was really to replicate the service in a bunch of cities, and then network these together, so there always is a base level of access to information, and communication, and community, for everyone regardless whether they had the money to pay for access or not. So in the end we didn't make it, I'd chosen to build our system on an open standard browser, and then the industry kind of split into the Netscape and the Explorer camp, and I was trying to raise capital to expand and recode, and do all this other stuff, but the VCs didn't understand why they would want to invest in a free service, especially during that time '94, '95, '96, the internet service providers were all hemorrhaging money badly. But that was the idea of Vancouver Online, it was a touch time, I had lots of fun, but in the end, it was one of the most memorable times in my life.
Oh man, I can imagine. Again, it brings back series or episodes from the Halt & Catch Fire series! All the way down to the browsers!
It was, it was. I standardize on Mosaic because it was kind of like you go with the standard, but obviously the corporate diversions is really what took off.
You went onto play a leading role at a number of companies in the nascent then digital marketing space, including your work at Chalk Media. What attracted you to this space, and what were some of your early learnings, especially through the famed dotcom crash, which by the way I think we've just celebrated the 20-year anniversary back in March.
I know, I can't believe it's been 20-years actually!
Yeah, I felt the same way!
Well, everything I guess one thing leads to another, right? So, my experience of Vancouver Online, I got to do a lot of that. Well, one thing that we were able to do with the client server in the Web was to do a lot of creative digital media type of work. I went to work with a company called Blast Radius which was one of the premier digital shops in Canada, very focused on the technology, and I didn't want to get deep into it. So, I was trying to figure out how to translate what brands wanted to create an online experience, versus just putting pictures, and texts up. This meant it had to be more than just a display or the content management and you had to go into actually making the relevant experience for people and make it very personal. So, using content management, customer segmentation, profiling, serving up customer content streams, and this was all in the early days of it where a lot of back-end technologies didn't exist.
One of the things I remember is creating a project for, how do you promote tourism in Canada? This was a national website for Canada itself, the entire country, we needed to aggregate content from the local destination management organizations, what they call DMOs, feed that into the regional, then into the provincial, and then into a national platform. The concept was, if a family from New Jersey want to go to Quebec, Montreal for example, to experience a unique European feeling in North America, the site would understand what they're looking for, and then serve up all the content and make recommendations.
So, that's kind of where I went into it, we went into Chalk Media, and then I went to look at multi-platforms, so Web, TV, online, video learning, and even in-flight entertainment. So, people sitting on airplanes looking at that screen they used to have on the airplane and using that as a marketing channel as well. So, that's all the stuff I did, I think the dot-com thing was interesting, I didn't see it when it was happening. I was in the industry, but I didn't really see it, there were a few things I saw where I thought things were crazy, I started seeing tech companies and salvage become glorified, and home mythologies built around them, but I didn't see it happening.
And it's still the case!
Yeah, it is, I think the hype was a significant part, and I think the more people buy into the hype, especially if they come vested in that company, they really can't turn back. The biggest lesson I learnt from the Dotcom days, because I've had a few failures in that area, is being too early will get you some street creds for pioneering and so-on. But it usually won't lead to success or longevity, and I think being too late means that you're just being a Me Too, and you end up in that noise, and it's really hard to get past that noise. So, when I look at all the things we've done in digital industry, I think the idea that everything has a best before date, and you have to be aware of that.
It's a great lead in, because all of this work culminated in you joining SST Wireless in 2013, which again at the front-end of the curve of what we say is the industrial IoT. So, SST a developer manufacturer of industrial wireless sensors and technologies, helping increase safety, reducing operational downtime, decrease environmental impact, seems quite a leap from your past marketing work. So, what would you say is the red thread that brought you from the past into SST in 2013?
Going from digital market into content generation and stuff into a hardware company was a leap, and keep in mind though, I have always been fascinated with hardware starting from a kid bringing all kinds of stuff home. But when I joined SST, I didn't have deep insights into the industrial IoT, or industry 4.0 as it's called. I think the common thread through all of this is the fact that I had always been looking for a way to make things accessible, whether back in the BBS days, or Vancouver online days, is how do I get things accessible to people? How do I take digital technology so that people can actually use it and get that potential out of it?
So, that's how it started, and I was kind of locked out. I was asked by one of the early investors in the company, someone I've known for a number of years, and he had this company he invested, he goes, "I don't know what we're going to do yet, so take a look at it, write me a report". So, what I did, I looked at some of the earlier successes a company had with tire temperature pressure monitoring for large format trucks, some success in transit, but what I saw was the fact that they had done something interesting, they had started to deliver something that made sense for a lot of industries. And so, what I want to do is to focus the company on how do you leverage the underlying technology, to provide access to industrial IoT and monitoring equipment, regardless of the resources, technical skills, and all that kind of stuff, which I thought were huge barriers. So, we set off about five years ago to do that specifically.
I like making things accessible, and it probably parlays very well in the way you've described SST's purposes, removing the barriers to industrial IoT for any size of customer, regardless of their technology resources. So, say a bit more about what this means, and relative to your client base.
Sure. It was because when I started attending a number of conferences on industrial IoT, and Industry 4.0, a lot of the conferences were centered around Germany, because that's where I think a lot of this consequence started. So, everywhere I went, the main topic seemed to be analytics, whether predictive, with machine learning, all that stuff, and there were hundreds of start-up companies offering analytic services, when I saw a problem. They relied on the customers for the data, and when it came to the smaller customers, which I think is about 94 percent of the market, there was no data to be found, and that's when I had that moment of going, "Okay, this is an area that we need to focus on". So, what I decided to do is to simply say, "What are some of the things that's keeping small to medium size companies from really leveraging analytics, industrial IoT? Because if you think about it, they're the ones who can benefit the most, they're the ones who are most susceptible to downtime and business lost because of that.
So, the barriers we look at was size, money, technical skills, and we designed our sensors to be plug n' play, and that's not so easy when it comes to industrial, but I think we've done it. Activation can be done by anyone, so we kind of started taking things away from the legacy guys where you have people coming run cables for 100 bucks a foot, they do the commissioning of the sensors, they do the programming, back into some proprietary architecture, and that's what we wanted to remove. So, we have wireless sensors that you can easily install with a strong magnet yourself, you tap it with a phone, you make sure that the sensor is logged into the gateway, it all goes into our backend. So, we are in the process of finishing off something called EC Dash, that's build on the Amazon platform, which is our cloud base equipment conditioning monitoring that anyone can use.
What we're simply saying is, an argument that customers can learn together by sharing the data. So, one of the things that I have thought about is, let's say you and I drive the same year and model of a car, and Ken maybe you drive much more aggressive than me right, so you accelerate hard, brake hard corners, and all that kind of stuff, and I'm slow, I take my time. But we are told that you and I both should take our cars in for a service at the same mileage interval. This shouldn't be the case because we will have different rates of wear. So, I'm thinking the same thing for machines. If a small company doesn't have to service the equipment as often, or maybe extend the time between service by 30 percent, that's a bit impact for them in addition to saving on labor and parts, they can also reduce the downtime that they would have, and also be able to plan it.
And analytics, once we have enough data in our system, we have relevant data for trainable events, we can actually have a bit of a network effect where we can start comparing machine data from one customer to another, and found there we're going to reduce the time to analytics is what we're trying to do. This is something that for small companies is hard to do, because they just don't have the data, they don't have all this data they can combine together, so we're going to help build that.
So, that's what we're really trying to do with SST Wireless ultimately. Sensors is simply a tool to get the data, but really it's what we can do with the data to inform decisions that they make, in terms of their operation and maintenance, that's ultimately what we provide our customers.
That makes a lot of sense. Can you say a little bit about the modalities of sensing you guys support, and maybe a couple of use cases, because the audience may not be fully familiar with you guys?
Sure. The most fundamental sensing we look at is high temperature, vibration, and pressure. So, with those three I can probably work on about 80 – 85 percent of most machine conditions. So, one area that we have is something called wood pellet nails, so in British Columbia we have a lot of natural resources, forestry, they take the sawdust and other products of fiber from wood, and they put that into this little wooden pellet, they've been using this for a long time for home stoves, but what's been happening is in Asia they've been using these wood pellets in replacement of coal. So, they're making a lot of this stuff and the machines get very hot, you're throwing sawdust into a chamber which then uses a roller and a dye to crush them into these little wooden pellets. Well think of it, you've got sawdust, air, and hot metal surfaces. If you don't monitor it, things can go sideways really bad. Explosions, fires, and things of that nature.
So, one of the largest producers of wood pellets now use our sensors in every one of the machines. It actually goes inside the machine while its operating, and gives real-time data about the temperatures of those rollers, and when it gets to a critical temperature they can either slow down, or shut down their equipment, increasing safety, reducing downtime, and making sure that there is no catastrophic events like fires and explosions. So, that's one of the aspects that we do.
We do everything from monitoring water pumps in municipal water treatment facilities, so that citizens can get pressure out of their taps. That's something we're focusing on, especially in areas where its unmanned, and I think down the road with COVID and everything else, having this visibility into machines remotely will become more and more important.
Yes, very clear. So, one of our Momenta Ventures key investment theses is industrial innovation powered by low-power, wide area, LPWAN networks, especially those based on Semtech LoRa standards. What are some of the interesting industrial use cases you're seeing for LoRa?
Oh, there's so many things. There's the actual sensor themselves, we've been using standard ISM RF radios on them, they have a range but they're somewhat limited, and so with information LoRa with Semtech and using the stack, we should be able to reach quite a bit. So, when you have large industrial complexes, getting all those sensors and gateways talking to each other is always going to be a challenge, and so LoRa has a much longer distance that we can actually get that data going, which will help us a lot. So, right now we want to push that 300ft to 500ft range that we've been doing, much further with LoRa. A nice thing is that the LoRa works in the same frequencies that we already work with, which is about 950MHz in North America, and 858MHz in Europe. For us to change over its been a relatively easy process, so we're hoping very soon that we can get the first prototypes out there.
On top of LoRa when you look at LP1, a lot of our customers such as in mining, forestry, and other areas, are not near any public exchanges, or public networks, so they have to create their own network within the network. I think the combination of two has a lot of potential. The low power part is where we get excited, because our wireless sensory and gateways require that. We are relatively working on very low power sources such as batteries, and a little bandwidth application which both are very ideal for what we're doing. So, keep in mind say an open pit mine, extracting copper and all that kind of stuff, it's about 2kms wide, getting signals from the trucks and all the equipment in there is a challenge. So LP1 and lower combination can help solve some of those challenges and reduce the cost for the actual customers.
Appreciate that. Going back to a topic that we were talking about a few minutes ago, in terms of the time, the World Economic Forum has used the term, "The Great Reset", when referring to the long-term impact of COVID-19 pandemic; what do you see is the impact of this reset on your industrial sensing space, especially over the last several months?
I'm not sure if I would want to call it the great reset, because some of the things I'm seeing as a result of the COVID-19 are things that I kind of expected to see happen. I think what's happened is, it accelerates the timeframe that it's going to happen. So, aside from the economic impact as we especially come out of this, subsidies, and emergency bailouts and all that kind of stuff, a lot of people are going to retire, or simply age out, and these are people who have made their career maintaining equipment. They know their machines, they're the machine whisperers, they know a lot, but this aging out is going to happen, it's going to happen much faster. As far as I can see there isn't a whole bunch of young people who want to take overspending their time maintaining municipal water pumps for example.
So, these young people are going to want to use data, and where does this data come from is the question. I think what we have to do is, start capturing data sooner, so we're to get more sensors and sensing out into the marketplace, so that we can capture as much knowledge as possible from these people whilst they're still here. One of the things we're doing on our platform is, we're capturing the actual machine data itself, but these people who are still around, that know the machines, can click on the system at any time and add their notation, saying, "The vibration felt weird, I increase an amount of grease on this particular bearing". We want to capture as much of that data as possible.
The second part that we're looking at is due to COVID, physical distancing, it also means that you don't want people out there unnecessarily, so if you can reduce the need for physical visits to facilities, I think that's going to be part of that equation. So, having remote monitoring using censors, having everything go up to the cloud so that you can actually see what's going on, and respond when is necessary will help reduce unnecessary travel, and onsite time where you can come into contact. COVID-19 is a pandemic, I think people are projecting there'll be more issues and more things coming forward, so this might be just something we need to adapt to and use more of these technologies.
I like your pushback on the term, "The Reset", we've gone so far as to coin COVID-19, at least the impact on our portfolio of companies and peers, as the great digital accelerator, and we're actually using this as a tagline for an upcoming webinar, because exactly what you've said, its shortening the time to 1) instrument, and 2) of course accelerating the need for it based on people leaving the workforce, and of course remote distancing and things like that. I fully agree with you, it is very much an accelerator, and at least the stock markets seem to agree in terms of the backing of digital companies these days.
That is true.
SST is the latest of our investments in Canadian companies, all of which I must say have done extraordinarily well, so I'm going to make you put on the economic development hat here! As a serial entrepreneur in Canada, you're clearly a believer, so what makes Canada a great place for start-ups?
First of all, we are a small country in terms of its demographic. Geographically we're massive, but demographically we're quite small. I used that 10 percent rule, so we're 10 percent of the United States in terms of market, finances and everything. So, it's not a great place for domestic market, it's also a difficult place to access capital I've found. But that said, it's a great place for innovation, and there's a lot of advantages to Canada. I think the biggest thing is diversity of people from all over the world.
So, in our office we have engineers from Iran, Brazil, and other places that are bringing lots of interesting ideas and perspective. It's a great test bed, and there's also a lot of funding and services available where you can develop technology, and then we're so close to the US where it's a massive market for us. So, funding in terms of R&D, market development it's very robust, we take advantage of I would say about four or five different programs that directly gives us a refund, for example in scientific research and experimental development through our tax, our corporate returns. Then we have grants that we get from the National Research Council, and we even have marketing funds that if we want to go after an international market, the government will pay for a certain amount of that, so it can help decrease some of our cost.
Those are great things in terms of how Canada has been set-up to encourage development, research and all that kind of stuff. We still have an issue with companies, once they get to a certain size being bought up by US companies, but that's just kind of the way it works here. But the most important thing I think is the diversity of the people that you have in Canada, and that makes a big difference in terms of why we're good at innovating.
Well said, yeah. Certainly, for those of us who do setup companies, or invest in young companies, you hear a lot about the tax incentives there in Canada. And being in Europe at this point, it's not dissimilar in that the larger US companies tend to buy up the young companies in region. But in some sense that means that your pipeline is that good, right. So, it's not necessarily a bad thing, and certainly not for the founders.
There's also the US Dollar exchange, it does help a bit too!
It certainly does! So, as digital industry investors we always like to ask for your recommendations on interesting start-ups, and especially now that you still have your economic development hat on, so who are your ones to watch in terms of start-ups?
Well I was thinking about that, I've been doing a lot of local venture, reviewing companies, but I'm going to talk about an area that's more than just a start-up, it's a whole industry. One of the things that we're looking for is development in battery technologies. Lithium batteries and currently how we make batteries has a significant environmental impact. So, for example, the amount of mining that is going on is actually increasing by 30 percent, because of the fact that we're going to friendlier or green technologies like electronic vehicles, or electronic devices, it's actually increasing the amount of mining and resource extraction that we're doing.
So what I've been following is some companies that are looking for non-lithium power, and one of the ones I came across is sodium-base, so think of salt water instead of expensive lithium. I've been looking at a bunch of development, but there's a couple companies that I'm watching because it's interesting. There's a company called Blue Sky Energy out of Austria, and it's going after another company that is called Aquion which was backed by Bill Gates, they went through bankruptcy and has re-emerged fighting off a bid from this Austrian company. But it's going to set up a really good epic fight, I wish them luck, I wish that they will be able to take some of these developments and make it commercially viable. This is what I'm following, that power-battery marketplace is where I see the next big leap that has to happen for our kind of technology to be more sustainable.
Good suggestion there, a gentleman named Jaap Groot who will be CEO of an antenna company here soon, he's currently with Semtech, I interviewed him for a podcast which I'll publish in September. He made an interesting prognostication. He basically said, LPWAN going to go away, so low power will replace with no power, i.e. think of energy harvesting, and WAN versus what he called microcells, or small cells as they're often called, that are meshed together. So I thought it was interesting, but they did trigger for me the number of companies we're seeing in both the battery technology space, but those that are quasi energy harvesting, moving to full energy harvesting. We are seeing more and more in that regard, and I think that will be another catalyst if you will, to drive a lot of the distribution of sensing meshes and stuff. So, Blue Sky Energy sounds like an interesting one, and Aquion.
In closing, can you provide some recommendations of books and/or resources that inspire you?
We were talking earlier. I just love podcasts; I go to sleep with them on! So, some of my favorite podcasts, Spectacular Failures, How I Built This, Pivot, Malcolm Gladwell's Revisionist History, Freakonomics, these are the ones I love listening to.
From a books point of view, I tend to read more fiction in my downtime, especially true spy novels and so on from the eighties. I found a book that I recently read called Loonshots, really interesting. It's about how you can take crazy and different ideas and make them become reality; I think the author that wrote this book was a physicist that turned into an entrepreneur and has a very different perspective of things. So, that's a book I recently enjoyed on a little camping trip I went on.
Excellent, Loonshots, I will have to take a look at that. And I agree with you on the podcasts, I do enjoy listening to them, as well as producing them, it's almost as much fun.
So, Christopher, thank you for this insightful interview.
Well thank you very much, I've really had a good time.
Yes, as well. This has been Christopher Chong, CEO of SST Wireless, and I'd like to say a long-term digital industry leader. Thank you for listening, and please join us next week for the next episode of our digital industry leadership podcast series, produced by, for, and about digital industry leaders.
[End]