Aug 10, 2022 | 4 min read
Nikhil Chauhan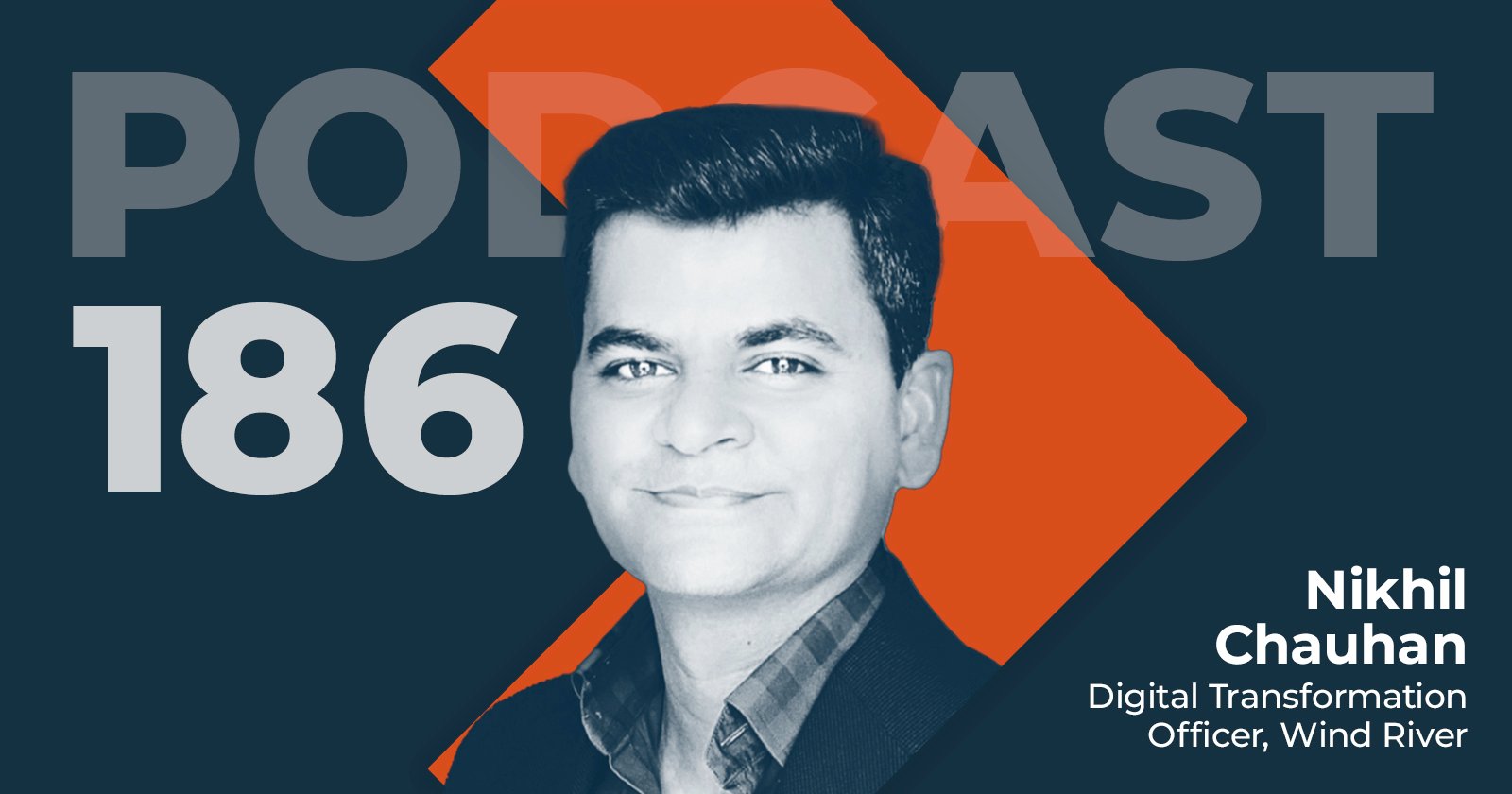 TRANSCRIPT
Ken: Good day, and welcome to episode 186 of our Momenta Digital Thread podcast series. Today I'm pleased to host Nikhil Chauhan, Digital Transformation Officer of Wind River Systems, the leading software for mission-critical intelligent systems. At Wind River, Nikhil leads the global industrial, energy, and health tech industries. He is a business and technology executive with over 25 years of worldwide multifunctional experience. Over his career, he has yielded 4 billion dollars of value, step-changed digital transformations, strategic pivots to SaaS, cross-platform solutions from over 50 products, unique thought leadership such as defining software-defined machines at GE, scalable operating mechanisms, and top graded Centers of Excellence at GE, Hitachi, Cisco, Philips, Teradata, and Ericsson. He holds an MBA from Henley Management College and a Bachelor's in Electronics and Telecommunications Engineering. Nikhil, welcome to our Digital Thread podcast.
[00:01:42]
Nikhil: Ken, thank you for this opportunity. Your podcast is an exceptional learning source from you and the industry's best. I'm very excited to be here.
[00:01:51]
Ken: We're very excited to have you, and thank you so much for being an active listener. Having listened so much, you know we always like to lead with a bit of a provocative question: What would you consider your digital thread? In other words, the one or more thematic threads that define your digital industry journey?
[00:02:09]
Nikhil: Three thematic threads define my journey. One is the value chain. I had the opportunity, Ken, to work with various value chain constituents in public, private and startup space, and that includes hardware software technology enablers, which have been NXP Semiconductors and Wind River Systems, network equipment, infrastructure, and connectivity service providers Ericsson and Cisco, data analytics products and platforms provider Teradata, machinery and equipment OEMs who are building solutions and engaging the end business customers, and those have been GE and Hitachi in my case. Then I've worked with system integrators who are enhancing the experiences of end customers along with startups, whom I mentor through the Alchemist Accelerator.
The second thread for me is the functional thread. I started my career as an Industrial factory production manager. I then migrated to software engineering, where I worked at a startup called Systemonic, which got acquired by Philips and eventually became NXP Semiconductors. I did semiconductor product program management, played roles in general management and strategy, product-portfolio-solutions management, product-solutions marketing, product operations, and then business development sales and go-to-market. So far, my career has been thankful, and I have got a chance to incubate and deliver, launch, and market solutions, platforms, and products.
The third thread is the digital transformation thread. In my experiences, I've contributed to the multi-year digital transformation journey of my employers and their customers across the OT and IT, and that spans from understanding the digital maturity, framing the digital challenge for prioritized outcomes, focusing the investment, mobilizing the organization, and then sustaining that transition.
Those first two threads of the value chain and functions helped me with that third thread, and the diversity of experiences helped me to understand the business through a holistic lens. Equipped with that, I innovate business and technology by answering the winning aspiration and strategy, where to play, and how to win both from an offering and a go-to-market perspective. What cross-portfolio capabilities are needed to win? What are the organization's control points? How should capabilities be developed, deployed, launched, and sold to be customer-centric? What business people processes and technologies are required to succeed? Those digital threads allowed me to use levers in my roles, such as an as-a-service business model adaptation or value-based solutions incubation or tech modernization, customer experience reinvention, and data monetization.
[00:04:57]
Ken: It's a very rich experience base. I love that it feels like a full-stacked one from technology leadership to functional application and business strategy. Probably very fitting since your title is Digital Transformation Officer at Wind River. Perhaps as a level set, how do you define digital transformation?
[00:05:18]
Nikhil: Yeah. To me, Ken, digital transformation is a mindset. It's a mindset that drives step change, and disruption and yields increased profit, productivity, and performance.
With the digital transformation mindset, I've seen companies create value in three ways. One is through new frontiers. For some enterprises, this may be developing new businesses in adjacent categories. For others, it may be about identifying and going after new value pools and existing sectors through pivoted business models. The second way is to reinvent those end-to-end customer experiences, and that's really to reimagine how customers are served by injecting audience centricity, rethinking how digital capabilities can be designed and delivered for the best possible experience. The third is through foundational culture, and that's about the technological and organizational plumping that allows an enterprise to be agile, data-influenced, and more efficient in terms of its underlying processes.
Now, here's what I find interesting and important. The leading digital transformers excel in both the 'what' and the 'how' of digital. The 'what' makes these businesses different though, as I said, reinvented business models or top grading experiences or operational processes. But the 'how' is the leadership capability of creating a compelling vision, engaging the organization at scale by being agile and flexible, governing digitally, and integrating those business and technology teams for an efficient operating model.
[00:06:59]
Ken: Now, in between the book ends of your time with Wind River, you've had a long track record of leading roles from Head of Edge to Cloud and Digital at GE- or Director at GE Digital to leading Product Marketing at Cisco IoT Cloud BU to Head of Portfolio at Hitachi Vantara to VP of Product Portfolio Management at Teradata, to conceiving the IoT strategy at Wind River in the early 2010s. Now, of course, as I said, bookending with your digital transformation officer- it's a wide experience base. What did this time teach you about Edge computing in industrial?
[00:07:35]
Nikhil: Let me break the answer by sharing my learnings around "the why" for industrials, "why Edge" for them, the market dynamics, including what we are seeing right now, and some of the digital transformation learnings associated with Edge computing in industrial.
The strategic business issues continue to fall under the categories of increasing revenue or market share, increasing efficiencies, and productivity, increasing quality and reliability, and decreasing cost. The market headwinds that are pressurizing the industrials are- of course, the pandemic, the workforce shortage, the skills gap, and the supply chain bottlenecks. Some of them are turning around and getting better now. But those combined with intensifying global competition, and increasing hardware commoditization, especially in the industrial manufacturing sector- are creating a sense of urgency and shifting the value pools from products to software and service.
The goal for many of these industrials is to disrupt their traditional ways of working, remain competitive, and transform themselves by adopting various digital levers, defining and executing strategies that leverage the potential of their people, maximize their control points, and leverage modern technologies to transform operations, customer success, and of course, business performance. And create that tangible value by combining the real-time customer data with real-time performance data of their products to improve the operational performance and efficiency.
To address these goals, the industrials are transforming by making some fundamental shifts. They're moving from discrete products to platform-based solutions and applications development, from complex and non-standard discounting to simplified discounting and ordering, from physical to remote provisioning and delivery, and from upfront to recurring payment and revenue. From one-time transaction models to ongoing sell business models, from issue resolution to customer success, from process-based to knowledge-based, and from capital intensive to insight intensive. From a technology perspective, they're leveraging those to create those new efficiencies for integrating fragmented assets, massive data volumes, expertise, tools, processes, and technologies, and pooling and combining these resources creatively. They're using and reusing them, extracting new synergies, and applying them very broadly across not just specific products and product lines but across businesses, geographies, and entire solution categories. By doing so, they're retooling the underlying business processes, ranging from consumption, pricing, and billing to demand planning and product dev to customer success.
They're shifting towards digital industrial business models, which are again, as I said, being retooled to sell anything-as-a-service. In my experience, "anything" can be machinery and factory systems like robots to utility systems or operational settings, like factories, cities, grids, or hospitals, or even societal goals like sustainability. That's the macro view.
In my experience, I then got a chance to understand and define Edge for my employers and ecosystems so we can standardize the lexicon and the investment's focus. There are ample definitions of Edge and Edge computing, so I won't spend time speaking about that. I understood this whole Edge-to-Cloud distributed continuum, which spans from the endpoints to the near Edge to the far Edge to the Cloud. Within that continuum, workloads should run where they make the most sense for the business and technical outcomes. These layers differ in terms of latency, underlying network - which can be OT or IT, hardware/software customization, resource constraints and compute, as well as the way they are developed in terms of pure embedded versus Cloud native. Edge is complementing the Cloud as a deployment model.
I've also evangelized that quite a bit in my roles, where I understood that the Cloud-only deployment model has limitations. The connectivity to Cloud is limited; there is an assumption that there is optimal connectivity and enough bandwidth to transfer the data. Cloud computing does add latency and centralizes analytics. Cloud is suited for various use cases, including some of the most computationally intensive AI processing tasks, and Cloud will continue to grow.
But from an Edge standpoint, Edge deployment addresses some of those limitations of Cloud only model. Of course, there are use cases that need reduced latency for Mission Control. You need adherence to the SLAs and regulatory compliance and avoid unnecessary data exposure; you want to reduce the reliance on the network connection.
I got a chance then to understand why Edge in industrial- Edge computing plays an unparalleled role in allowing manufacturers to transform their operational plans towards Industry 4.0 and now 5.0. Edge computing is highly relevant in the industrial sector because it meets the sector-specific requirements of ultra-low interrupt latency of under 2 microseconds and a jitter of fewer than 10 microseconds. It works in an air-gapped environment, suits the network bandwidth requirements and data economics, data exposure, six-nines reliability, security/privacy, regulatory compliance, and those Edge inference requirements specific to worker safety, safety-critical operations, and similar use cases. As one of my article headlines stated, Edge is the door to the industrial IoT data kingdom.
We also know an increased proportion of all AI processing will be at the Edge. If you look at Flexera's 2022 State of the Cloud report, 18% of their respondents plan to keep most or all of their IoT/Edge data on-premises. 25% will have a mix of on-prem and in the Cloud. I would expect these to be higher in the industrial sector because this specific survey had just 4% respondents from the industrial sector.
Now, just shifting gears and talking about the voice of industrial customers, which are the customers who told me about some of their technology needs. When we look at the industrial operators, they want to connect; they want to harness value from all operating assets at the Edge, regardless of the vendor or vintage. They want to manage complex industrial data by supporting unique volume, velocity, variety, and veracity requirements. With the advent of software-defined intelligence systems, industrial manufacturing supply chains are becoming more agile and smart. They're quickly transforming into autonomous, self-learning, and interoperable ecosystems. Most industrials are adapting Cloud to their needs and complementing it with the Edge.
I then looked at the market dynamics and global seismic trends, which tell us that Edge is critical. After all, the intelligent Edge spending is projected to be north of $700 billion by 2028. We know that Edge computing is part of the successful tech enablement in the industrial sector that could unlock up to $2 trillion in total return to shareholders. The machine economy will drive 70% of all GDP growth by 2030; this is the second wave of digital transformation, from IT to the OT.
While helping my employers and customers transform, I found that digital transformation is complex. It takes people, process, tech, and time. It needs 110% commitment and a compelling vision or strategy and execution. In my experience, a set of success factors for this transformation journey needs an interlocked strategy with clear transformation goals. You need leadership commitment from the CEO to the middle management. The executive leadership team identifies and deploys high-caliber talent; you need a digital governance mindset that acts quickly using a unified digital operating model and drives broader adoption. You need effective monitoring of progress towards those defined outcomes. Of course, you need the business-led modular technology and data platform. Finally, when tackling these, the executive team needs to ensure that each of these areas are adequately addressed in their planning, preparation, and execution. You have a leadership team that complements each other and offers diverse viewpoints but is also very effective in working together.
[00:16:53]
Ken: Now it's apropos, given your role in leading industrial energy and health tech industries globally for Wind River, that you talk about digital transformation. Given this Digital Transformation Officer title, how do you approach and engage with companies in the sectors on behalf of Wind River?
[00:17:12]
Nikhil: Part of my role's charter is to help create customers' transformational business plans and guide them to reimagine their digital transformation journey. During the engagement, we understand the business objectives/issues, problems, solutions - ideas that can solve the problems. The value and the business case, the people - the key players involved, and the execution plan - the steps to get through the finish line. After joining here, I established a repeatable framework based on what has worked for me in the past and current customer situations. The framework has various touch points such as meetings, workshops, and proof of value demonstrations. We document the mutual plans and define the entry-exit criteria of stages. We focus on the ideal outcomes to establish the vision and then set expectations around the people and processes.
At a high level, the framework has three core phases. We first establish a baseline and the 'what.' That's understanding the current state of people, processes, and technologies, the future vision, the success criteria, and the early wins and the use cases. This is the first step in assessing the current state of digital maturity.
The second phase is defining the 'how' and 'when.' That's crystallizing those outcome-based goals that align with business and technical stakeholders. It has priority critical use cases. We identify and define the business and solution architecture, including those strategic partnerships and the ecosystem, the success conditions, the high-priority tasks, the implementation team, the ROI, and the roadmap to achieve that vision.
The third phase is executing and measuring for wins and perhaps the most important area because this is where we collaborate with customers to ensure that they are set up to succeed. We ensure that the systems are configured, considering any technical dependencies and hurdles, and the customers can access the solution. They get quick wins around the identified most pressing problem areas, which were part of the first phase. Using this engagement, the customers successfully frame their digital challenge and focus their investments, mobilizing the organization and sustaining that digital transition.
[00:19:35]
Ken: Can you talk about key use cases and wins with some of the clients in these sectors?
[00:19:41]
Nikhil: Yes, I've seen many use cases under asset performance management and operations optimization. These use cases optimize the efficiencies, manage and maintain asset functionality, improve energy efficiency, and in some cases, increase knowledge through people interactions and integrate the OT systems with Enterprise Information Systems.
In the energy management space, we've seen use cases around using analytics to initiate HVAC and plug load controls based on occupancy density, where you have real-time monitoring and control to optimize the performance of energy-consuming equipment. In the healthcare sector, I've seen the use of sensors and geo-positioning to manage the medical equipment and devices as a fleet and ensure that the requirements of medical or surgical procedures are met most efficiently and expeditiously. In the oil and gas sector, we've seen the use of predictive analytics and simulation, which have been applied to drill head and subsurface data to guide drilling based on identifying obstructions and deviations from reservoir modeling expectations. For industrial manufacturing, remote monitoring and predictive maintenance are the most important use cases in a factory setting.
But let me share a common theme emerging from these use cases using intelligent systems.
Elaborating on this industrial manufacturing example, I see three main components: the industrial systems - such as robots, the machine manufacturer who's the robotic OEM in this case, for example, and then the end customer, let's say it's an automotive manufacturer. The end customers and suppliers have been working on automation for some time now; they're now working on these smart factory initiatives, which can self-optimize performance and self-adapt and learn from changing conditions in real-time and autonomously run in a complete lights-out mode. The use cases here are to automate mobile robots' transportation on the factory floor, including those automated guided vehicles, or diversify factories and facilities by flexibly combining robots and equipment and remotely monitoring and deploying robots in hard-to-reach places. Now, these use cases demand a transition from break-fix product-centric business models to predict and prevent service models and from big iron hardware to software-defined machines with zero tolerance for jitter and delay.
The end customers want to use the data in near real-time; they want to analyze, simulate the actions, and close the loop by distributing optimized models to deployed industrial systems. In this example, say the auto manufacturer needs time-sensitive production run with precision robotics in a factory. They use robotics for automation, real-time data to power decision-making, and act based on sensory data and algorithms. They use a distributed compute across this continuum of Edge-to-Cloud.
Say, in the factory, there are production challenges detected with robotics affecting the quality of a precision production line, which has time-sensitive delivery. These challenges are captured through digital feedback loops and fed to the operations team. New simulations show a better way to program robotics at a key step in the production process to increase quality and operational efficiency. This knowledge is then shared across the team on a real-time collaborative workflow platform across geographies. The new applications are recommended for increased performance. The tasks are adapted based on reprogramming through the Cloud. Ultimately, production processes become a bit more effective and efficient. The project comes in at target cost; the TQM targets are achieved, and profitability is improved.
What's interesting here and confirmed by a Forbes and Wind River survey is that the most successful Intelligent Systems companies focus on these digital feedback loops between the company and the customer. And, gain $4 back for every dollar invested compared to their peers.
I'm seeing this similar Tesla-fication kind of use cases across various sectors and sub-segments. What's happening based on what I'm seeing is that the ability for software to connect, manage and extract data is becoming table stakes. Companies that reliably, securely, and continuously update their Edge software will have a huge advantage over the competition. The compute power needed to execute software commands at the point of control in manufacturing is growing exponentially and coming in at a much cheaper cost. These industrial operators are building these intelligent systems quickly; they're placing workloads where they make the most sense for the business outcomes and creating these evolved flexible Edge to Cloud infrastructures, leveraging modern tools, technologies, and processes such as DevSecOps-based CI/CD. They're thinking through the complete lifecycle of development, deployment, operations, and services, which needs a new way of performing continuous integration, delivery, and deployment. These need a complete Intelligent Systems lifecycle management platform. Amongst other factors, these are the use cases that are helping me guide Wind River's innovation and investment strategy.
[00:25:22]
Ken: I love the term Tesla-fiction, I think you were the first to have used that on this podcast, and it makes a lot of sense. Hard real-time deterministic controllers on factory floors are called programmable controllers or PLCs. We've noted, though, with the semiconductor shortage- that we've seen an acceleration of so-called Software Defined Automation, so substituting perhaps gateways and software for these traditional PLCs. The difference in some sense is that we're also seeing a wave of distribution where this soft control can be distributed running containers or bare metal at the Edge. Do you see the same as part of this Tesla-fication you refer to?
[00:26:03]
Nikhil: Yes, the software-defined and virtualized PLCs are real in my discussions. Although the semiconductor shortage has accelerated the adoption, I don't think it's new. Apart from similar hardware-software abstraction use cases, this led me to define and evangelize software-defined machines during my tenure at GE. The industry is taking steps towards true hardware agnostic, software-based PLC offering. Examples include Schneider Electric's EcoStruxure automation expert platform, Rockwell's latest emulation software for their Control Logix, or Siemens expanding its Edge offering with the introduction of the industrial Edge version 1.0 platform.
The "why" is around the reduction of architectural complexity here. A lack of modularity with industrial automation software drives higher design complexity, increasing overall project effort. Within the software, there have been sub-optimal architectural component boundaries, which can lead to increased interdependencies that multiply the number of components the developers must modify when adding new functionalities. These interdependencies also increase the time and expertise required to trace errors to specific software modules and development teams when a defect is detected.
To address these issues, companies are drastically thinking about increased standardization and modularization, which can extend across platforms to keep their software complexity manageable. The OEMs must also focus on decoupling the software from hardware and applying a service-oriented design. The hardware-software decoupling approach allows multiple entities to engage in modular development. In turn, modular software buildup techniques amplify code reuse, reduce the overall amount of code required, and minimize the security risks due to increased commonalities. Decoupling hardware from software further democratizes the hardware, which offers standard compute memory, IO, and power supply.
In contrast, the software defines the end-user functionality. For applications requiring standard performance, different software functions can run on the same hardware using virtualization and containerization and be distributed dynamically to other hardware if necessary. For applications with real-time performance requirements, hardware-specific software development is still critical to achieving optimal efficiency. Historically, some embedded devices have performed fixed functions at one end of the capability continuum. They had long in-service deployment lifetimes and may have undergone system upgrades that added new functionality or deployed security updates to address the latest security vulnerabilities. Systems without any network connectivity and running in air-gapped environments may have needed to be manually updated in the field, which is time-consuming, error-prone, and expensive, depending on the number of devices deployed and the difficulty level of the physical access to them. The processor performance, of course, has increased dramatically for many years now, and all these have accelerated innovation, enabling new application functionality to be deployed more rapidly to Edge devices using secure communications.
These are driving those technical requirements for open standards-based software-defined architectures that can enable the consolidation of multiple applications, including those at different levels of criticality, onto common compute platforms. That approach enables application migration, portability, and interoperability so that you avoid being locked into proprietary architectures.
What we see from the embedded space also is that although each vertical market faces unique challenges and requirements, there are a set of horizontal key requirements in this space, and that includes mixed-criticality, which is a common requirement for a consolidated platform to host both the critical real-time control applications and general-purpose applications. You need to isolate safety components and reduce their dependencies on the rest of the platform to, let's say, ensure that the safety certification costs of the overall platform remain affordable. You need open standards and an ecosystem, as I said, and there are several bodies. Like in the industrial sector, OPAF is focused on developing a secure, open standards-based, interoperable process control architecture. The commercial aerospace sector has embraced the ARINC 653 standard. The US government has adopted the Modular Open Systems Approach, and the Future Airborne Capability Environment technical standard provides an open avionics architecture for military avionics. Several other requirements include reuse and scalability, security, and the support for modern development methods. We address these requirements at Wind River with a flexible virtualization platform that supports open standards-based software-defined architectures.
[00:31:25]
Ken: In terms of wrapping this down, given you've had a very broad and deep experience base, I'd like to get a sense of your holistic perspective across Cloud and Edge and, probably more specifically, what would you predict for the next five years in terms of industrial intelligent systems?
[00:31:45]
Nikhil: Wind River and Forbes Insights issued new research investigating the technological blueprint and a roadmap to success for a mission-critical intelligent systems world. Those details are at Wind River's site. Five hundred + technology executives were surveyed across mission-critical industries - industrial, medical, energy, aerospace and defense, etc.
Now here's what we found out about the manufacturing sector. The success in this intelligent system future can be mapped out with 13 key characteristics, and applying the right timing to invest in these elements will determine the level of success.
Only 11% of industrial manufacturing companies see themselves as already being intelligent systems digital business companies, and 55% of the remaining are actively in a strategic drive to get there. 66% believe that their embedded products and offerings must be capable of computing in near latency-free real-time for mission-critical success.
Understanding what to invest in, when, and which economic and innovation-based outcomes you're looking to generate will define who wins in this machine economy going forward. Today, only 16% of organizations are building from the right blueprint, so the survey helps to learn from those. We understand that those sequencing the right investments in the space can attain results 4.5 times better than their peers.
The most important shift for industrial manufacturing companies is moving more decision-making computing to the far Edge, delivering computing on the far Edge- predicting stresses, resolving failures, and customizing devices in the Cloud. These are all foundational capabilities for success that must be delivered in a single, real-time collaborative workflow. These essential requirements dominate the focus of 70% of industrial manufacturing leaders today. The longer-term 5-year vision is to build automated learning and machine learning capabilities.
The leaders are looking at combining Cloud-based device customization, predictive systems management, and sequencing necessary workflow processes to create a clear path to practical success. They understand the need to focus on some of those core characteristics that'll drive the success of later investments in their Intelligent Systems, AI/ML, and sensory data and algorithms. For example, they reported that the foundational capability of compute on the far Edge is over ten times more important than being able to run experiments as a learning system.
Now, here's why this research matters. Most industries are heading towards this intelligent systems future. The intelligent systems approach is seen as the predominant business model in the future for up to 1 in 3 companies. Winners are being determined now, and there will be a blueprint for success. It'll be different for each industry, with different key characteristics and an associated timeline.
[00:34:59]
Ken: Well, this has been such a deep and broad conversation. I hate to bring it to a close. Perhaps, one final question which gets down to your inspiration. What does inspire you? What are you reading or watching these days?
[00:35:14]
Nikhil: I read non-fiction physical books. I'm reading the "Trillion Dollar Coach: The Leadership Playbook of Silicon Valley's Bill Campbell" by Eric Schmidt. I listen to podcasts. Apart from Momenta's Digital Thread which is a favorite, I listen to Michael Gale's Future in Focus, Gartner ThinkCast, and Wall Street Journal's Future of Everything. Those are some of the things.
[00:35:43]
Ken: Well, it's clear you're well-read and- at least, we are well-listened to, so thank you for that. Nikhil, thank you for sharing this time and insights with us today.
[00:35:52]
Nikhil: Thank you for this opportunity, Ken. I wish you and your listeners the best, and I look forward to keeping learning from your valuable podcast.
[00:35:59]
Ken: Well, thank you so much. This has been Nikhil Chauhan, Digital Transformation Officer of Wind River Systems. Thank you for listening, and please join us for the next episode of our Digital Thread podcast series. Thank you, and have a great day.
[The End]
Connect With Nikhil Chauhan
What inspires me?
Nikhil finds inspiration from people, meaningful content, and a growth mindset. He loves learning from people who defy circumstances and respectfully bring out the best in themselves and others. He listens to podcasts and reads books like WSJ's The Future of Everything and Trillion Dollar Coach by Eric Schmidt, Jonathan Rosenberg, and Alan Eagle. A practitioner of systems thinking, action, and humility, Nikhil believes in what Lao Tzu once said, "A leader is best when people barely know he exists when his work is done, his aim fulfilled, they will say: we did it ourselves."
About Windriver
Wind River is a global leader in delivering software for mission-critical intelligent systems. For 40 years, the company has been an innovator and pioneer, powering billions of devices and systems that require the highest levels of security, safety, and reliability. Wind River software and expertise are accelerating digital transformation across industries, including automotive, aerospace, defense, industrial, medical, and telecommunications. The company offers a comprehensive portfolio supported by world-class professional services and support and a broad partner ecosystem. To learn more, visit Wind River at www.windriver.com.