Dec 8, 2020 | 6 min read
Momenta's Take #19
Give Salesforce Some Slack – M&A Wave Continues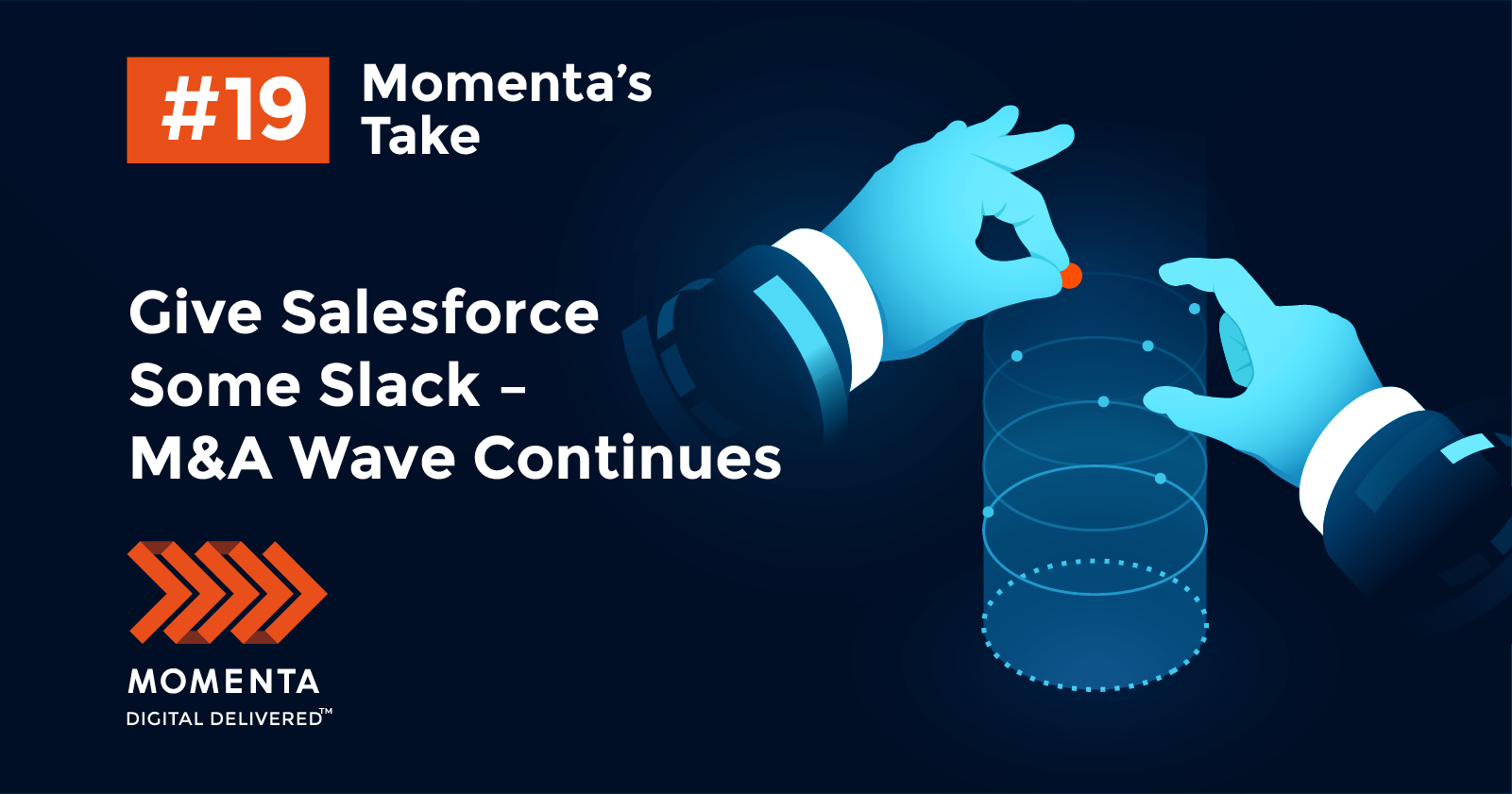 Give Salesforce Some Slack

On Tuesday December 1, Salesforce announced an agreement to pay $27.7 billion for Slack in a stock-and-cash deal. Buying Slack also would become the second largest acquisition in 18 months, when it paid $15 billion for Tableau in August 2019. The Salesforce-Slack deal was announced one day after S&P Global announced the acquisition of business data firm IHS Markit in a deal valued at $44 billion. Each Slack (WORK) share will be exchanged for $26.79 in cash plus 0.0776 Salesforce (CRM) shares.
Salesforce is establishing itself as the leader in larger software acquisitions. CEO Mark Benioff started his career at Oracle, and in his current role, he is surpassing his former mentor Larry Ellison in deal-making. Oracle has traditionally been aggressive with M&A, but has been far less active in recent years as its businesses have matured.
Salesforce and Oracle's largest acquisitions
Following its purchase of Slack, Salesforce's five largest acquisitions have all occurred since 2013, while Oracle's largest deals mostly took place prior to 2010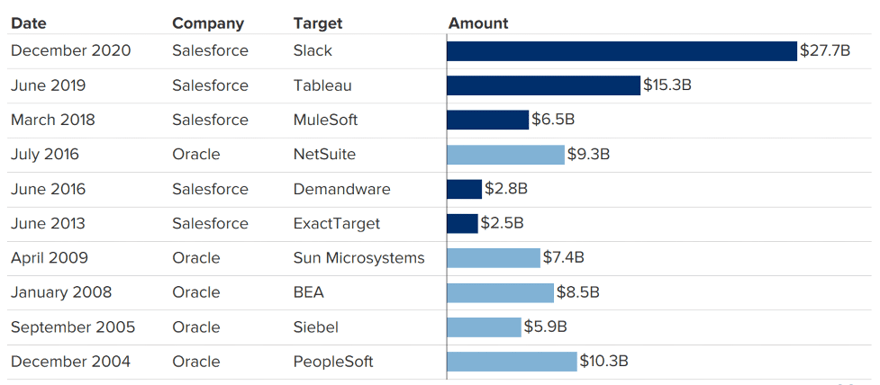 Source: NBC
Big price, big expectations
The deal values Slack at a stratospheric valuation, roughly 30X sales for the communications platform. While high growth software stocks have been trading at elevated levels, the price sets a new precedent for highly valued tech. For comparison, IBM paid 10X sales for Red Hat in 2018, in a $34 billion deal that remains the largest in the history of software. For perspective Slack is one of the largest tech acquisitions ever, as well as being the largest software deal of 2020 (so far – still a few weeks left for surprises).
The largest tech acquisitions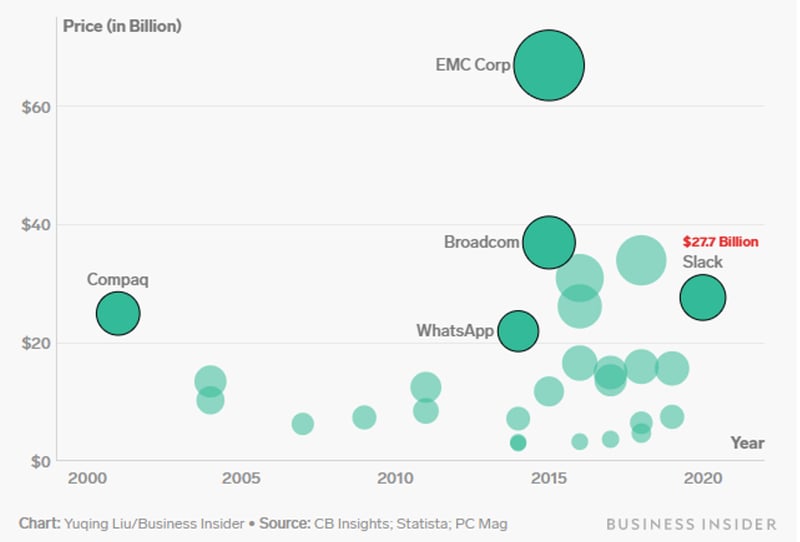 Using the Communications Layer to advance Digital Transformation
The addition of Slack to Salesforce's portfolio reflects the transition of business from a physical to a digital mode of operation and management. According to True Ventures' Om Malik, digitalization means that businesses need a digital nervous system to organize themselves, and a communications/messaging layer is critical to achieve this. Additionally the pandemic has driven many companies to embrace remote work, where technology tools are essential to maintain communications and collaborate across teams. Research firm Forrester estimates that while less than a 10% of businesses will allow all employees to choose whether or not to work remotely once the pandemic is over, 60% expect to maintain a hybrid model of office-based and remote work.
The transition is going to impact the tech stacks that CIOs are building to support their workforces. One of the challenges for businesses today is to reduce software "tool fatigue". Sathish Muthukrishnan, the CIO, data and digital officer of Ally Financial, describes tool fatigue as the stress and frustration employees experience when they are forced to launch many different software applications to get their jobs done and then to toggle frequently between them. The more complex the collection of software tools and applications that need to be integrated across on organization, the greater the challenge to deliver a productive work experience (not to mention the headaches involved with patches, upgrades and system enhancements). Thus the argument for an integrated suite is highly attractive.
This is the approach that Microsoft has taken with its Office suite, Dynamics applications and in particular its Teams collaboration platform, which has taken direct aim at Slack. Part of the goal for Salesforce is to be able better integrate fragmented parts of the customers' business, such as sales, marketing, commerce, and services. The idea is that layering in Slack technology will make the Salesforce platform more collaborative, mobile, and productive for users regardless of location.
Slack Expected to Provide Catalyst for Collaboration
Collaboration is not a new direction for the company. Salesforce launched Chatter nearly a decade ago, which got off to a solid start but sputtered over time as functionality was subsumed into the platform and Chatter failed to sustain its early excitement. Slack brings strong momentum in its business. In the company's most recent quarter, Slack reported it had over 142,000 Paid Customers, up 35% YoY, over 64,000 Paid Customers using Slack Connect and more than 520,000 connected endpoints on Slack Connect, up over 240% over the prior year. Salesforce looks to tap into this momentum to sustain its own growth trajectory.
Slack Connect endpoint growth is increasing as the network scales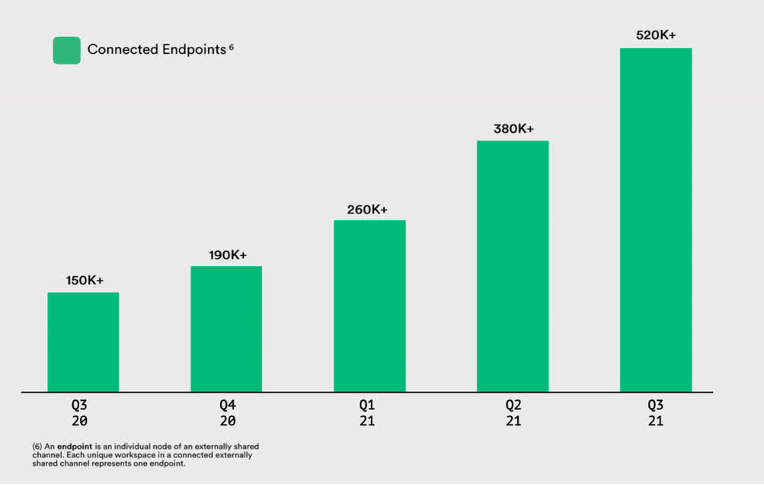 Expectations are high, but so is the potential
With such a large deal, there are both bulls and skeptics for the deal. On one hand the rationale for the deal is resonating positively with many in the industry. On the other hand, investors have been cool to the prospects of the deal, with particular concerns that the multiple makes it difficult to justify. Whatever the outcome, the Slack acquisition sets a new high water mark for software M&A, and the price reinforces the strategic importance of collaboration software advanced by Microsoft Teams.

Unlock the Power of Digital - Momenta encompasses leading Strategic Advisory, Talent, and Ventures practices for Digital Industry. Connect with us to find out more about our three practices and how we deliver digital value.