Sep 24, 2020 | 4 min read
Momenta's Take #14
Crowdsourcing LoRaWAN: Amazon Accelerates Ubiquitous Computing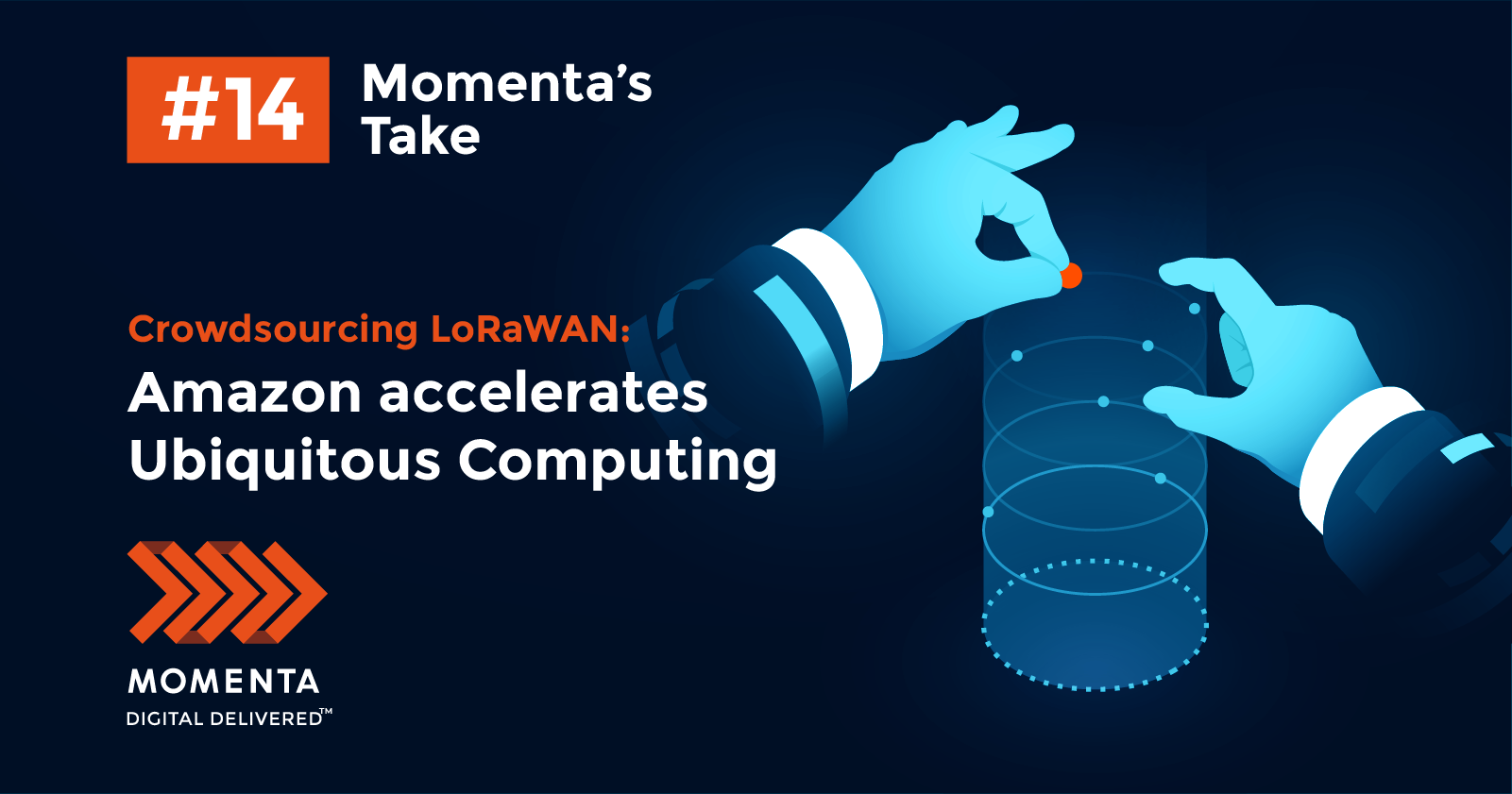 Earlier this week, Semtech and Amazon announced plans to collaborate on Amazon Sidewalk in a partnership that should open up a plethora of new opportunities for connected applications. The move will allow one of the leading innovators in low power semiconductor and connectivity technology to work with Amazon's unique crowdsourced network. The combination of Semtech's silicon and LoRa technology with Amazon's network will enable low-bandwidth applications to be more easily implemented – opening the door to a wave of innovations around smart home applications and neighborhood networks.
Semtech is a provider of low power devices, high-performance analog and mixed-signal semiconductors and advanced algorithms used by over 5,000 customers worldwide. The company has been at the forefront advancing LoRa (Long Range) technology and leveraging the open LoRaWAN protocol to enable smart IoT applications. Semtech is a founding member of the LoRa Alliance®, a rapidly growing IoT Alliance for Low Power Wide Area Network applications; IoT networks based on the LoRaWAN® specification have already been deployed in 100 countries.
Last year Amazon announced plans for Amazon Sidewalk, a collaborative network that uses the Bluetooth Low Energy (BLE), existing free over the air 900 MHz spectrum and other frequencies to enable users to extend the working range of low bandwidth devices and extend the ability to set up and update devices beyond the range of home Wi-Fi networks. The vision behind Sidewalk is to provide a broad coverage network for low-bandwidth, low-cost devices that do not require no complex setup or maintenance. Because these are low-bandwidth connections, Amazon expects users will be willing to share a small fraction of bandwidth with neighbors. Amazon hopes that Sidewalk will be able to extend connectivity for typical smart home devices to up to a mile, and will be used to complement other mesh networks like Thread.
Amazon has announced initial devices expected to be compatible with Sidewalk. Later this year, compatible Echo devices can be become Bluetooth bridges for the Sidewalk network, while Ring Floodlight and Spotlight Cams will also be part of the network. Tile will be the first third-party Sidewalk device to use the network when it launches its compatible tracker.
What use cases will the Sidewalk Network enable?
The Sidewalk Network aims to enable more easy tracking of devices and sensors for low-power use cases, and the Semtech alliance will provide access to robust and proven low power silicon. Some of the connected devices are likely to include smart home devices such as smart lights, pet trackers, asset tracking sensors, smart irrigation, and other low-cost devices for consumers' home use. These could include sensors to notify mail deliveries, or let a homeowner know when it's time to water the garden, or network cameras for neighborhood safety.
Last year, Amazon tested a network of over 700 Ring lighting products over 900 MHz connections to create a neighborhood network of smart lighting. More recently, Amazon partnered with the Red Cross on a proof of concept implementation to help track blood collection supplies between distribution centers and donation sites. Amazon hopes that by helping user get more out of 900 MHz connections in their neighborhoods, there are opportunities to create networks among neighbors for a range of uses.
The alliance is still in its early stages, and Sidewalk remains in testing phase – however the potential for creative innovation is boundless with low power connectivity. Sidewalk – with partners like Semtech – are paving the way for the realization of ubiquitous computing, the manifestation of the original vision that gave rise to Internet of Things.

Unlock the Power of Digital - Momenta encompasses leading Strategic Advisory, Talent, and Ventures practices for Digital Industry. Connect with us to find out more about our three practices and how we deliver digital value.