Sep 15, 2020 | 4 min read
Momenta's Take #12
NVIDIA + ARM = Artificial Intelligence + IoT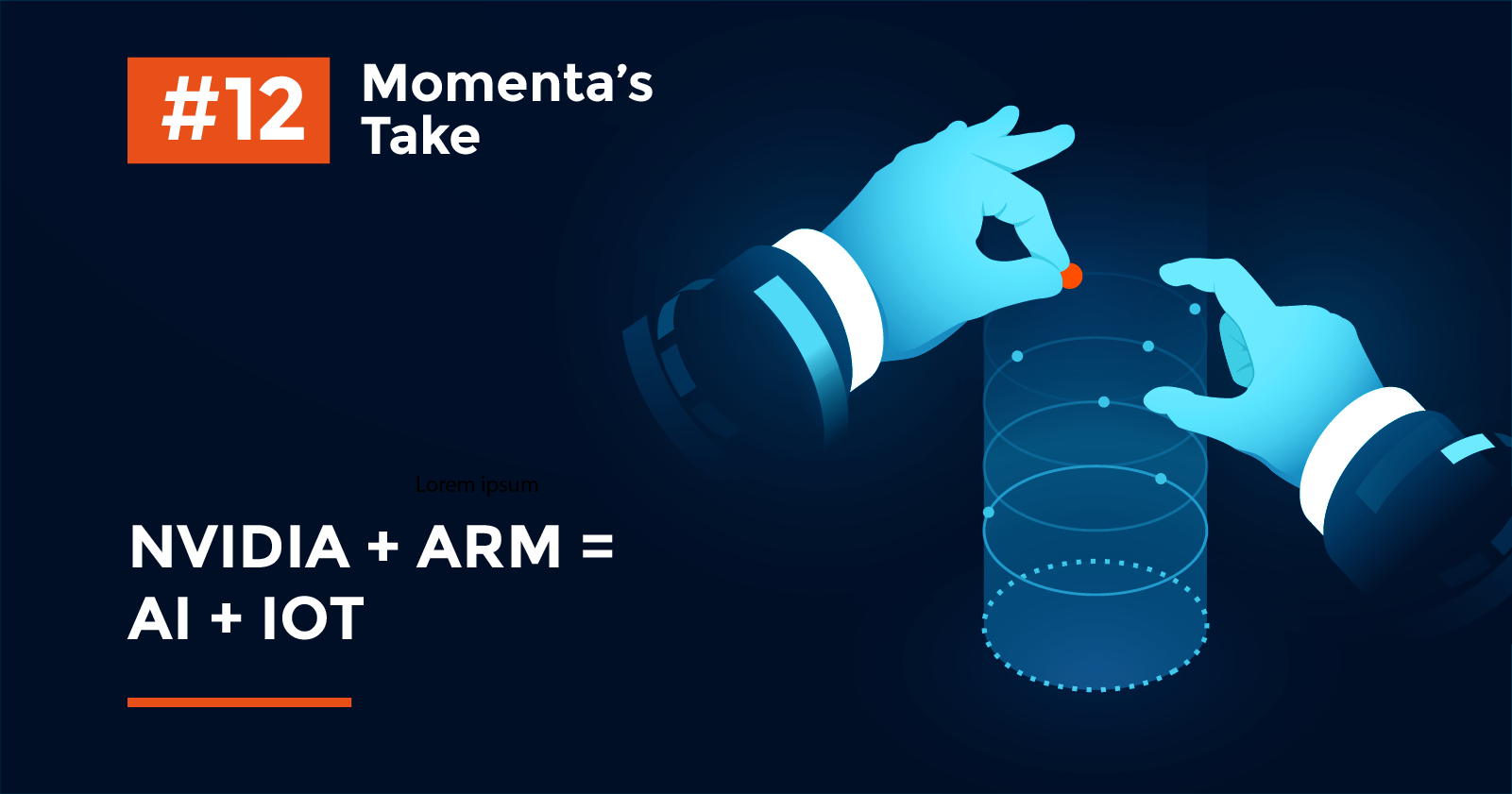 NVIDIA announced Sunday that it would acquire ARM from its current owner SoftBank for $40 billion, confirming a report on Saturday in the Wall Street Journal that the two companies had been in exclusive talks for several weeks. For ARM's owner SoftBank, the deal represents a win, following the $32 billion acquisition of ARM four years ago. The combination of NVIDIA and ARM would arguably create the most significant semiconductor player in Digital Industry, marrying NVIDIA's deep footprint in GPU chips used to power Artificial Intelligence processing with ARM's highly power-efficient chip architecture that's used to power billions of battery powered mobile devices around the globe.
NVIDIA is one of the leading providers of GPU chips that power graphics for video gaming, cloud computing and artificial intelligence. The company's shares have gained over 100% this year as increased demand for cloud services stoked by the pandemic lockdowns drove significant demand for the company's technology. Management expects that the deal would add around $1.9 billion in annual sales to NVIDIA's $11 billion run rate. With a market cap near $300 billion, NIVIDIA benefits from being able to use its stock as currency to fund a significant part of the deal.
UK-based ARM designs and licenses its architecture for semiconductor chips, with over 180 billion chips shipped based on its CPUs. ARM chips power smartphones, PC's, data centers and a broad range of connected devices, making it the most widely used computing platform globally. ARM has become the de facto standard for IoT devices, and has been encroaching on traditional personal and enterprise computing markets as well.
The potential to combine NVIDIA's GPUs with ARM's CPU architecture represents a powerful combination that could enable AI to become increasingly embedded as part of mobile and connected devices. The potential to expand NVIDIA's reach into edge computing use cases is highly promising.
NVIDIA announced that it will seek to maintain ARM's independence in licensing its architecture, with the goal of expanding its developer based from 2 million to 15 million developers. At this stage it's unclear whether the combination will focus more on expanding NVIDIA's position in the data center, where it is increasingly focusing on taking on Intel's x86 architecture. ARM is best known for it's low power capabilities, and this characteristic has helped it become dominant in mobile devices – but given the growing need to power large data centers fueled by growing demand for processing the move to acquire ARM makes sense.
The challenge for NVIDIA (and ARM) will be getting the deal done, and realizing value from the acquisition on a sustainable basis. Because ARM licenses its chips to so many manufacturers in so many countries, the deal will need approval from multiple authorities. China is a big question mark in light of the ongoing trade dispute with the U.S. There is also the significant issue of whether NVIDIA's competitors that license ARM (including Marvel, NXP, Apple, Google, Qualcomm, Ampere and others) will want to continue their relationships if it means supporting a direct competitor. There's been growing interest in alternative to ARM such as RISC-V, and ARM licensees may be likely to push back on the deal. One of the co-founders of ARM has started a campaign to convince the UK government to oppose the deal.
Given the magnitude of the deal, and the multiple hurdles ahead just to get the transaction completed, this announcement will spur innovations among ARM competitors to capitalize on the deal, while the time needed for approvals could stretch the closing out to 1-2 years by some estimates. While there's no question the deal is significant, it's less than certain that the deal will be regarded as a sure success – and for the time being, expect a lot of aggressive innovation as ARM's customers and NVIDIA's competitors try to capitalize on any uncertainty.

Unlock the Power of Digital - Momenta encompasses leading Strategic Advisory, Talent, and Ventures practices for Digital Industry. Connect with us to find out more about our three practices and how we deliver digital value.