May 12, 2020 | 5 min read
Momenta's Take #5
5G Moves Slowly Toward the Future of Digital Industry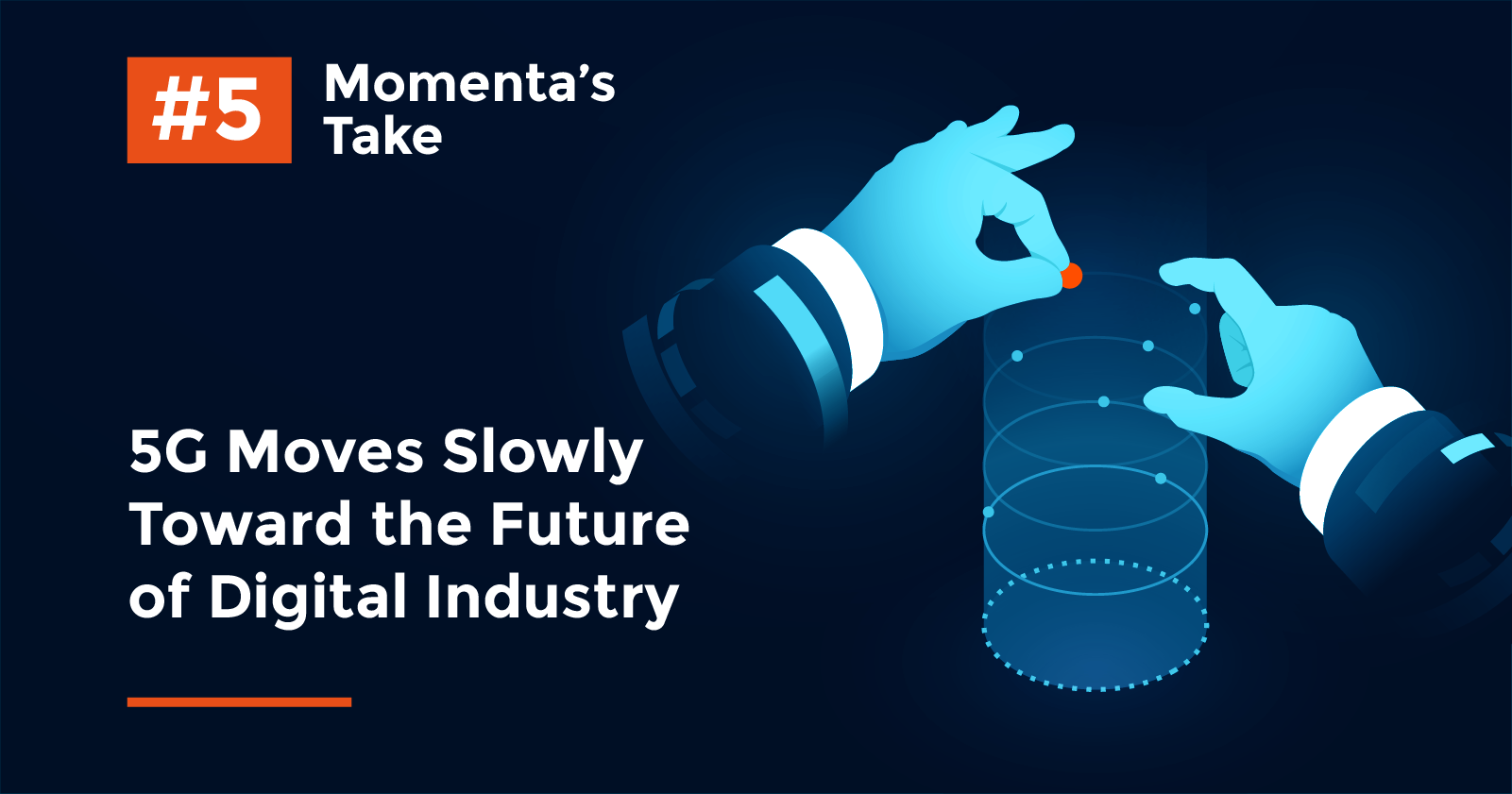 One of the biggest technology transitions underway today is the adoption of 5G networks, which promises to enable a broad range of powerful applications and solutions. There is an enormous amount of economic activity that 5G is expected to generate: according to the CTIA, the wireless association, 5G is expected to generate 3 million new jobs in the U.S., along with $275 billion in new investment and $500 billion in economic growth.
It appears that the onset of the COVID-19 pandemic has accelerated interest in 5G adoption, with telecom providers benefiting from a surge in demand despite the economic disruption created by the global restrictions on travel and economic activity. The Swedish telecom equipment provider Ericsson announced that it had increased its global forecast for 5G subscriptions globally from 2.6 billion to around 2.8 billion by 2025, largely as a result of the coronavirus pandemic. Because of the increasing adoption of Work from Home (WFH) practices, demand for communications services has actually increased in recent weeks.
Enabling a new class of solutions
5G provides increases in speed and bandwidth by orders of magnitude, helping to facilitate processes operations where every second counts and low latency is necessary. One example might be helping medical personnel transmit vital patient information from ambulance to hospital or assist a doctor performing robotic surgery. Other use cases include smart traffic systems with autonomous vehicles, virtual reality/augmented reality devices, and remote monitoring and operation of complex machinery. Combined with low-power wide area connectivity options such as LoRaWAN, 5G enables sophisticated and complex solutions that span dense urban areas and remote locations. New applications that leverage AI and high-speed connectivity could benefit soldiers in the field, power plant employees working in harsh weather, emergency workers responding to a natural disaster or a worker on an oil rig or in a mine.
With significant positive economic catalysts expected from 5G, we think there will be several key areas of impact for Digital Business, and we also note that China has a significant lead in 5G deployments as the US and European countries need to manage through regulatory processes, spectrum auctions, conspiracy theorist and other hurdles. Accelerating adoption in the West, however, could prove critical to boost the economic recovery from the pandemic impact.
China leaping forward in 5G while other countries face challenges
The initial rollout of 5G is seeing the strongest penetration in China, which is on track to sign nearly 70% of 5G smartphone contracts globally by the end of 2020, putting it far ahead of the rest of the world. At the same time as China having over 50 million 5G handset subscribers, coverage in the other 20+ countries that have begun rollouts is inconsistent and lagging. Even though Apple is not slated to ship a 5G iPhone until Fall 2020, there are already dozens of 5G handsets available in mainland China.
The COVID-19 pandemic has delayed rollout in Europe. France has postponed allotment of 5G spectrum indefinitely, while Spain and Austria have pushed back their own auctions. In the U.S., 5G services were launched in April 2019, but network infrastructure is slow to be built out (party impacted by restrictions on equipment from Huawei), and auctions for additional spectrum remain mired in legislative negotiations. South Korea launched in 2019 as well, but 5G subscriber count was 5 million contracts as of February.
Adoption in UK faces challenges from incomplete spectrum auctions to arsonists. All four UK mobile operators launched 5G networks after winning spectrum in the first 5G auction two years ago, but a second auction scheduled for this Spring was delayed due to the coronavirus pandemic. 5G base stations in the U.K. have been torched and vandalized by people believing rumors that 5G signals carry the virus. Over 77 towers in the U.K. have been sabotaged (though most were not 5G towers, as people could not tell the difference), and over 180 people including engineers installing equipment have been physically or verbally assaulted, over resistance to 5G.
The 5G imperative for economic recovery
The COVID-19 crisis has upended how we work, educate and socialize, forcing nearly all in-person activities online – and dependent on connectivity. While it's not clear what the post-crisis landscape will look like, it's certain that a significant portion of business and personal lives will remain virtual even after brick-and-mortar businesses and institutions are able to re-open. The role of reliable networks capable of transmitting large amounts of data quickly will become more important than ever. 5G networks will be critical to deliver telemedicine and tele-education for citizens that are social distancing – and to enable organizations to adopt Digital Business strategies to adapt to new conditions. The 5G wave is coming, but progress in the US and Europe will require cooperation between public and private sectors to ensure that the next generation information superhighway is open for business.

Momenta Partners encompasses leading Strategic Advisory, Talent, and Venture practices. We're the guiding hand behind leading industrials' IoT strategies, over 200 IoT leadership placements, and 40+ young IoT disruptors.  Schedule  a free consultation to learn more about our Connected Industry practice.