Dec 15, 2021 | 5 min read
Mobeen Khan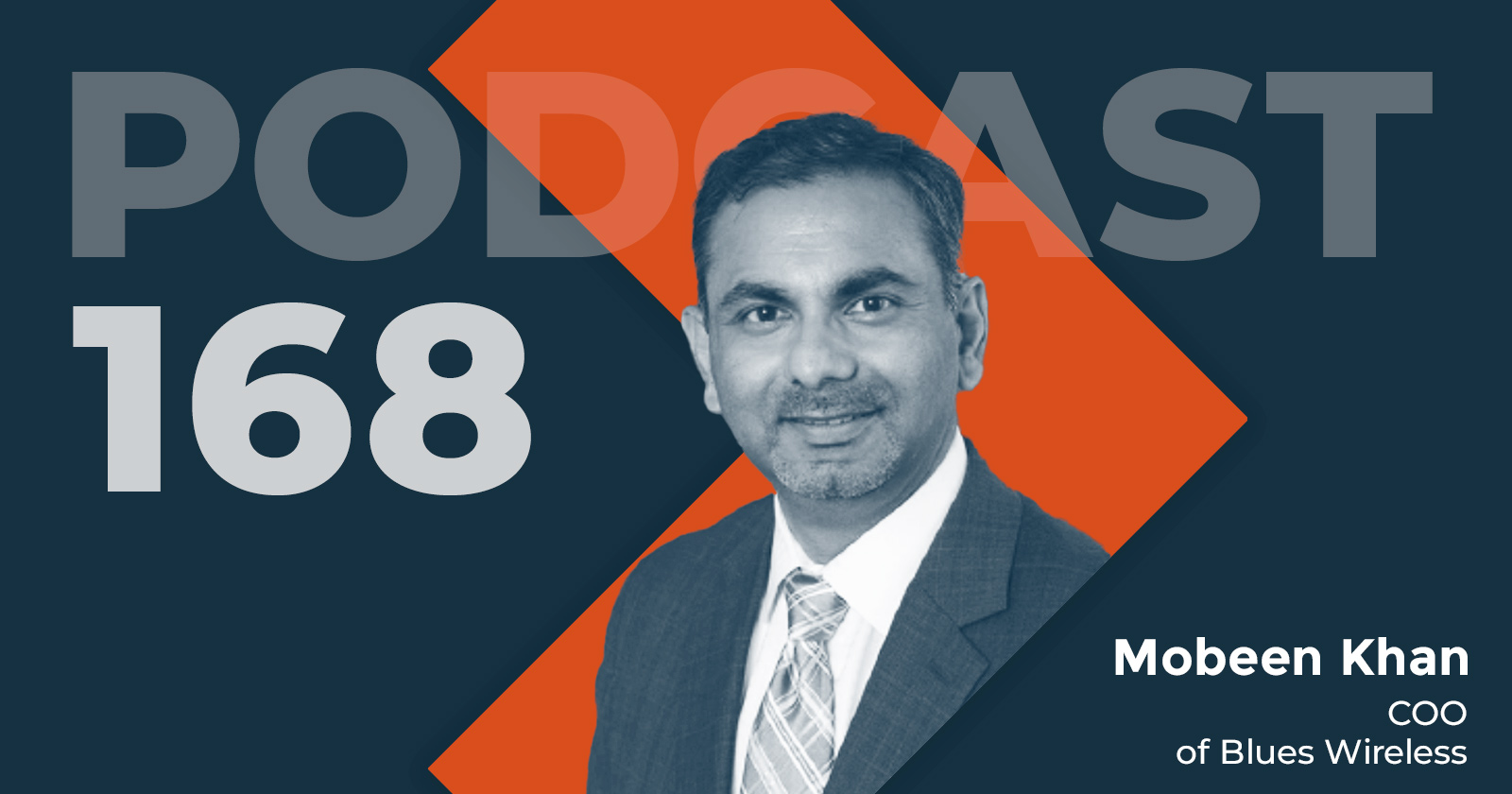 TRANSCRIPT
Ken: Today, I'm pleased to have Mobeen Khan, Chief Operating Officer of Blues Wireless, a full-stack solution to connect any device to any cloud. For over a decade, Mobeen has been leading and developing innovative products for the Internet of Things, mobility, enterprise & consumer software markets. After early entrepreneurial experience in natural language processing, he led AT&T's Internet of Things strategy and product management for nearly eight years. Recognized as an industry thought leader in the IoT space, he holds patents pending using blockchain in device management and IoT Edge enablement. Mobeen earned his Bachelor of Science in Computer Engineering and his Master of Science in Wireless Communications from Rutgers and his MBA from Columbia. Mobeen, welcome to our Digital Thread podcast.
[00:01:32]
Mobeen: Ken, thank you very much. Good morning to you, and thank you for inviting me to this amazing platform you have introduced entrepreneurs in the IoT world.
[00:01:41]
Ken: Thank you so much for the kind words. And you truly do earn the title of not only an entrepreneur but a serial entrepreneur, as we'll cover a bit in this discussion. First, I always like to ask about one's digital thread, in other words, the one or more thematic threads that define your digital industry journey. What would you consider to be your digital thread?
[00:02:00]
Mobeen: For the last two decades, the pace of digital transformation and the Information Technology overhaul has gone by many names as it has continuously increased. I was fortunate in my career as I've always been on the leading edge of technology. I've taken these technologies and brought them to market and scale. It's about taking new technologies, letting B2B or B2C adopt and scale them. Examples of this are voice recognition systems that are not prevalent in all devices. It's the early days of wireless data implanted in our phones, with various IoT solutions and platforms accessible from all cloud providers and large tech companies. I've had a chance to work at all of those in the very early stages of technology development and then scaling.
[00:03:13]
Ken: Scaling is really important and especially given the work you did at AT&T as you not only scaled quite a few companies but in some sense, you scaled both an offering and an industry. I'll look forward to talking about that in a moment. I always like to look at these across the bridge from where people have come and where they are now, and I saw that you had an early career in strategy consulting. You founded your first start-up Inzigo and then really scaled that up. Tell us a bit about the company. What inspired you to create it? What are some of the early lessons that it taught you?
[00:03:49]
Mobeen: Inzigo was a great experience. Before I go there, I want to talk about my first job that was my training ground. It was with a company you may know called RAM Mobile Data. Back in the 90s, it was the first company to bring two-way communication devices like the Blackberry pager. A Palm VII device was a handheld for white-collar workers, and a Blackberry pager was typically for blue-collar workers. It was the first foray into solutions connecting humans or workers. I had the opportunity to work at that time in somewhat of a zero-G kind of solution.
We worked on things that were taken for granted today, like our connected cell phones with applications and so on. That was my first foray there. I learned and advanced from working there as a systems engineer to becoming a product manager, followed by work in sales. It taught me the entire user experience, from building the product to the first time a customer touches it. Its lifecycle management is so important in the scaling piece of the business. Entrepreneurs often spend a lot of time on the technology but not enough time on the user experience and the lifecycle management. And for scaling, that is so important. I took that experience into Inzigo, which was slightly different. It was around voice recognition and embedding voice recognition into products and services. We had a great run for a few years, and then the company sold. But think of this as Siri and Google, but more in the call center space. We worked with large financial institutions and retailers who were fielding many calls. The main lesson I learned there was how to raise money. It was my first time doing that, and it was an exciting experience. The second thing it taught me is the importance of the team. The DNA of the team can make or break the company, and camaraderie was so important. I made my fair share of mistakes, but that was my biggest lesson learned.
[00:06:15]
Ken: Yes, raising money. We'll talk in a few minutes about how that lesson not only served you well but how you're giving back in that regard. I certainly couldn't agree with you more on the team aspect. When you're talking about a co-founder or founder, people tend to forget that you can do the percentage to figure out their influence on the company. If you're one founder and you bring in another, they have 50% influence on that company. And you keep going down from there. That is critical. I was given the advice when I was a young entrepreneur to think about it as a coast-to-coast car trip. Whom would you be willing to put in that car with you that you're going to eat with, to continue in that defined space as you'll even be sleeping in the car? That does make you think, right? Whom do I want to go through this journey within that regard? It's a great lesson learned. Let's fast forward to your time at AT&T. First. You were the Chief Marketing Officer for Advanced Mobility Solutions, then served as the Head of Strategy for Internet of Things. This is where I believe we first met as you had recently invested in Exida, which was a peer company to ThingWorx. What was your remit in that IoT role? And what were some of the critical wins across your tenure there?
[00:07:22]
Mobeen: It was great. It's been an entrepreneurial journey, and there were some leaders at AT&T that I had the chance to meet through some friends. Approximately ten years ago, they were putting together a group of internal and some external leaders to set up a business unit for mobile enterprise solutions. It's everything from connected tablet applications and field service applications to even some machine-to-machine applications. It's all about mobility in B2B. As I interviewed with the Chief Marketing Officer at AT&T, he advised that he'd like to bring in some new talent, especially people with an entrepreneurial background. This would be a good combination with the current leadership. They offered me the role leading the marketing group in Advanced Mobility Solutions. I was skeptical at first, but he asked, 'Where else can you grow business from 100 million to a billion dollars in three years? And we are all behind it.' That seemed to anticipate quite a fun ride, and it met the appeal. Other leaders were involved, and it was set up as a separate business unit with a slightly different rule structure. As we know, AT&T is a huge company. This group was run as an entrepreneurial company. I had a lot of fun.
That led to my next role with AT&T IoT solutions. I had the chance to lead some of the above-the-stack solutions that would be AT&T offerings beyond connectivity and connectivity management. This included some applications, platforms, devices, end-to-end solutions in different areas. That's where, as you mentioned, we had the chance to cross paths while working with some of the early platform companies. We built our platforms, and of course, AT&T is best known for its vehicle solutions, both in the consumer space for connected car and fleet management, and I had a chance to lead that group.
[00:09:41]
Ken: The conversation you had with the CMO reminds me of one I had with a mentor who was the Chief Technology Officer at the large company I was employed at the time. And he called it the Archimedes principle. If I recall the phrase, 'Give me a lever long enough, and I can move the world'? And effectively, he was saying the same thing. 'Stay with us.' I was contemplating doing something entrepreneurial early, and he was advising, 'No. Where else can you create the kind of leverage you can cultivate by staying at this company and helping us move'? I ultimately stayed. My experience was likely not as strong as yours as I should've gone over to the start-up side. I remember our scale discussion as well. It's interesting because, as you and I, and the audience know, the telcos were an early leader in the machine and IoT solution. They leveraged the conductivity footprint to expand from connecting people to connecting assets. Who among the telcos did you think did well in their IoT initiatives?
[00:10:41]
Mobeen: This is an unfair question for me. I still bleed blue from AT&T, so I think several telcos follow different strategies and succeed in different parts of the world. I'll talk about AT&T first because I know that area. In the early days, the biggest scale that we saw coming in the M2M space was coming from vehicles. Companies like GM and Ford, and eventually Tesla, really overhauled that whole experience. We wanted to give two types of connectivity to the car. One was for the consumers to connect their streaming services and so on. The other was for the dealership and product managers to have the ability to look at how a car is being used, offering multiple maintenances and predictive maintenance solutions. It was a scaled case, but it was very difficult because we all know that the vehicle's product cycles are five to seven years from the inception of a new model or a redesign to the time it hits the dealership. We were patient, worked with them, and built those out. But as a side benefit, we also had a chance to scale out and work with fleet management companies on the commercial side of this.
From a leadership perspective, AT&T did an amazing job penetrating that space and continues today, leading with car companies on 5G solutions. Verizon followed a slightly different strategy in the US. They acquired many different small to midsize companies with limited success, but it was a bold strategic move. Vodafone has done a good job of providing a global IoT footprint outside the US. Telefonica has done the same in Europe, as well as in Latin America. KDDI in Japan, Deutsche Telekom has had some successes. They invested in 1nce, number 1 n-c-e, to make connectivity easy to consume. And of course, you cannot have this discussion without talking about the Chinese telecom companies that started late in this space but now have the most connections by far, probably all of these companies combined, especially in the smart city space. They have a fantastic number of meters and the city assets connected. I believe telcos have done great, and they continue to do great. AT&T is where Blues Wireless has a great relationship, and they are also a minority investor in us.
[00:13:21]
Ken: Probably added to that list, and you came close with KDDI, is Softbank, whose strategy is completely different yet has probably been more influential in many of the underlying technologies in IoT. Arm is an example. Right?
[00:13:36]
Mobeen: Absolutely. Funny you say that because I think of them as diversified investors, but you're right. That's the foundation.
[00:13:45]
Ken: It's an interesting model they're leading. A friend, investor, mentioned that every day he gets up and looks himself in the mirror and says, 'I'm not going to let Tiger Global beat me today. I think you do have to add Softbank to that list as well. You mentioned Blues Wireless. In January 2020, you joined the infamous Ray Ozzie to start Blues Wireless. What inspired you to co-create the company, and what are your key products and services?
[00:14:16]
Mobeen: First, I must give Ray Ozzie a little introduction for the audience that may not know him. He's a larger-than-life personality and was best known for creating Lotus Notes, one of the earliest collaborative tools. He then had a series of start-ups leading him into Microsoft, where he was the Chief Software Architect for Bill Gates. He created the underpinnings of many connected products such as Microsoft Azure, SharePoint, Office 365, etc. He's probably the most brilliant engineer I've ever known. He creates, and he creates, and he creates. He's the CEO, co-founder of Blues Wireless, but he still creates today.
I had the fortune of meeting with him when I was at AT&T. He's on the technical advisory board to the CEO. When we were investing a lot in the whole IoT, especially in low power wide area networks, that was a large investment for the company. Ray was helping look at the vision from a product strategy perspective. His push was that we have to make this technology developer-friendly. Coming from a telco, it's sometimes difficult to appreciate that sentiment, but he kept on pushing. AT&T invested in certain software development kits, and we also built platforms. We were unsuccessful in getting the developers' minds and hearts aligned, which led to Ray's next adventure. He had prior experiences with IoT after the Fukushima disaster in Japan, where they helped the local population through some nonprofits in collecting radiation data from ground zero. He appreciated the process to build a solution, which led to Blues Wireless's creation and the earliest of the technology there. We eventually had a conversation, and I joined him. It's been a great ride.
[00:16:25]
Ken: Your value proposition focuses on simplifying the connection of device-to-cloud, referring to your Notecard as a data pump, and that's an interesting phrase. How has this accelerated IoT development versus how it's been done previously?
[00:16:42]
Mobeen: You and I have gone through many types of companies on both the supply-side and the demand-side in IoT. We saw a common theme running when creating or recreating connected products because the engineer, the developer, or the product manager goes through the same process, manually integrating about a dozen technologies. This is about how you use a sim, AT command sets for a modem, radio technologies, the network platforms and APIs, sensors, etc. If you're building a connected coffeemaker, a connected container, or whatever you have, everyone goes through the same steps. And they waste even $1,000,000 in 10 months. These technologies are so varying that you become a security expert, a network expert, a modem expert, and so on. To save time, we introduced Notecard to take those problems away. This aligns what you can do, a POC and a POC to a pilot, and a pilot to a product with the same infrastructure, the same APIs, the same solution. The best compliment we get is being advised that we saved someone a million dollars in nine months by the introduction of Notecard. That's the acceleration we're providing to others. I talked about this whole user experience at the beginning of the podcast. They still must do the work of getting the data into the Notecard and then figuring out what they want to do with the data that's being produced, integrated into their existing applications, or build a new application. It's all in the middle, and that's why we call it a data pump. It takes data from the sensors and delivers it in the cloud. It's a single price, and it's very easy to use. The ROI is attractive, and the user experience is amazing.
[00:18:47]
Ken: You mentioned saving a million dollars, which sounds like an interesting use case in and of itself. But what have been some of the most interesting uses you've seen of your Notecard?
[00:18:56]
Mobeen: I think the value proposition is accelerating the deployment of scaled commercial IoT for connected products. The Notecard connects many 'low power, wide area' products. This is not a solution for streaming video or surveillance systems, and it's not for autonomous driving low latencies 5G solutions. It's great for anything where you need to do monitoring of machines, predictive maintenance, communications to external assets, and supply chain tracking. It's open to many, many verticals and many use cases, but where we are seeing a lot of traction is in three general areas. The first is commercial or gray goods. This is your commercial coffeemaker that a barista uses in a coffee shop, the washer, and dryer in a laundromat, commercial kiosks, and so on. There's a willingness to invest because of the operational and digital transformation that most companies are going through. We're finding a lot of commercial product use cases. The second area is tracking supply chains for perishable and high-value goods. That's important because it's not just where the supply chain assets are, but in what condition they're in. Whether you're shipping shrimps or vaccines, it's important to know what environmental effects it has had during the transfer. It's very important for both shippers and those receiving to know where the supply chain has been. The third area which is on the rise is environmental monitoring. Think of wastewater, flood, water, buoys, fire, air quality, all kinds of environmental, climatic monitoring solutions that we see on the rise both from a government and investment perspective and from a commercial perspective. Commercial goods, supply chains, and environmental monitoring are three categories of solutions where Notecard is being used, and many use cases are built around it.
[00:21:30]
Ken: Yes, there are hot areas, especially in the supply chain given the current pharmaceutical or cold chain supply needs today. We're completing a study to support our internal investments on supply chain trends and what we expect in terms of predictions there. Talk about an area ripe for disruption, as we've seen from shipping channels and the ships sitting offshore. We talked about your early lesson around having to fundraise. Not only have you learned that lesson, but you've started to get back in terms of investing in other companies as well. When you're not starting and scaling your own companies, you're doing the same now via your co-founding of the Mentors Fund. I believe we're a co-investor with you in Nubix.
[00:22:18]
Mobeen: Yes.
[00:22:19]
Ken: A hot company that we like quite a bit as well. Tell us a bit about the fund and some of your other investments.
[00:22:24]
Mobeen: Yes, for any entrepreneur and especially a first-time entrepreneur, raising that very first round is the hardest thing you do because you're relatively unknown and have a groundbreaking or category-breaking idea. Very few people are willing to put money behind it, and I had to go through that as we all have gone through similar. I wanted to help other entrepreneurs and put in some money. I've been fortunate to have been engaged in many of these start-ups and wanted to give some back. I was doing this at an individual level, and then I realized many of my friends were trying to do the same thing. Four years ago, we decided we could do this as a group as opposed to individually. That's when we set up this fund called Mentors Fund, and I'm one of the founding partners. About 60 of us pitched in with our LPs in this fund. We have areas of expertise. For example, I look at companies in the IoT-connected products, AI space, and advise the fund and sometimes source them. And that was my work with Nubix, for example, working with Rachel and bringing the ideas they had into Mentors Fund then with you and a few other investors during the early stage of their investment rounds. I love that part of my work using that part of the brain as an investor. Every day I learn new things, and it's very exciting.
[00:23:55]
Ken: Our listeners will know because I repeat it often. They say that life is divided into three phases. You have learned, earned, and returned. I often joke that venture capital is returning with a return. You are returning, but as mentioned, you learned a lot. It's so fun to be exposed to these entrepreneurs, to understand what they're seeing in the world, what their clients are asking of them, and the interesting use cases they're doing. I'd certainly recommend it for anyone with such aspirations, as a near retirement activity, if you will.
[00:24:32]
Mobeen: I don't consider myself about to retire.
[00:24:33]
Ken: I think you're too young to retire.
[00:24:36]
Mobeen: I was going to say the same thing.
[00:24:38]
Ken: You beat me to it. Tell me about the key trends you're tracking between your work with the Mentors Fund and your work at Blues Wireless.
[00:24:49]
Mobeen: At Blues Wireless, there's a whole way that enterprise software and IoT software is being adopted, and it's all under the product-led growth model. In the older days, as we were selling B2B especially, you sold to a committee. There's a CIO in that committee, a finance person, and a procurement. Some of that still exists, but the selling now starts at the user level in the product-led growth model. Think of how companies adopted Slack, for example, or Air Table, and many of these products are used internally. It all starts with a user trying a free or low-cost subscription to a service and then bringing it inside the enterprise. And that whole model is permeating every single start-up. One of the things that we look at, especially in the B2B space at the Mentors Fund, and we follow in Blues Wireless, is our adoption of the product-led growth model. This means we make sure that the user experience on day one, whether the product is for one user, for one Notecard, for one product being connected, and whether it's for hobbyists or the largest oil company in the world building connected rigs, it's exceptional. We focus on that, and we tend to it as investors. I like to bet on companies that have thought through or are thinking through that kind of adoption cycle.
[00:26:15]
Ken: I interpreted what you said earlier as really focusing on the customer lifetime journey, right? In some sense, minimum viable journey, if you will. If you can make the first one, then the rest of it becomes iterative. It's an exciting thematic to look at it that way. I certainly hear Thematix people look at the quality of the founders per se, or indeed the uniqueness of the technology. This is certainly another interesting aspect as well. In closing, I always like to ask, where do you find your inspiration?
[00:26:51]
Mobeen: I like to keep my brain and body active as much as possible. I go to the gym or play sports, but there are a couple of ways for the brain to be active. I like meeting smart people, and what satisfies me a lot is learning a new thing, a new situation, or handling a new challenge every day. I say a day that I learn something new is a good day, and a day that I can solve a complex problem is a better day. At the end of the day, life is short. A day where I have meaningful interactions with my family and friends is the best day. You must take time out for that. I try to find my inspiration with people who are smart and people that I love.
[00:27:38]
Ken: This would certainly explain your interest in working with Mr. Ozzie, and I can only imagine in the way you've described him that every workday must be interesting, qualifying it as a good day, if not a better day. Right?
[00:27:52]
Mobeen: That level.
[00:27:54]
Ken: Yes. Mobeen, thank you for sharing this time with us and these insights today.
[00:27:59]
Mobeen: Thank you, Ken, for inviting me to this platform. You all have a great thing going at Momenta. I'm certainly enjoying interactions here and co-investing together with the work of Blues Wireless. Thank you again for the time and the conversation.
[00:28:15]
Ken: Thank you for putting time in and certainly for the interactions we've had along the way. Under your rule of surrounding yourself with smarter people, I feel like I'm getting the better side of that deal.
[00:28:29]
Mobeen: I know that's not true.
[00:28:31]
Ken: This has been time with Mobeen Khan, Chief Operating Officer of Blues Wireless and Founding Partner of Mentors Fund. Thanks for listening, and please join us next week for the next episode of our Digital Thread podcast series. Thank you, and have a great day. You've been listening to the Momenta Digital Thread podcast series. We hope you've enjoyed the discussion. And as always, we welcome your comments and suggestions. Please check our website at momenta.one for archived versions of podcasts, as well as resources to help with your digital industry journey. Thank you for listening.
[The End]
Connect With Mobeen Khan via LinkedIn
Mobeen's Inspiration Comes From..
Keeping his body and mind active. He goes to the gym and plays sports. Mobeen loves meeting new people, encountering a new situation, or handling a new challenge to keep his mind sharp.
Mobeen also finds inspiration from smart people and his loved ones. For him, the best possible day is when he has meaningful interactions with his family and friends.
About Blues Wireless:
Blues Wireless is a communications equipment company that provides embedded cellular solutions. Blues Wireless aims to put people and businesses better in touch with their world by unlocking the vast potential of cellular IoT. Their flagship product is Notecard. Launched in 2020, Notecard is a developer-friendly, no-fees cellular IoT device. Learn more at https://blues.io/.