Oct 19, 2022 | 3 min read
Michael Cihra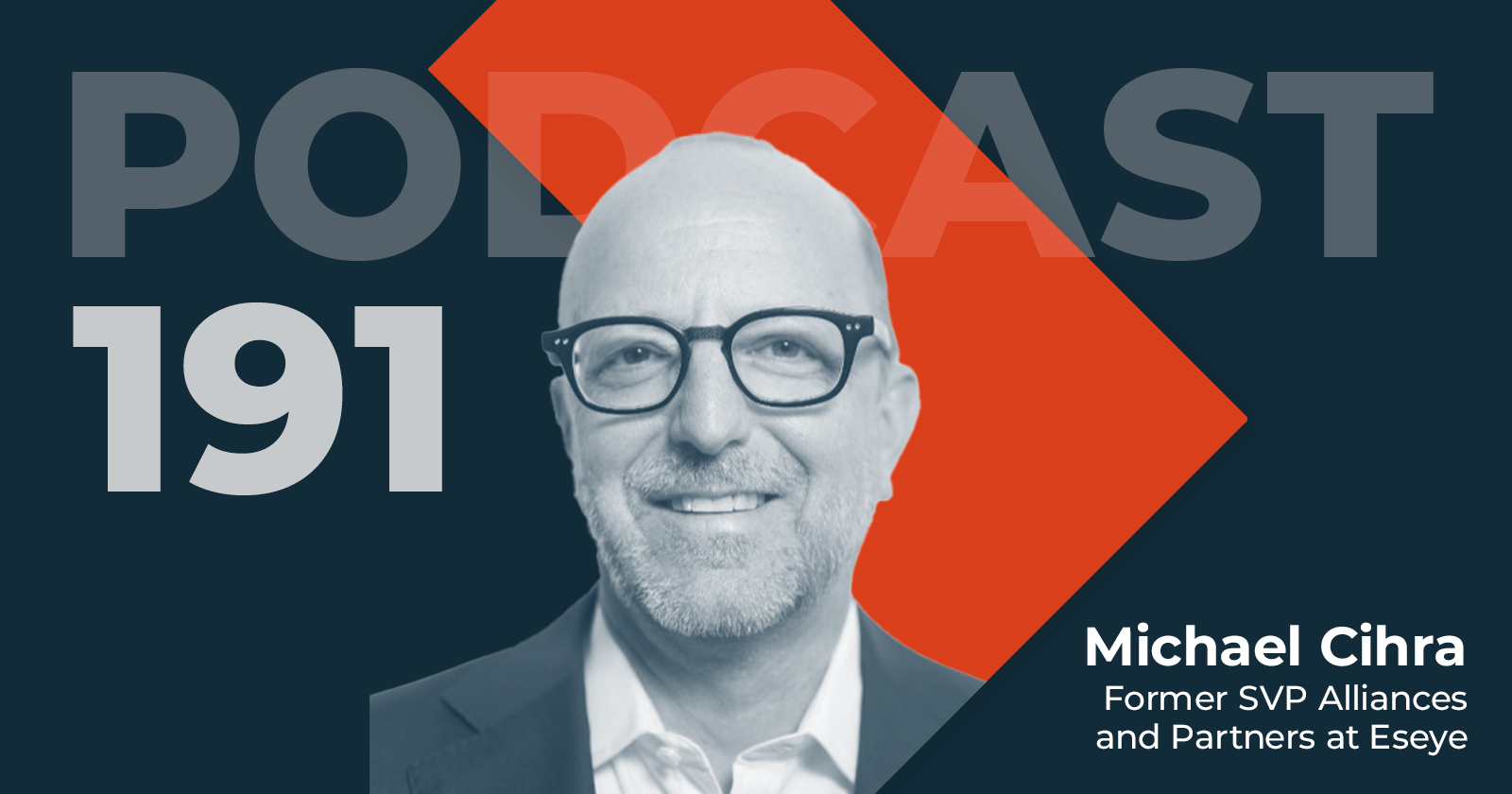 TRANSCRIPT
Ken: Good day, and welcome to episode 191 of our Momenta Digital Thread podcast series. I'm pleased to have Michael Cihra, a Connected Technology business leader. With over 20 years of experience growing new businesses and mobility and the Internet of Things on three different continents, Michael has led Operations, Strategy, and Product teams with US-based enterprise software startups and ran the IoT businesses for TELUS in Canada and Telstra in Australia. Michael, welcome to our Momenta Digital Thread podcast.
[00:01:10]
Michael: Well, hello, Ken, and very pleased to be here. I always look forward to having a conversation with you.
[00:01:15]
Ken: Well, I greatly appreciate that. We've got a long history. We'll talk about it in a few minutes for those who don't know, but I have thoroughly enjoyed our conversations. It's high time that we do something recorded together. You know this is our Digital Thread podcast series, and the idea is to focus on one's digital thread. In other words, one or more thematic threads define their digital industry journey. What would you consider to be your digital thread?
[00:01:45]
Michael: Well, Ken, I thought about this. I've got a couple I'd like to walk through. The first one probably started way back in 1996. After finishing school, I left behind about five years in the finance world here in Toronto. I moved to the States to join an Internet Service Provider or ISP, for those of us who remember that acronym back in the '90s. I was keen on the idea of TCP IP, DNS, and the ability to locate, connect, interact, and share information anywhere, anytime. I'd been a finance guy, but I started to read and appreciate the technology opportunities around the internet. The ISP that I joined was a company called Digex, based in Washington, DC. It was one of the first nationwide IP backbone networks in the States. They were also one of the very first companies that got into the business of web and applications hosting. That, of course, has morphed into things around Cloud computing over the last 20-plus years. I wanted to get into the business of building products. I had been a finance guy, as I said. Still, the idea of going out and building end-to-end solutions that people in the marketplace would come to enjoy and embrace became a great interest to me and a place that I wanted to pursue. The problem I had at the time was, as I said, I was a finance guy. And all I knew was financial analysis and modeling within a spreadsheet. When I got to Digex, that was the deal I had cut with them. I spent a year in the finance department. Then about 12 months into the job, there was an opening to take over their internet dial-up business as a Product Manager. I was lucky enough to get that job, and I've spent the better part of the last 20 or 25 years in or near product development ever since. The second digital thread began with my discovery of NTT Docomo's i-mode service. For those who don't remember i-mode, it was one of the first successful mobile internet-based services that enabled applications to be presented and people to interact with apps via data over mobile. Again, the idea of the internet here was always of great interest.
But on top of that, we had this anywhere, anytime element. This was stunning and something I was drawn to, specifically mobile data. Right around the same time, I read an article that Verizon Wireless, which at the time was a joint venture between Vodafone and Verizon, was looking to start up a new product organization. It would be a dedicated standalone team based in Washington, DC, away from their corporate machine in New York- to develop out a wireless data business. This was of great interest; I wanted to pursue this. Again, I had a problem in that, at the time, I didn't know a soul in the wireless industry, much less anyone at Verizon. However, a friend of mine had met a Verizon executive in New York in a hotel elevator and managed to get his business card. He shared that person's email address with me. I wrote a very long email explaining how I could, in detail, help this new wireless data team develop its business. That email address belonged to a gentleman named Ivan Seidenberg, Verizon's chairman, and CEO. Unbelievably, I sent the email and immediately received a response.
About three weeks later, I interviewed at Verizon and got a job with their product team. I was one of the first two guys they hired to run their Enterprise Applications team, which was quite interesting given that they didn't have any applications at the time. This was right around the time Verizon was launching its 1XRTT network. This would have been in 2001 that I joined, and the launch of that network was in 2002. Again, this was how I anchored myself into mobility, wireless data, and focusing on the B2B market as a place I've been ever since. In terms of the business itself and that second thread- whether it's developing field service applications running on a feature phone, working with Good technologies or Blackberry, or, more recently, moving into machine-to-machine and IoT, I've always been drawn to the challenge of developing technology for the business market. Most importantly for me, it's the business of ease of use, easy to consume by the customer, easy to sell by the channel- those are the elements that I find most compelling and most exciting as part of getting up every day and trying to develop businesses for the market.
[00:06:41]
Ken: It's quite a story, especially because it brings new meaning to the elevator ride pitch in terms of getting the email address that your friend did. That's wonderful. You know, what's interesting is Momenta's coming up on our ten-year anniversary. One of the business's real pleasures is working with people like yourself over various aspects of your professional journey. I'll be honest, I hadn't appreciated your finance background, but I've seen it now that I think about your work at Telstra and the ventures team and TELUS in emerging business and such. Always at the forefront of applying technologies toward easy-to-sell and easy-to-use solutions. If I were to go back and look, you've done about 20 years across Verizon, Telstra, and TELUS. What are the top three insights you gleaned from this time relative to IoT?
[00:07:33]
Michael: Sure. Firstly, I'll set some context here. I'll start with Verizon when I first joined them. We were early in the wireless data journey. There were regional CDPD networks here in the States. Still, Verizon had not yet launched a nationwide network that came with 1XRTT in early 2002. The 1XRTT network was Verizon's first 3G play. The value prop at that time was focused on network speed. The story was a fast network to do things on. We had two devices: a Sierra wireless AirCard that allowed you to access your email on your laptop and one feature phone that supported the wireless access protocol (WAP) for WAP gateway support.
The first insight was the realization that the key to scaling mobile network adoption in a B2B setting would be content and applications, which in turn, for us- was on myself and one other person. Our job was to get out and start finding partners to develop and build mobile applications. That was where we were grounded for most of my time at Verizon. It was quickly developing app partnerships, looking for vertical solutions, onboarding those applications, and trying to scale up an application ecosystem for B2B.
Fortunately, at that time, there was a mobile operator called Nextel. Some, I'm sure, remember Nextel here in the States. They had a network here, a nationwide network, an iDEN-based network. It was smart, I think, for Nextel to focus on the B2B market, given the nature of their push-to-talk network. What they had managed to do, frankly, is develop a good pool of B2B application providers that we could leverage as being companies that were more than interested in terms of looking to build applications for Verizon. We started to work with those companies, and I tip my hat to Nextel. The focus that they had early on in terms of developing vertical markets, a way to create applications specific to vertical markets, and the ability to create relevance and stick with the customer around a specific vertical opportunity- that was something that they developed well, and that was something that we brought into our playbook quickly. Vertical markets like construction, transportation, and field service. We felt these areas were ripe for adoption and growth, and they became target industries where we focused at Verizon.
I'd say the second insight- I'll flip over and talk about Telstra, was learning how one introduces and grows disruptive businesses within a larger organization. At Telstra, we started machine-to-machine, the M2M business unit, back in 2009. Two of us from Telstra's product group were peeled off to set up and run this new business.
Unbelievably, Telstra had about 2000 products they sold and supported back in 2009. Trying to make a lasting impression with your B2B sales force with no handsets and no customer references around something called M2M was a challenge. I think the key insight for us at the time at Telstra was that driving a disruptive new business in a large company required a lot of focus and overcommunication. We felt that focusing our market narrative around tight messages was important. First, we went with the less is more approach to focusing specifically on simplicity and customer ROI with just two products. We were very early at Telstra in terms of launching a SIM management platform from a company called Jasper Wireless. It was a great solution for the M2M market. We sold a lot of Jasper at Telstra, as did several other operators. Jasper became very successful and was eventually acquired by Cisco. In terms of applications, we focused on just one vehicle tracking application with a New Zealand-based company called Navman. That, too, did well in the market for us.
In terms of how to win and scale with something new in a large organization, what was probably even more important for us was that we enlisted C-level leadership at Telstra to help us over-communicate that story within the company and then out to the marketplace. We had Telstra executives like Ross Fielding and Warwick Bray. Each of these two gentlemen had turns running the mobility business at Telstra. And there was Mike Wright, who ran the network organization at Telstra. They were extraordinarily supportive and keen to drive the M2M story within the company and out. They were key to our success in building out the M2M business at Telstra.
I'd say that the last success insight- and this one I'm pulling from TELUS, was the business of having good discipline, coverage, and support processes across all market segments. When you're in the IoT business around connectivity, having a strong delivery process to scale is important.
In large telcos, there's often a tendency to focus on large customers- the Fortune 500, for example, to try and grow IoT. I think a good deal of success that we saw, both at Telstra and TELUS, came from tracking and winning IoT developers in the mid-market. They were the lifeblood of the early market. I think they have been and still are, to some extent. They're embedding connectivity into their applications and devices and on-selling those devices into the marketplace, both consumer and enterprise. A key part of IoT is working with that mid-market developer as a focus point. One last insight I took away is that IoT products sold through an operator produce a customer churn rate that is marvelously low, and therefore, there is a critical opportunity to establish a reliable and differentiated customer relationship and grow that over time. We found at TELUS, for example, that by establishing a relationship and having good processes to keep them as a customer, they would grow their IoT business, and we would participate in that growth. So typically, we saw anywhere from 15% to 25% year-over-year growth from those companies. It's simply a matter of maintaining relationships and growing with these companies. We were all able to participate in that growth over time.
[00:14:14]
Ken: Let's take that last point and drill down a little. I know that you went on to lead TELUS' IoT efforts and oversee several acquisitions that were there. Tell us about your strategy and what you're most proud of.
[00:14:26]
Michael: Sure. I joined TELUS in late 2016. What most attracted me to TELUS was the chance to accelerate growth on top of an organic IoT connectivity business by investing in vertical software businesses. Large companies talk about innovating and the importance of looking beyond their core practices to create new opportunities in the market. It's tough to do that, and I came to understand and learn about TELUS that they indeed focused on this and were truly executing. TELUS is a Canadian telecommunications company for those who don't know. But they are, through acquisition, the largest IT health services company in Canada. These guys have not only talked about it but executed it… they've truly entered new markets. Our mandate at TELUS was to scale the IoT business through acquisition and venture aggressively. Our strategy was to keep our activities tight by limiting our focus to just one or two verticals. We started first with smart cities. Our way into smart cities was through point solution providers. Our focus areas specifically were around sectors like winter operations, snow removal, waste management, public works, construction, and traffic intersections. All these sub-verticals had strong ROI propositions and fundamentals regarding how they bring value to the market. We all know how advantageous engaging with your sales channels is by getting their buy-in and trust around the market and the value proposition. Having that ROI case nailed was something that we saw as critical.
Regarding the highlights I take away from TELUS, I'd say there are two. The first would be the growth achievements. TELUS was late to IoT. When I joined the company, they were last in the market among the Big Three Canadian operators in terms of market share. Over four years at TELUS, we dramatically increased our market share. We passed the number 2 provider and we were right on the heels of the number one player in the IoT business. Making that market share game was fulfilling. Also, we did well in tripling our customer base and making dramatic improvements in top-line revenue and profitability for the company. I'm proud of the work that the teams did at TELUS. The second TELUS highlight is more related to the acquisitions. It was the business of executing that strategy that we had developed. It was finding the right targets, moving the case through the company, earning the excitement and the buy-in of senior leadership at TELUS, making the acquisitions, and then successfully integrating those IoT companies into TELUS. That business of acquiring and integrating disruptive new technology businesses into a large established company is not for the faint of heart. It's difficult, but it's also great fun to pull it off. I'd say that was probably the number one thrill takeaway from working at TELUS.
[00:17:40]
Ken: Well, you mentioned both the M&A and ventures. I noted you rolled up your sleeves per se and invested in a company called Eseye- that's E-S-E-Y-E, even though it sounds like SI, as in system integrator. But you went and played an operating role there recently. Tell us about the company and how you supported its growth.
[00:18:02]
Michael: Sure. Eseye is an IoT MVNO or virtual network operator. As a company, they're focused on removing IoT complexity for the enterprise, specifically enterprises looking to deploy connected devices into many countries over cellular networks worldwide. Eseye has established network integration agreements with many of the world's leading mobile network operators. Essentially, they've stitched together all those physical networks to form one global IoT network that they offer to their customers. They've got about 2000 customers today, including four of the Fortune 10. I came over from TELUS after TELUS company made a venture investment last year. My mandate has been to help scale the business by creating new channels to market. We've added several new operator partners; we brought in global integrators like IBM, module manufacturers, and security software companies as partners to help scale up our business in terms of new channels and new ways to the customer; that's been the focus. It's been a lot of fun.
[00:19:22]
Ken: I know, given the deep telco background you have, you've been an early advocate for 5G communications, especially their application to IoT. How do you think the 5G opportunity is progressing? And what is holding it back from more adoption, and when do you see these thresholds being met to gain more adoption?
[00:19:43]
Michael: That's a great question. 5G is an interesting topic. I'll start with what I think is going well. Here in the States, the carriers have their sub-six gigahertz or their mid-band, 5G spectrum services; they are all launched now. I think we see some good benefits for the mass-market consumer audience. I read about a 50% improvement in terms of speeds- download speeds going from 4G to 5G over the last couple of years. We've got fixed wireless access as another benefit or another positive for 5G. The fixed wireless access market is starting to develop. I think some would say so far, that's been the 5G killer app so far. Fixed wireless has been very effective in lighting up or providing faster service opportunities for customers, particularly in rural markets that didn't have the quality of coverage and speed they've been able to get now from 5G. So I think those two elements are positive. I think the other positive certainly has been for the operators themselves. 5G is bringing down their download costs and providing more capacity for themselves and their customer.
In terms of 5G challenges, there's a bit of an expectation gap that has been created in the marketplace. I think when it comes to where things haven't progressed as quickly as some might expect would be if you start with the marquee sign around 5G, which has been aligned with important opportunities for the enterprise. It would be around ultra-reliability, high device density, and low latency. These are the elements that people have talked a lot about and touted as part of the 5G narrative. I think there's still much work that needs to be done here. If you look back, the first complete 5G standard addressed all these advanced capabilities: ultra-reliability and massive machine communications. Effectively, those standards were not brought up by the 3GPP, the group responsible for essentially rolling up the standards. That did not come out until the first full standard in 2020. From the time standards are released, you still have devices to build, test, and certify over networks.
Moreover, application environments need to be developed and launched- all these elements take a great deal of time. This is where we need to reset expectations, to let time play out for application and device development to catch up with the hype. For context, regarding the timing gap between standards and applications hitting the market. If you look at 4G, for example, 4G- the standards, the first release started in 2008. Applications that took advantage of 4G's faster speeds came later. Things like Snapchat and Uber, which would be examples of video-centric applications and real-time collaboration, these applications for them to perform, needed 4G. They didn't arrive until about three to four years after the 4G standard. We need to reset to give that time to play out from standards to delivery into the market.
There's another comparative risk here in terms of time to market for 5G versus what happened with 4G. 4G was directed predominantly at the mass market and smartphone audience. In the 4G market, you had two well-established development ecosystems in place. You had iOS and Android operating systems and a marketplace, ready-made for people already developing the applications to support the 4G opportunity. Suppose you fast forward now to where we are with 5G, which, again, is supposed to be directed to the enterprise customer. In this case, we don't have well-established platforms on which to build 5G applications. Also, much of the promise of 5G to be delivered is expected to come via exposing network services via API to the market. This is an open question as to how this will be executed. We still have a lot of work to do in terms of building an environment that exposes Network Services. How and where are those services going to be exposed? How are they going to be accessed by developers? How are they going to be consumed and monetized for 5G services? There are a lot of open questions that need to be addressed. Now, certainly, I think this presents an opportunity for the market. Still, it also suggests that, like 4G, we'll have to be patient before we can expect to see those applications come out at scale.
[00:24:33]
Ken: On the OT side, we're seeing a lot of interest in private 5G. Can you tell us about this, and why do you think it's of such interest in the digital industry?
[00:24:44]
Michael: Sure. Private 5G, private for LTE and 5G. I mean, private networks aren't new. We've had Wi-Fi networks for a long time. We've had spectrum slices of things like 4G networks auctioned off to private businesses 15 to 20 years ago. I think what's new is the enhanced capabilities that come with 4G LTE and now with 5G that offer businesses the opportunity to plan, deploy and control their dedicated cellular network and take advantage of 5G features. I would say that because private cellular networks use much of the same tech as public networks like the Vodafone's and the ATT&Ts of the world, there's also the capability of switching or roaming from a private network to a public network when outside of that local private network's coverage. I think this opportunity is quite important and disruptive.
With increasing force, we've got high-performing organizations in industries like mining, manufacturing, and warehousing- just as an example, who want control, visibility, and certainty over their operating environments. Empowering these companies with the ability to self-manage and administer their networks, to set their own rules for scalability, access control, device access prioritization to control when they schedule downtime for networks- having all of that within their own hands- I mean, that's a game-changer, exciting stuff. Recent regulatory changes have come to Western Europe and the Asian markets around allowing 4G and 5G wireless spectrum to be purchased. Even in some markets like the US, free access using CBRS spectrum are now being made available to businesses. This spectrum allows businesses to deploy their high-speed cellular networks for the first time. This is a unique and important opportunity around private. The last point would be the fact that there's a growing value chain. Many companies are now actively marketing private network solutions to the enterprise as out-of-the-box offers. This as well- is disruptive and important in terms of the opportunity for private 5G. I would say that private, like what we discussed earlier regarding the wider question of public 5G adoption, I think private 5G is still not without its challenges.
There are open questions about how these businesses will sort out the complexities of planning, designing, scaling, managing, and even paying for these private networks. There are a lot of open questions for a company to try and sort through as to how they address all that. You know, Ken, it's a fragmented ecosystem supporting this. In terms of devices and infrastructure applications. There are probably a lot of open questions for a company looking at private 5G as to where to start and whom to start with. As for those companies looking to address the private 5G market opportunity- I think those most focused on removing complexity for the customer have effective partnering strategies, easy discovery, and understanding of their solution- those that are smart on the clear POC process, and ease of deployment, will be the ones having the best chance of winning in the private 5G market.
[00:28:32]
Ken: Look, I appreciate the breadth and depth of this interview and, clearly, a track record that supports this as well. I noted that you're finishing your time at Eseye, and we're very curious. What's next for you?
[00:28:46]
Michael: Well, I'm as bullish as ever on IoT. I think at this point for me, what I'm focusing on is specifically looking to start a business. The focus of that business is playing off what I believe to be the maturity of remote monitoring as part of the core proposition of IoT. I think that the tech is there; it's well-placed in the market. For me now, the focus is looking at applications and specific use cases in the market as to how you can create a strong ROI case. The focus is looking to build a business out, focused on the ROI opportunity to take to a few different marketplaces.
[00:29:25]
Ken: Awesome. I thought I sensed a hint when you talked about all the opportunities in earlier conversations today. That's great, and certainly, as venture investors, we love new businesses and well-seasoned founders per se, so we look forward to hearing more. In closing, I'm always curious. Where do you find your inspiration?
[00:29:45]
Michael: Well, a couple. One is I love reading about innovation. I'm drawn to, and I mentioned this earlier today in the podcast- I'm drawn to large companies and how they manage innovation and deal with those 10x changes, as Andy Grove called it. I think that I find that fascinating. Looking at guys like Clayton Christensen and Andy Grove- those would be two of my go-to authors for innovation. I also recommend a book called "Lead and Disrupt." It's written by Charles O'Reilly and Michael Tushman. It gets underneath why some well-intentioned, well-capitalized companies innovate brilliantly and others do not. Without giving too much away, so much comes down to two things.
Firstly, creating what the writers call that ambidexterity in the business, which is that uncomfortable separation between the traditional core business that pays the bills and the new exploratory business that needs to test and fail to find a new way forward. Then the second thing it talks about is that you need strong leadership at the highest levels to drive the business. It would help if you had a champion that would stay in front of the exploratory business in terms of ambitions because, in many cases, threats come to that core business. That core business may start to flatten or decline, making it much more difficult for the exploratory business to succeed. Leadership that can see the developing business through is a critical success factor in innovating in the marketplace for bigger companies. The other thing I would say in terms of sources of inspiration for me would be the people I've had an opportunity to work with. I'm inspired by working with people with similar senses, passions, and ambitions around innovating and growing new businesses and looking to go for change without compromise. That's what I get most charged up about.
[00:31:48]
Ken: Excellent. Michael, thank you for sharing this time and these great insights with us today.
[00:31:53]
Michael: Thank you, Ken. It's been a lot of fun; I appreciate it.
[00:31:55]
Ken: As well. Appreciate you taking the time. This has been Michael Cihra, a connected technology business leader focused on the intersection of emerging technology in connected business. Thank you for listening, and please join us for the next episode of our Digital Thread podcast series. Thank you, and have a great day. You've been listening to the Momenta Digital Thread podcast series. We hope you've enjoyed the discussion, and as always, we welcome your comments and suggestions. Please check our website at momenta.one for archived versions of podcasts and resources to help with your digital industry journey. Thank you for listening.
[The End]
Connect With Michael Cihra
What inspires me?
It starts with reading a lot. Whether it's mornings in the FT/ WSJ or non-fiction books on people, geopolitics, history, business, or food, there's so much that's interesting and inspiring to try doing things in new ways. Then there are the people in my work life. I'm inspired by those that are fearless and dedicated. Those with similar passions for building something hard and uncomfortably different and not compromising on the precious and important things. I love to cook. It allows me to close out a long workday by completely redirecting focus to a project that requires attention and creativity while simultaneously relaxing. And there are my four kids. I enjoy our conversations and listening for what they are trying to say. Their innocence, will, and honesty keeps me grounded and inspires me to raise my game.
About Eseye
Eseye unlocks the full potential of IoT, free from the complexities of global cellular connectivity.
Eseye has everything you need to move from the initial concept to global deployment. We do this through seamless IoT connectivity, technical device services, and versatile hardware backed by round-the-clock support.
Together, our AnyNet+ eSIM technology, Infinity IoT Connectivity Platform™ and partner ecosystem connect millions of devices across 190 countries. We bring together over 700 networks for 100% global coverage. Find out more at www.eseye.com.